Due to the crisis caused by the Coronavirus Pandemic, spiced up by a drop in oil prices, most yacht builders up to 24 meters with in-line production and a short production cycle in the mass market«expect a»significant drop in activity in the coming months.
The situation is better in the superyacht sector: companies build custom boats for very wealthy people who can afford to plan future major purchases even during a crisis. In addition, it takes 2-3 years to build a superyacht and during this time the pandemic situation will certainly be resolved somehow. Thanks to this, where possible, large shipyards continue to work. In Heesen's production facilities, employees work double shifts at a distance, and employees in the company's office work remotely. They also set up Feadship and Oceanco.
The pandemic is no reason to stop sales.
The office of the Italian shipyard Dynamiq is forced to work remotely, and all the production boathouses of the shipyards in the country have been closed since March 22 and are unlikely to open until early May. Nevertheless, the company has launched a new cutting-edge model: the 49.5m all-aluminium GTT 160.
According to Dynamiq brand founder Sergey Dobroserdov, this yacht is rethinking «the 50m class,»offering a set of features and amenities not found on any boat of this size.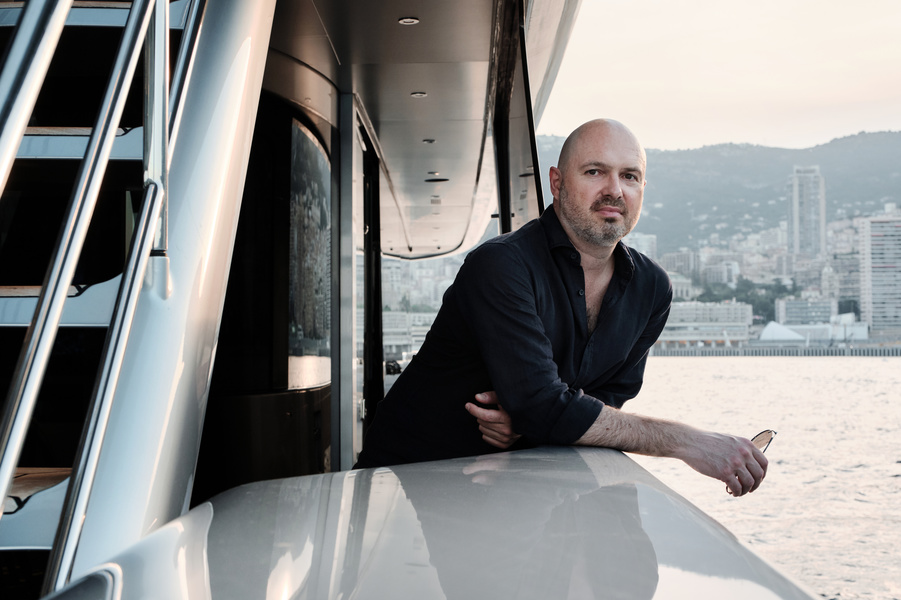 «We wanted to create the most attractive offer in the segment of yachts up to 50 meters long. Today there are many projects of 50 meters boats with a capacity of less than 500 register tons on the market, but most of them are similar to each other and almost identical in functionality. We asked ourselves: "Obviously, Dynamiq looks cool and modern, but what else can we offer that will give our customers much more benefits and will definitely be profitable? The answer was to focus on the three main priorities of most owners and to give up less important things. So we came to the decision to design GTT 160 with an emphasis on key factors: health and relaxation on board, efficiency and super price, -»says Sergei Dobroserdov.
Dynamiq is the only shipyard on the market today whose customers can build their superyacht without getting off the sofa.
The company has developed and published on its website an online configurator, in which the user can calculate the cost of the boat and the construction period with all the desired options. With pandemics and border closures, when a personal meeting between the shipyard and the customer is not possible, this open pricing policy greatly simplifies the ordering process. GTT 160 is also already available in this section of the site.
Lady in gold
The Fast Displacement hull for the GTT 160 was developed in the famous Dutch bureau Van Oossanen Naval Architects, the exterior design belongs to the studio with Russian roots Dobroserdov Design. The interiors of the project were the responsibility of home specialists Dynamiq and the Italian studio Giuseppina Arena, which previously collaborated with Ferretti Group.
The boat turned out to be fast and brutal with its bow with a reverse tilt of the stem and an elongated waterline. The Royal Gold metallic paint gives it a special charm.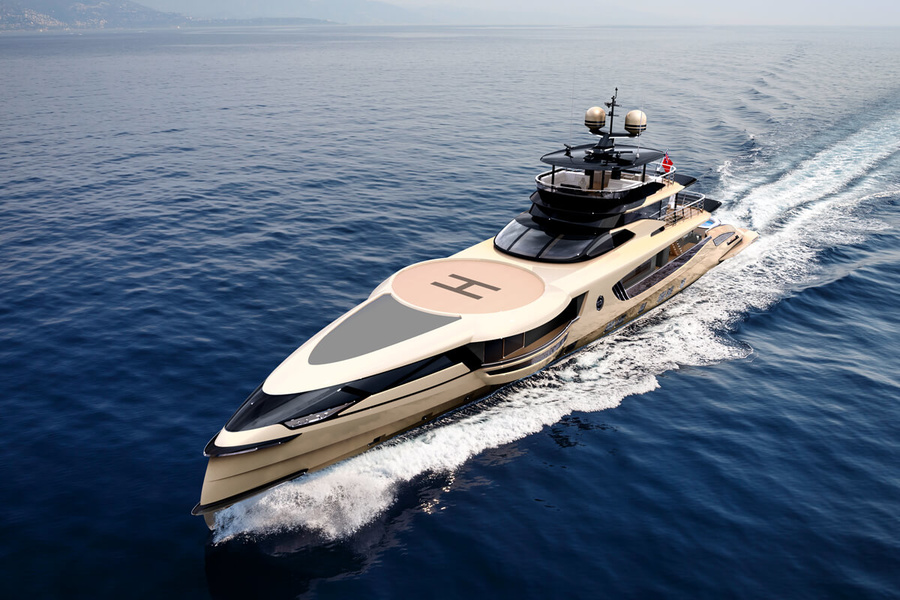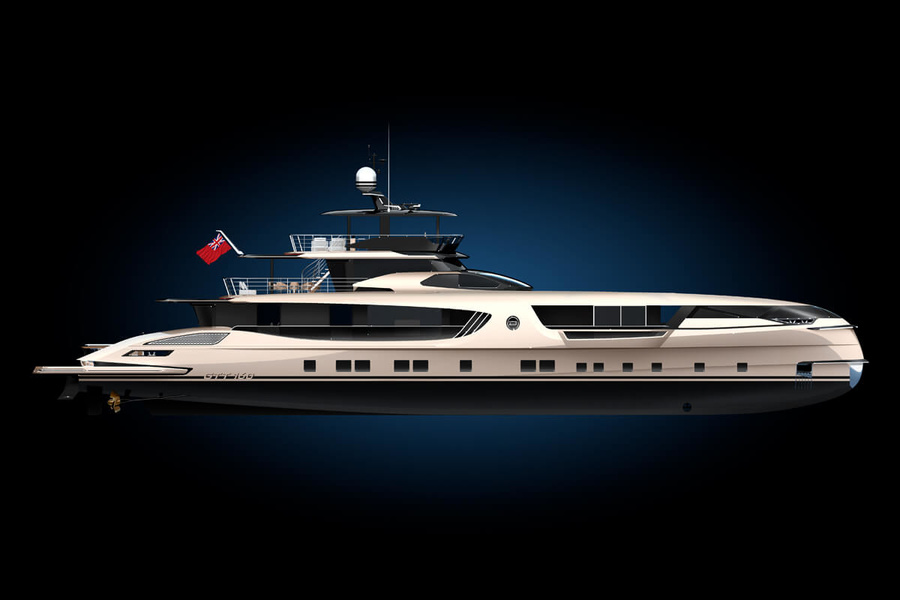 «From the point of view of naval architecture we have settled on a running hull with an elongated waterline, which has better speed characteristics and is more comfortable than short and wide hulls. Instead of inflating the internal volumes, we have analyzed the owner's wishes and needs and made a more rational approach to deck layouts. As a result, the GTT 160 provides the comfort of a 55-meter yacht with a traditional inclined bow»," explains Sergei Dobroserdov.
With breeze across the Atlantic and back.
Indeed, with Van Oossanen's fast displacement hull, Side Power's curved fin stabilizers and Hull Vane's stern wing, the yacht stands out for its smooth running and fuel-efficient operation. A pair of small MAN i6-730 537 kW diesel engines is standard on the yacht, giving her a top speed of 17 knots at 50 meters.
At 14 knots, the GTT 160 is capable of crossing the Atlantic and at 10 knots, 38.3 thousand litres of fuel stored in her tanks will be enough to travel almost 1.5 times longer (up to 4 thousand nautical miles).
In addition, there is a sports version S with the«MAN» V12-1800, thanks to which the GTT 160 can reach 23 knots, and a green«hybrid» version, which can go at 8 knots with the main engines fully off. The lithium battery capacity of the GTT 160 hybrid is enough to keep the generators out of use all night at anchorage.
Boat for «active owners»
Dynamiq GTT 160 «is designed» for owners who are active and do not intend to stay in port for long. The ocean range, the availability of a Touch and Go helicopter pad and the bow tender garage accommodating the very decent 6.3 metre Williams Dieseljet 625 tender means that with this boat you will be able to allow virtually any route on either side of the Atlantic, as well as comfortably explore Southeast Asia or explore the Seychelles or Maldives.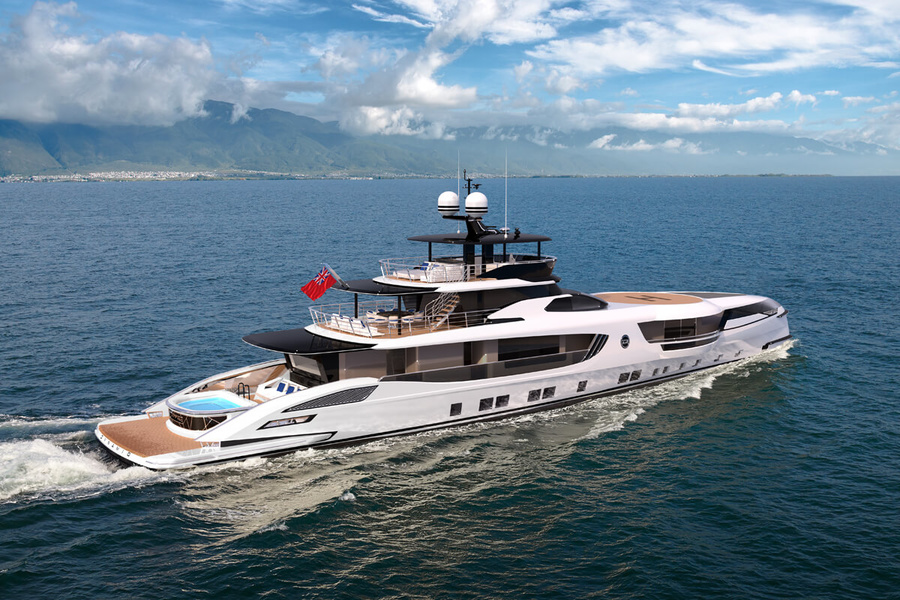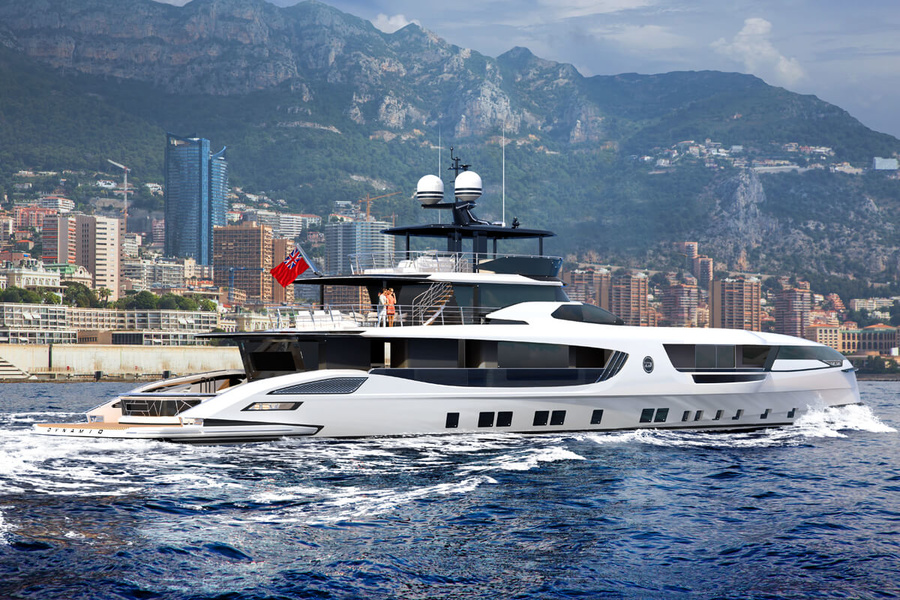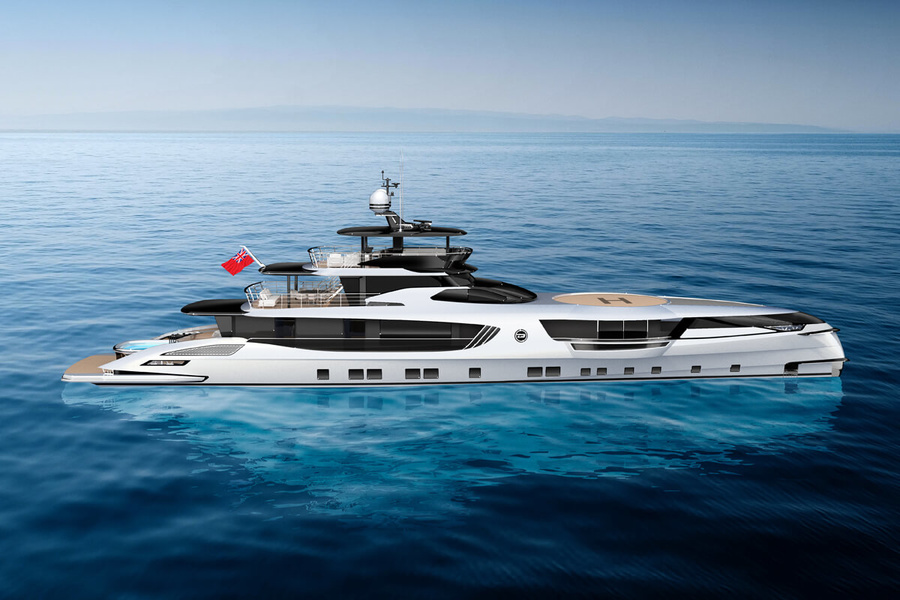 But the highlight of GTT 160 is its beach club and spa area. For the first time, the beach club has been moved to the main deck in its entirety and has been given the best position in terms of access to the water and magnificent views around. As we know, most of the club occupies part of the lower deck, where guests have to look out of the trench.
Bottom line: an unprecedented 120 square metre Wellness area with Jacuzzi for 12 people, massage room, gym, sauna and hammam, with direct access to all this diversity from the main salon.
«Today it is rare for any of our clients to imagine a holiday without sports or wellness treatments. For top resorts, this has long been the norm, so we have decided to place the main emphasis on the GTT 160. The second pleasant moment is easy access to water and a large swimming platform where you can sunbathe or even do yoga. It is not to say that this is something unheard of, but it is found on much larger and incomparably more expensive yachts 60 meters+,"»comments Dobroserdov.
There was also room on the boat for a traditional 75-inch cinema with Bowers & Wilkins sound system in the upper saloon, two bars on the cockpit and upper deck, and a fireplace on the upper deck.
Chips: for gourmets and explorers.
For those who like to eat and prepare something tasty on the yacht there is a spacious galley with professional equipment and a bar, at which you can taste dishes from the dust-heat or watch as the chef (or enthusiastic owner) sorcerers over food.
An authentic Japanese Teppanyaki-style dish can be prepared on a special equipment sandwich.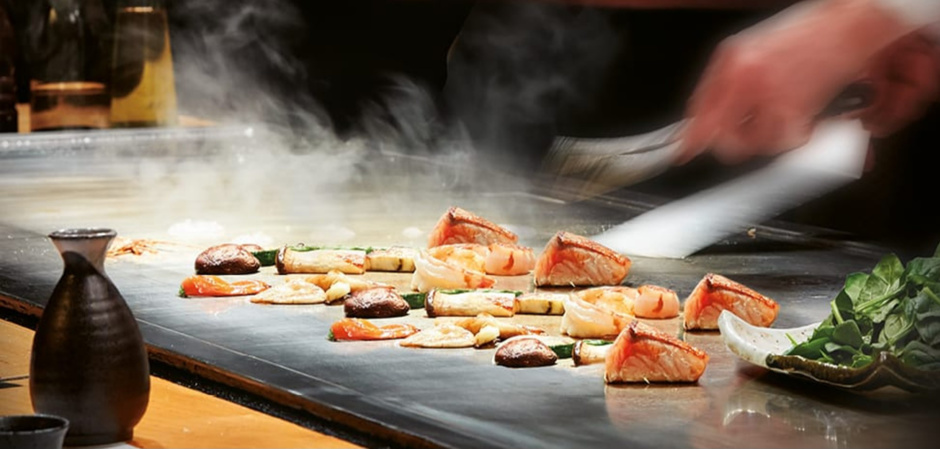 Sandek also acts as an observation deck and an additional control station with 360-degree view.
«I love sailing, I love discovering new places, stopping in bays or exploring small secret islands," says Sergei Dobroserdov. - For those who like it, I have provided for what the Dutch call crow nest - a crow's nest on the uppermost deck. There is a separate control station so you can explore new routes with a 360-degree view and a great bar».
Price .
Undoubtedly the main and most attractive feature of this model is its price. 12 guests in six cabins will be able to use the GTT 160 as a base unit, costing just under €20 million (excluding VAT and additional costs). This is on average 25-30% lower than the generally accepted cost at this rate. This is despite the fact that aluminium yachts are generally more expensive than steel and even more so than plastic vessels.
Owner can choose from 10 different paint options for hull and superstructure, radar arch color, sun lounger trim materials, exterior and railings details. To customize your interior, Dynamiq offers a choice of 6 package solutions, costing from 26 to 445 thousand euros.
The hybrid power unit will cost an additional 750 thousand euros, the GTT 160 S sports version will add 850 thousand euros to the basic cost, and the luxurious version Carat will cost 1 million euros.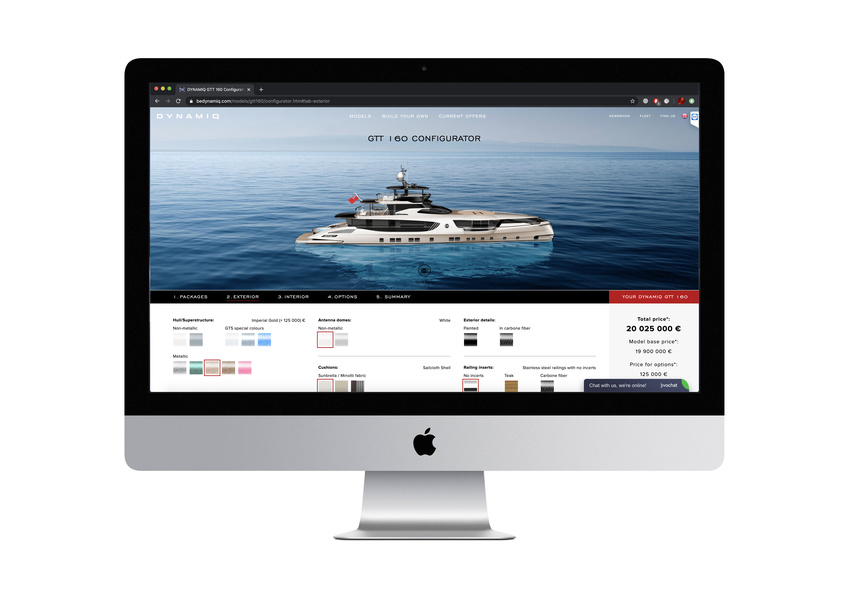 Other options in the configurator are strikingly diverse. For the GTT 160, there are almost 60 available.
Some of these relate to technical enhancements such as additional soundproofing in the guest cabins or kitting to allow for commercial chartering. Others are designed to improve the standard of living on board, with an inflatable sea pool aft and a special cosmetics fridge in the spa. Cost of these options starts from 400 euros.
Construction and sea trials of the boat will take 24 months from the date of signing the contract.
Thus, the first fully completed GTT 160 owner will receive no earlier than spring 2022.