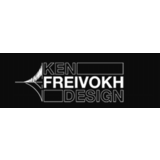 Ken Freivokh Design
Great Britain
Designer description Ken Freivokh Design
The history of the brand
Superyacht designer Ken Freivokh started his professional life as an architect. He grew up in Los Angeles, then studied architecture and engineering in Peru and later moved to the UK to study at the Royal College of Art, which graduated with a Master's Degree in Design in 1972. After that he worked as an architect and first came across the world of yacht design when he decided to buy a boat and asked for changes. Finding that the next client had ordered a yacht with his refits, Freivoch thought and switched to a new direction. Since then, the designer and his team have created many interesting projects and his studio has become widely known for its advanced and often futuristic ideas.
Philosophy .
Ken Freivoch says about his approach to work as follows: «From a teaspoon to a skyscraper, the basic principles of design are always the same. It's about analyzing the task and then processing the components and their relationship to other parts».
Specialisation .
In addition to creating the exterior and interior design for sailing and motor superyachts, Ken Freivokh Design designs serial models. The studio also carries out orders for the development of residential interiors.
Cooperation with shipyards
Ken Freivokh Design actively cooperates with Sunseeker, Azimut and Discovery Yachts as well as Perini Navi, Oceanco, Dream Ship Victory.
Landmark projects
Ken Freivokh Studio has collected many awards, including the Maltese Falcon, which remains one of the most famous sailing yachts in the world. In addition to the latter, projects such as Black Pearl, Mikhail S.Vorontsov Leopard 3 are on the list. The company's portfolio includes many conceptual avant-garde projects waiting to be realized.
Team .
Ken Freivokh Design is a multidisciplinary team known for creating unique solutions. The methodology of the innovative team of designers includes a thorough analysis of the client brief, a non-standard approach to the problem and the development of very special designs.
Superyachts Ken Freivokh Design