Dutch yacht builder Oceanco has announced the delivery of its seventh largest vessel, the 90-meter megayacht DreAMBoat, launched back in February. That lucky owner was the American billionaire and owner of the NFL Atlanta Falcons, Arthur Blank.
The rich man only became personally involved in the project after the steel hull and aluminum superstructure were finished.
So he had no choice but to make his wishes known about the interiors. But his wishes were fairly standard: elegance versus pretentiousness, only natural and expensive materials instead of cheap in terms of feel, look and price.
The DreAMBoat, the first collaboration between EspenOeino and Terence Disdale, has a look that is both traditional and unique. At least it doesn't look like any other Oceanco. The unusual projections on the sides, which form wings at the front of the upper deck and owner's deck, are the most striking feature.
The result is a superyacht whose design Oino himself succinctly describes in one adjective -«timeless».
According to Disdale they purposely avoided«wow-effect»: a fussy and pretentious image at first encounter will quickly become boring, whereas the DreAMBoat is different. And it has every chance of becoming a classic in the future.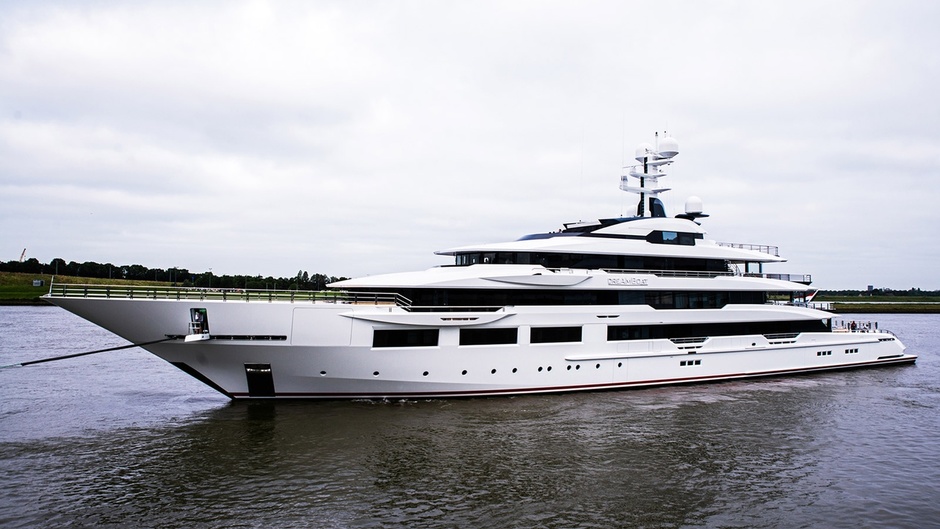 A dreamboat in every sense, designed so that open areas flow smoothly into interior spaces. The outdoor seating will undoubtedly be the favourite area for sunbathing, claiming to be the largest in class. Guests can also enjoy the DreAMBoat by the pool on the aft main deck or in the open-air cinema.
With a gross tonnage of 2,950 gross tons, she can comfortably accommodate 23 guests as well as up to 33 crew members.
«As soon as the owner saw the boat for the first time and met everyone involved, he knew that the combination of timeless exterior, elegant interior and Oceanco's ability to deliver a quality boat on time was exactly what he needed»," said Dan Jackson, representative of Mr. Blank.
Oceanco is very pleased that they have not let an important client down in any way, who will be spending this summer with his family aboard a DreAMBoat, as was his wish.