The possible participation of a disabled team in the America's Cup is great news. But women sailors? Well, yeah. Keep your pocket wide.
I was very pleased to hear that the Argo Challenge team at the America's Cup has planned a project to introduce sailors and athletes with physical disabilities to the team.
But all the talk that professional yachting is progressive or at least somehow endorses the idea of equality is pure fantasy. On the contrary, the professional yachting sport is millions of light years behind any other industry in the world. This corner of the western world is one of the few places where dinosaurs still walk the earth.
If people with disabilities participate in the America's Cup, that's great. That means they're gonna jump women in it.
What is typical is that no one seems to find anything strange or wrong in the fact that for yachtsmen all roads are closed to a little or little serious level. What's more, people roll their eyes irritably as soon as they try to talk about it.
You think "so what?"? It's your business, but don't forget that we are talking about professional employment - an area where generally accepted practices and laws should apply. It should be, but in reality career opportunities for women in sailing are simply scandalously limited. Only a handful of particularly gifted yachtswomen can boast that they have earned a reputation (and income) in the carefully circumscribed world of Olympic sailing.
With the help of individual sponsors, an even smaller handful of women managed to get into single races like the Vendée Globe. In this most challenging of races, women proved to be as good as, and sometimes even better than, their male rivals.
But after that race, were they called a member of the higher echelon team? The Volvo Ocean Race, for example, or the America's Cup team? No way. Even an Olympic gold medalist didn't get a chance.
It's not even a glass ceiling anymore. It's a large, fiberglass-reinforced emergency bulkhead.
For today I cannot recollect any area where there would be so few opportunities for women. Or where there are equally far-fetched arguments to justify it, for that matter. It's like going back to the '70s, to a retro drama about tough cops' weekdays.
While other industries have advanced in this and even felt the benefits of the change, yachting has reversed. This became even more evident not so long ago, with the inclusion of... Tracy Edwards. for the Whitbread Legends. This race - a kind of "warming up" event before the Volvo Ocean Race - will bring together famous teams of the past, including all-women Maiden team led by Edwards.
When Tracy Edwards raced in the 1989/90 season, it looked like a real shock to the foundations. But the sailing sky worked like a huge jelly - shaken a little and froze again in pristine pristine condition, as if nothing had happened.
Despite the many suggestions on how to increase the presence of women at the highest (and highest paid) levels of yachting sport, no team in the last VOR races or America's Cup has seen women. Not even at the mighty biceps and boatsman's throat positions of helmsman, navigator or even flight reporter.
Campaign Dona Riley. called "Mighty Mary" during the 1995 America's Cup was another false hope. The only woman to appear aboard the Cup boat since then has been Alicia Ageno, who was a crew member of the Victory Challenge in 2005.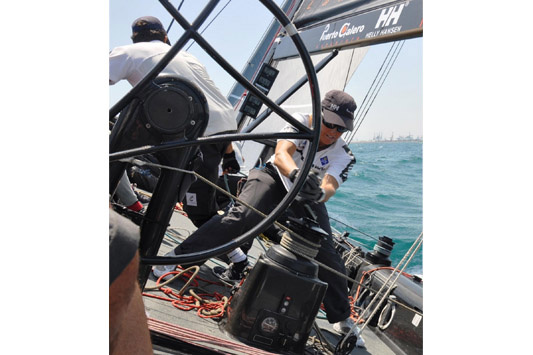 Whatever anyone says on this subject, this situation is not due to the lack of suitable candidates. So why is it?
The inconvenient truth here is that professional sailing is still a club for boys. It all starts with "he's one of us" or "a good guy on a boat". Unfortunately, the undeniable professionalism on the water still doesn't rule out a boys' approach to recruitment.
Ironically, the situation in amateur racing is quite different. Amateur "sail" is a great variety and represents a full cross-section of society. For example, in recent years in Cowes Week - the largest regatta in the United Kingdom - women make up about 40 percent of all participants.
I think it's time for the professional sailing community to take a close look at their own unshaven reflection in the mirror and ask themselves a couple of questions about equal opportunities and personal diversity in employment. These questions should include, but not be limited to, how to get people with disabilities into the race.
But I probably don't have much hope. No, I quite believe that a team of people with disabilities may appear in the America's Cup. Except that it'll be all men.
About the author: Elaine Bunting, editor of Yaashting World magazine.