Single sailing around the world is not an easy ordeal in itself, and when you consider that this is a competition on boats without any modern electronics, it may seem crazy. Anyway, it is in such conditions that the Golden Globe Race anniversary race, which started on July 1st in Le Sables d'Olonne (France), is taking place now.
More than half the participants didn't make it to the middle of the road. Reasons for leaving the race were different for everyone: someone was let down by technical equipment, someone - physical health, and someone - psychological unpreparedness for such a test. Ironically, for Indian skipper Abhilash Tomy, his native Indian Ocean became an insuperable obstacle on the way to victory.
The 39-year-old yachtsman was third when he and two other competitors were caught in a violent storm with 15m waves and 80 knots of wind. Abilash Thuriya's boat turned over and lost both masts. The only thing that saved Tomi was that he had time to take cover under deck. However, he suffered a serious back injury that prevented him from even climbing up and the satellite phone for emergency communications with the shore was damaged during the storm.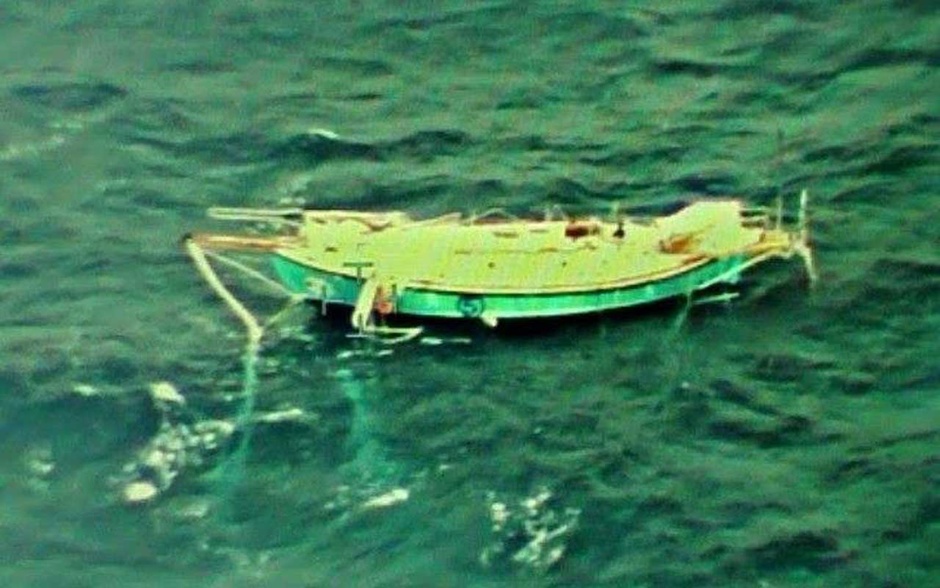 However, Abilash managed to send a short text message about his condition to the organizers of the regatta. Three boats were sent to his aid, but all of them were within a few days' journey, and to the nearest land - the Australian city of Petra - was more than 1800 nautical miles.
For three days, there was no connection with Tom.
For the fourth day the French conservation boat Osiris managed to get to Thuriya, thanks to the storm by then. On board Abilash was given first aid and taken to hospital.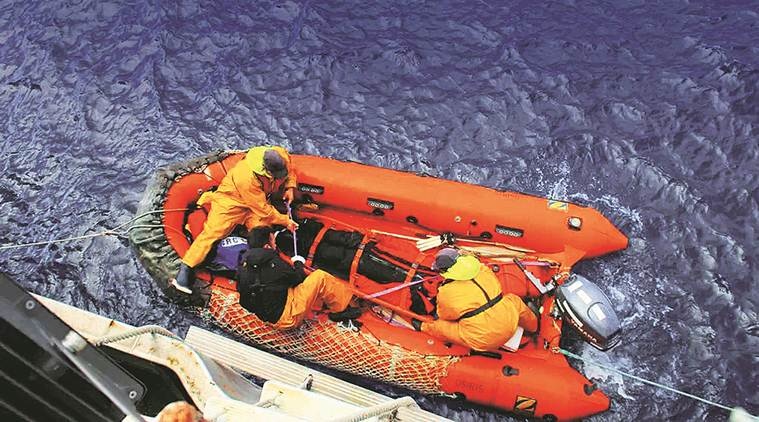 Despite his difficult condition, the Indian yachtsman made sure that the SITRAN teddy bear was saved with him. His concern for the soft toy is not just sentimentality: such bears were sent with each of the participants of Golden Globe Race - 2018 as part of a charity event. At the end of the race, their sale will raise funds for the Sheffield Institute of Translating Neurology (SITraN), which is involved in the study of such severe diseases as Alzheimer's and Parkinson's disease.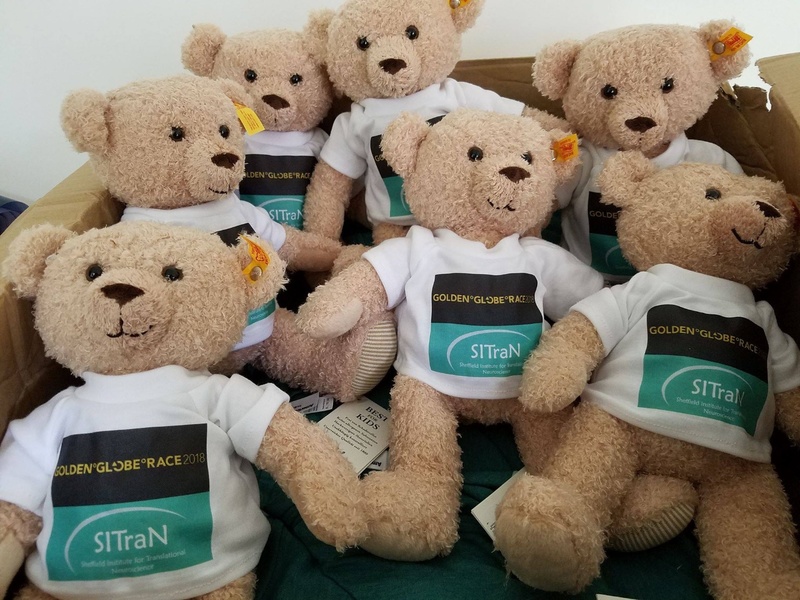 Fortunately, the doctors managed to put Abilash on his feet: having undergone a complicated spinal surgery, he can already walk on crutches.
«After a little rest, he can recover. And I think he will return to sailing," commented»mentor and mission leader Abilash, retired Indian Navy Commander Dilip Donde.
While Tomi is confidently on the mend, we bring to your attention a story told by the family of an Indian yachtsman about his life, his participation in the regatta and his overwhelming love for the sea.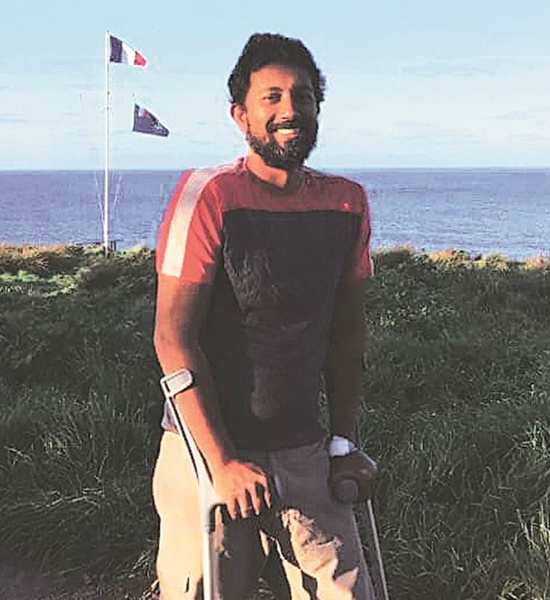 What should parents do when their child goes on a boat around the globe through the whimsical and often harsh waters of the world's oceans? 67-year-old retired lieutenant commander. В. S. Tomi. (V.C. Tomy) decided to track his son's itinerary and mark his achievements on the globe.
He starts by talking about the travels of his son, Abilash Tomi, when he became the first Indian to sail around the world alone non-stop in 2013.
«Every day I marked a section he had overcome. That's where he started, with the Gate of India in Bombay," said Tomi Sr., showing the long, wavy line he had drawn with a pen while waiting for his son to return to his home in Cochin, India. - His route passed through the Pacific Ocean, Cape Luvin, Cape Horn, Cape of Good Hope...»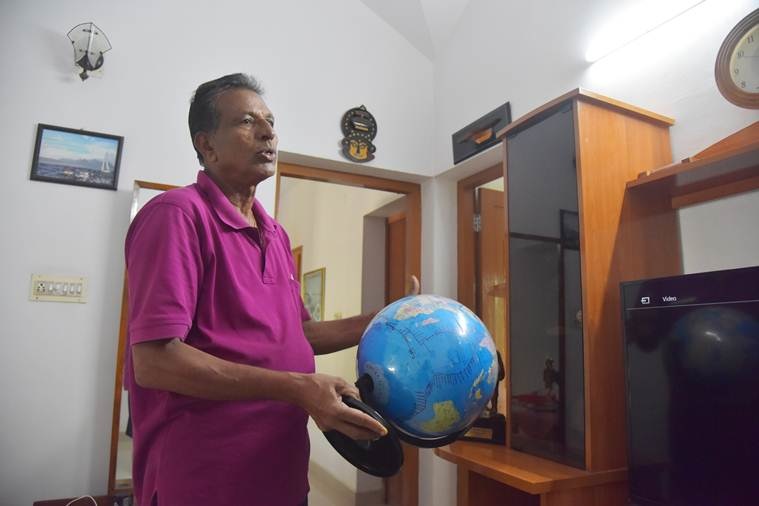 The piercing blue globe is nothing like the grim greyness of the real oceans. The sea is not visible from the windows of this house, but here the eye stumbles across the complex geometry of sails, masts and decks. On the walls are images of various ships, yachts and boats, including the INSV Mhadei, on which Abilash made his grand voyage in 2013. Also on the wall is the helm raised from the sinking of the HMHS Rohilla passenger ship during World War I, which was a gift from the head of the Tomi family.
There is another, fresher and shorter line on the globe, showing Abilash's attempt to circumnavigate the earth for the second time as part of the Golden Globe Race. This curve begins on the French coast and goes far into the Atlantic, then breaks off into the southern part of the treacherous Indian Ocean.
«This is where his boat collided with the storm. The crash»site," said Dad, pointing to a point on the globe. It was a
very difficult time for the family: There was no «way to get in touch with him. We couldn't sleep or eat,"»says Tomi Sr. He assures us, however, that he won't keep his son from such ideas: I pray for him, but I don't «worry. You don't have to control your children. Let them be free birds».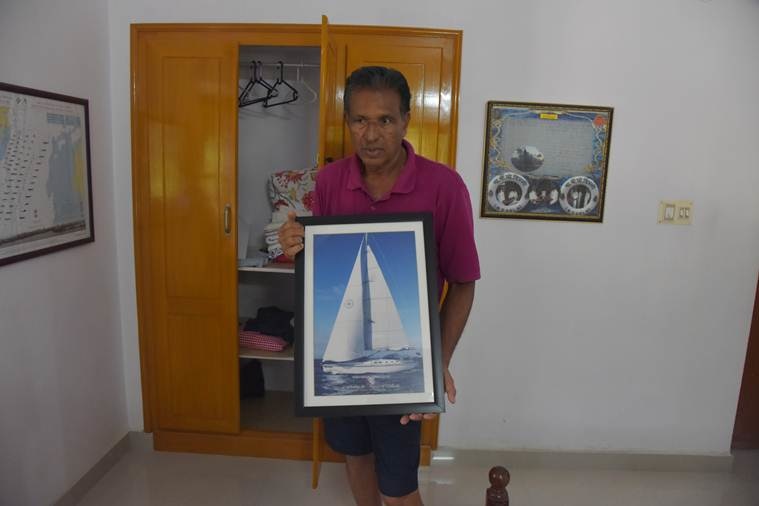 The sea has beckoned Abilash since he was a child. When his father was in the Indian Navy police force, Tomi's family was constantly moving from one coastal town to another.
One day, going out on the balcony, Abilash's mother Valsamma saw him swinging on a raft of polystyrene sheets in a local factory.
They always lived close to sailing clubs and, unlike the younger brother of Anish, Abilash couldn't be pulled away by the ears.
«Abilash was somewhere in second class. We were sent to Kochin," says Father. - After school, he rushed straight to the sailing club, put on his life jacket and jumped into the dirty water of the factory. Then he dragged small boats to the water and convinced the head of the sailing club to give him lessons. By the end of school, Abilash was already a competent yachtsman.
Later, Abilash studied at engineering and medical colleges, but eventually decided to enroll in a naval academy. Today, he serves in the Indian Navy with the rank of Commander.
«During his studies, he had to travel from Bombay to Lonavala. All his friends took the train. He got on his sports bike and got there before them. He always wanted to be the best and first in everything," Tomi recalled», emphasizing that their eldest son had always had a competitive spirit.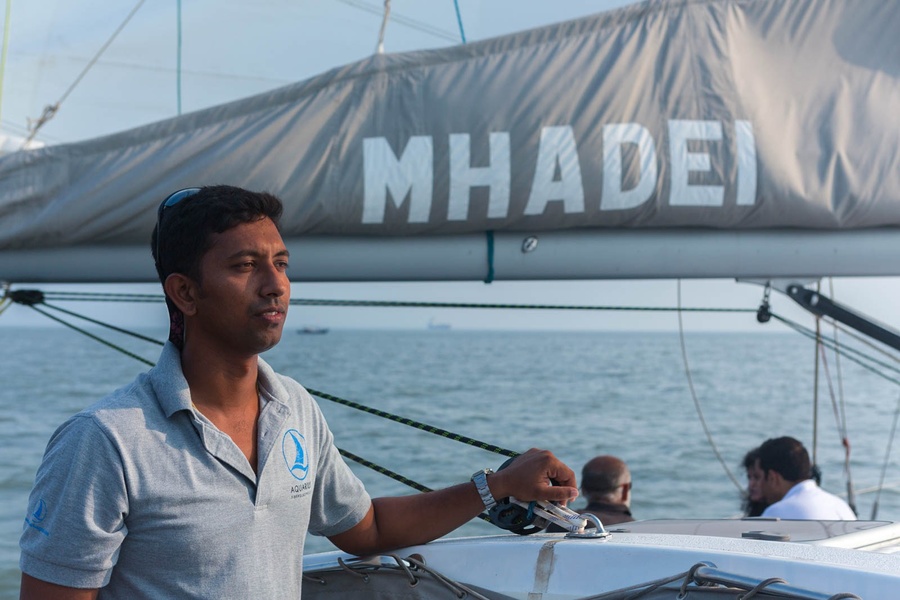 But Walsamma has a very different image of their first-born child in her memory: a quiet, quiet child, a homeboy eternally buried in books, living in his own world.
«I had no idea he had such dreams,"»she said.
When Abilash told of his desire to sail solo around the world in 2013, Walsamma was strongly opposed. All attempts to persuade her were in vain. Then the young yachtsman asked Admiral Manohar P. Awati, who was one of the first officers in the Indian Navy after the country gained independence from the British, to come to Cochin to persuade his mother to change her mind.
«Walsamma was impregnable. He had to come again so she could finally agree.»- says VS Tomi.
Perhaps this was one of the reasons why Abhilash hid his decision to participate in the Golden Globe Race from his parents.
«When the boat was already built, the Malayalam newspaper published a small article about it. That's when we learned...»", says Father.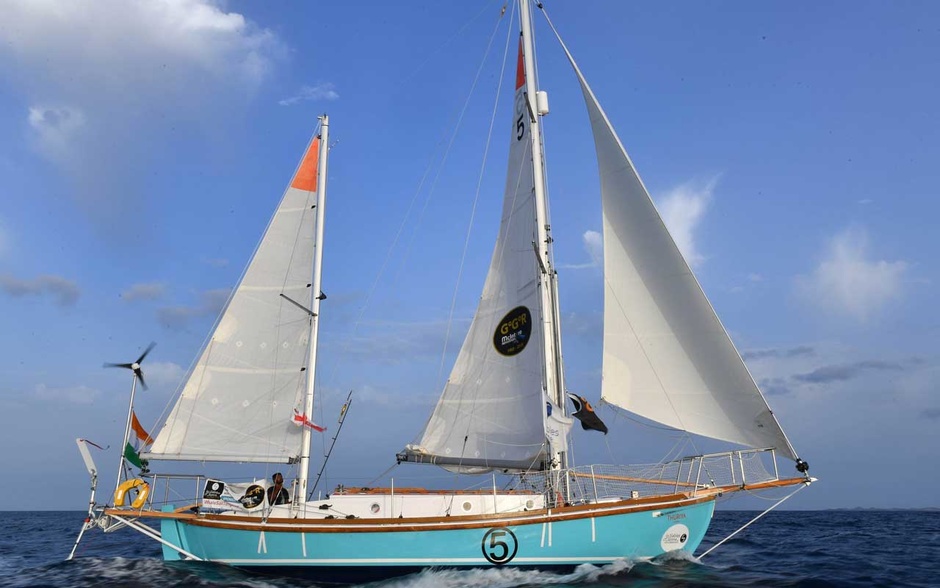 «Do you think I'm fearless? I just want to be free!»- said Abilash, speaking at the TEDx Talks conference shortly after his first round-the-world voyage.
So how did he come to the decision to go to the second round of the world on even more difficult conditions?
«When you succeed in something that previously seemed impossible, you need to challenge yourself again," says Urmimala, wife of Abilash. - He has been reading the history of the legendary race since he was a young man.
So when Tomi was invited to participate in the Golden Globe Race anniversary, it was truly the fulfillment of his childhood dreams.
«He had to learn to navigate the stars and handle the sextant. Even I used to use it, and that was about 25 years ago,"»says Dilip Donde.
The young yachtsman turned to books and the internet for help to sort things out.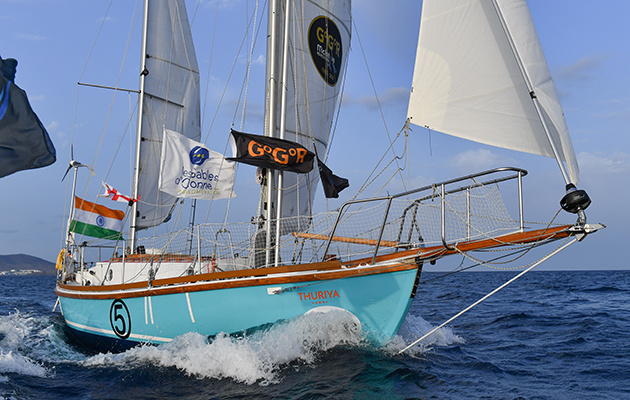 Abilash Thuriya's boat also has a story. It was designed as Suhaili's twin sister - the one on which Sir Robin Knox-Johnston won the world's first single non-stop round-the-world. The 1923 project was used and built by Ratnakar Dandekar, creator of the INSV Mhadei, which survived two voyages around the world.
«After Mhadei, I studied the structures of winds and currents, how cyclones are created in the sea, how pressure rises, and how wind and waves can interfere with boat movement. Thuriya is the embodiment of all this knowledge,"»says Dundecar.
Thuriya is a 9.7-metre, two-mast vessel with a tall main mast, a much shorter bizza mast and 13 sails on board.
«The most difficult thing was the design. In contrast to working with modern projects, we had to design the boat in the same way as we did before 1970. At that time, shipbuilders used much thicker wood and cut it out ... no one cared about weight loss. Suhaili weighs 10 tons. I used Sir Knox's "A World of My Own" book to get the details," Dundecar»continues.
Among other things, it was necessary to take into account the placement on board almost a year's supply of provisions, spare equipment and Abilash itself - under two meters of height. As a result, Thuriya weighed 8.6 tonnes.
It wasn't easy with campaign financing either. The initial estimated cost of the project was Rs. 60 million (over $800,000). After several unsuccessful attempts to find investors, Dundecar stunned Tomi and Donda with its decision to start building the building with its own money.
«I was convinced that if the hull was ready, there would be someone who would finance the rest,"»he said.
Abilash invested part of his savings, then there were those who wanted to support the project. The Indian Navy made an important contribution to financing the project. As a result, after one year and three months the boat was completely ready.
The name for the boat was suggested by Urmimala. «In the ancient Indian doctrine "Upanishada", "thuriya avastha" is the fourth state of consciousness. Before you reach nirvana, you enter this stage of full consciousness. I felt that he could reach that state," she»explains.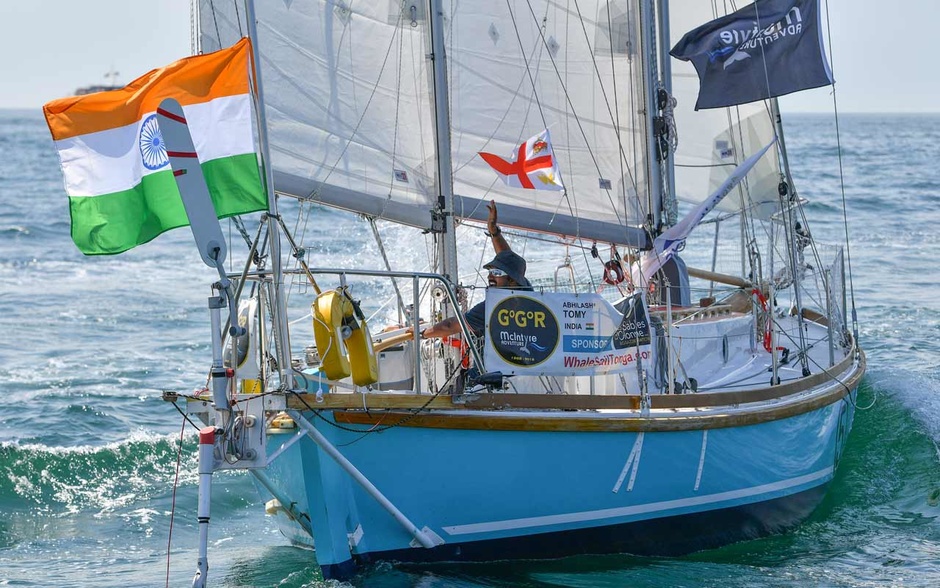 On the 1st of July in Le Sables d'Olonne, eighteen daredevils, including Abilache and his Thuriya, attended the start of the regatta. Knox-Johnston .with whom Dond, and through him and Tomi, had known each other for several years. When the legendary yachtsman climbed Thuriya, he started talking about how long the Indian intended to finish the race and gave him 312 days. Abilash looked at him and said: «311».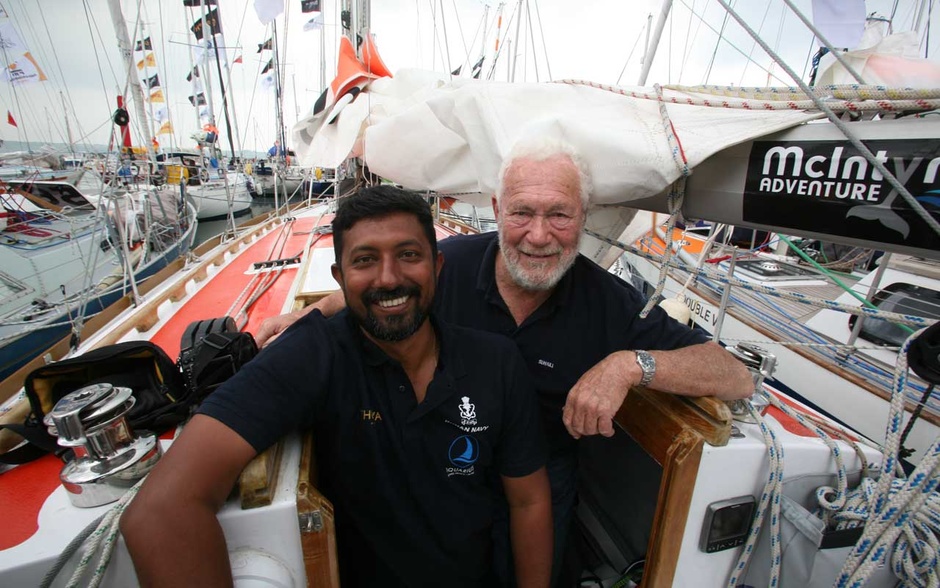 Two sextants, two shipboard VHF radio stations, 300 litres of water and 1000 servings of ready meals, in addition to dried fish and banana chips sent by his parents to France. This is what was on board when Abilash set off. He also took three books with him: The Ancient Indian Writings of «Upanishada», The «Art of Navigation and the Maritime Profession of Knox Johnston» and the novel One Hundred «Years of Solitude by Gabriel» Garcia Marquez.
«He reads it at least once a year,"»says Tomi's father.
In addition to his craving for adventure, Abilash has always loved the solitude into which one inevitably finds oneself while at sea.
«I've always been convinced that a man who doesn't like solitude can never love his freedom," he»said at a TEDx conference.
But being alone on a round-the-world trip doesn't end in romance - it's hard work every day.
«He has to cook his own food, do the laundry. At sea, he can't sleep like us. Yachtsmen allow themselves to go to sleep for 10-15 minutes. Then they get up, check the course and direction of the wind and then they can afford to take a nap again," says Tomi Sr. - When they get home, it takes about six months to get back to normal.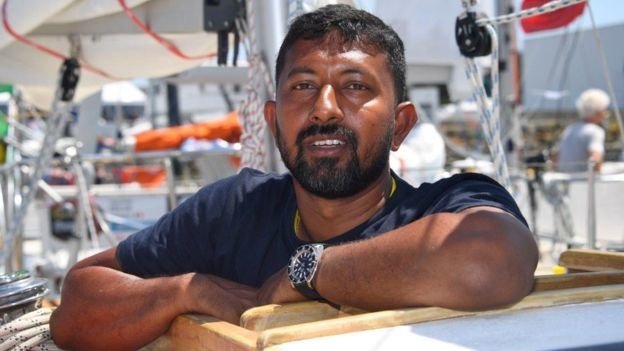 The sea has changed Abilash in many ways: he's become much more unpretentious. And in the eyes of both parents, he has long since ceased to be an average person.
«I never thought he was that strong. He talks about sailing around the world like something elementary and ordinary," surprises his father. - When he comes to us, even if it's very hot, he doesn't turn on the fan," he»continues, remembering how, on his last voyage, Abilash managed to live for 15 days with less than 15 litres of water.
In the Indian Navy, Abilash serves as a naval pilot, and this experience opens up another direction for the ambitious yachtsman.

«I'm sure he's already making new plans. Do you know what he wants to do next? He wants to fly around the earth!»- exclaims his father, blurring in his smile.