Obviously, there is no such thing as the perfect boat for everyone. Some go around the world to see what they are capable of: passing through the oceans in Spartan conditions to the limits of human capabilities. Others crave speed and new records. And others prefer to enjoy the freedom of the sail in comfort, savouring every moment of their journey. What can I say, notions of the perfect bluewater cruiser will vary depending on experience, age and crew size.

Statistically, the classic crew of round the world - couples, less often on such an adventure go alone, with children or in the company of friends. Athletic racers fighting for fame and trophies are a separate category. In this article we will talk about those who go around the world not for the sake of newspaper headlines, and imbued with a nomadic marine lifestyle, chooses not even a boat, but rather a «house» - a reliable and comfortable enough to live in it for more than one month.
Regardless of the budget, a number of important points can be highlighted, each of which can seriously affect the success of the trip and the pleasure it brings.
Size: How many feet does it take to be happy?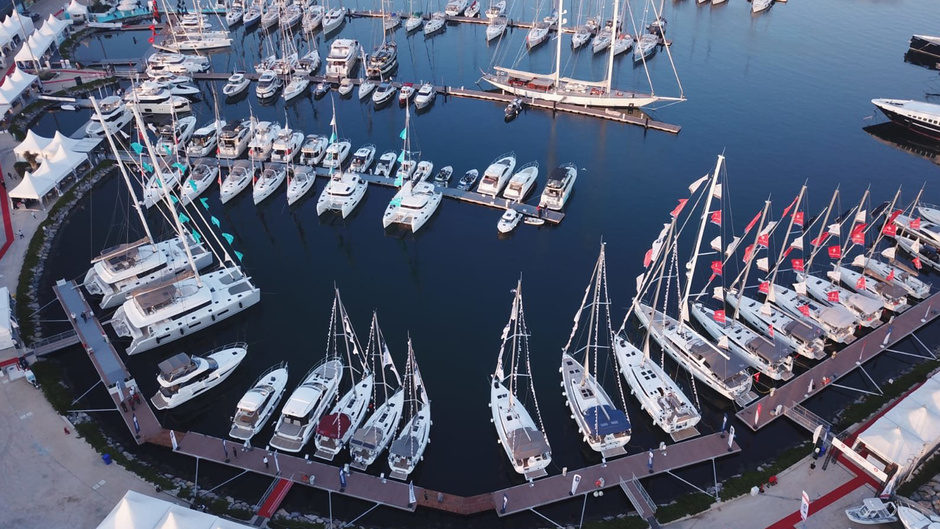 Determining the size of a boat is not only a very important task, but also a very difficult one. The legendary navigator, founder of the World Cruising Club and ARC's largest transatlantic regatta, Jimmy Cornell, believes that this is where the biggest mistakes are made.
Some choose a yacht that is too large for their needs, too difficult to operate with a small crew and too expensive to operate and maintain. It is important to understand that a difference of seemingly insignificant five to ten feet in length increases insurance bills, marina parking, spare parts and other maintenance costs.
In terms of control - electric winches, sail spinners and bow thrusters make it easy, of course, but when making your choice, ask yourself the question: can the two of you - and if necessary, alone - cope with this boat in the open sea?
But size is a double-edged stick, and in the pursuit of economy, many owners end up dissatisfied with the modest size of their «chosen»one. It's no secret that a long time in an enclosed space fuels relations between people, so the more space each of the crew members has, the calmer, more comfortable and safer the voyage will be. At the same time, there should still be enough space on board to store numerous spare parts and tools, sails, fuel, water and supplies.
Modern round-the-worlders most often choose boats between 35 and 45 feet in size.
The minimum length is due to the boat's behaviour in open water and, as a result, the desired level of comfort and safety. But to manage yachts over 50 feet, one or two people can't do it alone, you need a whole crew.
Andrey Nevzorov, who walked around the globe with his wife on a 30-foot Delta and built an expedition vessel for his next round the world and life on it, believes that for two people the optimal size of an ocean-going yacht is 35-40 feet.
It is also worth considering that for the same length the boats may have different widths and hull shapes. Choosing a yacht with a wider width and a maximally rounded shape per middel, you get an additional volume of chandeliers and living space.
Hull type: classmate vs. catamaran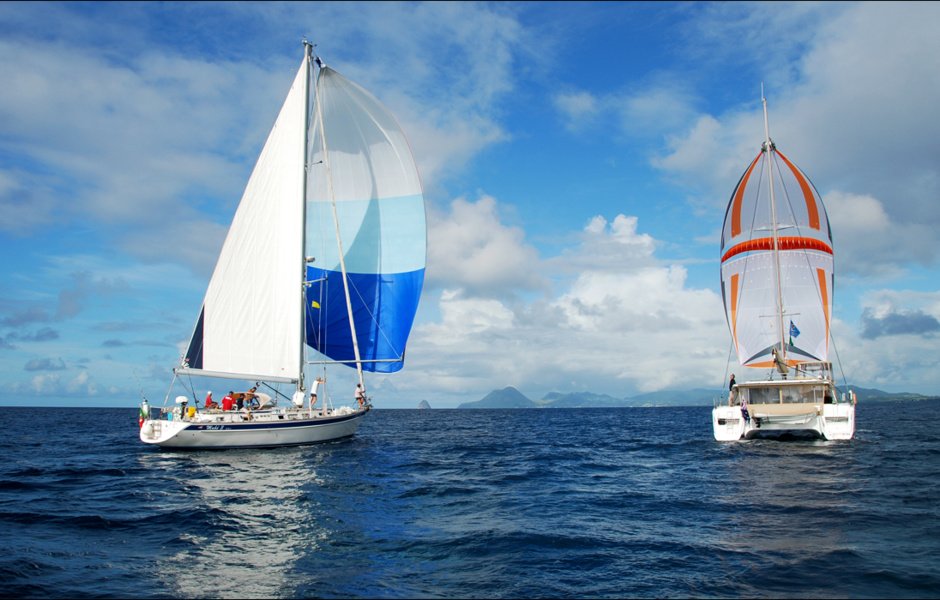 Catamarans have a number of undeniable advantages over single hulls, the most obvious of which is 1.5-2 times more interior space: large cabins and bathrooms, a spacious galley, a huge salon with a good view, as well as easy access to the engine and other equipment.
«A catamaran is a 5-room 3-storey apartment on water. Huge space for children and lots of additional surfaces for entertainment. You are always present in what surrounds you, not going down to the yacht, where a few windows are hard to reach and nothing can be seen», - comments Elena Surikova. Elena and her husband and two young children have been living and sailing on the 33-foot single hull Van De Stadt Pioneer 10, built in 1972. They had a chance to live on a catamaran for a while and they literally fell in love with this type of hull.
Another distinct advantage of multihull boats is that they are more floating in the event of a puncture, compared to single hulls with heavy ballast keels.
No less important plus the rinks are their high stability. It's nice when lunch sauces don't roll off the table and your soul is warmed up by the thought that you won't have to break off the anchorage in the middle of the night. In addition, maneuvering at the marina on a catamaran is easier than on a classic boat, thanks to the engines in each hull.
A nice bonus to all this is that the low draught of the catamarans makes it possible to enter secluded shallow water harbours and provides access to more anchorages.
There are fewer arguments against multihulls. Firstly, the catamaran behaves badly against the wave due to the fact that the hulls in the various hulls meet the wave, plus the wave beats at the bottom of the salon. The solution - a catamaran with high ground clearance, innovative design solutions to cut the counterwave, a clever route and tracking the weather. And on the «classic» to go against the wave is also a dubious pleasure.
Secondly, rinks are more sensitive to weight. Due to the small width of hulls and small displacement, the catamaran is easy to overload, which will have a negative impact on its speed. If you have loaded the catamaran in a long transition, you will not be able to chase it.
Thirdly, the cost of the catamaran itself and its maintenance costs are higher than for a single hull of the same length. In the marina, the catamaran, due to its width, occupies several parking spaces at once, so the parking flies in kopecks.
But the disadvantage that can be decisive and outweigh all the advantages is that if the catamaran is overturned on a long wavelength, it is unrealistic to put it back on an even keel by the crew.
«There are very long 100-meter waves in the ocean, the so-called «Spirit of the ocean», you do not see them, but you constantly find yourself on a hill or in a lowland. Since all ocean crossings are carried out in passing winds, the wind blows in the stern. Here's how it usually happens: in the evening you put up your sails and take a nap. By dawn the wind has risen, the catamaran has accelerated from this long - long wave as from a slide, has gone out on gliding, has overtaken a wave and has stuck its nose in a sole of the following wave. If at that moment there is a spontaneous turn to the fordewind - throws the sails - the catamaran can turn over the nose. And there is nothing in the world more stable than an overturned catamaran. You are absolutely helpless, you can't even call for help because the antennas are downstairs. So if the captain of a single hull ship can afford to sleep at night relying on electronic devices, the catamarans are always sitting and waiting with fear, no matter how such a thing happens», - says Andrey Nevzorov.
By and large there are many examples of successful circumnavigation both on classic yachts and catamarans, only the question of trust and confidence in yourself and your boat remains.
Andrey Fomintsev about his titanium catamaran Blagovest, on which he and his wife went around the earth: «...the fact is that we have a very heavy boat. It weighs 14 tons, and it's quite difficult to turn it over. Even in the heaviest storm it did not heel, and the float from the water almost did not rise».
Hull material: plastic, wood, metal.
Tree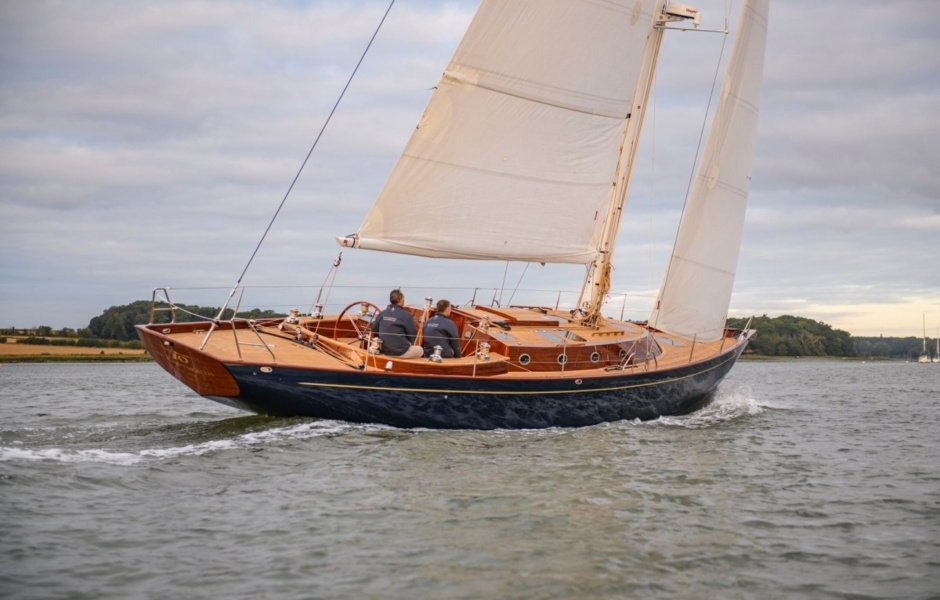 Today, wooden boats are quite rare. They are usually more affordable, but require considerable experience in working with wood and regular hard maintenance, especially in the tropics. In addition, it is extremely difficult to find an insurance company that will agree to take out international insurance for a classic wooden boat.
Steel .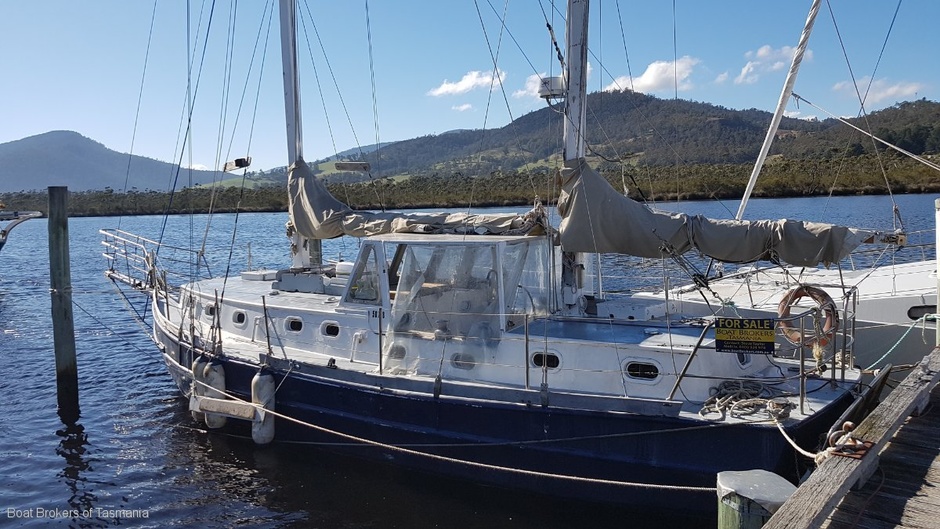 One of the main advantages of steel is its high impact strength. When impacted by underwater objects, be they reefs, ice floes, whales or ocean debris, this material is usually not deformed at all, as a last resort, it is only squashed. Such a boat can be repaired at any port on the globe that has a welding machine and a piece of steel.
However, it is important to remember that this metal is susceptible to corrosion and therefore requires careful preparation for painting and application of anticorrosion coating. It is important that the hull is properly treated not only on the outside, but also on the inside - when buying a boat, you should check that there is no rust or other hidden defects underneath the inner lining. Thanks to sandblasting and modern epoxy coatings, steel today requires less time and money for maintenance than before, but still more than it takes to maintain GRP.
Due to its high thermal conductivity, steel rapidly cools down in high latitudes and becomes very hot in the tropics, so a competent approach to hull insulation and choice of deck coverings is needed.
Today, steel is often chosen when building cruisers on their own.
Aluminum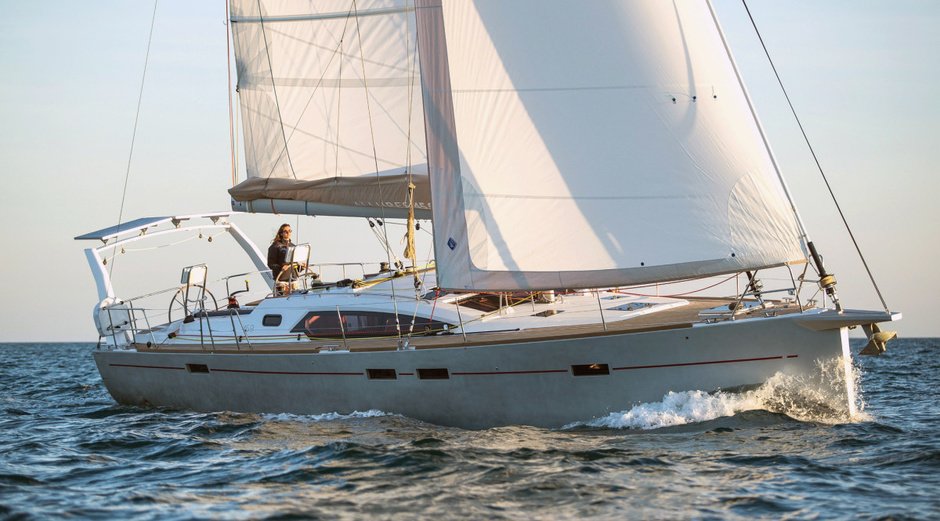 Although aluminium is inferior to steel in terms of impact resistance, it is still much stronger than GRP. The pliability of this metal and three times less weight than steel allow for strong lightweight boats with aerodynamic hull and good speed performance. However, in the ocean, more weight, and therefore less rocking, can be prioritized over chasing for comfort on board.
In addition, aluminium is more expensive. Few of its alloys are used in the shipbuilding industry, the work with it is technologically more complicated and takes more time. Such a boat can no longer be built in the backyard - it will require special welding equipment and high qualification of welder, so the production of aluminum yachts is the prerogative of professionals. As a result, finding a place to patch up a damaged hull can be a big headache.
Aluminium is prone to galvanic corrosion, which means that it will be necessary to carefully choose a non-destructive method (for example, species containing copper will be detrimental to the hull) and to track the damage at points of contact with elements made of other metals: fittings, winch foundations, propeller shaft, rudder baller. Aluminium also suffers more from electrolysis than steel, although modern alloys and manufacturing techniques have improved the situation.
The aluminium boat will have to be repainted every 4-5 years or the unpleasant appearance of the bubble coating will be tolerated.
Fiberglass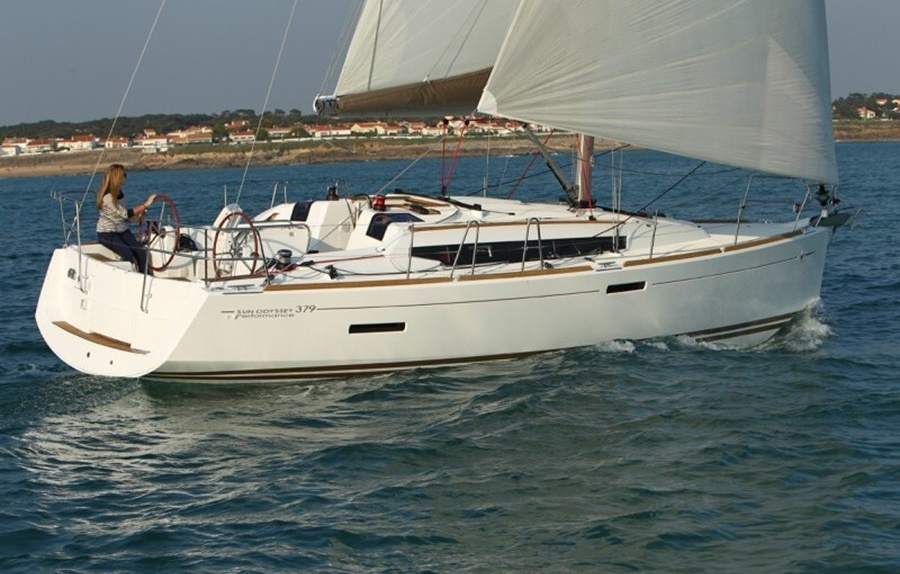 Most modern series cruisers are made of fiberglass and there is a wide variety of new and used boats on the market to choose from. Plastic boats are usually more affordable than metal boats and are also much less noisy and heat conductive. Fiberglass is not as fastidious in maintenance and its repair is easier and cheaper.
However, the impact resistance of fibreglass housings is much lower than that of aluminium and steel. In the event of a grounding or collision with an ice floe in the ocean, the plastic boat may get punctured, while the steel hull will not even have a scratch, and the aluminum one will get dented.
Other drawbacks include odour and harmful fumes indoors, the need for additional protection against lightning and osmosis, although nowadays it scares few people, as it only makes the hull heavier due to absorbed water and cannot cause serious damage.
Keel and sediment
Long keel
Classic cruisers such as the Nauticat and Island Packet have a traditional long keel that forms an integral part of the body. Most experienced seafarers recognize this type of keel as the most successful for ocean crossings. There is a reason for this: this design is as reliable as possible, both in case of collision with an underwater object in the ocean - a whale or container, and when grounded.
«It is a completely solid structure, it cannot be detached. Firstly, it gives an amazing stability - the boat rides smoothly, and secondly, the ocean is dirty, unfortunately, there is a huge amount of man-made debris in it, - Andrey Nevzorov shares his experience on the example of his long steel vessel Epsilon. - I ran aground this summer and there's nothing wrong with it - I just drove in and out. The boat is like a sledge: it comes to an obstacle and then goes backwards».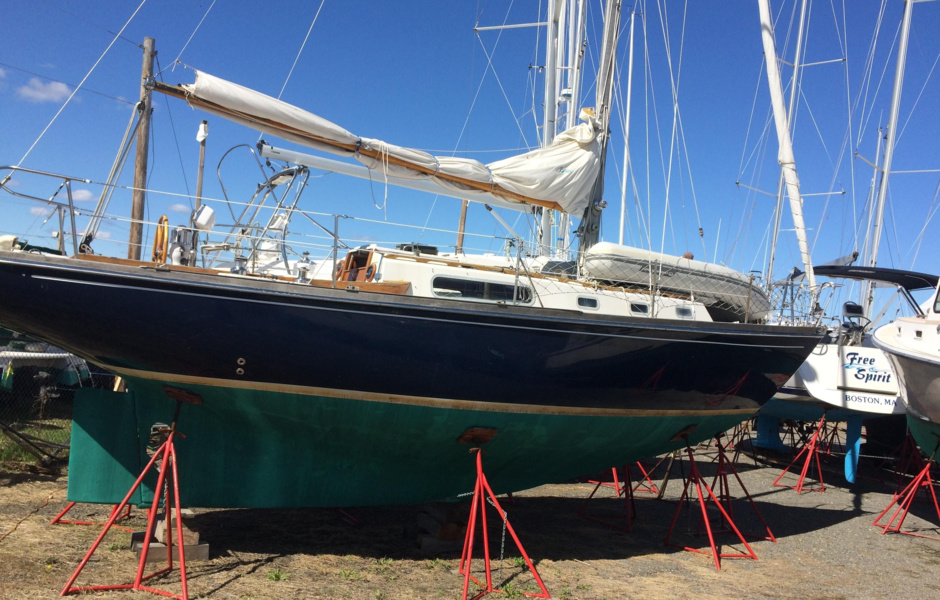 In addition, the long keel protects the propeller and rudder pen from damage and winding debris - ropes, plastic bags and more.
The disadvantage of boats with long keel is their low maneuverability, compared to short keel boats. This is especially important when mooring in marinas, where it is usually quite tight. Exit - bow thrusters, and of course practice, practice and again practice.
Smooth keel.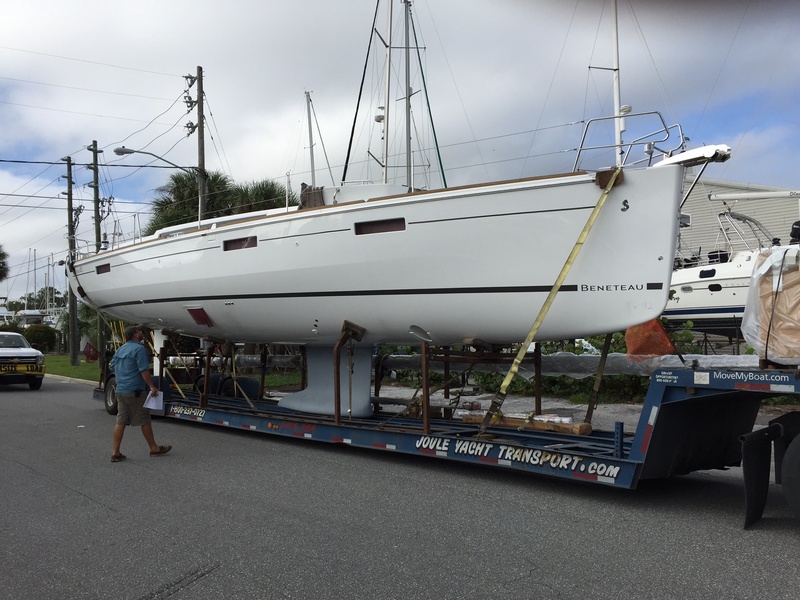 Modern serial cruisers such as Beneteau are usually equipped with a finned keel, which in this case is already a separate element and is bolted to the body - and hence the difficulty. First of all, this design is not designed to withstand the load of an impact - either the fin itself «breaks» or, more often, the attachment, in which case the boat loses not only the keel, but also part of the shell. Secondly, the anchorage is gradually damaged during operation due to water resistance and corrosion, so the boat can lose the keel even without collision or grounding.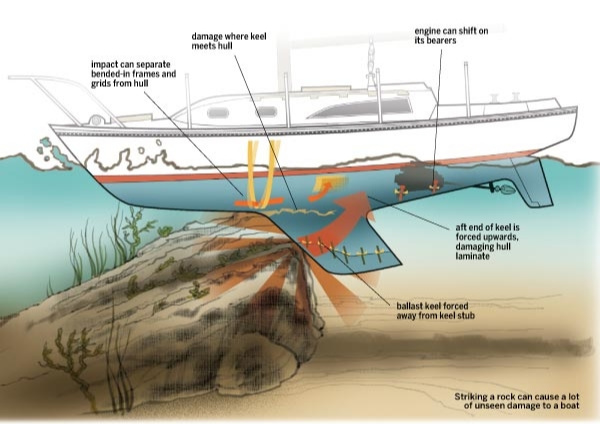 The melting keels are divided into deep and shortened. The former give the yacht better stability, manoeuvrability and allow her to carry a large area of sails. However, yachts with shortened keels are becoming increasingly popular as they have less draft and therefore the opportunity to explore shallow harbours and get closer to shore.
Lifting keel and centreboard
Lifting keels and dinghies provide minimal draught, but the presence of mechanisms makes the structure most vulnerable, and the presence of a well in the hull can cause leakage. Complex keel mechanics require special attention as well as replacement every couple or three years.
Besides, due to light weight the centreboard cannot provide sufficient stability and during a storm there is a high probability of overturning. Nevertheless, Jimmy Cornell chose this construction when creating the boat of his dreams. The stability of his 14.88-metre aluminium yacht was resolved by a combination of the following parameters: an impressive width of 4.45 metres, high draft with the centreboard lowered to 2.9 metres, and 14.61 tonnes of displacement and 4.54 tonnes of internal ballast.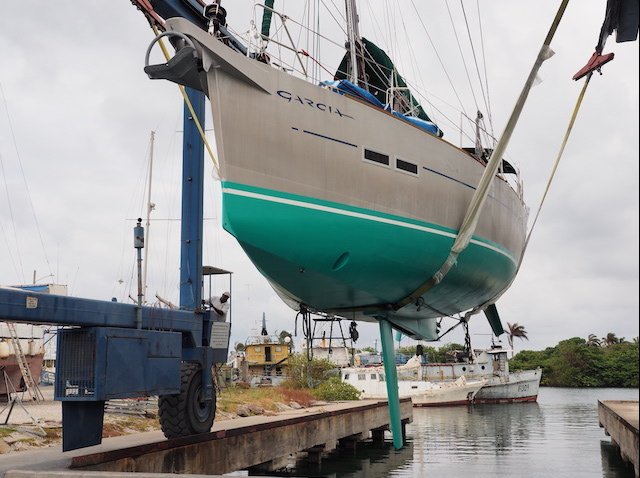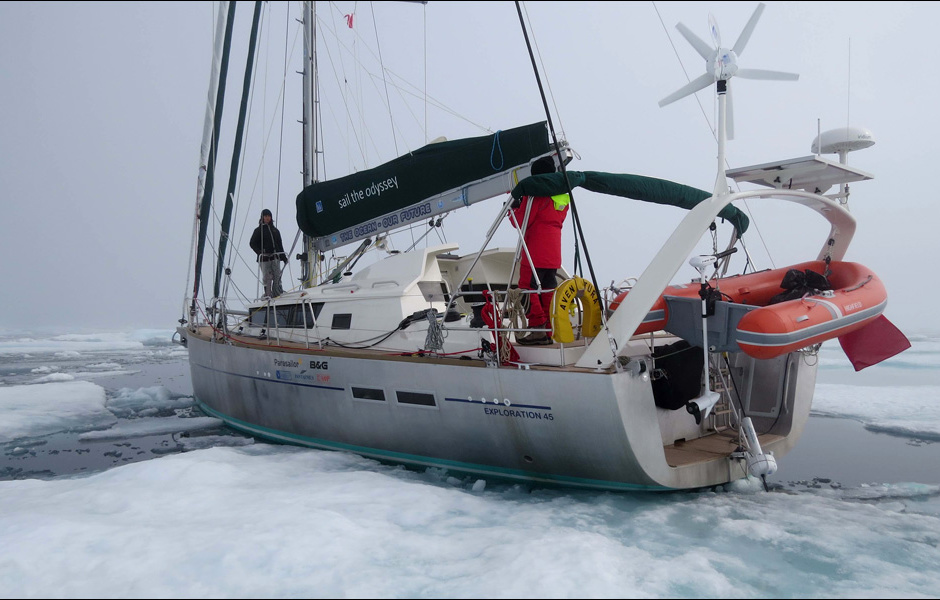 «Having travelled twice through the Drake Strait towards Antarctica, both times on a centreboard boat, and at least twice in windy conditions at around 60 knots with high waves, this was a great opportunity to test the design and put an end to any doubts about stability," the 75-year-old yachtsman comments. - One of the main reasons I chose the centreboard is that it expands the choice of places to sail. We've taken advantage of a fully raised centreboard more than once, whether it's quick anti-fouling between the tides on a Chilean canal cruise or entering a shallow cove in Alaska to watch grizzly bears catch salmon».
Wheel steering.
According to various rescue services, over the past 30 years more boats have been left in the open sea due to steering problems than for any other reason. Therefore, the value of the rudder should not be disregarded when choosing a boat for a round-the-world voyage. If you choose a boat with a short keel, the rudder pen must necessarily be protected with a skeleton.
And regardless of the type of keel and rudder-foot attachment, you need to take care of the reserve steering system, or better yet not one. In addition to the emergency tiller, you can provide hydraulic steering system, as well as a system on the ropes - as implemented on Epsilon Andrey Nevzorov.
«In case of a rudder failure, we have a floating anchor that we can use for emergency steering»," says Graham Walker, skipper of the largest transatlantic ARC race, in the middle of the ocean.
Serial model or individual project?
Ordering a castom / semi-custom boat from the shipyard.
Of all the options for an ocean yacht, the idea of building one «»looks the most attractive: you can think of every detail without having to compromise. But the cost of a custom project is many times higher than a production one, and the construction often takes several years.
The construction of the ship on its own.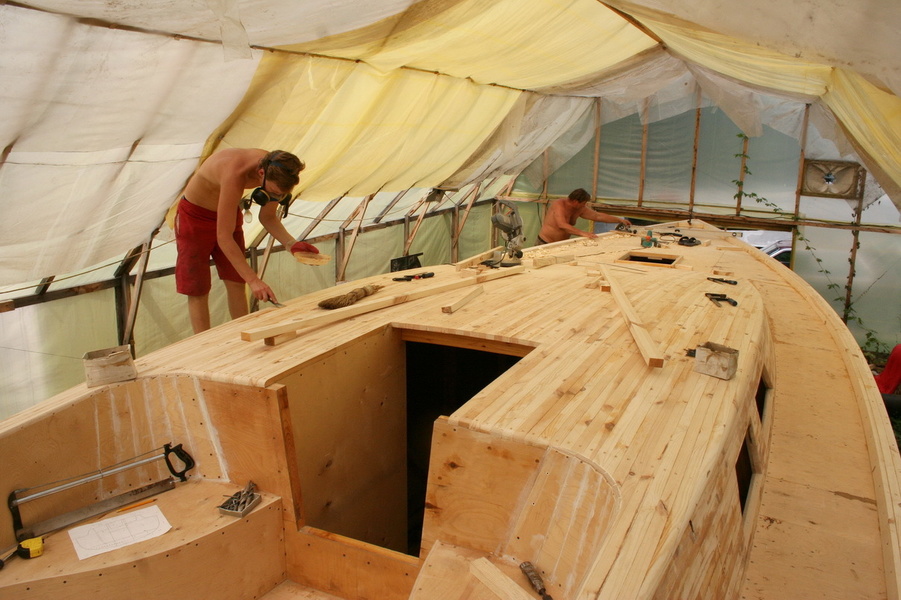 Being able to build a boat yourself can significantly reduce costs compared to an individual order at a shipyard. But this method is suitable only for the lucky ones who have impressive experience and knowledge, as well as willingness to invest a huge amount of time and effort on a project of this scale. Besides, it is necessary to understand that it will be more difficult to sell a «samostroy» later on, and to «repel the money» spent on its creation hardly it will turn out.
Buying a serial model
In comparison with the individual project, the production in-line is not only cheaper and faster, but also can not be afraid of unpleasant surprises associated with the shortcomings - a frequent problem of piece construction.
But it is necessary to understand that it is necessary to prepare the serial boat thoroughly that with confidence and comfort to go on it in round-the-world, and it by itself will demand serious expenses.
Buying a used boat
It is not easy to find a used yacht that meets the basic selection criteria, is in a decent condition and does not exceed the available price range. Cruisers, especially those that gave up on charter, often pass not only water, but also «fire and copper pipes», and grounding is not the worst thing that could happen to them during this time. Therefore, a used boat should be checked very carefully, not hesitant to look under the cladding and not stingy to order a survey of the underwater part of the diver.
When buying a second-hand yacht, you should immediately deposit 50% of its cost for possible replacement of engine, sails, wiring, fuel and water tanks, rigging, electronics and hull painting.
However, there is a chance to find a boat that is already equipped for long voyages and thus save up to several tens of thousands of dollars, as the equipment does not significantly affect the cost of the vessel when sold.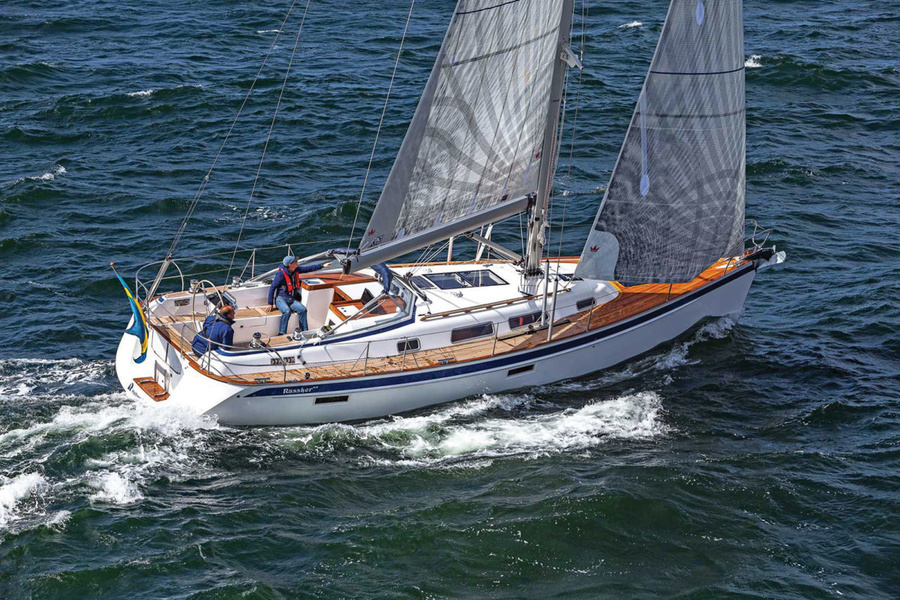 Shipyards that build boats for round the world
Among the shipyards that specialize in bluewater cruisers, they have earned a good reputation among the world's best:
Hallberg-Rassy - boats of this brand demonstrate excellent performance in the open sea, passing through strong waves, «like a freight train on the rails». And inside are real floating «houses» with functional interiors.
Nauticat, a reliable Finnish cruiser designed to sail in almost any climate, has long won the respect of the world's cruisers. On the 12-metre Nauticat 40, built in 1988, the Klochkov family, known for its «Travely-family»project, together with two children, now sails around the world at roaring forties, the Southern Ocean through three great capes - Cape Horn, Good Hope and Louin.
Garcia Yachts builds custom and semi-custom sailing yachts with the most advanced technology. The boats are famous not only for the strength of their aluminum hulls, but also for their perfect heat and sound insulation. Garcia Yachts Exploration 45 is Jimmy Cornell's latest boat, which he has been involved in the development of to get the perfect yacht.
Contest - rugged luxury cruising yachts that will allow you to explore the world in maximum comfort: spacious cabins and large relaxation areas on deck combined with a protected cockpit. It was on Contest boats that the famous Russian yachtsman Alexander Ezhkov stopped his choice for round-the-world cruising.
All these boats are not cheap, but even at resale they do not lose in price.
From the more budgetary manufacturers of ocean yachts it is possible to allocate:
Cal - these yachts were loved by racers as early as 60 years ago: they are manageable, fast and comfortable, although sportively minimalistic inside. This boat will be easy to upgrade for long distance cruising. Liz Clarke has been living and travelling around the planet for 14 years on her 1966 Cal-40.
Hylas Contest produces yachts sharpened for long cruises with comfort: large aft cabins, spacious central cockpit and teak interior. These boats are characterized by good maneuverability and ease of operation of a small crew.
Caliber - these fiberglass boats have long been renowned for their confident behaviour in the open water, quality of assembly, speed and comfort of living on board.
Island Packet builds unique long-kilo cruisers that have become almost iconic. These are heavy boats made of durable fiberglass, which will not set speed records, but will provide you with safety and comfort.
Tartan - American shipyard with half a century of history, producing epoxy sandwich hulls with unique technology, using Kevlar fibers and carbon reinforcement.
C&C - boats under this brand were built in the same production and similar technology with Tartan yachts. Distinguished from Tartan for its sporty character, C&C hulls are renowned for their similar durability. At the 11-meter C&C 35 of 1972, Sergei Morozov made a single round-the-world voyage that inspired the navigator to write the book «When the horizon» shouts with lots of useful tips and plans for entering ports.
There are also a lot of people who successfully go on boats of mass brands, such as Beneteau Oceanis series or Jeanneau Sun Odyssey series. One of the many examples is Sergei Herman, aka Captain Herman, and his team, who are now making their second round-the-world trip on their 13.5m Beneteau Oceanis 45 2013.
Between 2012 and 2015 alone, over 90 yachts of mass brands crossed the Pacific Ocean, of which 35 are Beneteau, 13 are Morgan, 12 are Jeanneau, 9 are Catalina, 8 are Hunter, 6 are Islander, 4 are Pearson and 4 are Dufour.
Whichever option you choose, you should pay attention to important design features.
Floodproof
The custom construction of the boat allows the installation of watertight bulkheads to increase the buoyancy of the boat in case of a puncture. In serial production, the Belgian shipyard Etap took the issue of buoyancy seriously at one time, creating yachts with a double hull filled with special foam.
Some owners have taken steps themselves to increase the buoyancy of their boat by gluing the hull from the inside with foam or fixing inflatable containers on board. Others, on the other hand, direct their energies and resources towards increasing the strength of the shell and preparing the rescue equipment, humbly accepting the idea that in case of a puncture the boat will have to be left.
The cockpit and the place of the watchman.
The protected cockpit will add points to the ocean cruiser, but keeping watch in bad weather will be much more pleasant from the warm dry cabin with a good view. This point can be taken into account both when creating your own project and when choosing a production model, paying attention to the yachts with a deck salon.
«The presence of deckhouse allows you to control the yacht from the inside. Frankly speaking, I don't know how we would do without deckhouse, because in the rain and in the excitement of transition with children it is more or less comfortable to be only in it» - says Marina Klochkova.
Engine location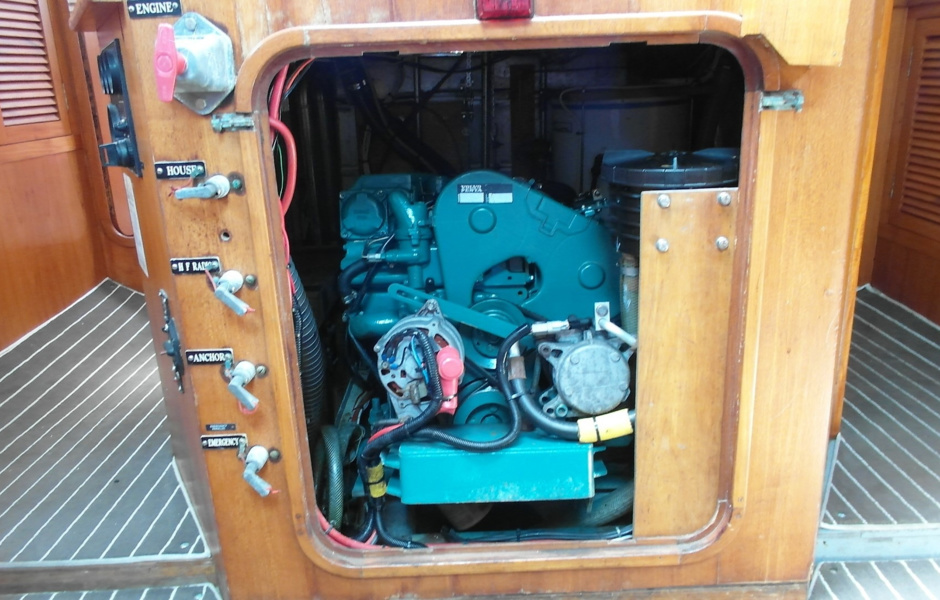 When choosing a boat, you can easily overlook such important points as the location of the engine and the availability of the main technological components: generator, drive belts, starter, intake water pump, impellers, injectors, fuel and oil filters, air inlet, transmission, glands. And all equipment requires regular inspection and maintenance, not to mention the fact that they may need repair during the transition.
Rangoout: one or two masts?
Many experienced seafarers believe that fractional sailing weapons are preferable to a small crew in long transitions to drive a yacht. Firstly, it is easier to handle two smaller sails by hand than one larger. Secondly, there are more possibilities to change the sail area and therefore it is easier to pick up the set by weather. In addition, the load distribution on two masts increases the safety margin of each mast.
However, two masts mean more rigging and sails, and with them more costs. At the same time, modern sailing fabrics, curls and powerful electric winches today will allow you to easily control the sails of almost any area.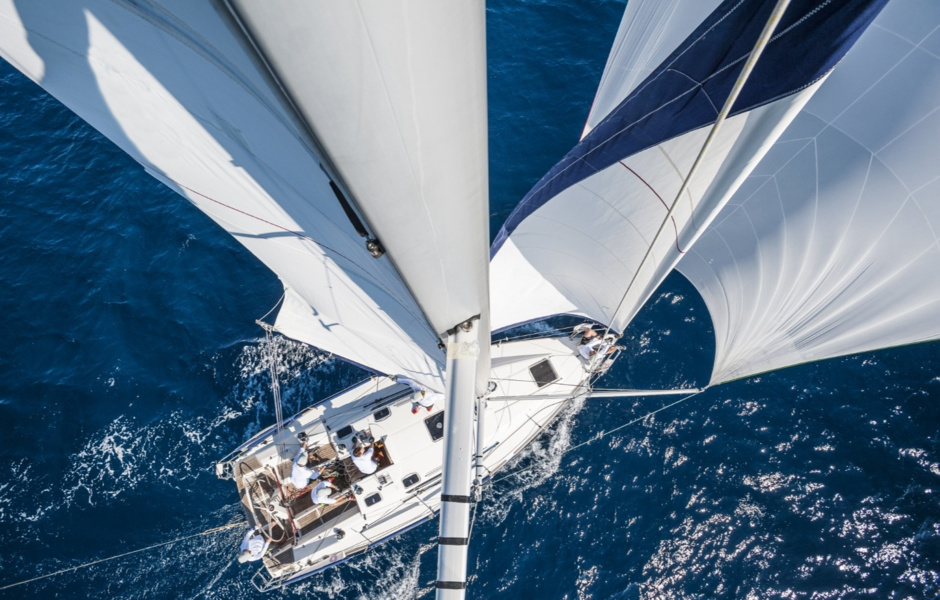 In general, it is worth understanding that it is wise to choose and prepare a boat for circumnavigation - it is only half of the world, it is equally important to be ready for it yourself.
Sergey Morozov shared his opinion with ItBoat: «In my opinion, the main disadvantage of beginner seafarers is that they cannot or do not want to answer two questions honestly:

Why would you do that? What do you want and expect from it? Only honestly. Do you want a quick PR of your favorite? Or do you want adventure and perhaps earnings from sponsors and advertisers? Or are you looking for the real freedom and independence that this action can give you?

And, more importantly, are you ready to stay there? Yes, exactly - are you ready to die in the process of implementing this idea? It's no secret that many have gone to sea and never returned!

It is from here that the legs of incompetence and unprofessionalism of novice sailors grow, resulting in a large number of ridiculous, unjustified, tragic deaths.

And it is possible to go around the world on a three-meter yacht without an engine, to this bright example two round-the-world Gvozdev and romanticists like him, and their history remembers a lot! After all, in the sea all the business and all the responsibility lies on you, not on the yacht. You can break or not to cope with a new boat, sharpened for solo sailing. Everything will depend on your experience and skills and desire to be one with this Water World, not to fight with it.

After all, to defeat it is impossible, you can only learn to play by its rules!»