The annual Consumer Electronic Show (CES) in Las Vegas (Nevada, USA) is one of the largest such events in its industry. She has never been associated with a yacht before, but this year could be a turning point for her as one of the stands at the CES-2019, which ended on January 11th, presented the boat for the first time in the history of the exhibition. She was a personalized 23.8m Adonis yacht from Turkish shipyard Numarine and Furrion, worth $5 million.

Adonis was developed on the basis of 78-foot Numarine, so the appearance and layout is not much different from 78 HTS or 78 Hardtop. The most remarkable thing about this boat is its filling from Furrion. It is not surprising: the exhibition is dedicated to electronics, and Adonis was at the stand of this international technology company, whose portfolio includes projects related to electronics, home appliances, renewable energy, car navigation, information technology, power management systems, electrical components and robotics.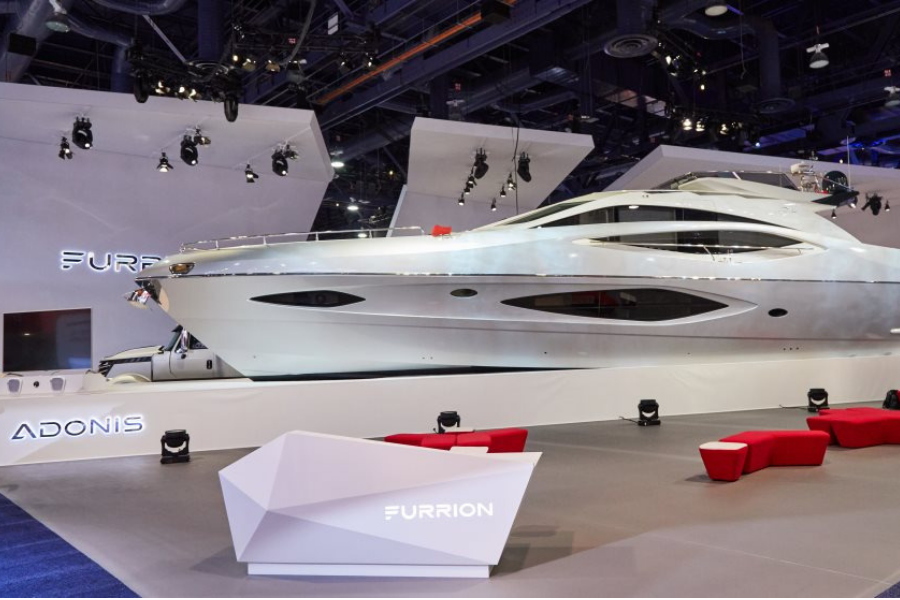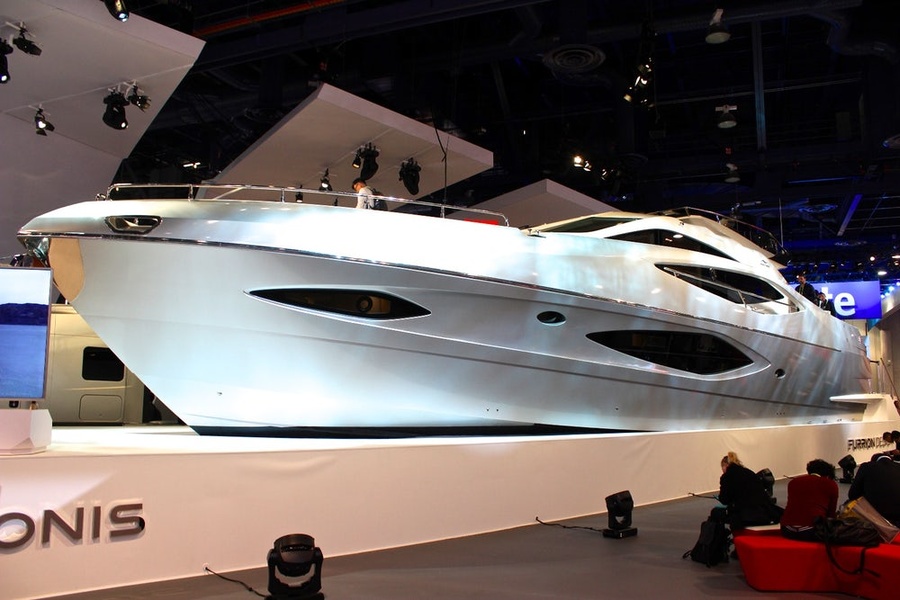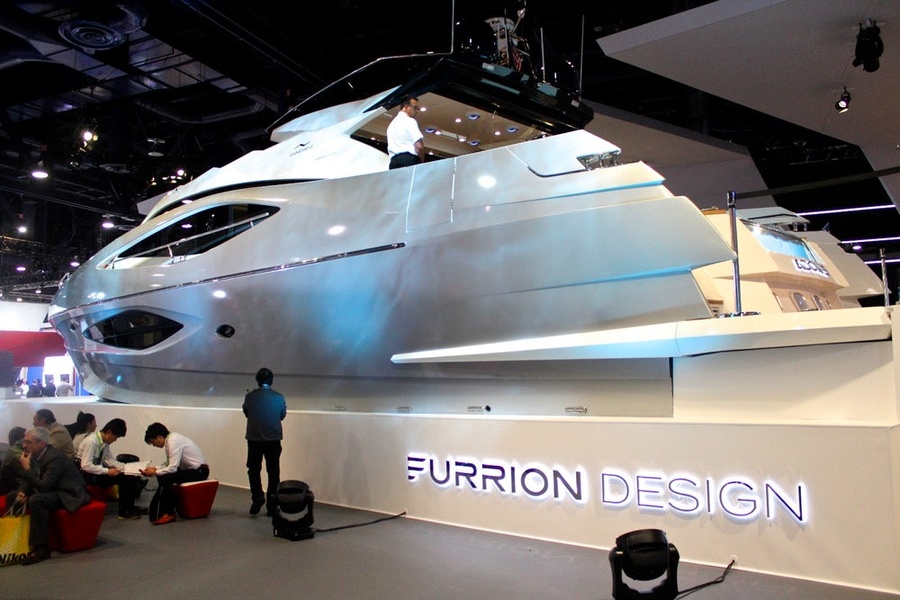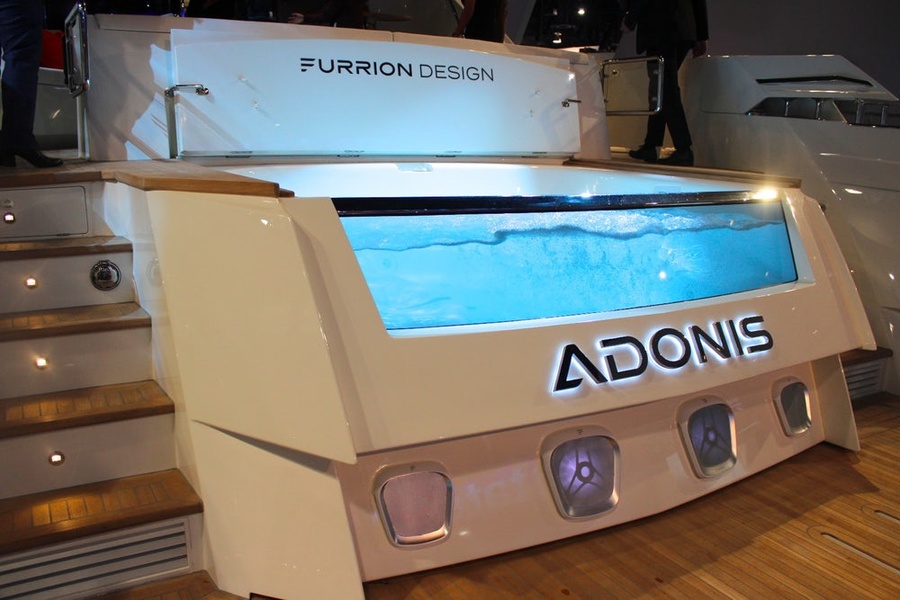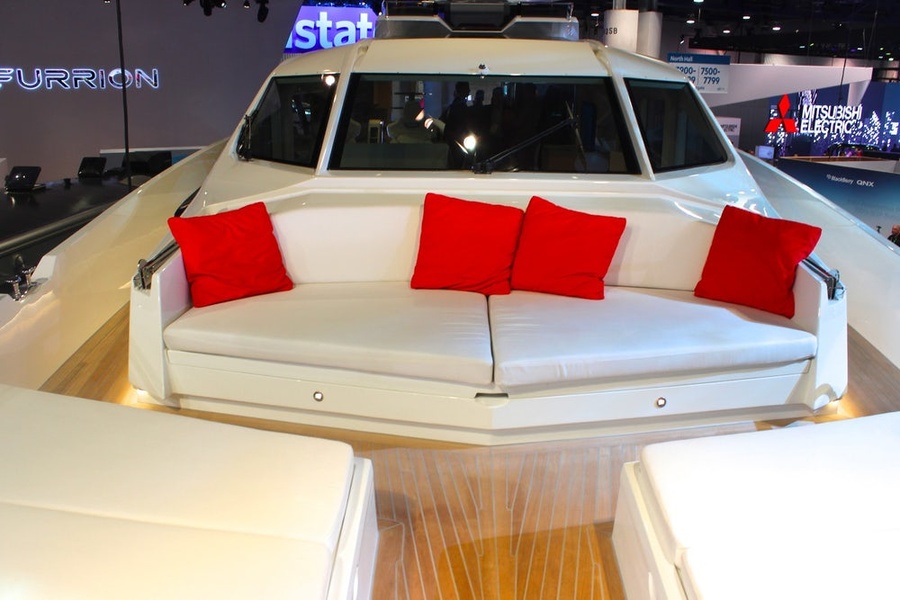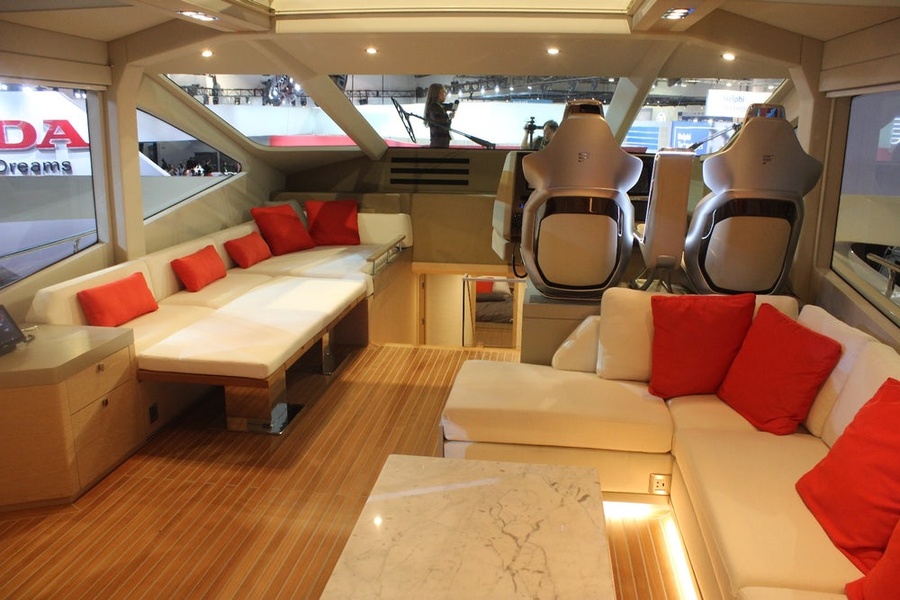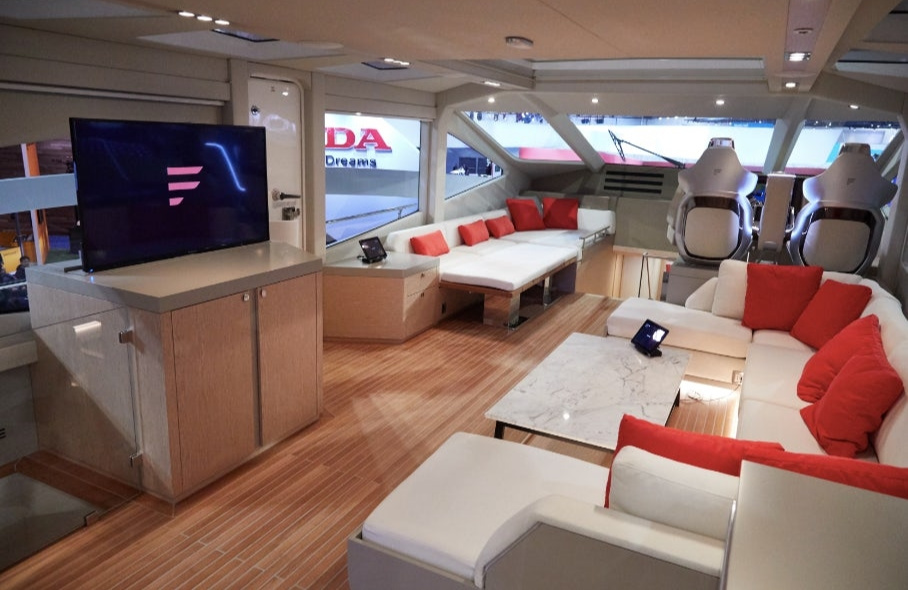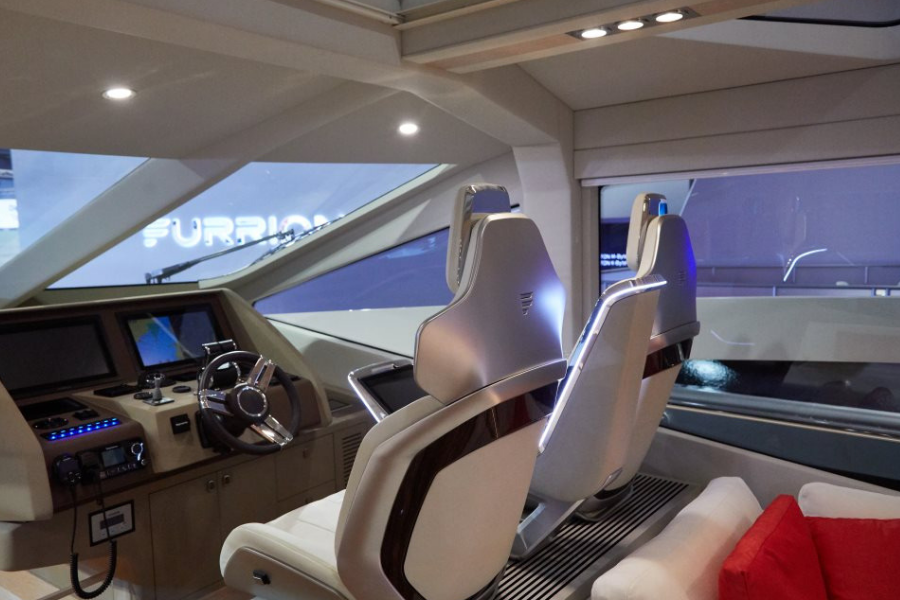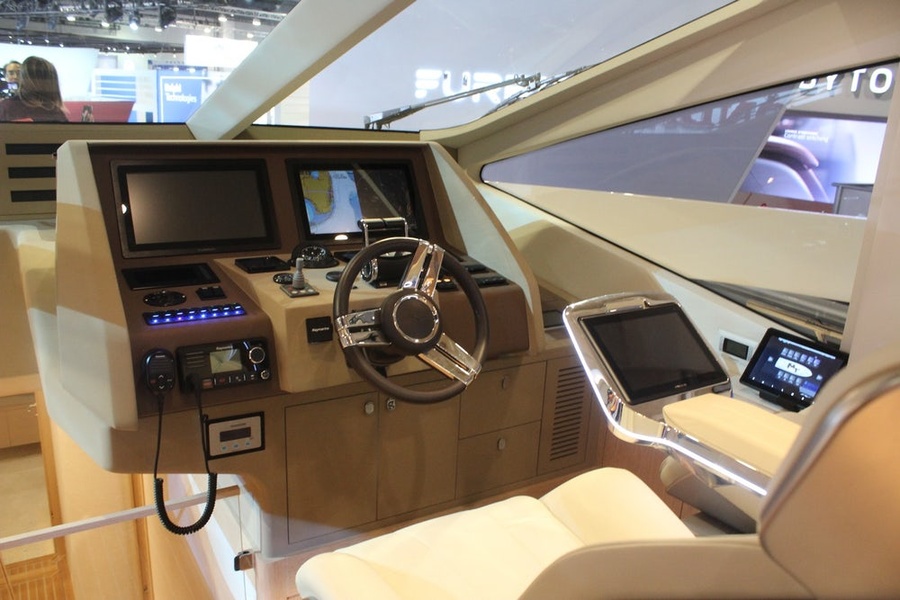 Furrion has already participated in the CES in 2017 and 2018, and Adonis is harmoniously continuing the range of flesh concepts «that the»company is exhibiting. The first Elysium project to surprise visitors to the CES-2017 was a motorhome with a Jacuzzi and helipad, and a trailer with a Limitless fifth wheel on the Furrion stand at the CES-2018.

As in previous cases, Adonis has gathered the best Furrion technologies: from audio and video systems to a complete galley for the chef, security and surveillance systems.
On board there is Furrion Sense HDTV with built-in sound panel, surveillance cameras, microphones, light and smart mirrors... Electronics is literally everything, shower cabin is no exception.
Controls smart appliances aboard Adonis virtual porter with artificial intelligence from Furrion - Angel.
The system is being demonstrated live for the first time and is Adonis' main feature.
Despite the fact that Adonis is joked that the boat owns a record for mileage«on land, the developers»of Angel remembered that they work with a yacht, which is peculiar from time to time in the middle of nowhere«, away from the»stable Internet network. With this in mind, Angel is designed to do its job flawlessly, even offline.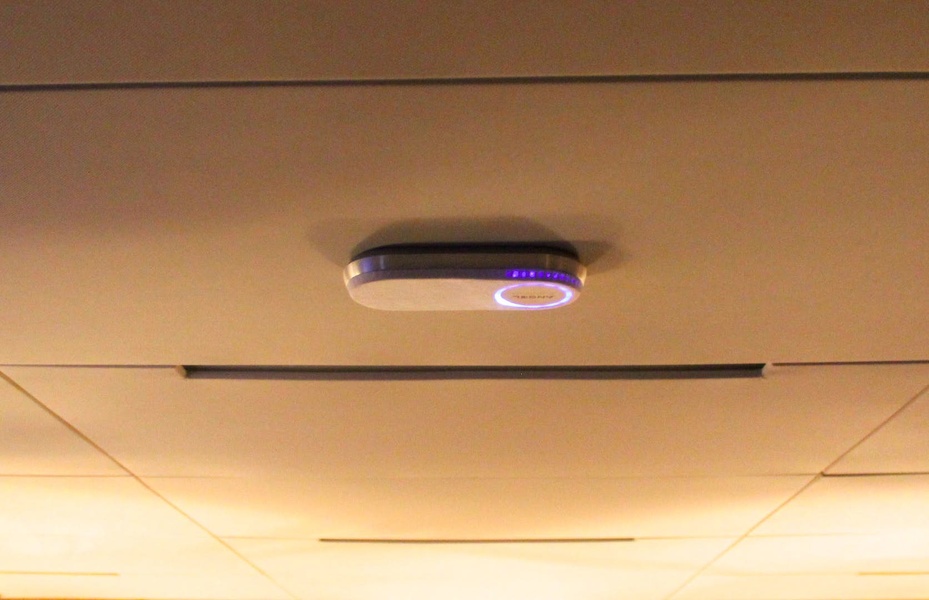 What can this assistant do other than alert you to incoming text messages and calls? Thanks to artificial intelligence, the system is able to recognize faces and then use this information to accommodate personal preferences and make the experience more individual. By understanding who is who, learning and recognising voices, Angel is able to adapt its surroundings to the preferences of a particular user. For example, if you like windows not to be curtained, you could ask Angel to raise the curtains. After a while, when you enter a room, Angel will do this on his own, no need to remind you. Another example concerns music. Angel can play the same playlist all over the boat if you want, but she will try to create a sound space around each guest that he likes.
Angel's study of preferences also suggests what a particular guest would be interested in doing in the area where Adonis is located.
«Angel will help you find interesting places and plan your trip. She will offer local restaurants, make a "must do" list, find a place to stay and book a place in these restaurants, museums, theaters, campsites and marinas. In general, it will take care of all the organizational needs. In navigator mode, she not only commands when to turn, but also calculates the best route, in between telling you what else you can see on the way," says»Furrion.
Do you feel hungry? Angel will send a request to the galley and accompany it with a reminder of the special dietary recommendations that are in your profile. In addition, it can order groceries or other products that chefs may require.
Through Angel's built-in cabin equipment, Adonis passengers will be able to monitor weight changes and skin hydration.
Also, knowing the physical parameters, she can advise the right clothes in her favorite designer homes.
Since Furrion has not yet completed Angel development, it will have even more opportunities in the future. Apparently, for the same reason of shortcomings CES visitors noted that so far Angel does not respond perfectly to the teams, sometimes slows down and is wrong.
Interaction with the system is carried out through the built-in voice modules of smart microphones, which are everywhere on the boat. Password - traditional Hello«, Angel!»to the format of which everyone has long been accustomed to, but now, according to users, to work correctly to the microphone needs to go too close. The Furrion representatives hope that the system will be fully ready by the end of 2019.
Another technological highlight on Adonis is the Furrion Smart Mirrors with interactive display, which are installed not only in the master cabin, but even in the crew cabins. As in the case of Angel, mirrors cannot yet be found anywhere except on Adonis.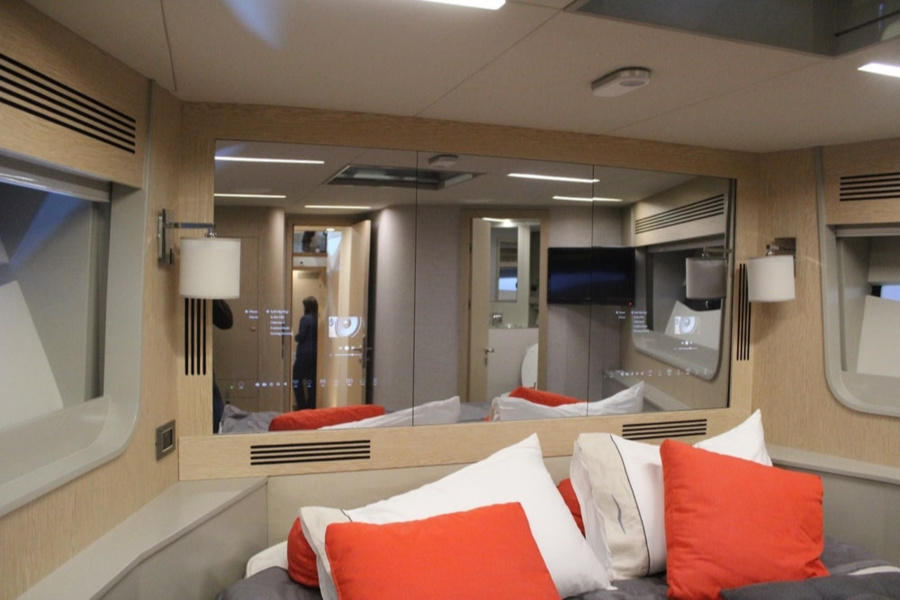 «Touch the mirror or ask Angel to display something on it and it will "wake up". A smart mirror can be a giant laptop or touchscreen that lets you know the weather forecast, transport schedule, news, social networking updates. You can use the mirrors as a TV or watch movies on them. Commands can be played by voice or touch, and a response will appear on the 'screen'.»", they say in Furrion.
Like Angel, smart mirrors can work without an internet connection. Information is automatically saved from the internet, and when the connection is reappeared, the system automatically synchronizes and downloads updates.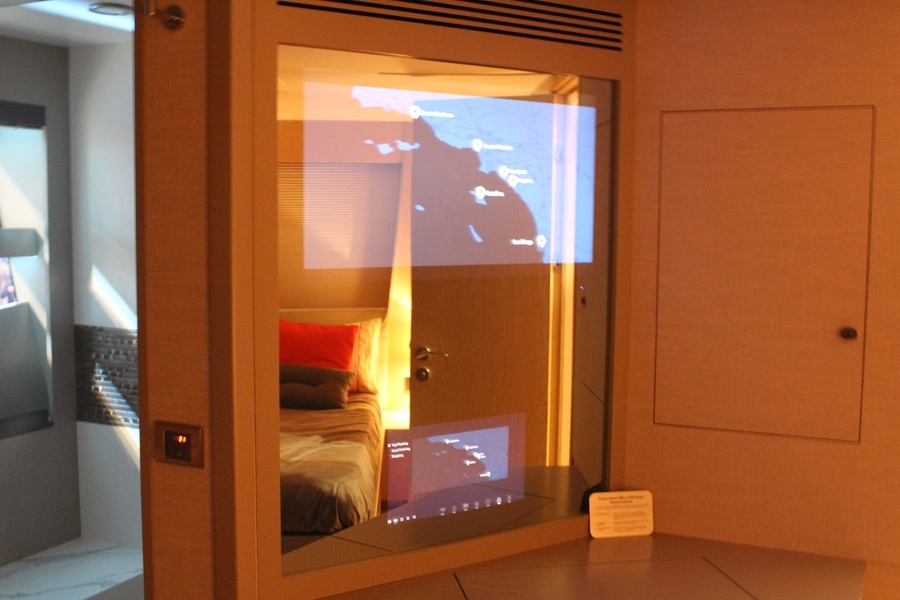 Apparently, when you create a space where everything you need is always at hand, even two big smart mirrors in the master cabin are not enough. Otherwise, how do you explain that the bedside tables on both sides of the bed have additional touchscreens with HD screens and built-in speakers? This is the Furrion Sense TV system, equipped with a suppressor of vibrations caused by sea waves and disturbing the pure sound. On the one hand, it's another channel for interaction with Angel, and on the other, it's a self-contained trick that's certainly good without the ubiquitous helper.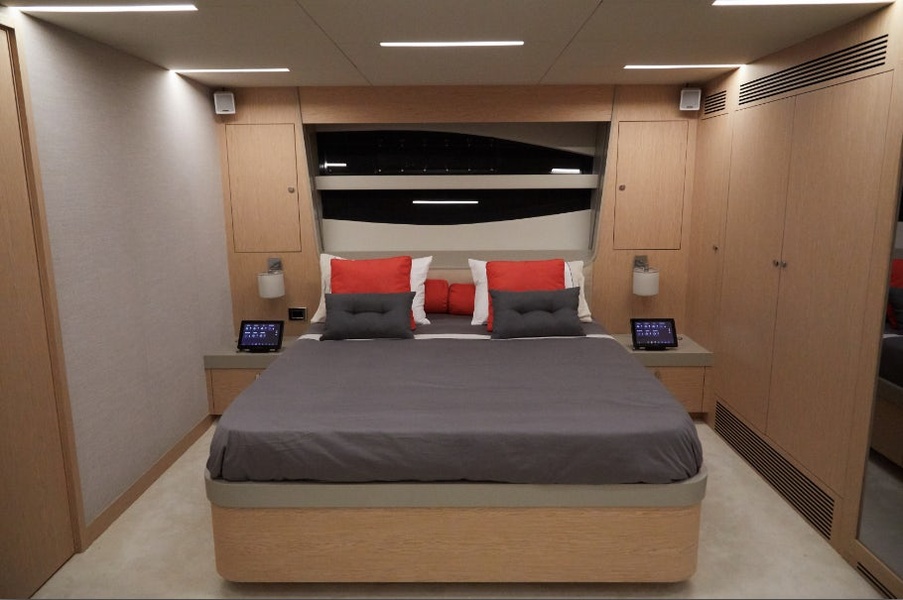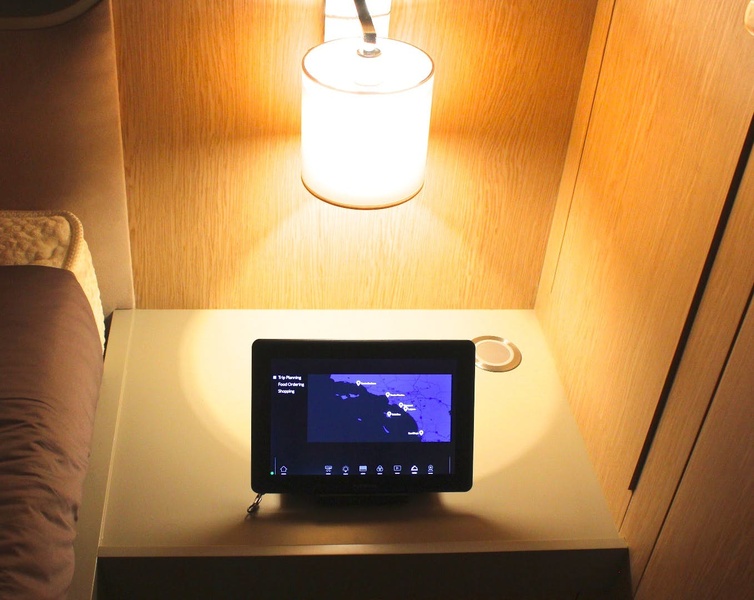 So far, the Adonis yacht equipped with Angel, which could be seen at the CES, is a unique specimen of its kind. It is not planned to be sold, nor is it planned to be mass produced. Adonis is created only to showcase the possibilities that Furrion customers have.
As for Angel, the finalized version will be designed not only for boats, but also for houses - both on wheels and without.