When a boat owner decides to take his dog on a trip, he may face unforeseen difficulties. And with these difficulties, he will come to his captain and his crew. He will fill them with questions about everything from animal import regulations to vaccination. A dog on board is not only a joy for everyone, but also an extra responsibility for the crew. Many are stopped by legislative difficulties: each country has its own rules, some of which are morally outdated. Lulu Trask from SuperyachtNews spoke with yacht captains and representatives from Superyacht Veterinary Service, a company specialising in helping to transport pets by sea, and found out what needs to be done to ensure that brothers are not a burden.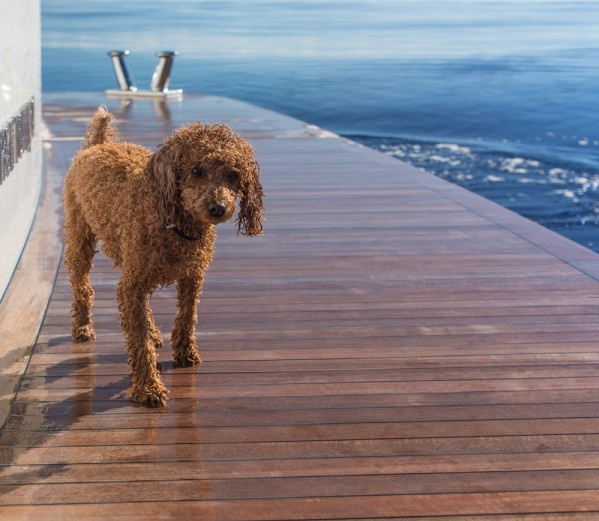 Meet Viktor, a tiny toy poodle and just the happiest dog on earth (and water). He lives aboard the 66-meter Invictus yacht from Delta Marine. According to the captain Mauro Barletta, Victor is a real «sea dog».
«Victor loves a yacht. He is a born sea dog. He has never suffered from sea sickness and sleeps even better when the boat is shaking».
Victor is by no means the only sailor of his species. Many dogs do not part with their owners when they go on a new cruise. Take, for example, the Labrador Retriever Levi with The Big Blue or the bichon frieze Princess and Kate with Madame Kate. In fact, pets (dogs, at least) are more than appropriate on a yacht. But more often than not they are a huge headache for the crew and especially for the captain, who are the ones with the most responsibility.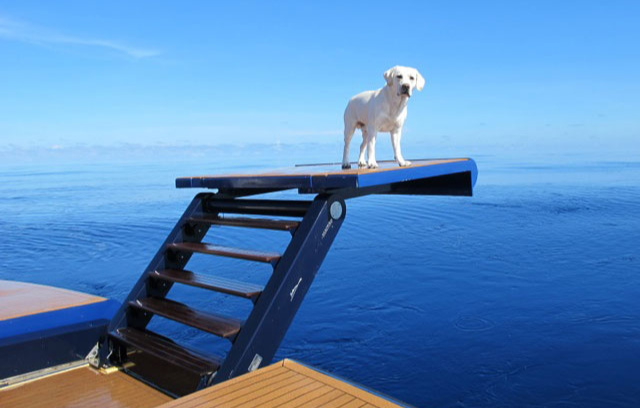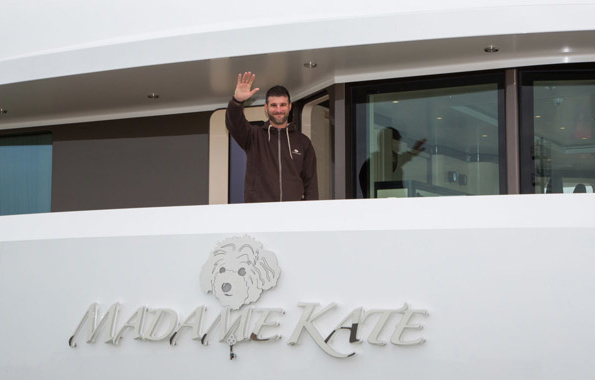 The price of the question.
As far as price is concerned, there isn't much to spend - especially if we're talking superyacht scale. The biggest price to pay is a mistake in the documents. The importance of properly completed documentation cannot be overstated.
«It takes a long time to pay for errors in export documents. These can be indirect costs (for example, a new route or the use of an airplane to take the animal out of the country) or simply fines for violating import»regulations.

Dog overboard!
It's not just bureaucracy that can ruin the mood. There are other things that are important to remember. For example, it is best to take care of all necessary vaccinations in advance to protect your dog from possible diseases.
It doesn't hurt to think about the yacht itself. The 60-meter Madame Kate from Amels is a good example. Its owners have always paid a lot of attention to their pets, which has affected the final design.
For example, designer Tim Heywood has added additional lower rails on deck and around the stairway. The doors were equipped with sensors that don't respond to the dog.
«The dogs are small, and we had to make sure there was no risk of them falling overboard," explains Captain Daniel Sola, who spoke to the owners during construction. - It's also important to keep the dogs away from technical areas such as the bow or where the crew work. For this purpose, a miniature gate has been created, blocking their access to these areas».
You have to buy dog life jackets in advance. It is important to have an action plan in case of stormy weather. It's good to have a team trained in animal first aid. Simply put, you need to approach the issue with the utmost responsibility.
«We need to tell the owners and crew all the potential risks and how to prevent»them," says Siobhan Brade, director of Superyacht Veterinary Service.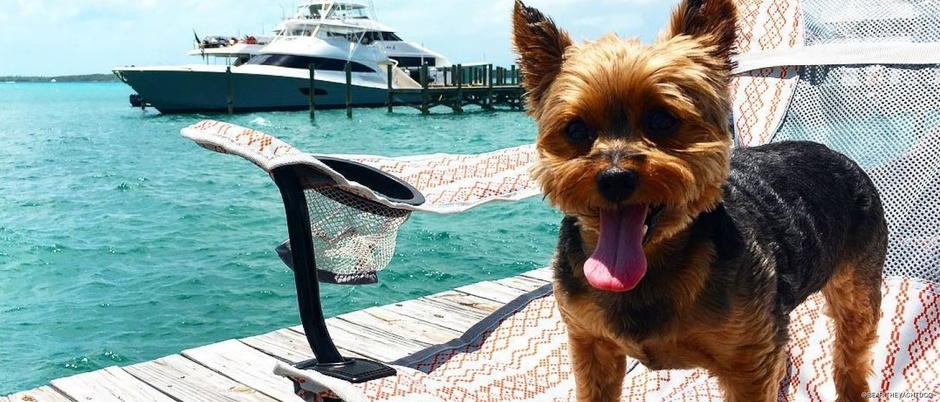 Is sea sickness in dogs true or fiction?
It's true. But not all dogs are prone to sea sickness - the same Victor, Kate or Princess spend 120 days in the water. But a four-year Levi retriever, alas, is not one of them.
«Levi was part of their family. They couldn't take him on their annual voyage in the Pacific Ocean. They knew it would be hard»for him without them," says ex-Captain of The Big Blue Gareth Sheppard.
Levi spent about six months swimming, during which time he became one of the most «experienced» dogs in the world.
He sailed 29632 km from Florida. to Panama, the Marquesas Islands, French Polynesia, Samoa and New Zealand. But he didn't make it to the end of the trip: he was deported back to the United States because of an overdue rabies vaccination.
But returning home in this case could have been for the best.
«We had a good swing a few times during the swim. Levy was on board, and the family was traveling by plane. He felt bad about the shaking, and he missed his owners terribly. He wasn't drinking, barely moving around on a parquet that was getting very slippery and could hardly climb the stairs. Closer to the end he refused to climb the stairs, so the crew had to carry him on their hands so he could go to the bathroom. When we arrived, he was barely made to land»," said Captain Sheppard.
This story is an excellent illustration of the words of Brad, who is sure that not every animal can adapt to marine life:
«It's very important to understand if this is the right life for the dog. Almost always the answer is yes, but in rare cases a dog refuses to adapt and then you need to think first about the health of your dog.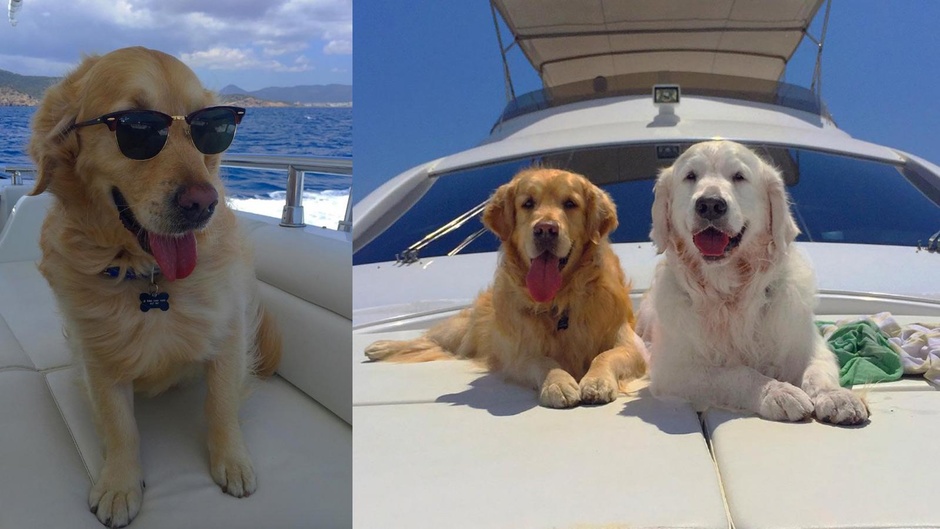 We must not forget the natural difficulties inherent in this way of life. This, as Captain Sheppard believes, is the key factor:
«I think it's best for dogs to go out to sea for a while and with their owners. But you shouldn't leave the animal in the care of the crew doing something else. This only increases the risk that the crew will not cope with their obligations. It is inhumane to force pets on long journeys in which they have difficulty moving, cannot run or miss their owners».
For this reason Kate and the Princess only from time to time go on voyages.
«We don't take guests and dogs on board if there's a risk of strong winds. That's why we didn't have any problems. Dogs spend a lot of time on board and are used»to everything," explains Captain Saul.
The lucky dog is the lucky crew.
At the same time, it is known that a happy dog is the key to a happy crew, and research has been done to confirm that animals (and especially dogs) have a positive effect on human happiness.
Four-legged companions reduce blood pressure and stress levels.

«A dog in swimming has a strong influence on ethical levels. On all the boats I know, the crew are delighted to have a dog with them. Unless there's a joking debate about whose cabin the dog will sleep in," Brad recalled. - Recently a captain told me a story about a girl, a crew member, who got sick. The dog scratched the door until they let him in. She climbed up to it and didn't move until the man was feeling better. The captain noted that his subordinate could not describe in words how much easier she felt in front of the animal».
Poodle Victor with Invictus has the same effect.
«Having a dog has a positive effect on the general ethical level. Everybody is happy about this company," says Captain Mauro Bartletta of Invictus. - The dog calms down in difficult moments and makes a stressful day more tolerable. With him, the team relaxes. It gives the impression that their life is not so strange. And it's all thanks to trivial things like the banal ability to walk the dog».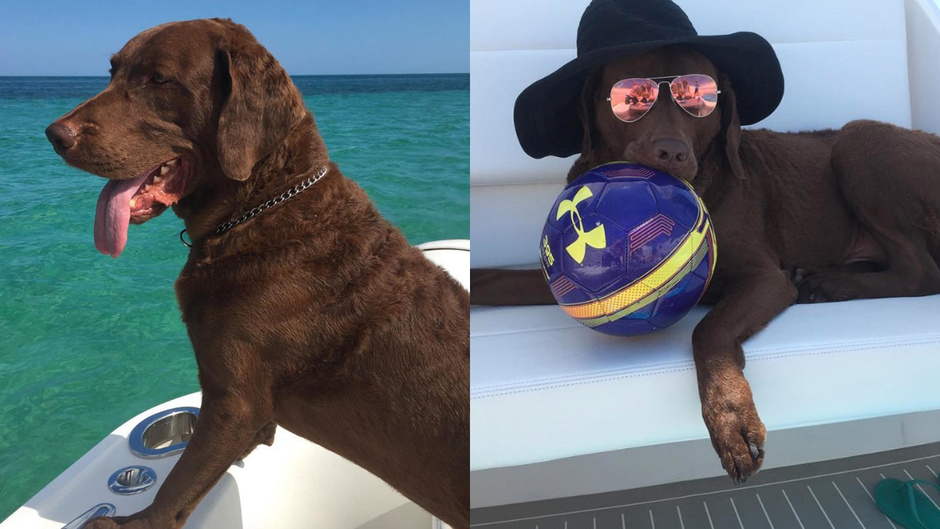 Even Levi, who has caused a lot of trouble for the crew of The Big Blue, deserves only warm words.
«The team loved Levi," confirms Captain Sheppard. - He was an important member of our crew, licked everyone out, his presence had a positive impact on morale. The girls weren't even mad at him after he started pouring»out soon after he washed.
Complex logistics
Nobody argues with the fact that the positive effect is obvious. But having an animal on board requires complex actions and even specialist assistance.
«It's all about long-term plans for the movement of the animal," explains Captain Andy Smith, who, with the support of Superyacht Veterinary Service, takes constant care of the owner's small dog. - Shivan Brad's veterinary experience is very useful in the sense that she can use it to lobby for changes to outdated animal transport regulations. If she succeeds in convincing lawmakers to modernise these rules, everyone will benefit».
Captain Smith's last cruise with the dog was scheduled for another 12 months.
«We had to make sure that the dog's documentation was up to date and that there were all the permits».
If the owner wants a pet but can't take it with him due to bureaucratic reasons or just a lack of knowledge, it means that the whole industry has let him down. And Brad is a passionate «doggie»who has made it her goal to change the rules that are too strict and too clever.
«If you can bring a pet, what's stopping you? Dogs only add to the positive. With them both more comfortable and cozy, which is very important in long voyages. With pets, even ordinary things like walking or eating become extraordinary. Imagine the effect they would have on a yacht! Every little thing will get a little better just because you share it with your pet».
Denis Koshelev translated.