On July 25th, a fire broke out at Versilia Supply Service, leaving local authorities scrambling to control the situation. The incident, which involved a series of explosions, resulted in the partial collapse of the supply service building and the destruction of several vehicles.
The cause of the blaze is still uncertain, although initial police reports suggest it was accidental. At the time of the fire, no workers were present inside the shed, so no injuries were reported. Mayor of Viareggio Giorgio Del Ghingaro assured the public that there were no indications of pollution in the air, further alleviating immediate concerns.
No harmful substances were burned during the incident
According to SuperyachtNews sources, preliminary investigations point towards the shipping department of Versilia Supply Service as the origin of the fire. An overloaded battery of a forklift stationed in the area could have probably triggered the unfortunate event. In the later stages of the fire, warehouse materials and strong winds contributed to its escalation. The ensuing explosions from the tires and fuel tanks of the vehicles stored in the warehouse only intensified the severity of the situation, leading authorities to maintain a safe distance from bystanders.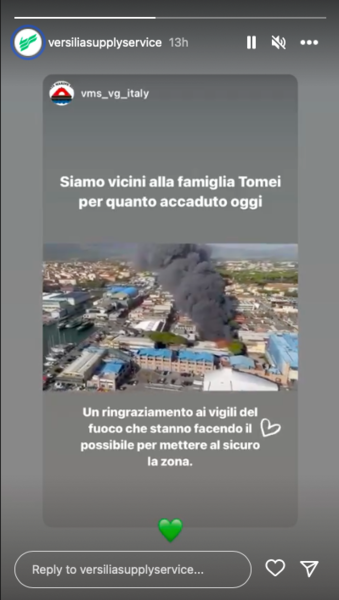 The same day Versilia Supply Service, in an official statement via their Instagram account, expressed support for the employees and the top management, as well as gratitude towards the firefighters for their prompt and dedicated efforts in ensuring the safety of the area.
Resilience and preparedness of shipyards across the region
One cannot overlook the potential impact of such a fire on shipyards in the port area. This includes renowned names such as Benetti, Sanlorenzo, Overmarine Group, and Codecasa. Azimut-Benetti was the first to confirm to Boat International magazine that their yachts and workers remained unharmed.
Authorities, including civil defence officials and fire brigade engineers from Lucca, are diligently examining the site to determine the root cause of the fire. They are also assessing the extent of the damage. Their findings will be outlined in an official report, shedding light on what happened that afternoon at Versilia Supply Service, which has supplied superyachts with engine spares, deck, safety, interior equipment, gourmet food, and beverages since 1985.