On 6 November, 29 skippers sailed solo around the world from the French town of Les Sables d'Olonne.
The start of the eighth Vendee Globe non-stop round-the-world race took place in ideal yachting conditions: sunny and moderate breezes.
The 350,000 spectators watched the Vendee Globe sail from the water and ashore; the harbor at Les Sables d'Olonne played host to a thousand spectator boats - from small inflatables to three-masted sailing yachts and small ferries with hundreds of guests on board.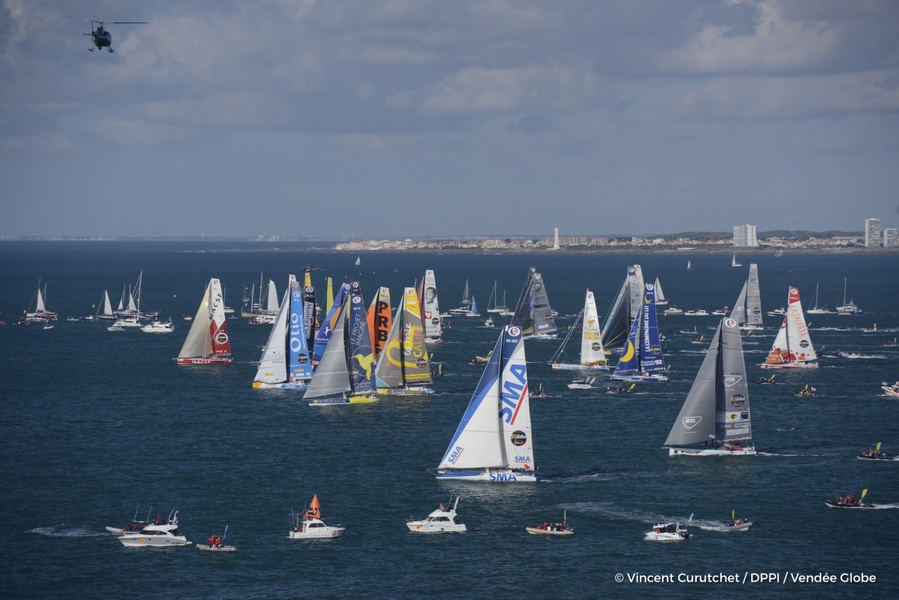 Athletes have experienced the moments of anticipation before the start of the race in a variety of ways. Alex Thomson, one of Britain's best-known sailors, shuffled nervously from leg to leg aboard his IMOCA, his emotions shrouded in sunglasses.
Stoic Jean-Pierre Dyck found the strength to smile cheerfully. Young Morgan Lagravier, on the other hand, was unable to hold back his tears as he dropped to his knees holding onto the railings of his Safran.
Conrad Coleman on Foresight Natural Energy, outwardly calm and collected, admitted that he was starting the circumnavigation of the globe already tired after an 11-month battle for the opportunity to participate. Rich Wilson, 66, was visibly trying to control his nerves.
Arnaud Beaucier left the canal to the cheers of the crowd: he grew up in Les Sables d'Olonne. Beaucier is set to become the first skipper to complete three consecutive Vendee Globes. Jérémie Beyu has also started the regatta for the third time; he smiled wryly at the crowd, knowing that although he is considered the race favourite, the treacherous Southern Ocean that forced him to retire in 2008 and 2012 lies ahead. The other favourite, Armel Le Cléacque, was focused and confident at the start.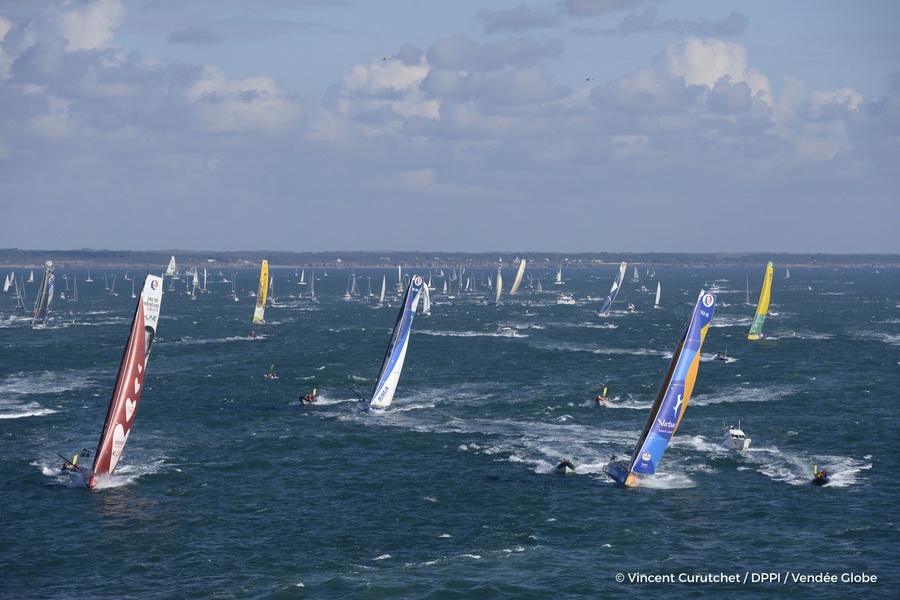 Six of the 29 participating boats are equipped with hydrofoils, but it was last year's Vendee Globe winner Vincent Rioux on PRB with the traditional centreboard that took the lead at the start.
However, 19 hours after the start 5 of the 6 boats in the lead were next generation hydrofoils.
Armel Le Cléac on Banque Populaire, Jean-Pierre Dyck on St-Michel Virbac and Alex Thomson on Hugo Boss, all on new IMOCA, have taken the lead. They are followed by Morgan Lagravier and Vincent Rioux, who led the race in the first hours after the start but gave up their positions. Spaniard Didac Costa, on the other hand, got stuck on the start straight: one of his ballast tanks leaked and damaged his electronics. The Vendee Globe website has a tracker that can be used to track the competitors' movements in real time.