On Sunday, Natalia Molchanova, president of the Russian Freediving Federation and holder of more than 40 world records, rested on a rented yacht near Formentera Island near Ibiza.
She and her friends planned to dive to a depth of 35 meters - not for a record, just for fun.
Molchanova wore her favorite 1.5 millimeter thick purple wetsuit with a reduced buoyancy factor, designed specifically for divers like her: those who want to dive as deep as possible in one breath. The wetsuit was from the Molchanova range, which Natalia launched together with her son Alexei, also a successful freediver.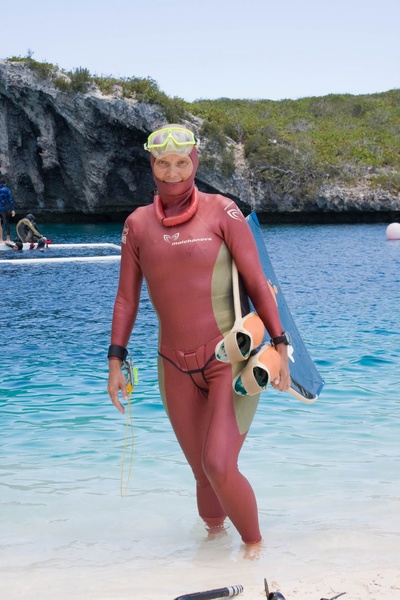 The weather whispered: a clear sky above her head, a light breeze above the surface of the calm Balearic Sea. Silently attached a cervical load weighing no more than a kilogram, which should have helped her to sink to the bottom, then jumped into the water and began preparing.
Her task was to reduce her heart rate in order to use oxygen more economically underwater.
To relax, Natalia took a short two-second breath and then a double slower and deeper exhalation. This breath of air was probably her last.
She started diving to a depth not too deep for her, but never dived out. After two days of fruitless searches, her son Alexei told journalists that Natalia would probably not be found alive anymore.
«She was a superstar in freediving and we thought nothing could happen to her," said Kimmo Latinen, president of the International Association of Freediving AIDA. - Nothing could happen to her, but you know we play with the ocean, and when you play with the ocean, you know who's stronger»in this game.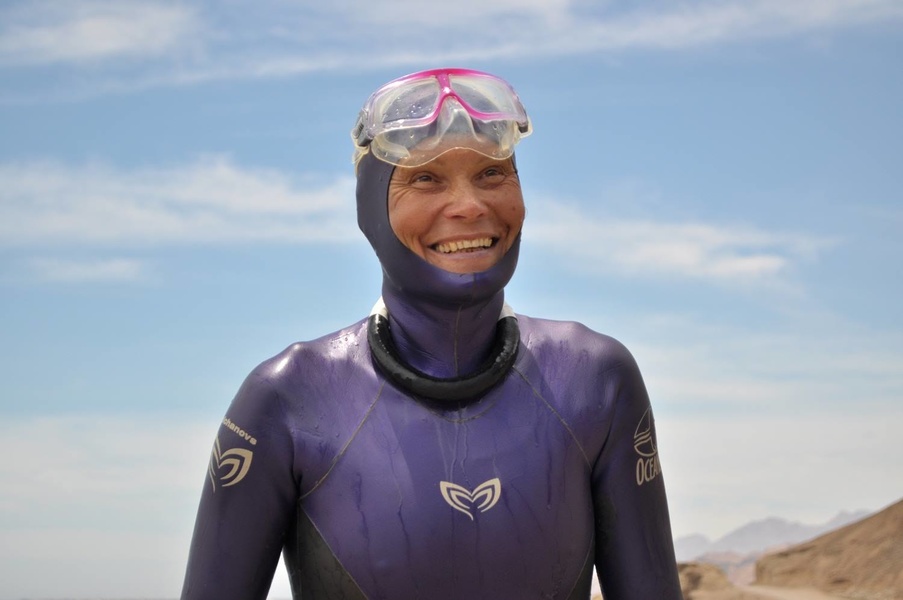 53-year-old Natalia Molchanova only a few months ago set another record, having plunged to a depth of 71 meters without using flippers. That was in Dahab in May. Then she dived along a rope that measured the depth and, if necessary, could act as a safety rope and pull out a freediver. On 2 August in Ibiza, Natalya had no insurance.
Had she been blown away by the current? Or did she pass out? Maybe she met with a shark? Did she hit something on her head?
The water temperature at the dive site is plus 26 degrees Celsius. But the so-called thermal clay layer at a depth of 21 meters can be 10-15 degrees colder. This temperature difference can be devastating for the diver.
When the athlete did not swim, her diving friends went in search of her first thing. Then they called for help. A fleet of private boats and a local coast guard, supported by a Helimar 213 helicopter, searched the sea until dark. On Monday morning, the search resumed. On Tuesday, a deep-sea robot capable of diving to a depth of 500 meters was connected to the operation.
«Freediving is not just a sport, it's a way to understand who we are. When you go down, if you do not think, you can feel your integrity. You're alone in the world. When you start thinking, you lose your integrity. On the surface, it's natural to think, we're saturated with information. We need a reboot. Freediving helps in this»," said Natalia Molchanova in one of last year's interviews.
We may never know the details of the last dive of the best freediver in the world.
«Looks like she'll stay at sea. I think she would have liked»it," said Natalia's son Alexei Molchanova on Tuesday evening.