The independent boards no longer look like a flying skateboard from «Back to the Future». We have to admit: they not only exist, but they are an exit for those who want freedom, but are not yet ready to buy a boat.
In principle, the engine can be attached to almost any fairly stable water board. The most popular now is a jetsurf (big, with a gasoline engine, imitates surfing) and e-sap (even more and mostly for quiet walks). But the most futuristic representative of the species - electrofoil. In addition to acceleration up to 25 knots, E-Foil can soar over water on the hydrofoil. So, you will be at least 50 cm above the usual and shallow waves (from the large so easy not to get rid of).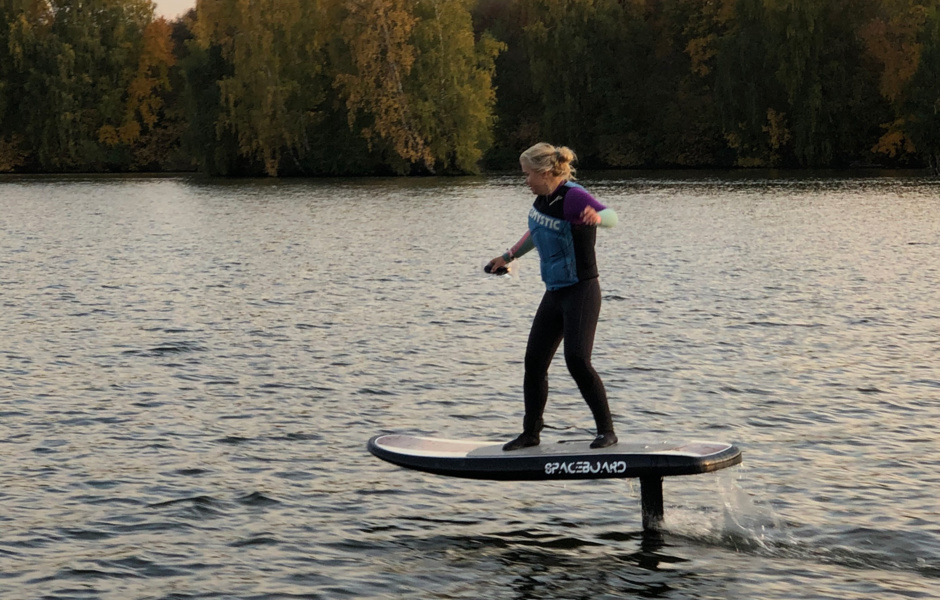 World Water Technology produces eFoils for the Russian market. We managed not only to test its Spaceboard Efoils, but also to talk to its founder Alexey Cherkasov about how he created World Water Technology (spoiler - almost by accident), how he improved its products and brought them to the big water.
A short FAQ on electrofoils.
Electrofoil is a board on an electric motor with an underwater wing that rises and floats over water during acceleration. The electric motor is suspended on a mast («leg») up to 95 cm long.
EFoil flies no worse than the usual hydrofoil, although individual representatives of the species and reach 40 kg. At the same time it is absolutely autonomous: it does not need a kite or a boat or a wave. The bulk of the weight falls on the stern. For a rider it means that he will have to forget everything that life has taught him and bravely get up closer to the nose of the board. It is also desirable to weigh at least 50 kg. And ideally, all 80.
The eFoil is controlled with a remote. The Spaceboard eFoils that we tested also have a magnetic key that prevents the board from throwing a rider in the middle of the ocean and sailing away. At the moment, the eFoil batteries allow you to ride for an hour and a half and fully charge it in 2.5-5 hours. But everything changes before your eyes, and the battery is the main object of improvement on the part of the producers.

Meanwhile, there are only six manufacturers of hydrofoils in the world, two of which are premium. The cost of their products is about $12 thousand ($16 thousand if you order in Russia) against $6-7 thousand from all the others.
Q: How did you decide to do that?
I worked for a foreign company that deals with new technologies. And I watched a lot of other foreign companies developing robots and sophisticated tech stuff.
I was sitting in my office on the 51st floor of Moscow City, climbing Youtube, and I happened to run into a video where a dude on a board was just flying over water.
I didn't see any hydrofoils at all and had no idea what they were, how they worked. For me, it was fantastic.
Q: Have you ever ridden anything before?
Nothing at all. I saw a movie like «On the crest of the wave» - yeah, it's funny, it's a great ride.
Then I got curious, I started to follow the link «»to this video and came across a British man who was collecting eFoil in his garage. He has an exelev file with links to e-Bay for all his video instructions. In principle, each person can go through the links and order everything you need: the engine, gearbox, download all models and print on a 3d printer itself a foyle. If the printer will be production, then everything will work as he has.
And I wanted to try to make myself an e-foyle. At that time you couldn't even see the horizon when someone would start selling them, even in the USA. That was four years ago.
I ordered a 3d printer from China, all kinds of heads on it. I had a fellow 3d modeler who knows how to work with it all. And we put it right in the office, started printing parts there, ordered the rest of the components from E-bay. I ordered the board itself: I tried to find it in Moscow, but it turned out that only two people can make a big board in Moscow.
Q: So you want a normal surfboard?
Well, I thought so. As a result, the master was found in Ukraine, and I ordered the board immediately with a box for battery and control system. He had never done anything like that before, but the technology of making all the boards is quite simple. He missed all the deadlines, but in the end the board came. I had the rest ready and tested in the bathroom.
Then they sent everything to the Emirates, because it was winter in Moscow, and it is necessary to test somewhere.
We lowered the foyle into the water, tied it up with all kinds of sensors to measure traction. Run it, everything seems to be working. And as soon as I got on that first board, it fell apart. Screw, motor, all connections, all plastic. And everything sank.
And so when that board fell apart, I finally realized for myself that I had to do it. Because the market is growing very fast. For example, in Russia it will grow in the next 10 years for sure: the generation is changing, those who now want to skate until they earn, while the generation of 30-year-olds remains, who are already actively skating and will not go anywhere.
By my calculations, the market will grow eight times.
And it means that the boats on the water will be even more, as well as waves from them, and the traffic on the water in general.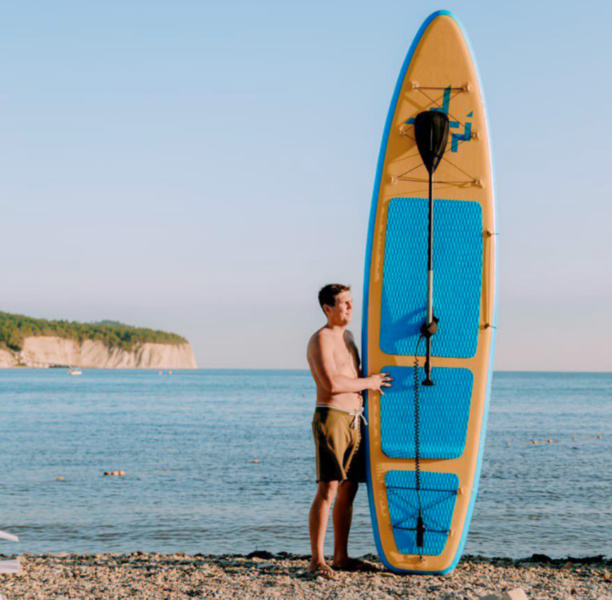 Q: How long have eFoils existed at all?
The first sales were with the Americans a year ago in November, a little later - the Australians.
To be honest, I was thinking of entering the market before the Americans: what to do there. But it turned out to be more and more complicated.
For example, when I came to order a serious development in a Russian company, I was rolled out a price tag that looked like a house on Rublevka. So I had to catch the guys working there separately and negotiate with them directly. They caught fire, they liked the idea too.
With their help, 2.5 years ago I had on my hands 4 versions of the future boards: two water cannons and two propellers. For different weight, speed and riding levels.
And then it turned out that with production in Russia, everything is very bad. Details for the first sample, firstly, cost as a domestic car each, secondly, were not made in time, and thirdly, banal did not fit each other. Although they were made according to the drawings and at the same factory!
That is, you wait 45 days after the deadline, the parts come, you connect them - and they do not connect. I call them and say: «You couldn't check?»... And they say to me: «Well, take a file, sharpen»it.
As a result, even at cost, I managed that I can not compete with the Americans. And then I quit my job and decided to do it very closely.
Q: Sounds logical. How did your wife feel about that? You already had a little son back then, didn't you?
Well, the wife was in shock. I had some savings, but anyway, I did everything on mine from the start.
In general, as a result, the production moved to China.
While looking for contractors, he sent drawings of different parts to different factories - such as safety, was afraid of being stolen. I was collecting prices all over China and eventually came out at a very good cost, competitive. I went to China, we collected a successful sample of the foyle. And then I ran out of money.
I tried to find an investor, drew up a business plan, but nobody wanted to get involved. In the end, I signed a contract with the same Chinese factory: they were already making hydrofoils and surfboards for Americans at that time.
It's no secret that most brands are made in China, even Spanish jets are actually from there and many yachts, even though they have Made in Europe»written «on them. I saw it all with my own eyes there.
We signed a nondisclosure agreement, I gave them the board, the controller and everything else except the steering and engine systems for production. And I looked for the money myself.
I had a small bar, an SMM agency, I invested in crypt currency: I managed to make money on it, lose it, and earn money again.
And then suddenly I found an investor. It turned out to be my neighbor.
Q: He was always there for me!
Yes! It's just that I didn't know him. Then we met by chance, talked about a completely different topic. And I say to him: Shit, I have a project, three years already stretching. He asked me to give him details, and the next day he said: "«Cool project, let's do it, I have the money». And that's it, we signed a contract, I took the dough and flew to China.
Meanwhile, the Chinese started selling test boards made from my introduction. They were not ready and were not finished in terms of design, shape, and interior. And they were bought from them! And I was like: «And me?!»…
It's just that they think everything they have already belongs to them. And I don't care about your nondisclosure agreements.
«Well, we changed it right here, so it's ours»," they say. And it doesn't matter that they supplied the same engine from the same manufacturer, just another model.
Anyway, if you don't go into detail, we ended up merging and taking the enterprise into a separate joint production. World Technology Water now has its own office in Hong Kong, its own team and its own customers.
Q: Do you manage them remotely?
Yes, I write them every night long letters with reminders. Only one speaks English, but it's very specific. You say to him: You've got it, you haven't put in a lot of spare screws, for example. He says: «No, Alexei, we are fine! Everybody put it in, everybody's in place». I have to explain to him that there are not enough screws, there are not... But there are very gifted Chinese, who do not speak English, but this does not prevent them from being real professionals. We just talk through an interpreter.
Q: What's the scale of production now?
In principle, we can produce 200 boards in a month, and recently made 10 times less.
But the most important thing is that we managed to reduce our costs so that even taking into account all taxes and duties, our retail eFoils cost half as much as in the United States.
And we have already received all the certificates, passed all the tests, both European and Russian, so the competitiveness is complete.
Q: You can produce 200 boards per month. Are they really sold in that amount?
The Chinese managed to sell 125 «raw» boards from the factory. All I could get out of that money was to use the boards already made for free.
And that's only thanks to the same neighbor, who deals with finances around the world. He has a whole staff of lawyers.
Q: Why do you go to the tests yourself? Even I got caught out of the water myself in the rain and +2.
By the way, we went for a ride yesterday, so we had to go in the water again. There are some crazy people in Moscow, it's cool! (note: outside the window October and the first snow).
First, I myself, because this summer we were still undergoing certification and officially I could not hire staff and sell foyles in Russia. And secondly, if you delegate this to an employee, it is not clear in what city and who he approached, with whom he talked. And most importantly, what is the feedback from people: what is missing, what they want, what happens to the boards.
For example, this summer I was with sea tests, and there was salt water. And it works very differently: we have absolutely new problems. With computers, screens, remotes.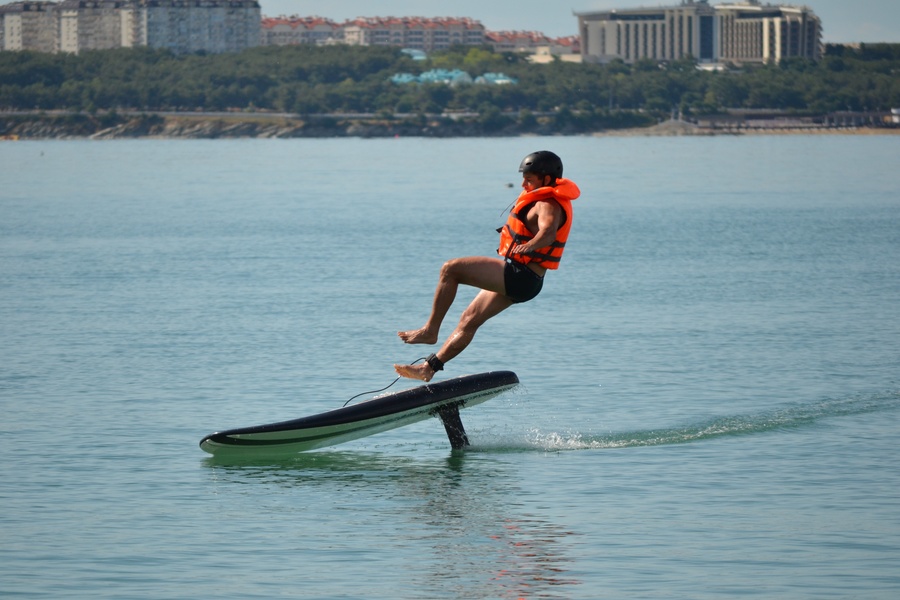 Q: Salt?
Salt. It breaks through all the gaps and eats the electronics in two weeks, everything rusts. Even the alloy of screws that hold the battery cover couldn't take it. There's never been a problem in fresh water, and the sea needs a different percentage of stainless steel. But now we've got it all figured out.
But for this summer I traveled all the coast of Crimea, visited all wake- and kite schools, surf spots, yacht clubs, watched boats, talked to people. And now I already know how to build a route for an employee who will do it next year. So I found partners who are ready to rent boards for next year. And they're gonna be my distributors. Accordingly, advertising, promotion is all on them. Found partners in Sochi.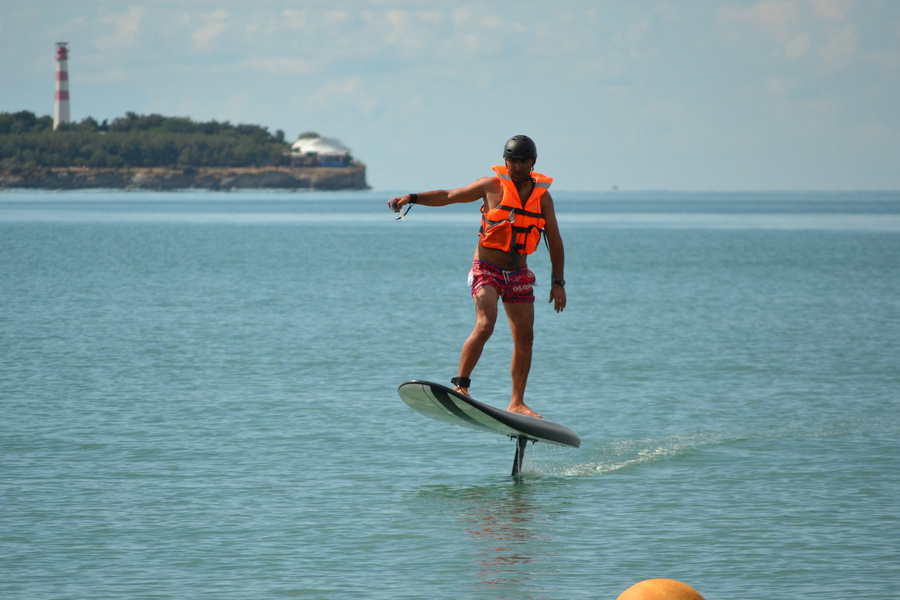 Q: Are there many people in Russia who ride on eFoils? I go on water quite often and in different places, but I saw them only in your tests.
No. In Russia there are only about 10 American eFoyles bought for 16 thousand dollars, that is, premium segment. And there's only five of my boards so far. And I've got three test boards.
But next year, I already have a pre-order for 30 boards.
People often think: the «American $12,000 is worth $12,000, it definitely works. And this one for 6 is definitely some»kind of fuck-up. And then they'll sweat it out and look at it - «oh, everything works, everything is great, everything flies».
Q: And what's the difference with Americans?
In price. Including all the parts and parts. And the coolest thing is that I have all the spare parts in my warehouses in Russia, you don't have to wait for delivery. This is a noticeable advantage, by the way. I heard the story about Spanish jet surfs: on the third day of use it broke down with the guys - the package got into the engine. They ordered the parts in June, and they came only in October.
But those who buy boards for 12 thousand use them anyway, not in Russia: on their yachts in Europe or somewhere else. And my market is still primarily schools, stations. So, a beginner must be easy to learn.
And so you need a big displacement board and a big wing to fly at low speed. A remote control that allows you to smoothly gain speed, without jerking. And, of course, safety. So that not by hand the gas is clamped, but there is a magnetic key, like on a jet ski, and after the fall the board stops exactly.
And unbeatability, of course: thick carbon, thick wing. It really does crash-test: I drove into some underwater rock. I flew away, and there's only a small chip on the wing, it's fully operational.
Q: So it's hard to kill her?
Well, the wing is so precise. There's a weak point, I honestly confess: it's a remote. But! We're already testing other options, then we'll get a certificate for them and by next summer there'll be a new remote.
By the way, everyone who buys boards from me, remains at «the service»: for example, the new remotes will receive free of charge all those who have already bought a board from me.

Q: Is it easy to learn how to drive? I haven't flown in 20 minutes, but it's probably because I'm at +2 ready to fly only on an airplane and in warmth.
3 hours. Even those who have never ridden anything fly in 3 hours. It just takes time for the head to coordinate with the body. But already in the first hour everyone gets up and starts driving like a jet.
And when you learn how to fly, there's no feeling at all, space, freedom.
When you get in the air, the board becomes very light.
Q: How do you fall off it? It's high! What's the worst that can happen when you fall?
The worst thing is not listening to the instructor. Trying to control it right away when you don't know how to do it yet. Only those who ride it well and are too confident, or those who are not 25 years old: because courage takes first place.
Q: And how fast does it go?
I've flown 42 miles an hour at most. Actually, the limit is 45 kph there.
Q: Is that the limit?
Yes, it's a limiter that doesn't allow the engine to give more than 3 kilowatts. And that's 45 km/h. But such restrictions are purely legal history, by law we can't give the engine more than 4 kilowatts.
Q: There's no water protection on the water? Hey, man, what's that thing you got on the stick...
Once, the GIMS sailed at sea. I immediately say: I have no electricity, there is no water displacement, I also do not do any water intake. I don't disturb the ecology, I don't go to the area where big ships go. They looked at me and looked like this at once: «Drive.»..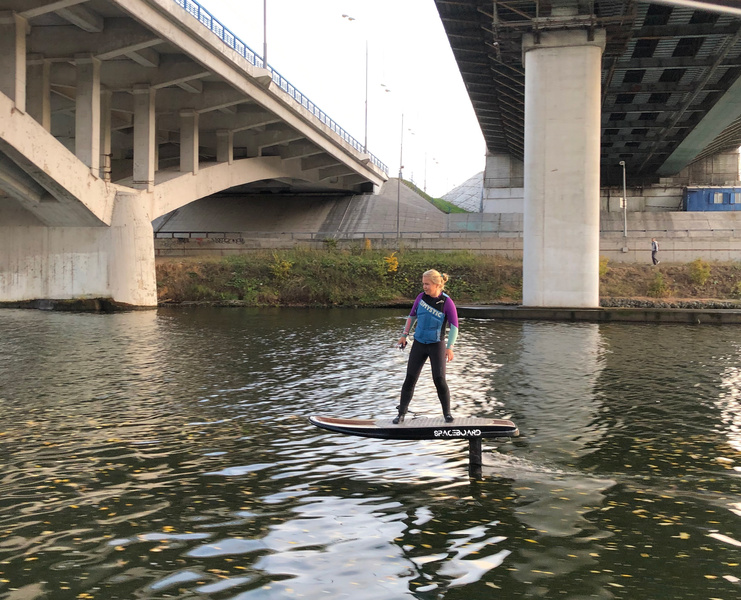 Q: Do they do tricks on eFoil? On an ordinary foyle, you jump for sure.
I've seen one American jump. But you know what the joke is: when she jumps out of the water, the screw stops. And the board is heavy. And it takes off, falls down and stops: the screw doesn't spin. Anyway, I haven't seen anybody go further after jumping. But to jump out, they jump out.
Q: How much is eFoyle different from a normal foyle in general?
Normal foyle weighs much less. I've recently tried it on a normal foyle - I took off normally. But as soon as the board rises above the water, I stop breathing. And at some point I start to feel dizzy, I fall, and then I come out as if I've floated down. My instructor was still laughing at me: «breathe, says you were flying». I mean, it's the same funny thing about flying.
But it's harder to get a boat. There are interfering factors: the same halyard to hold on to. And when you're already on the water, the halyard can sag or pull, plus the wave in different parts - different speed. Anyway, it's easier on my board than behind a boat, of course.
And also I have a reflex already, I when I fall so repelled from the foyle that it flies almost in a boat. Safe!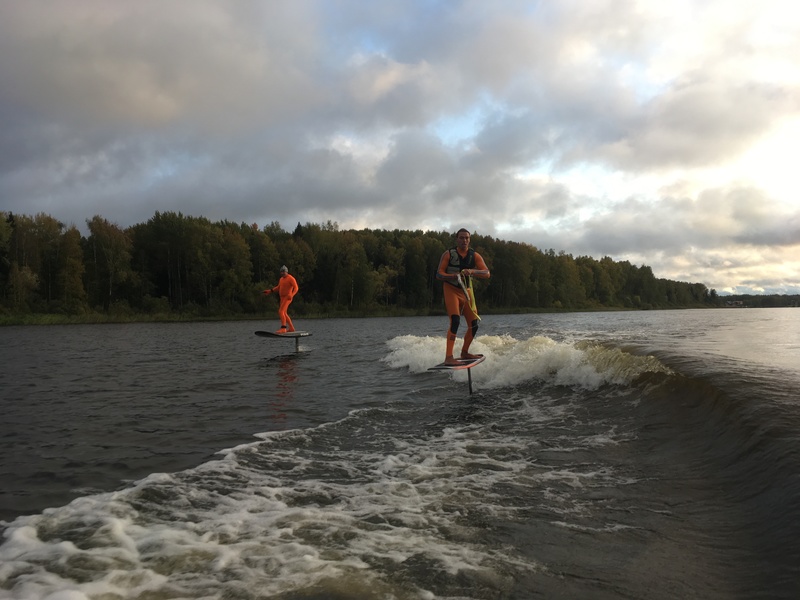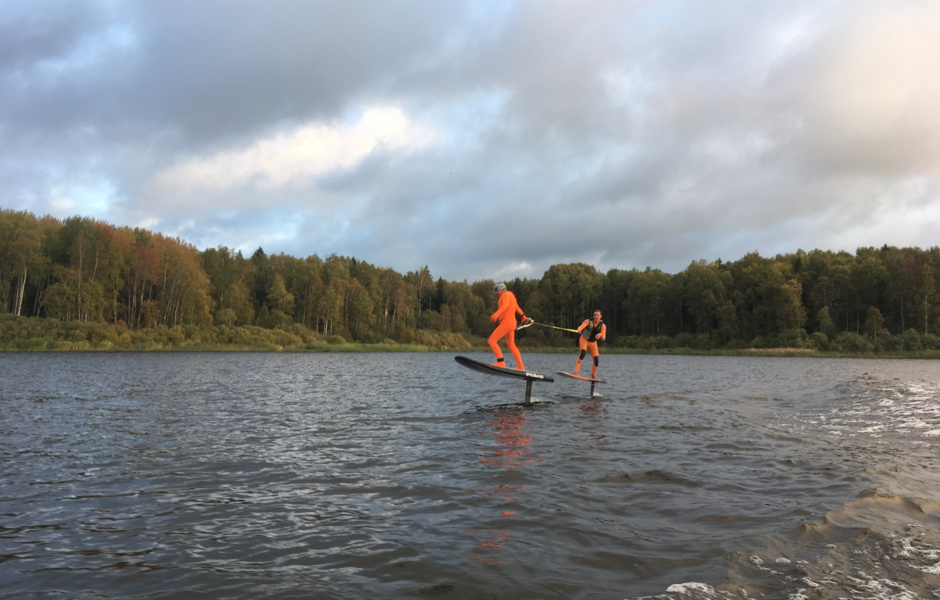 Q: Can I break it?
I don't know, I guess you can break everything with a hammer. But so far, there's never been a problem like that. Once a leg (mast) broke, the impact makes it unclear what's in the open sea. Long mast, 95cm. The guy must have driven into some big fish. Then he went back to the board, and the mast is broken. He also said he wanted to work with me. After that, I made a joke that he'd work for me for a year for free.
Q: What's the next plan? What are you working on?
We have developed our engines, and in October we will get certificates for them. There will be more engine power, less size and energy consumption.
We are also preparing pro-level boards - there is a water-jet engine, which feels comfortable at a speed of at least 30 km/h.
Well, the board will be smaller.
In fact, we're struggling with weight. For instance, we're doing a version with an inflatable board now. Like boots. I mean, it's gonna be a lot easier with transportation.

There's another problem with transportation: it's forbidden to carry Li-ion batteries on passenger planes. That is, you can't take the board on a trip. But I came up with a funny thing: people who buy boards from me in Russia will be able to use my boards in Emirates, Barcelona, Bali.
It's gonna be a private client shoring club. They can ride for free anywhere in the world.
And since the products are expanding, customers will be able to ride on different boards and not carry anything.
Q: Well, globally - what next? The electric sneakers that go for you?
They even make wakeboats electric. They're pumping water in to make sure there's a wave. And they'll put a battery in there instead. So I think soon everything will be electric, that's the future!