Almost 1,200 boats arrived at the Fort Lauderdale boat show - too many to see in five days. Kate Lardie from Boat International made a selection of the best of the best.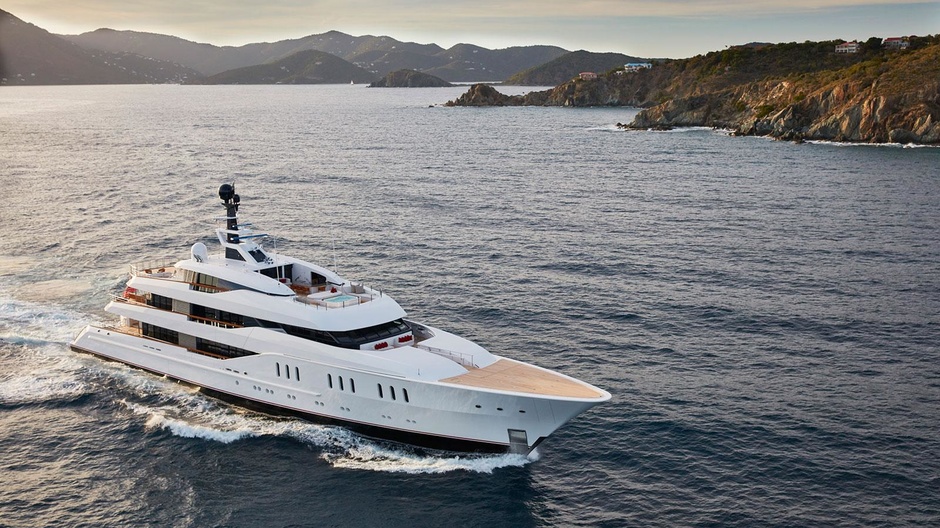 Vanish, one of the largest yachts on display, was launched by Feadship in May 2016. Vanish's sporty appearance was created by Harrison Eidsard and De Voogt Naval Architects. Key features of the boat are a pair of helipads located at the bow and stern and a range of 2500 miles at an average speed of 12 knots.
Length: 66.25 meters
Manufacturer: Feadship
Exterior Design: Harrison Eidsgaard / Feadship De Voogt Naval Architects
Interior Design: Harrison Eidsgaard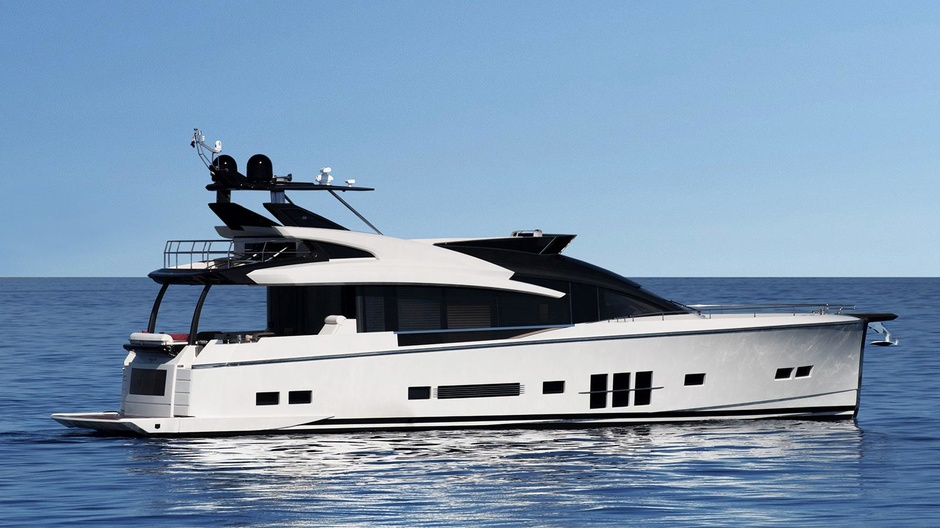 In order to present a new perspective on the flybridge, the fresh Swiss brand Adler Yacht has combined the efforts of German and Austrian engineers with the skills of Italian designers. The result is a 23 metre Adler Supreme with many innovative solutions, ranging from a lightweight carbon design to a hybrid engine. This engine allows you to quietly cruise at speeds up to 10 knots, give a maximum speed of 28 knots in diesel mode, saving 50% fuel in standard mode.
Length: 23,09 meters
Manufacturer: Adler Yacht
Interior design and appearance: Nuvolari Lenard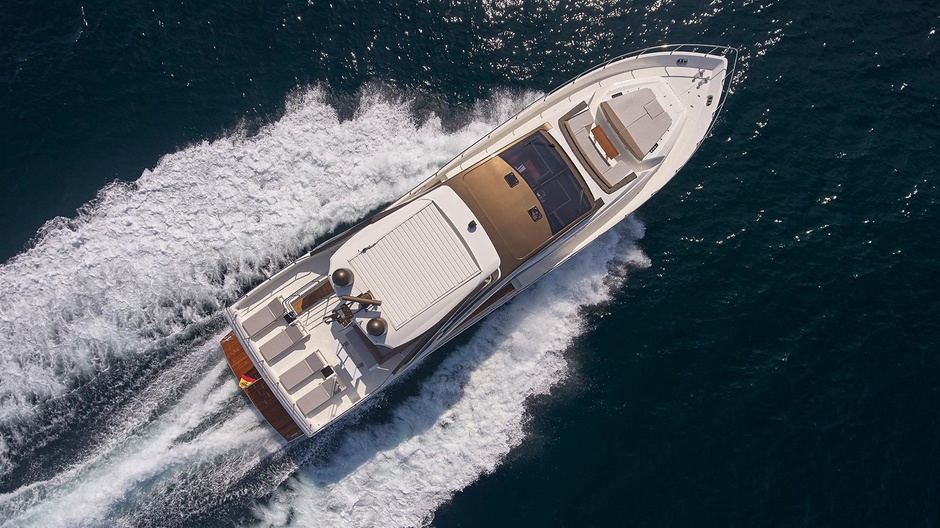 Inspired by her younger sister, 66 GLX, who made her Yachts Miami Beach debut last year, the Astondoa 80 GLX inherited the same huge side windows, but boasts a flybridge of new shape and a fresh interior palette of warm colors and materials. Like the basic model of the GLX range, it is very fast and can accelerate up to 31 knots.
Length: 24.92 meters
Manufacturer/Exterior and Interior Design: Astondoa
4. Book Ends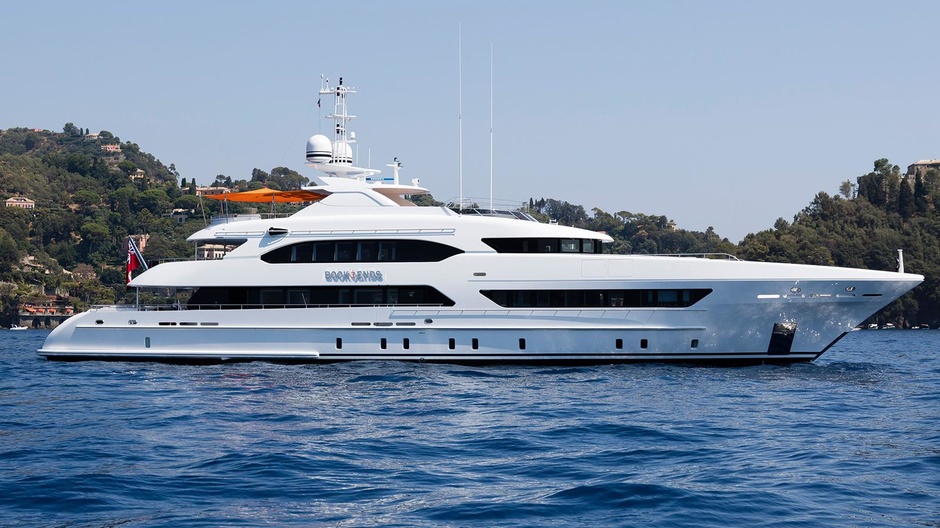 Book Ends is an exemplary luxury yacht with classic timeless contours combined with chic interiors, both created by the best in the industry. The powerful MTU 8V 4000s engine took the boat beyond the speed specified in the contract. During the sea trials, it was able to accelerate up to 15.6 knots.
Length: 47 meters
Manufacturer: Heesen
Exterior Design: Omega Architects
Interior Design: Bannenberg & Rowell
5. Clorinda .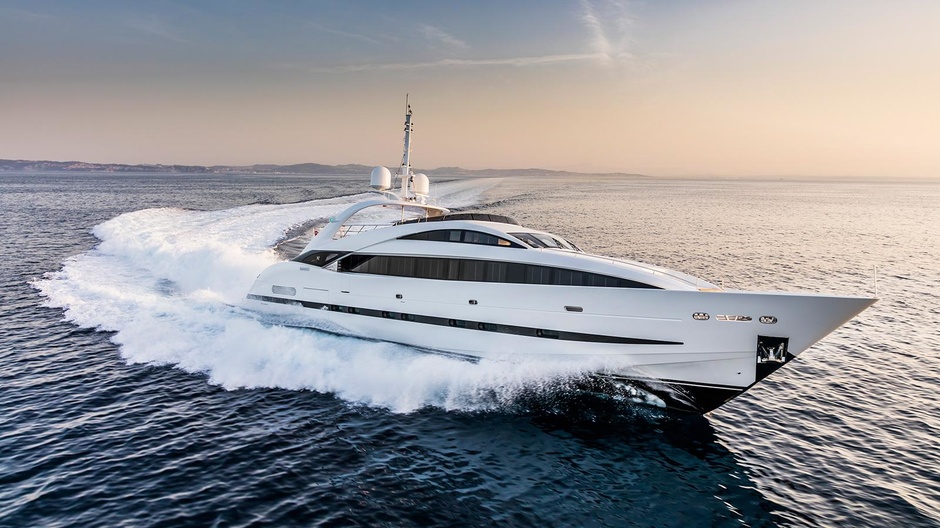 Although Clorinda is the number 11 chassis in the ISA Sport 120 series, it is different from its predecessors. This 36 metre fast cruiser is the first yacht to be launched since the Palumbo Group acquired the shipyard in Ancona in August 2016. The new owner company has brought Enrico Gobbi Team For Design to further improve its style. Highlights include dark tinted glass inserts in the ship superstructure, a side loading tender box and a glass roof in the master stateroom.
Length: 36.45 meters
Manufacturer: ISA Yachts
Exterior Design: Andrea Vallicelli/ Enrico Gobbi Team For Design
Interior Design: Cristiano Gatto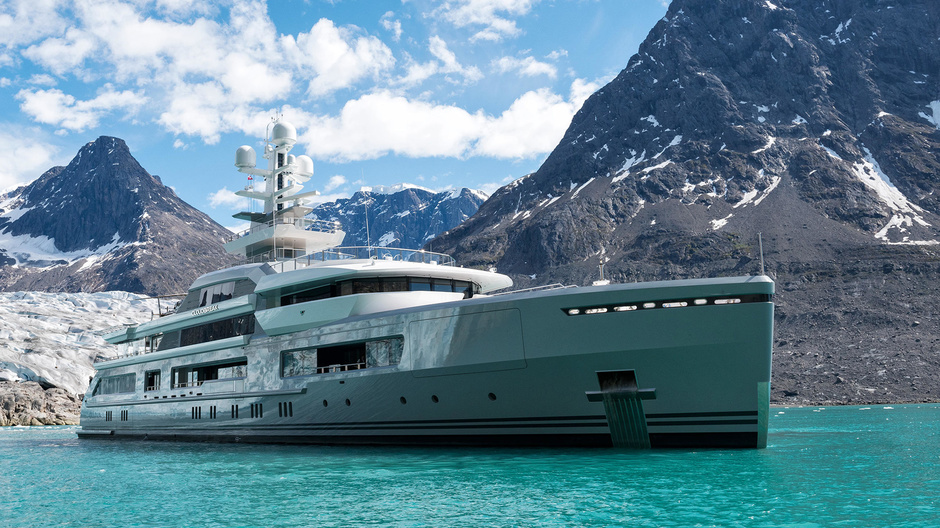 Note the magnificent 72 metre Cloudbreak from the German shipyard Abeking & Rasmussen. Designer Espen Oino has created a vessel capable of delighting the picky public. The boat has a helicopter deck, a ski room and an impressive tender garage. At the moment Cloudbreak is available for charter.
Length: 72.25 metres Shipyard
: Abeking & Rasmussen
Exterior Design: Espen Oino
Interior Design: Cristian Liaigre
7. Hatteras M90 Panacera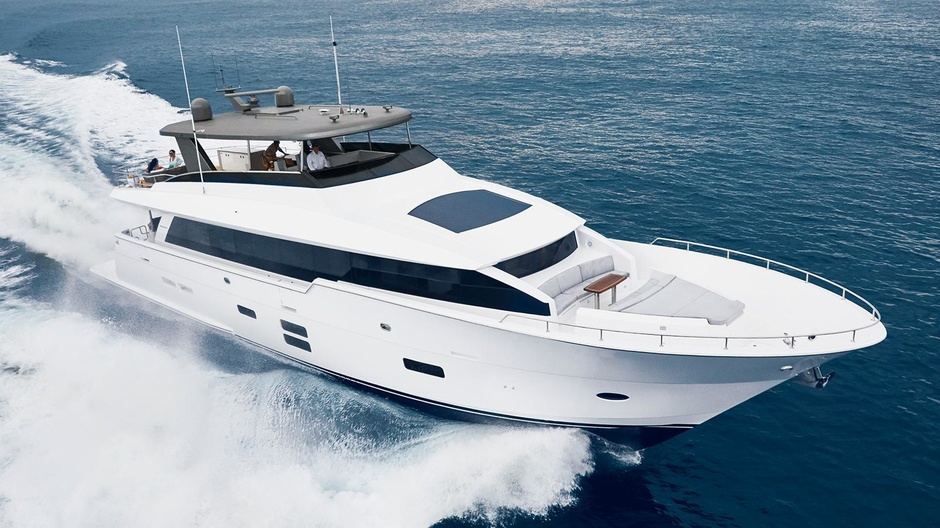 Beautiful Panacera is a bright representative of the family of motor yachts Hatteras. The highlight of the yacht is a modifiable hydraulic balcony. The skylight in the central part, first shown on the M75, became even bigger, filling the interior with light. The M90 is equipped with its own HattCON control system. It can be operated from a touchscreen display.
Length: 27.95 meters
Shipyard/interior and exterior design: Hatteras Yachts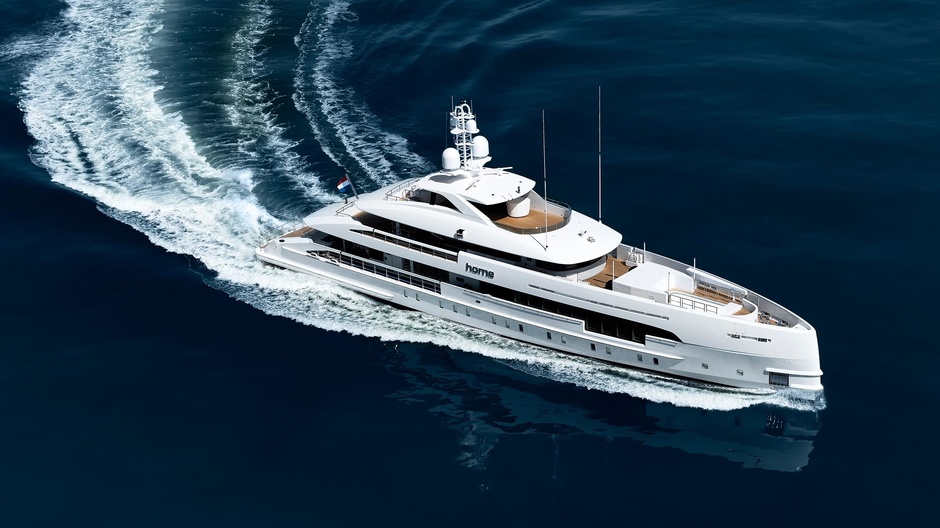 This project called Nova was launched two years ago. Today Home is an innovative vessel combining an economical and fast displacement hull with a hybrid engine. The yacht is equipped with additional electric motors, which can reach speeds of up to 9 knots without using main engines. In the internal network, the electric motors are used as generators, providing enough power for the hotel load. The Home style can be described as «modern». The large glazing surface, according to the architects' idea, is designed to emphasize the close connection between its interior and the sea.
Length: 49.8 metres
Shipyard: Heesen
Exterior: Omega Archicts
Interior: Cristiano Gatto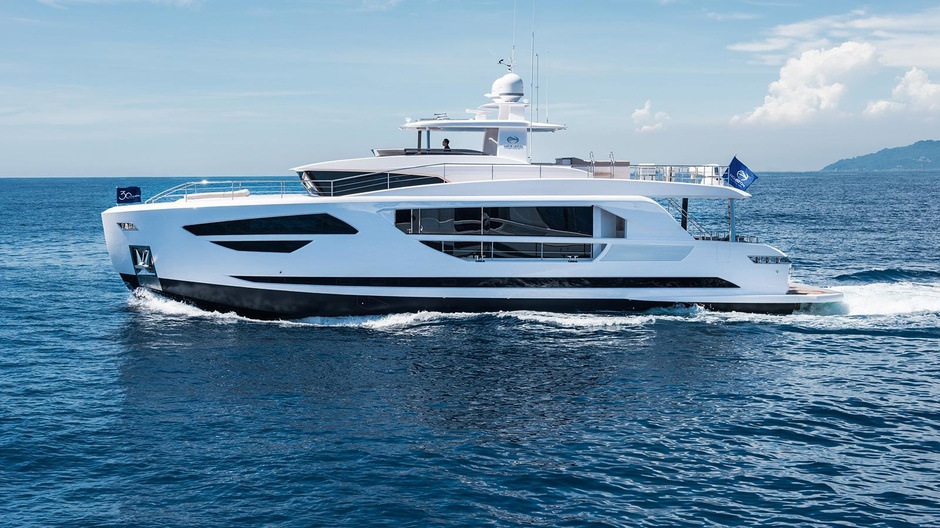 The Taiwanese shipyard has decided to present superyachts of unusual design. The new FD line from the manufacturer Horizon received a vertical stem, panoramic windows on the upper deck, cut-outs in bulwarks for even more visibility. The hull type Fast Displacement works efficiently at all speeds. The width on the midships hints at a spacious interior volume. The walnut interior is simply gorgeous. The shipyard also demonstrates its latest yacht, the Horizon RP110, at FLIBS 2017.
Length: 26.07m Shipyard/Interior
Design: Horizon
Exterior: Cor D Rover
10.HQ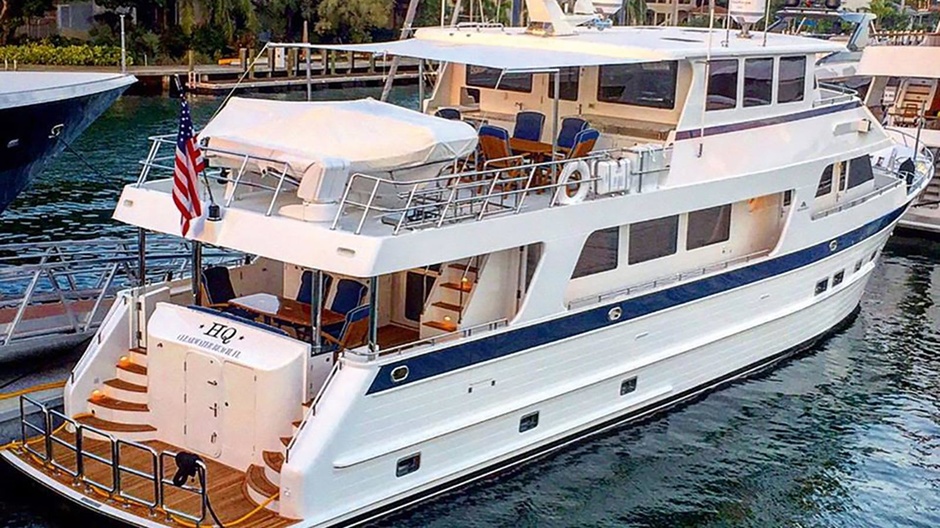 This 860 Deluxbridge Skylounge model is in reasonable demand. Those who walk long distances will appreciate the climate control and safe operation in any weather. The HQ has a rather unusual configuration. The steering wheel and controls are raised and the galley is extended. Accommodation is standard for superyachts. There are 4 guest cabins and 2 crew cabins.
Length: 26.3 meters.
Shipyard/exterior design: OuterReef Yachts.
Interior design: A La Mer.
11. Muchos Mas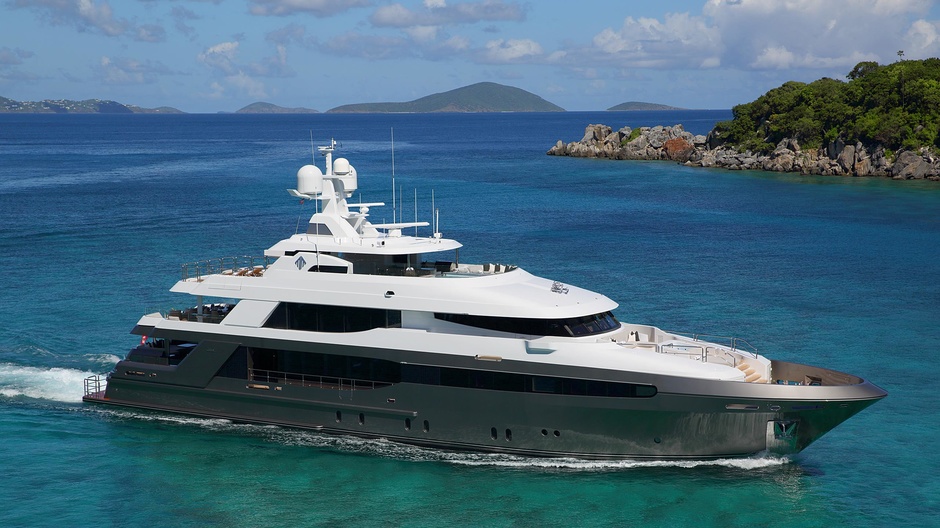 Muchos Mas is much more than just a beautiful three-deck superyacht, this boat marks the return of the Canadian brand after a difficult period. The main features include: A Fordeca spa pool, an open salon bar that extends aft, and four guest cabins in addition to a spacious master suite.
Length: 44.2m
Shipyard: Crescent Custom Yachts
Exterior and Interior Design: JOB Design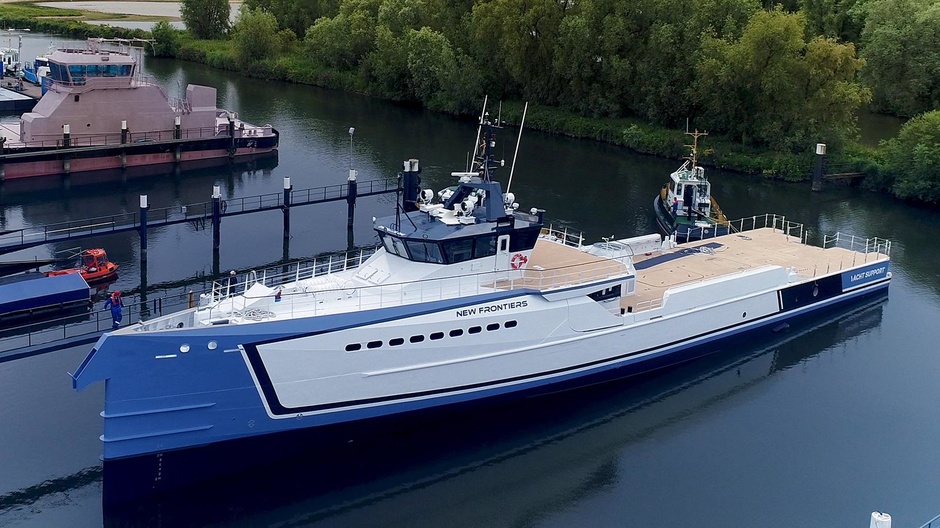 Damen Yacht Support, New Frontiers has impressive deck space and a crane to carry all kinds of tenders and toys. But she also has something new - guest amenities. For the first time Damen has set up an owner's lounge on the main deck and guest cabins for six. The Dutch shipyard has also brought to FLIBS the Axis, which was already on display last year under the original name Fast & Furious. Since then, the boat has received additional accommodation.
Length: 55.3 m
Shipyard / exterior and interior design: Damen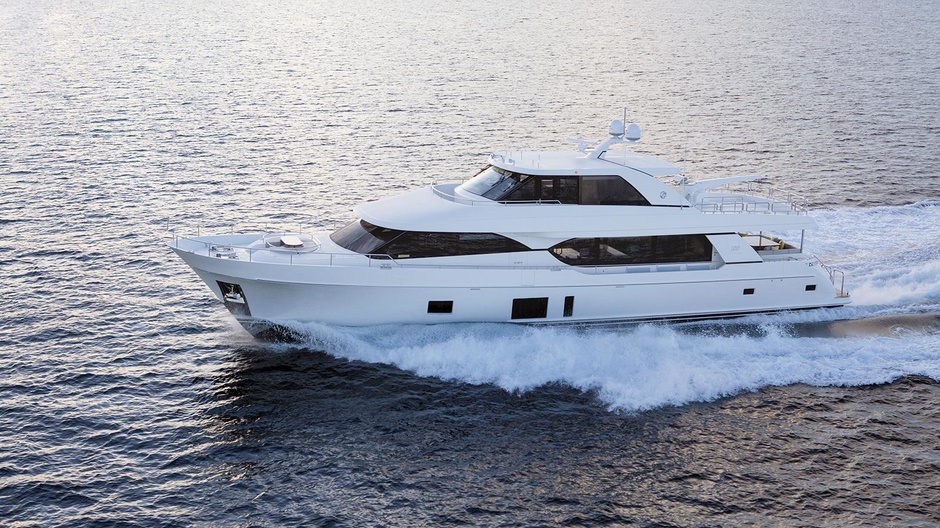 The first version of this model with five cabins was presented in 2014. This hull demonstrates maximum flexibility to accommodate. The master suite is located on the main deck, while two VIP suites of the same size and two twin cabins are located on the deck below. Single beds can be connected together to form a truly king size bed. The enclosed upper saloon of the outstanding square sets the Ocean Alexander 100 Skylounge apart from other yachts of the same size.
Length: 30.53 m
Manufacturer: Ocean Alexander
Interior and exterior design: Evan K Marshall.
14. Pearl 80.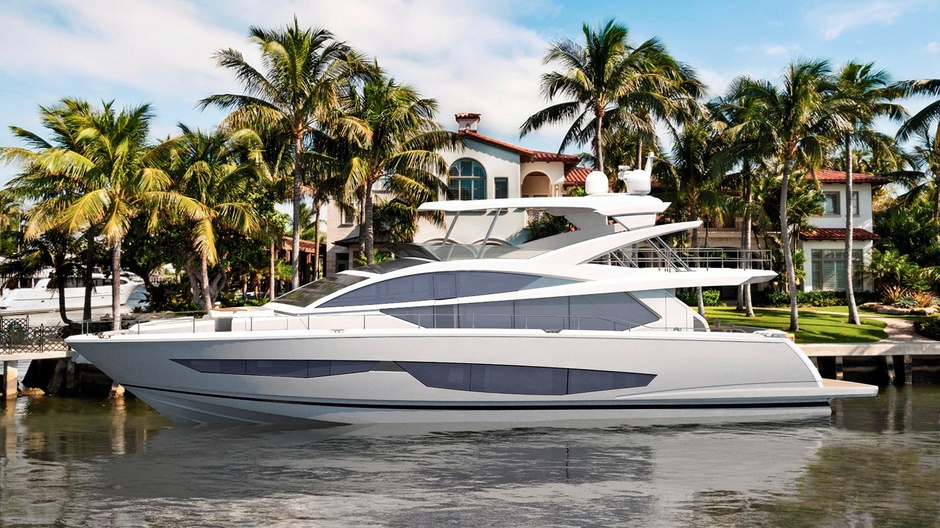 British manufacturer Pearl Yachts unveiled its new flagship yacht at this year's Fort Lauderdale exhibition. The spacious flybridge, large windows, a full-width craftsman, a forward-facing lounge area and a spacious aqua-bike garage make this 24-metre boat feel like a much larger yacht.
Length: 23.99 m
Manufacturer/internal and external design: Pearl Yachts
15. Riva 76 Bahamas
Following her older sister the Riva 88 Florida, 76 Bahamas has received a transmissible hardtop, transforming her from an open yacht into a compartment and back. When folded, the carbon roof rests behind the windscreen at the bow, covering the large sunbed. The interior of the Riva 76 Bahamas is finished in white veneer and dark leather with stainless steel accents.
Length: 23.24 m
Manufacturer: Riva
Exterior and interior design: Officina Italiana Design/ Ferretti Group
16. Skyler .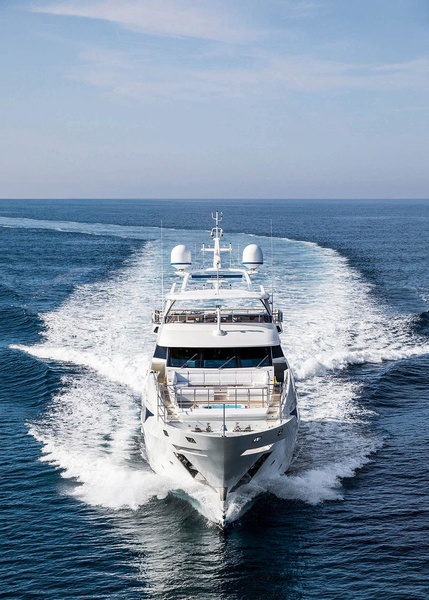 A member of the Benetti Fast range, Skyler stands out not only for its piercing nose and its ability to move from displacement mode to gliding mode. It has an innovative propulsion system with a spiral steering column designed by Rolls-Royce. The third hull in the Fast 125 series, Skyler will showcase this technology at the Fort Lauderdale Boat Show, along with RWD's interior package «Air», one of three interior solutions available for Fast 125 customers.
Length: 38.1 m
Manufacturer: Benetti
Exterior Design: Stefano Righini
Interior Design: RWD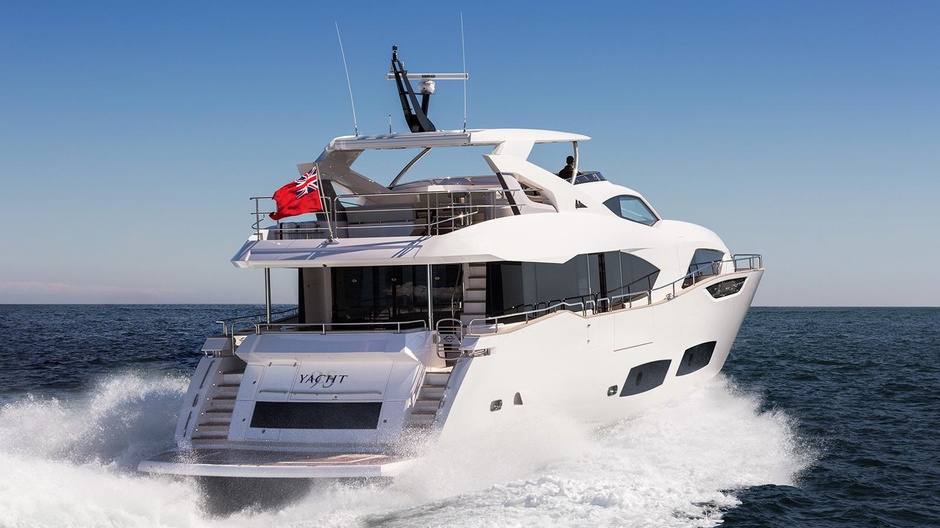 The innovative appearance distinguishes the Sunseeker 95. An elevated wheelhouse freed up space on the upper deck to create a truly royal master suite spread out over three levels: the steps lead down to the middle intermediate level where the dressing room is located and then to the main deck below.
Length: 28.96 m
Manufacturer/Exterior and Interior Design: Sunseeker International
18. Vertige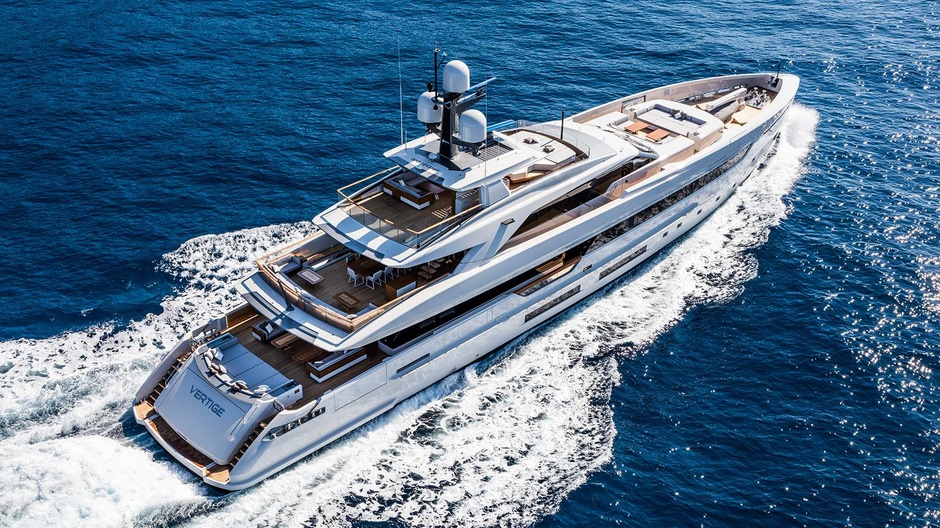 The second Tankoa brainchild squeezes the maximum of 499 BRTs of internal volume. Her beach club has a gym, a home theater on the upper deck and a garage for a 7-metre tender on the lower deck. The aluminium displacement Vertige has a timeless exterior with panoramic windows and cut-outs in the bulwarks for maximum visibility.
Length: 49.9 m
Manufacturer: Francesco Paszkowsky / Margerita Casprini