Launched in July this year, Damen's 55.3m New Frontiers support vessel has been spotted during sea trials in the Netherlands. It will premiere at the Monaco Yacht Show later this month.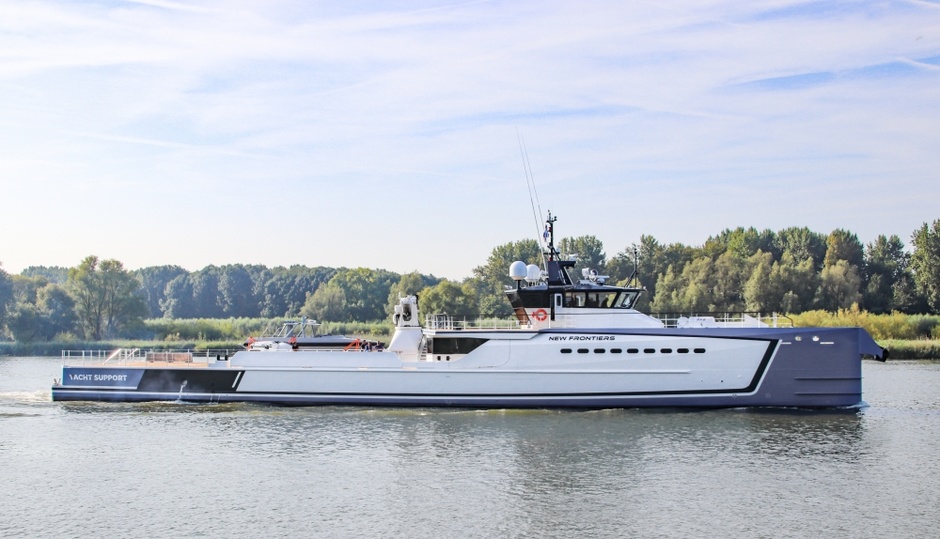 The YS 5009 series boat differs from its predecessors in the Yacht Support range produced by the Dutch shipyard.
Commercial Director Rose Damen explains: «New Frontiers is a game changer. It's still a support boat, but you can no longer lump it into any particular category - and that's exactly what customers have come to expect from us. Clients want more freedom and spontaneity in their leisure time - New Frontiers gives them that opportunity».
The boat has three cabins capable of accommodating up to six guests, including a Master Stateroom on the main deck. The designers have ensured low noise and vibration levels in the guest accommodations for a comfortable stay aboard.
The ship is also equipped with additional staterooms for 4 additional staff such as pilots, security, etc.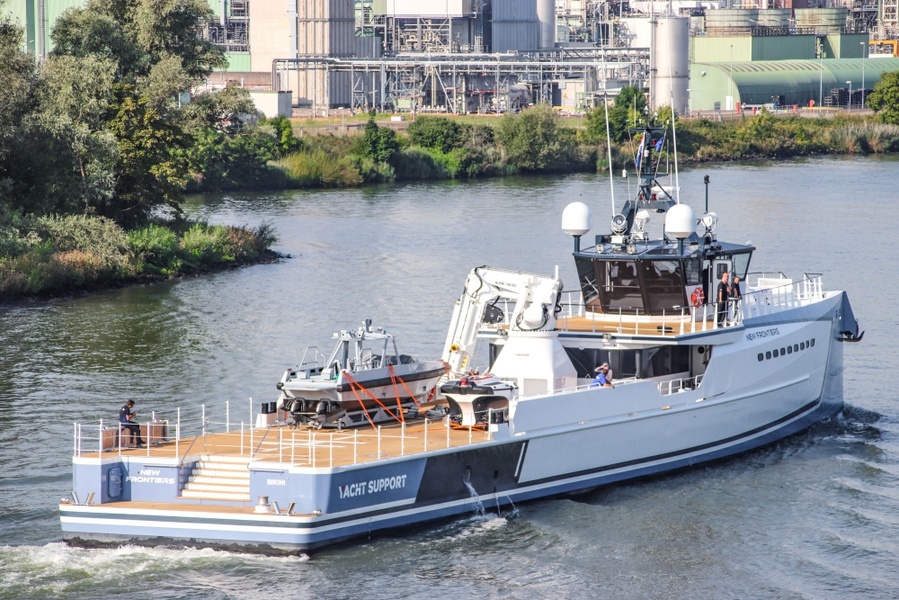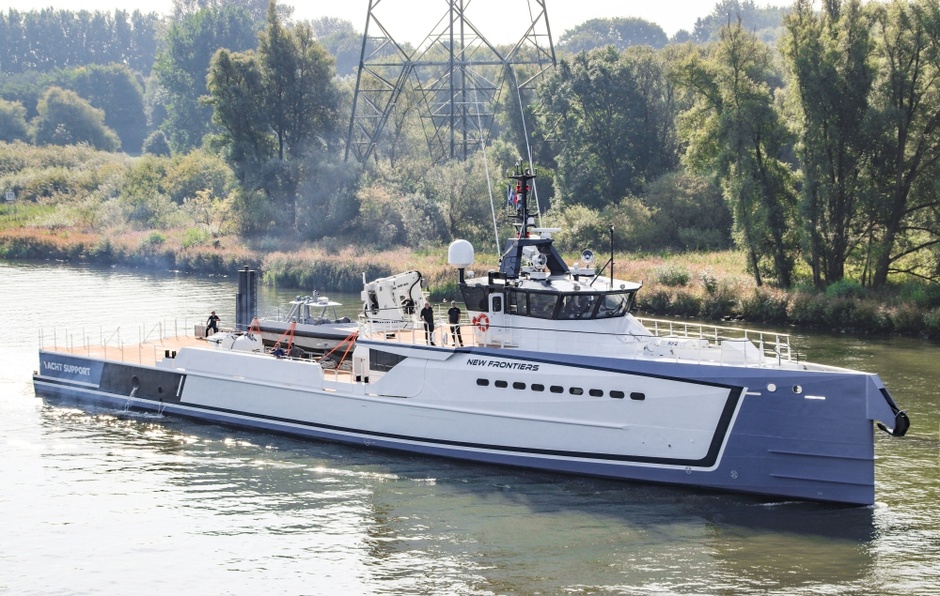 This support vessel can easily provide a luxurious life on long sea voyages. For relaxation New Frontiers has a 30 square meters lounge area with dining area and a 50 square meters sundeck.
The 240 square metre main deck is designed to hold up to 3700kg. It offers 190 square meters of space for a helipad, a 12 ton crane, storage for entertainment craft, containers and tenders.
The boat is outfitted with U-Boat Worx's state-of-the-art SYS 3 bathyscaphe and one of the fastest workboats Interceptor 1102 Damen.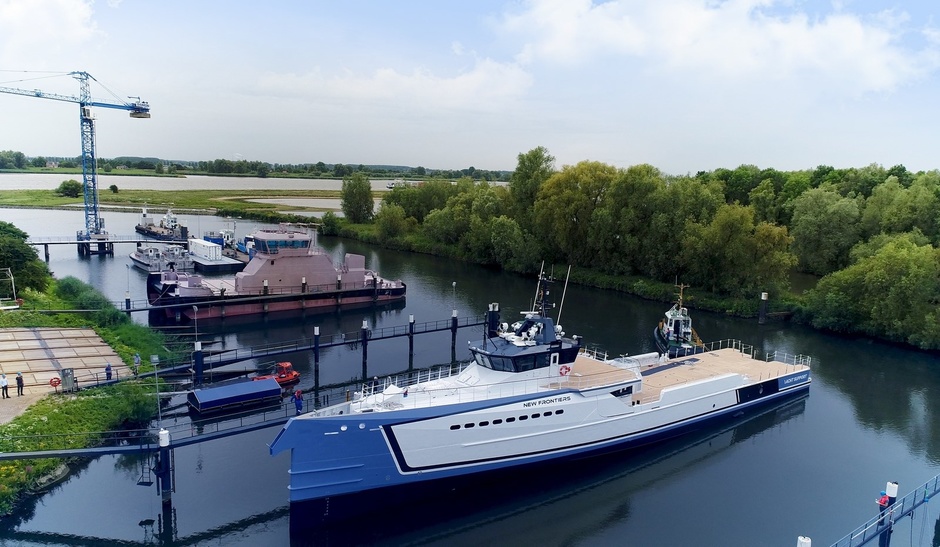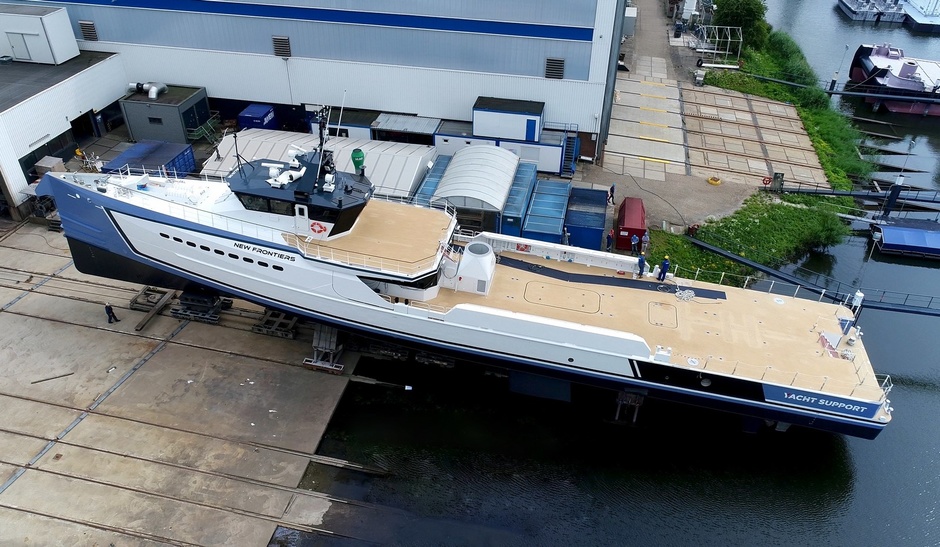 New Frontiers has a top speed of 20 knots, a range of 5,000 nautical miles and a draft of 3.20m allowing the vessel to enter ports and shallow waters.