The Sailing Anarchy website transcribed a long interview that François Gabard gave to journalists right after stepping on solid ground, spending 42 days alone in the sea. On the winged Macif trimaran, Gabar broke the previous solo circumnavigation record set by Tom Coville, almost a week ahead of his absentee rival.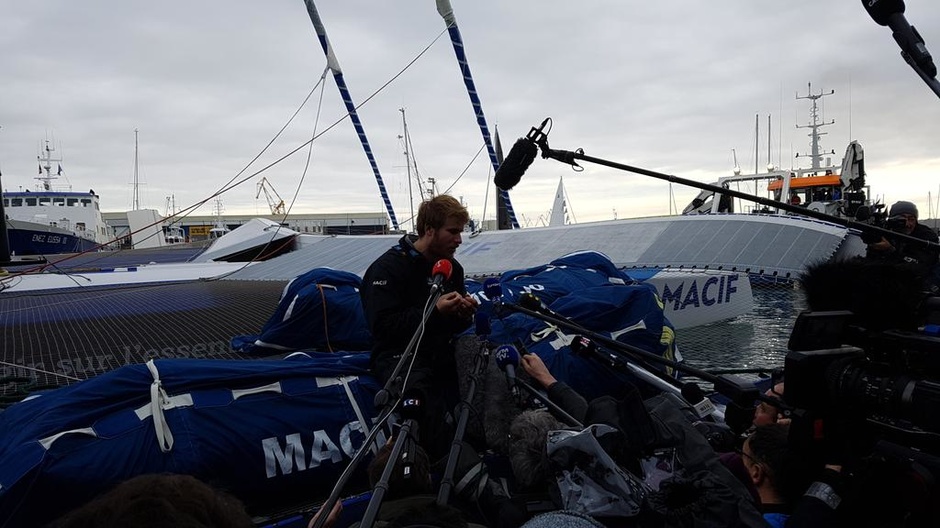 - You didn't just break the record, you crushed it!
- Yes, I don't know the world record history, but yes. I wasn't expecting that. Honestly, I had a little hope of breaking a record, but to break it like that, I never thought about it.
- What are you most proud of?
- What I am most proud of is the work we have done with this team and this boat during... I can't even remember how many... two, three, four years since the project started. We made a superboat and sent it on a super trip. I am proud of this journey.
- How do you rate your emotions today compared to your previous victories?
- There's no need to compare or rank emotions somehow. But they are huge. Last night there was something unreal, in the dark, among the fishing boats. One boat was right on the finish line, I called her on the radio and asked for permission to go to the right. I was answered «Yes, of course, no problem». It was weird! And the fact that I'm standing here talking to all of you right now is weird, too.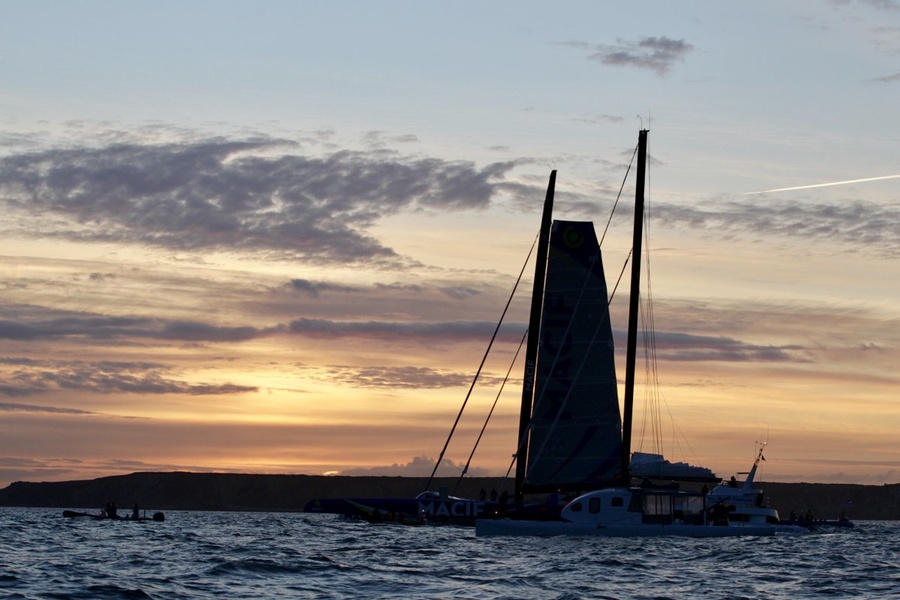 - What is the secret to your success?
- As I said before the start, there are three ingredients to success - good weather window, luck (and I was definitely lucky, maybe if I hadn't left on November 4, maybe if I had left 3 hours later, I would have missed this good weather window in the South Atlantic), and once you have this weather window in the South Atlantic, you have to follow it!
- Have you hidden something from the public?
No, I wasn't hiding anything. If this was a race with the competition, it would be different. Here, I tried to be as open as possible. There are, of course, some things that don't sound out of decency. It was hard. You know, I talked about it. I was on edge all the time. That's what I wanted to do. And I did it.
- Do you have anything to say to Tom Coville?
I want to thank both boats last year. At first, Toma spurred me on more than ever. I think if it weren't for Tom's record, my record wouldn't be there either. I'm sure you would. He pushed us to do more than that. All of us, including Francis Joaillon and the team that came after him. Their record supported my faith. If six people can do it in 40 days, you can certainly go around the world alone faster than in 49 days! Both of last year's record-breaking boats made me dream about more, pushed me. The fact that I'm here today is partly due to them.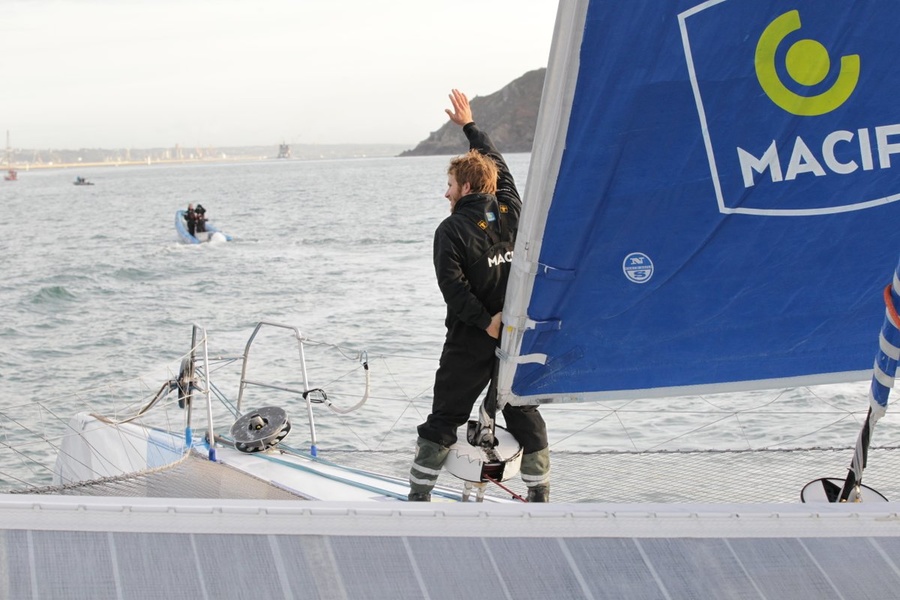 - Did you imagine a virtual stalker to spur yourself on?
I gave myself the pledge to go full speed all the time, all the time, no matter what happened. Forward or backward, you have to go full speed, without taking excessive risks, but without slowing down.
So I was racing against the daily routine.
Always trying to get more miles, here and there.
- Did you know it's gonna be so hard?
- Yes, it was to be expected.
- When you said to yourself: Everything, record in my pocket? Or did you wait until the finish line?
- Compared to the Vendee Globe, this time I knew in a few days that I would break the record if there was no technical problem. At the same time, there is a technical risk from the first to the last day, especially towards the end when the skipper is tired.
- Do you have more emotions than after winning the Vendee Globe?
- Emotions are incomparable. I wanted them to be as intense as the Vendee Globe. And they're huge.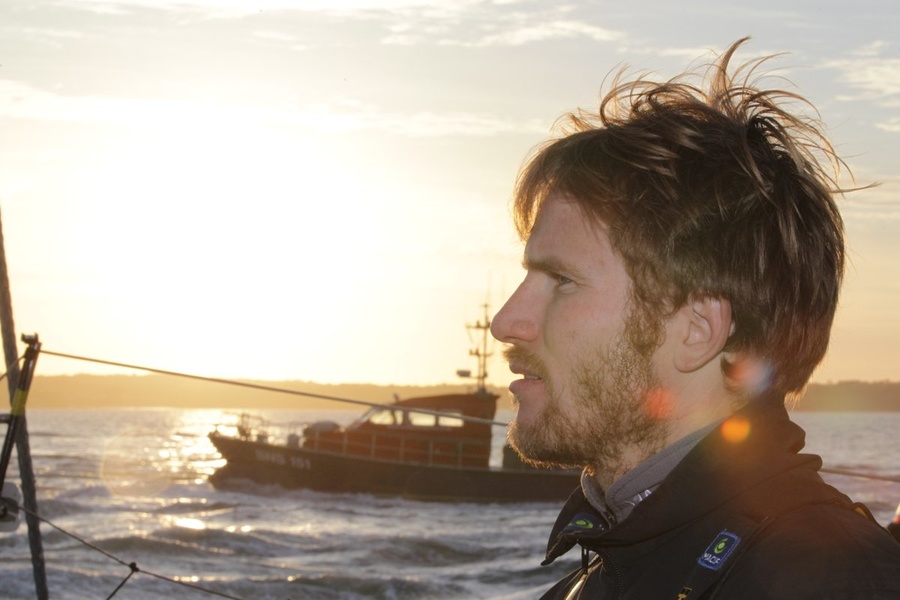 - You talked a lot about fatigue, how do you feel?
- I'm in a lot of pain. Everything. And so it's been for the past few weeks. I haven't been sleeping. I didn't sleep at all last night. I'm exhausted.
- What new task are you going to set yourself? How about the Mini Transat, is this the only race you haven't participated in?
- Mini Transat... No, I don't think so.
- Did you talk to Michel Dejouayo about it, on the water, at the finish line?
- He was wondering about it. But I'm not too interested.
There are lovely boats. This boat flew once during my trip, but not too long. Pretty soon we'll be able to fly the whole world in the foyles. It's waiting for us just around the corner!
- Will you come back to break your own record?
- Not right now. Right now I dream of flying around the world. Yes, that would be a challenge. I think that by operating the boat as a team, we'll be able to keep it in flight 90% of the time very soon. And it will be very, very fast. This record will be broken, and it will be broken soon and by a big margin!
- But what about the right weather?
- Yes, we need it, but if the boat flies already with 15 knots of wind and goes twice as fast, we will find the right weather. Of course, it won't be easy. I hope it will! I hope the next one after me won't think it's done before the start. Of course, it'll be difficult, but he'll break that record and beat it on the head, that's for sure!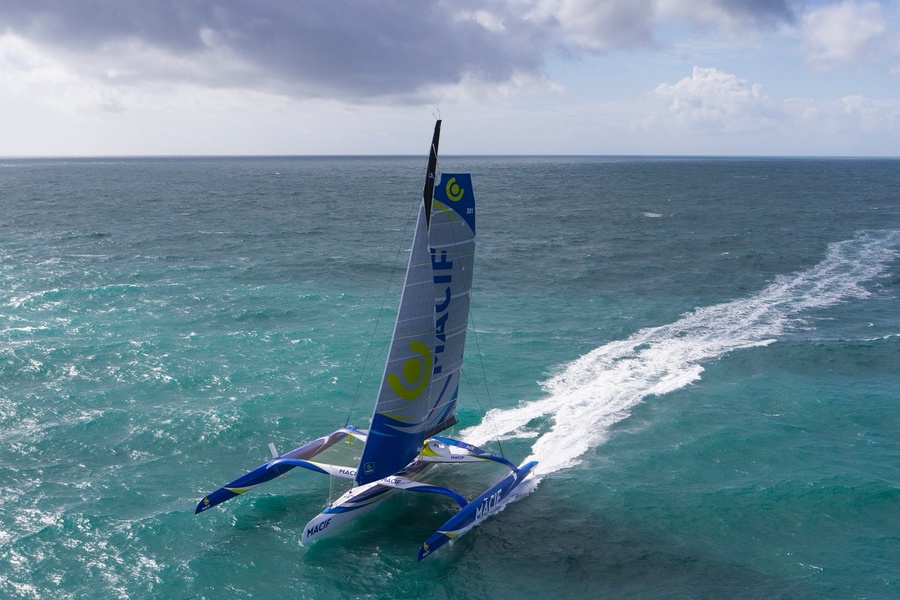 - If you went with the crew, what would change? Would you have been faster?
- I'd be less tired... And it would be faster. For example, the last high pressure front right before the finish, you could have avoided that front and cut the course by 24 or 36 hours, but we'll never know for sure. There are some places where you are very fast on autopilot, like the end of the Pacific and the beginning of the South Atlantic, and this would not change much in the crew. However, all transition periods where you have to maneuver a lot, with the crew will definitely be faster. But above all, I wouldn't be so tired. With a crew, you trust others, and you can really rest.
- What are you most proud of?
I am proud of the boat and the work my team has done before this record. When we started this project four years ago, we started from scratch. There was no Ultim. Of course there was already Sodebo and Idec, these beautiful big boats, but there was no dynamics that defines the Ultim class today. I thank Macif because it was brave. But they took a risk, and we took a risk, and we made a great boat.
I'm proud to have put together a team and conceived and built this boat. And I'm also proud that I was worthy of this boat. It deserves to walk fast. There were moments when I felt like I couldn't relax her pressure, I couldn't slow down because she wants one thing - to go fast!
I am proud of this boat and I am proud that I was ready to be tested to sail it.
- You won the Vendee Globe, Route du Rhum, Transat Jacques Vabre and this is your first record. Did you enjoy this other way of sailing?
- Yes, I liked it. I think it happened at the right time. I've been in competitive sailing for 20 or 30 years. But here you're lonely, fighting with yourself. There are right moments in life for the right things. In this case, the right moment was the right one.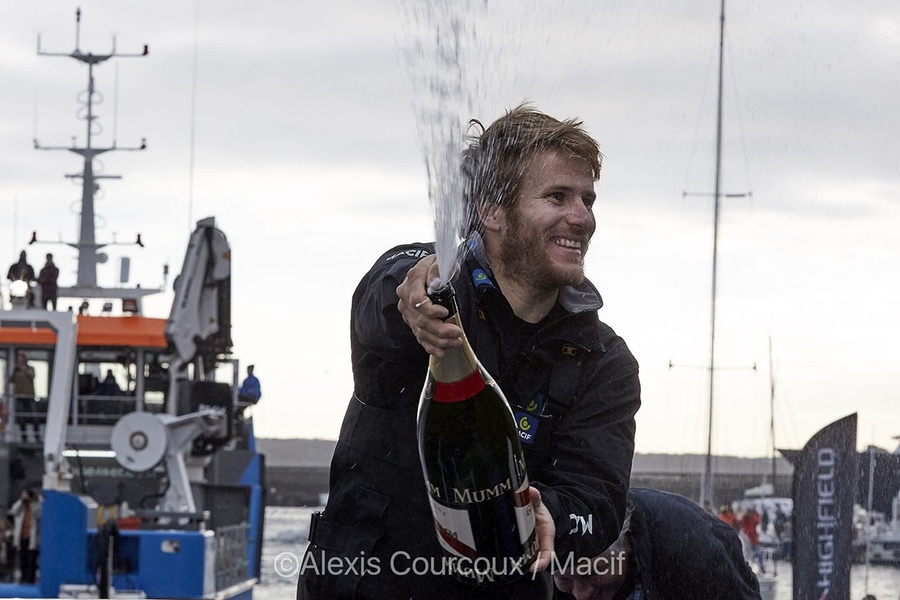 - Francois, there are guys who say you're very lucky...
- Yes, it's true. I was lucky. Without luck, these things are impossible. Of course, you have to look for that luck, encourage it, and fight for it. I had a little luck.
- How do you feel now?
- Tiredness in the first place... some relief. Happiness, the joy of seeing you all here... lots of beautiful emotions.
- How did you sleep at 35-40 knots? You must have been dead tired to sleep in this situation?
- It's hard to sleep at 40 knots, to live at more than 40 knots. You have to trust the boat, you have to trust yourself. That's the problem with solo sailing. Letting the boat go fast. But I can't hide from you that it got hot sometimes.
- How did you feel when you set foot on solid ground?
- It was pretty hard. Not cruel, but a little unfriendly.
You're alone, in total darkness, then the first boat appears and they point a bright light at you, you see nothing. I felt like a wild beast being hunted. I couldn't handle it.
I stayed inside. It was too much, and too sudden.
- Does that mean you wanted to stay at sea?
- No, I'm very happy to be back on dry land. Although I was happy at sea...
- The first thing you want to do now?
- I want to spend some time with you all, take a shower and get some sleep. I think I need it now.