It's not very inspiring, but the bilges need to be taken care of, too. When was the last time you checked to see if everything was okay under the pyol? Some may say so «recently», but let's face it, most of us don't pay attention to the bilge areas at all, even though they are right under our feet. The item concerning the bilges should be on the regular inspection checklist. Of course, you're not attracted there: it's not as inspiring as upgrading an engine, and it's not as enjoyable as applying another perfect coat of lacquer, but there's also something to do downstairs.
Pumps, piping and gate valves, electrical wiring - all vital equipment is usually in the hold and a failure of something can send the boat to the bottom.
Even if all the systems in the hold are functional, the dirt and unpleasant smell from there are signs of a sloppy yachtsman.
Potatoes do not grow in the clean hold.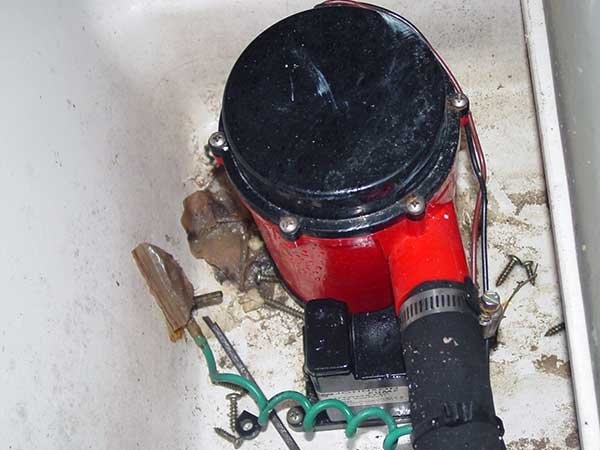 First, keep the bilge clean. It's easier said than done. Usually it is divided into compartments and most of them are as hard to reach as the dark side of the moon. However, if the yacht is adequately designed, the engine room is usually easily accessible and all pumps and equipment outside can be accessed through floor hatches. So brushes in your hands and forward to where you can reach. Especially in the engine room, where fuel and oil leaks can occur. You won't be able to see in time when the connection starts digging somewhere if there's dirt around. In cleanliness, there will be leaks.
Keep the limbers clean - the cutouts in the kit and the strings are clean so that water can flow into the dewatering wells where the pumps are located. The clogged limbers turn the hold into a swamp.
Previously on wooden yachts, builders would pull a flat bronze chain from bow to stern through the water holes, and when pulled, she would clear the way for water. Nowadays it is rare to find such a chain, so use a hard wire (some use an extended hanger) or any improvised means.
The frame kit is usually made with a flat profile - plastic is glued over a reinforcement made of wood or foam. Drilling the limbers without subsequent sealing means allowing water to enter. This will cause the plastic to flake or decompose the reinforcement, or rather both. If you find leaky limbers, contact a professional to have a surveyor or manager at the yard where the yacht was built inspect the area. Don't let it go on its own.
Make sure the pumps are working properly.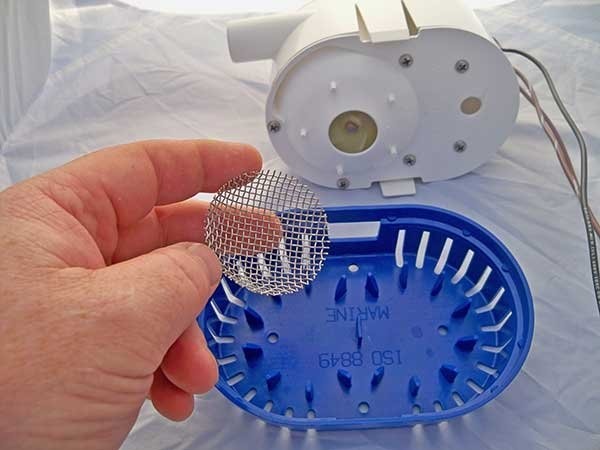 Test all dewatering pumps on board in automatic and manual modes. Inspect the remote control and audit the pump. All pumps must be protected against foreign matter being sucked in. This is a screen around the submersible pump snail or screen on the suction line. Although they are designed to protect the pump, remove any remaining dirt on them. Also, do not forget the float sensors. Otherwise, the moment when the float gets stuck or fails, the pump will run dry and will burn or become jammed and will not come out again. There are also pneumatic sensors, which are triggered by water pressure and usually work together with diaphragm pumps. Experience has shown that this system is very reliable and virtually maintenance free until it gets dirty.
Some yachtsmen place floats in homemade wire baskets to protect them from large debris, sometimes the float is delivered in the factory's plastic basket, but both options need to be cleaned regularly.
You can save yourself the extra headache by replacing a pump with a float sensor with a pump with an integrated sensor.
For example, the Rule-Mate pump has a built-in sensor without moving parts, which is not directly contacted by water. It switches the pump on at a certain level and turns it off when it falls - all like a float, but much more reliable, according to the company. Unlike automatic dehumidifying pumps that periodically check for water, Rule-Mate only works when water is present.
If it's time to change the float sensors, there is a good option for the Attwood S3. Using semiconductor magic, this system detects the water level and turns any pump into an automatic one. It also detects the composition of bilge water. If there are impurities of oil products and chemicals, Attwood S3 prevents them from being rolled overboard. Water Witch is another well-known company producing automatics for pumps. Its product is in demand by the Canadian and US Coast Guard. Water Witch sensors operate in 24/7 mode. The pump turns on when the electronics detect water pressure on the impeller.
One feature is worth noting: automatic pumps and semiconductor sensors use little power while the float sensor does not consume it at all.
Why do you need an engine tray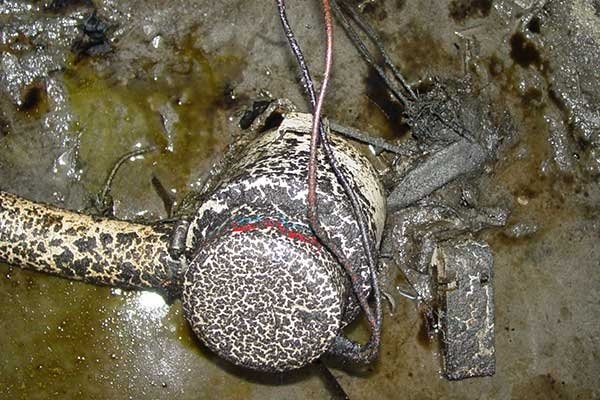 Nothing affects the hold in the same way as engine runoff. Every drop of oil or fuel that you don't notice will flow down to the furthest corner of the engine room, where removing it will be a real problem. If you don't dry all the oil, it will undoubtedly reach the drain pump and be rolled overboard.
No one at the marina will thank you for the oil stain around. Save yourself from the ridicule of your berth neighbours by putting pallets under the engines so that everything that tends to flow into the hold can be collected in them.
The best yachts come with them as basic equipment, but installing new ones will not cost much and is something worth investing in.
Even if there are no leaks in the engine room now, sooner or later they are bound to appear, at least during maintenance or fluid change. The tray will catch any leaks and can be wiped with a cloth or paper towel. If you keep it clean and we are sure that it will, you can immediately see any unexpected leak during the engine inspection. After making sure it's as useful as possible, you'll want to install pallets wherever there's oil, fuel, hydraulic oil, in short any working fluid. This means not only installing it under every engine or generator, but under the gearbox as well.
Any one-piece airtight container that fits under the engine can serve as a pallet. Most pallets, however, are made to order in stainless steel or copper, are easier to clean and look cooler. If you are not a welding technician, then leave the manufacturing of the pallet to professionals, but it is definitely the right thing to do on board. You don't want an oil stain to enter the marina and then your boat.
Check alarm systems

Each automatic dryer pump should have an indicator on the control panel that will show when the pump is running. It's a useless thing when there's nobody on the boat, but a great indicator on the move if there's something wrong with the hold. Most yachts also require a water level alarm for the bilges. It should be positioned to provide timely warning of approaching electrical wiring and other vulnerable water components. Test both systems and the manual operation of the pumps.
Install counters on each pump. The counters will record how often the pumps are running. Keep a log of the typical cycles for a given period. For example, from Monday to Friday when you are at work and the boat is moored.
If you notice a jump in pump cycles, you'll know to check what's going on.
Some automatic pumps switch on regardless of whether there is water or not, a normal switch-on counter is useless. The pump hour timer is more suitable for this purpose.
Do not stop at the pumps only!
While you're at it, check everything.
Find all bottom valves, each ball valve, examine them, try to rotate. There should be cut-off valves (kingstones) on all the spiegs. Check all pipes and their connections. If a submersible pump pumps out water through an anti-syphon (this design is required when the spike is close to the water line), make sure the non-return valve in the pipe is correct to prevent water from entering the body. Pay attention to the Durit coupling clamps, all of which must be made in marine design, 100% stainless steel. Anything installed by the owner and manufacturer on board must comply with industry standards.
Your scrupulousness can save your boat.
Based on data provided by the United States Ship Owners' Association BoatUS Marine Insurance (www.boatus.com), from 2006 to a recent publication, more than a quarter of the sinking yachts (26.9 per cent) were wrecked due to component «wear, damage and corrosion». 69% of the drowned yachts did not even give up the mooring, of which 39% were due to equipment failure. These are all cases where inspections and maintenance could have prevented a dive. Don't be one of the four yachtsmen who will let your boat sink. Look under the pyols.

This article was published in September 2014, in the magazine Power & Motoryacht. It was written by Mike Smith.