So, you've managed to create an appetizing menu-layout for the whole period of the future voyage, put it into components and convert your gastronomic wishes into a specific shopping list. So what's next?
After the supermarket cruise (basic foods and beverages) as well as local markets (fruits and vegetables) your shopping list finally materialized right at the gangway. Dozens of bags, plastic wrappers, bags, bundles, nets and boxes vividly resemble a greatly reduced but still impressive copy of the Cheops pyramid.
The products are profitable... welcome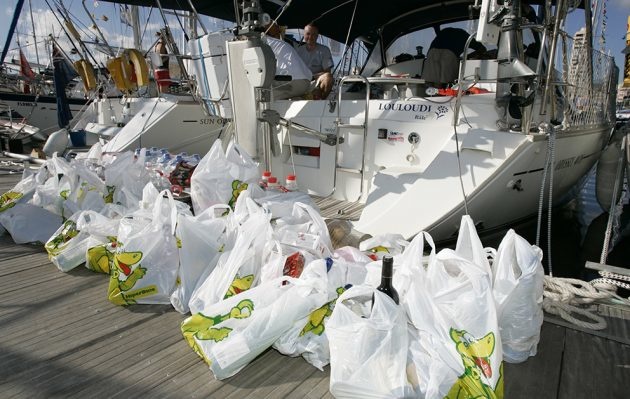 Now all this has to be loaded correctly into the very limited free space of the yacht in such a way that:
Everything fits, and it wouldn't interfere with the crew's life and the way they operate the boat.
Nothing broke, broken, crumpled or spoiled.
Any of the elements can be retrieved quickly and effortlessly if necessary.
To successfully solve this triple problem, you should remember a few simple rules.
We'll leave everything else on the beach.
First of all it concerns additional (external) packing, for example, dense plastic from blocks of cans and bottles, cardboards, and also boxes and other large shop containers which on the form and dimensions do not fit in a complex configuration of internal space of a boat. At the same time you will get rid of the need to carry the whole mountains of additional garbage, because it is difficult to dispose of it in the sea, and throwing overboard - an exceptional mover.
Yummy on the boat: cut and unpack.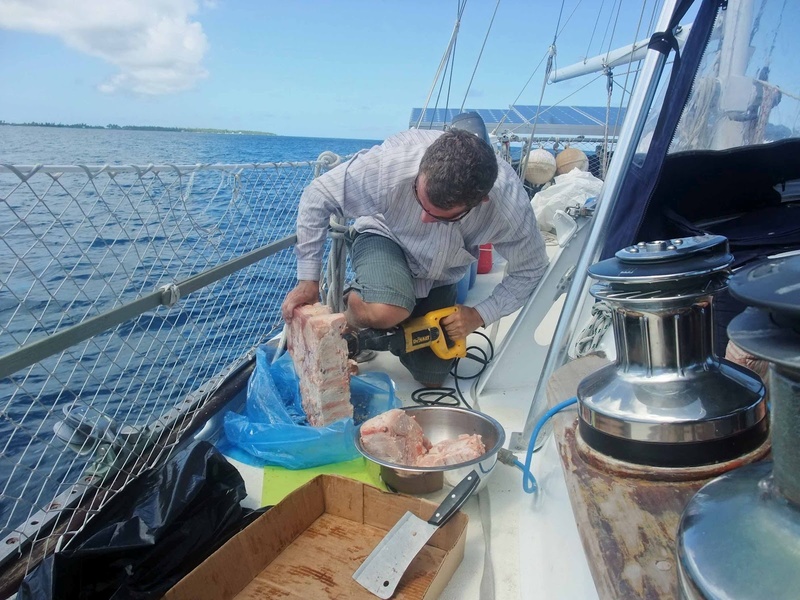 In addition, you should at least have a quick look at the fruits and vegetables you have bought by sending those whose freshness is questionable to the dumpster. With this simple operation, you will prevent their premature deterioration. When planning long crossings (especially without intermediate stops at the marina), it is advisable to pick up all fruits and vegetables before loading them on board. By the way, at the same time, it will make sure that there are no ants, various pests, cockroaches or other unwanted passengers. If these uninvited guests will be detected, you can try to get rid of them with the simplest measures of disinfestation, such as a weak solution of potassium permanganate (manganese) or even ordinary cooking salt.
We always know: What? Where? How much?
As a rule, loading of food stocks is carried out in an abnormal order, i.e. by the whole crew. However, it is simply necessary that this collective effort is led by only one person, preferably the future non-staff cook. It is he who gives instructions on what, where and how to lay, and at the same time makes a list of what and where lies. By the way, for creation of this very important document it is more convenient to use the scheme of the boat from one of the check-lists of reception which representatives of the charter company usually give out by number of crew members. We mark the locations of food and beverages right on it, indicating their quantity.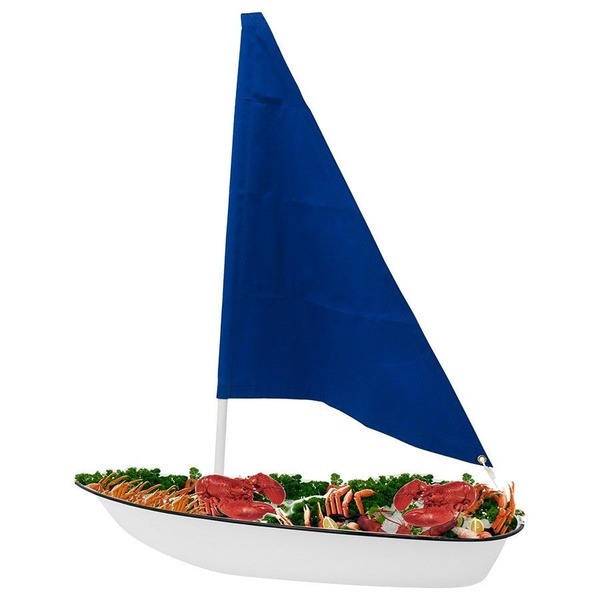 Once the loading is complete, it is advisable to fix the resulting scheme in a prominent place in the galley, where everyone can see it - this will make it easier to navigate the world of reserves when it is necessary to help the coca in its hard work. As the inventory is used up, the responsible person will be able to adjust the schematic data so that you will always know exactly which culinary delights you can count on until the end of the hike and (most importantly) where to look for their components.
The round does not ride, the flat does not fly.
In this case, even in a storm nothing falls on his head, does not break, does not spill, and therefore does not turn into an absolutely inedible mash according to an arbitrary recipe of the forces of nature.
For this purpose, we tightly load the standard lockers with the lockers, observing the elementary requirements: hard and heavy - down, light and fragile - up.
Products and drinks in glass containers are placed either in special holders or (if they are not available or not enough) - in the free space under the bunks. We try to place everything sensitive to shocks and shocks in the central part of the body closer to the middel - at the ends of the shock is felt much stronger on the move.
For fixation and additional insurance all glass jars and bottles should be laid with soft materials (for example, packs of wipes or paper towels) or wrapped with spare covers and clean rags, which can then be used to keep the boat clean. It is advisable to hang fruits and delicate vegetables in nets by choosing the least convenient places for the crew in the interior.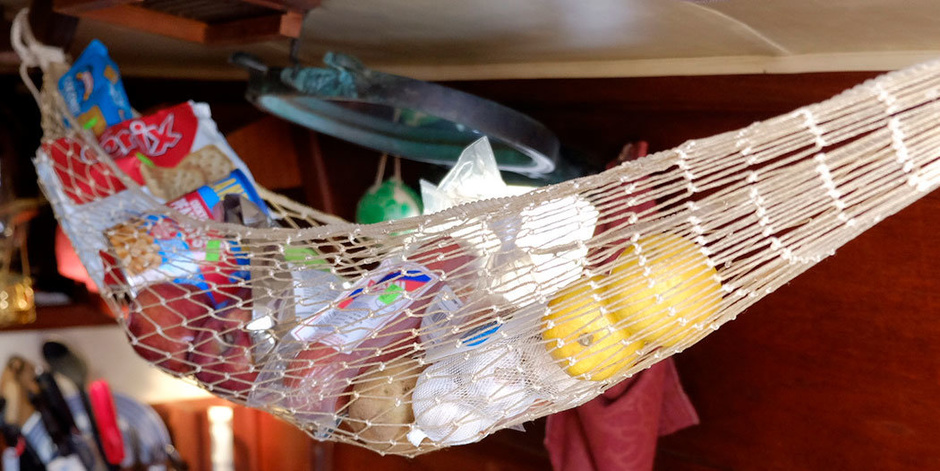 This will provide them not only with relative safety, but also with natural ventilation, which is necessary to maintain their freshness for longer. Hard vegetables (potatoes and other root vegetables) as well as cans of grease can be placed underneath the saloon pajols - this will provide an additional incentive to check more often that water has not accumulated underneath them. Of course, the first hour and a half of fresh weather in the sea will put in place (and spread out) absolutely everything that you loaded / unloaded not enough quality, but is it worth risking spoilage valuable supplies?
Split is to keep
Vegetables and fruits are necessarily sorted by degree of ripeness and stacked in such a way that the most mature were closer. When swimming, this will allow you to use a natural vitamin pack as your «harvest» matures and reduce unnecessary losses. Don't forget that some fruits and vegetables simply can't stand being close to each other.
The fact is that as they mature, they all emit ethylene gas to a greater or lesser extent.
In confined spaces, its concentration increases rapidly, resulting in premature spoilage of products. The absolute champion of ethylene production is bananas, so they should not be stored in excessive quantities and should be kept away from the rest of the green stock.
Further down the ethylene ranking are apples, pears, kiwi, mangoes, peaches and plums. Potatoes, broccoli cabbage, salad, carrots and green beans are very sensitive to excessive doses of this gas, so it is worth considering this feature when placing them on the boat. Note that among fruits and vegetables there are also individual sympathies and dislikes. Thus, tomatoes can be stored together with plums, and the kiwifruit perfectly coexist with avocado, but for both of these fruits is detrimental neighborhood with pineapple. But onions and potatoes do not tolerate each other, and potatoes should not be placed next to lemons. By the way, the most resistant to ethylene were cherries and blueberries - remember this when you make up the dessert part of your hike menu.
Little things make life easier.
So do not neglect them: here is a brief list of simple, cheap and yet very useful things that will help you in the difficult business of storing food on the boat:
Freezing bags of various sizes
Waterproof markers for markings on cans and packaging
Plastic baskets with ventilation openings
Plastic food containers with sealed caps
Tubular nets in rolls / mesh bags
Slip-free paper for the bottom and shelves of the lockers
Paper towels, napkins, sponges...
Pet insect repellents, traps for cockroaches / ants.
So, food supplies are loaded on board and properly placed, and now welcome to the galley!
What should be in the kingdom of coke
Almost all charter companies provide together with the yacht a standard set of kitchen utensils and dishes. Their detailed list can be found in the boat form, which is sent when the boat is received. In most cases a heavy fine will be charged for damage/loss of any galley item, so don't be lazy to carefully count all forks/layers/plates/pans/pots/pans and check their actual condition.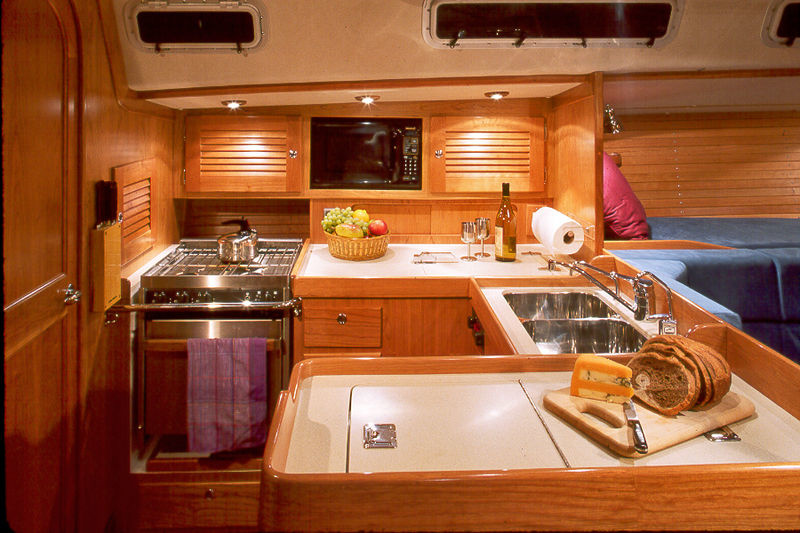 You should have at your disposal (minimum set per team up to six people):
2 saucepans - small (up to 3 l) and large (from 5 l).
2 frying pans
Soteynik
Kettle
Coffee pot / turkey
A large salad bowl.
2-3 kitchen knives, different
2-3 food cutting boards
Tin wrench
Columnar
Turk
Set of dishes (mug, plate small and deep, spoon, fork, table knife) - by number of crew members + 2 spare sets.
As practice shows, this rather Spartan list (something you can't do without) can be easily expanded by the charter company both in terms of assortment and quantity.
Please note that all dishes are made of unbreakable and non-slip plastic.
This will significantly reduce the risk of annoying injuries and, in addition, save money when you hand over your boat. The only exceptions are juice glasses and wine glasses (for aesthetes). By the way, in the latter case, don't forget about the corkscrew, otherwise you will have to use a fascinating «engineering» method to remove plugs from bottles - with the help of a self-tapping screw, if there is one on board.

GaThe cooker hob must be equipped with a cardan suspension (make sure that the pans and pans retainers are in good condition) and an oven with a grill grate and at least two trays. The microwave is a very desirable, but not compulsory, electric juicer, coffee machine and mixer - a luxury rather than a necessity. The fridge-freezer (or deep-freezer) can be found on almost any boat today, so that even perishable foodstuffs are guaranteed a comfortable enough living environment with a rational use of battery power.
The fridge is class, but what if it's not?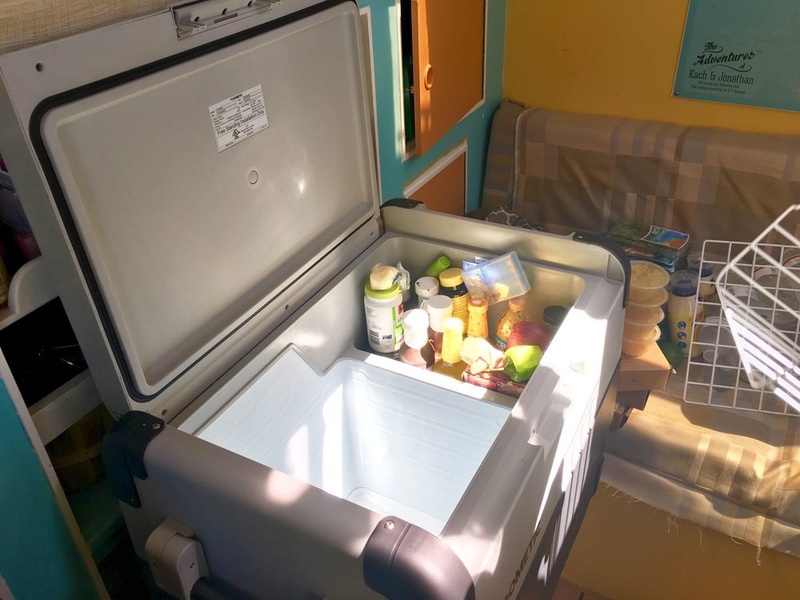 But what if your chosen boat does not have a refrigerator or fails/disconnects to save energy?
If you consciously decided to sail without this wonderful invention of mankind, you can compensate for its absence by appropriate changes in your menu. In this case, the main stock of protein sources - meat, poultry, fish - will have to be brought with you in vacuum packaging (including fresh), as well as in the form of preserves (up to 10-12 days.) and canned food. Add to this more variety of vegetables and fruits (carefully selected and properly placed) - and you get a fairly balanced diet, which would envy any sailor of the old sailing fleet.
By the way, going out to sea without a refrigerator, it is worth remembering what the seafood usually consisted of until the middle of the XIX century. According to studies of British historians, even then, the sailors managed to get 2800-3000 needed for a bearable existence of kilocalories, sitting for months on such a simple diet:

Corned beef (pork or beef) - 1 pound (approx. 450g).
Sukhari (often wormy, i.e. protein-enriched) - up to 1.5 pounds (ca. 680g)
Beans, peas or rice - up to 2 pounds (c.900g).
Beer (ale), wine or spirits (as ingredients of grog) - 1 gallon (4.5 litres).
When the corned beef ran out, the lint of flour with fat and salt was used, from which if possible they boiled bread, but more often eaten directly raw. To prevent scurvy, the team was given apples (at the beginning of the journey) and lemons. Only in the middle of XVIII in the diet of ordinary crew members appeared vegetable soup, for which the sailing fleet should thank Captain James Cook.
But what if the travel menu was designed with the fridge in mind, which suddenly let you down? Above all, stay calm: Most foods are not as sensitive to the lack of artificial cold as you might think. For example, beef (depending on its fat content) can be stored in a shady place for 2-3 days, turkey and chicken for 3-5 days, and lamb for a whole week.
If you at least lightly sprinkle the meat with salt and / or wrap it in a piece of cloth wetted with sea water and vinegar, the specified period can be extended for another day to three days.
By the way, closer to the completion of such an «emergency» storage of meat products you will be very useful spice curry, the magic properties of which have been reliably tested in the hot climate of India.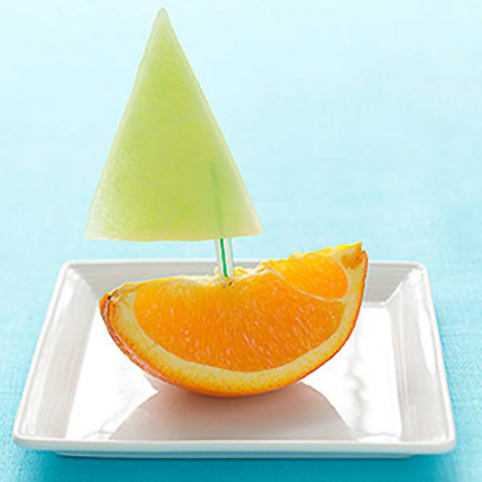 Eggs can be saved longer by wiping their shells with any fat - from sunflower oil to sunscreen. Creamy butter will significantly extend its shelf life if it is immersed directly in a container of sunflower/sea water. And, finally, by organizing the automatic cooking of perishable food (just for this, do not forget to take the largest pot), you will save them from the glorious death, and at the same time provide the crew with fresh food for a few days.
So, the absence / breakage of the fridge at sea is certainly an inconvenience, but it is far from being a tragedy and certainly not a reason to spoil your mood, as well as the whole vacation under sails!

Cooking on the go.
The answer is simple - delicious, nutritious and time consuming. In this case, compiled in advance menu-layout should not be a dogma, but rather a guide to action. Whatever stands in your gastronomic plan for the next day, it can always be adjusted according to the wishes of the crew and the whims of the weather.

Observe the basic rules: we cook without any special problems, avoiding too complicated dishes, as well as eating with specific and long-lasting odors (unless the whole team will want to enjoy them). In doing so, we deliberately avoid culinary variations, the results of which, when rocking for a long time to make the boat unsuitable for the habitat of intelligent creatures. So get rid of too complicated dishes and excessively spicy sauces, a meal on a boat - it's a plentiful and democratic food for all!
Do not forget to check the menu of upcoming days with the weather forecast. If a storm is coming, it is advisable to use the last hours of the relatively calm sea to prepare something delicious for the next few days, when equilibrism around the stove becomes simply impossible. Believe me, on the second or third day of the storm, even precooked (and already cold) goulash like Coca»« Tears is much better than meals in the dry.
At the same time, it is necessary to consciously minimize the risks of using products and drinks that could irrevocably spoil the interior of the boat during the rocking. For example, red wine is absolutely contraindicated for the teak deck, and the elements of fish broth that have escaped to the plate (never risen to the level of the real ear) and even spilled ordinary milk in an inaccessible place can permanently poison the atmosphere on the boat.
So, realizing your culinary fantasies in the middle of the sea, do not forget about elementary rules of accuracy and possible reaction of others. At the same time do not be afraid to experiment and make new gastronomic discoveries for yourself, because even for their sake you decided to go on a journey under sail!