The format of sailing training on light single dinghies has been gaining popularity recently. The new course on «Lasers» has opened at the PROyachting school at the Vodnoy Stadium in Moscow. Let's find out who is suitable for dinghies training and why people transplant from big keel yachts to these unstable «kids»who are ready to turn over at any moment.
What's a «laser?»
«A laser» is a class of light single racing yachts four meters long. They don't have a heavy lead keel that keeps them from turning over, but they do have a centreboard, a retractable dagger-type fin that is inserted into the mooring well like a sword in a sheath. The centreboard is raised and lowered by means of a special rope - the centreboard. In courses against the wind, the centreboard should always be lowered - this way the boat is better balanced and has less drift. In addition, the centreboard creates lateral resistance, which reduces the risk of the boat tipping over in strong winds. On full courses, the centreboard can be raised.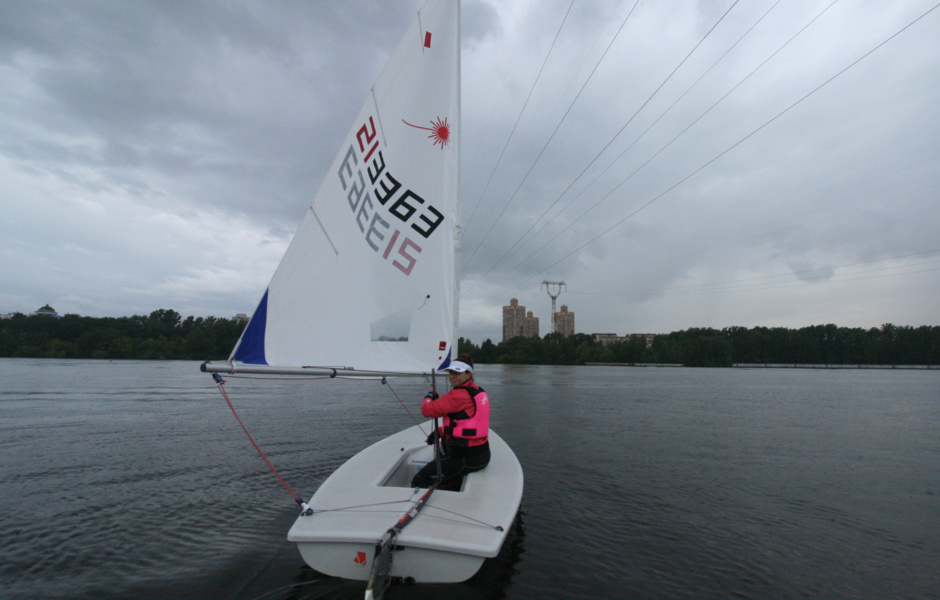 There are three different types «of lasers»- Laser «4.7, Radial Laser»«and Standard Laser»«. Their hulls are identical; they differ only in mast height and single sail area. «The laser is» selected according to the weight of the yachtsman. The Laser 4.7 with a sail area of 4.7 m² is suitable for athletes weighing 45-55 kg - most often teenagers are transplanted» on it from an even smaller Optimist«. With a sail area of 5.76 m², the Laser Radial is positioned as a girl's boat with an optimal weight of 55-75 kg. The standard Laser has a sail area of 7.06 m² and is suitable for yachtsmen weighing 75-85 kg.This does not mean, however, that a heavier person will not be able to board the Laser - it«can withstand»up to 100 kg. However, if you are thinking about seriously racing in this class, the extra weight (as well as its disadvantage) will prevent you from achieving good results.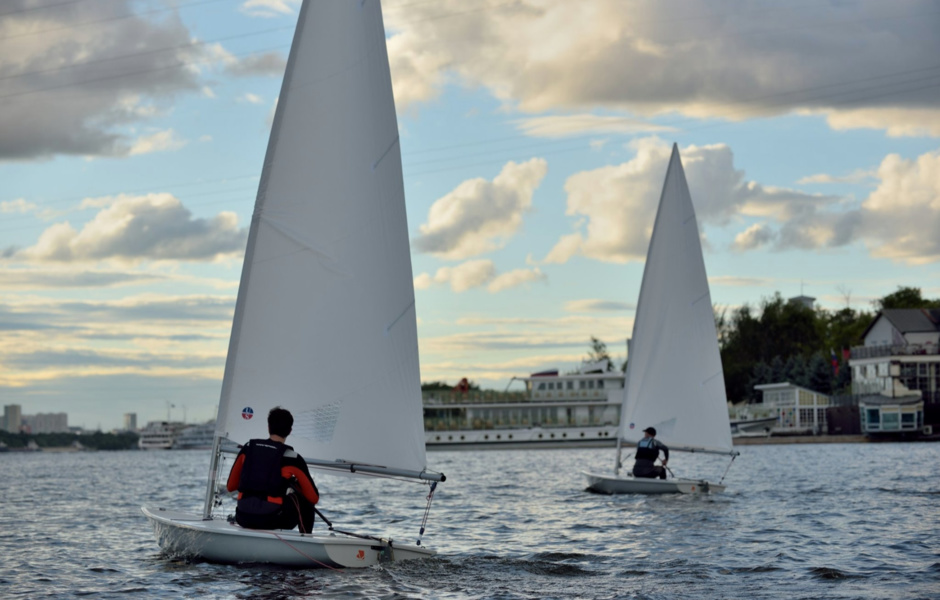 Why? It's very simple. Laser«racers,»who are heavier than their boats (dinghies only 58 kg), use their own muscle mass to accelerate the boat. In theory, many techniques associated with moving the body position on the boat during the regatta and artificial acceleration of the boat are prohibited. In practice - almost all laser racers race very aggressively and it is almost impossible to track violations. In Radial Laser«and» Laser«4.7 this» practice is not so common, but there are some tricks - torquing (repeated torso rotation) in a strong wind on an aviator against the wind and single boat rocking in a situation where the wind is very weak.

Even if you are not going to the Russian Championship in the Laser class, it is «better»to understand at once that this class is energy consuming and physically very demanding.
Who needs it?
Anyone who really wants to learn how to understand the wind, set up a sail, sail a sailing yacht and understand sailing strategy and tactics.
«The laser» differs favorably from a keel yacht in that it's designed for singles. This means that you are alone on the boat and the full control is in your hands. You make your own decisions and are responsible for them. You are independent of the team - it is easier for you to set up your training and competition schedule. You can train at a pace that is comfortable for you - the instructor will adjust to your goals and the learning of new material.
«The laser» will suit both beginners and those who already have experience of sailing on a keel yacht. I know by itself: it is possible to go constantly to participate in regattas on keel yachts, in a command with the professional skipper, and to learn only ... to carry out commands well, having learned a pair of wise yacht words. «The laser»teaches you to think for yourself.
Even experienced riders who successfully sail on keel yachts come to the Laser«»to improve their level. For example, one season on the Laser«at the PROyachting» sailing school was rolled back by Lera Kovalenko, skipper of the ArtTube team - J/70 Monaco Winter Series champion for the last two years.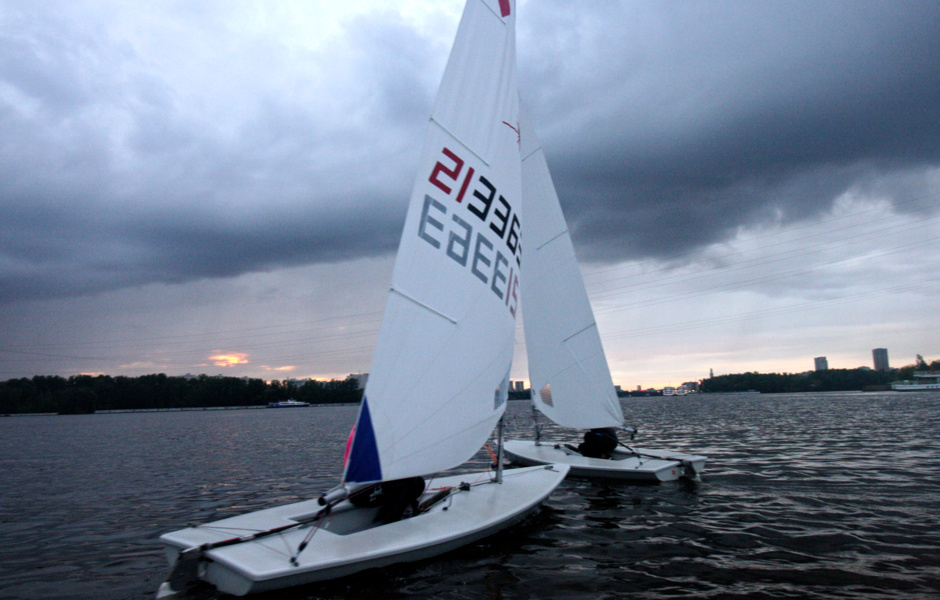 «The laser»is an Olympic class. Which means that with proper diligence, you can easily ride it to participate in all-Russian and international regattas. Certainly, to reach such level, it is necessary to be engaged much - at least several times a week during half a year.
But if you are not planning to conquer the world, but just want to race for your own pleasure, if you have the skipper's license, but are afraid to rent a cruise sailboat to walk with theAdriatic or Mediterranean friends, the Laser«is»also a story about you, it will help you learn how to feel the wind and the boat and be much more confident at the wheel.
Small and bright, the centreboard is very responsive and does not tolerate fuss, although there is a lot of work on it. Get ready for constant low geek dives «»and hard opening, which involves the whole top half of the body. All these motions will have to be done quickly, on time and very smoothly.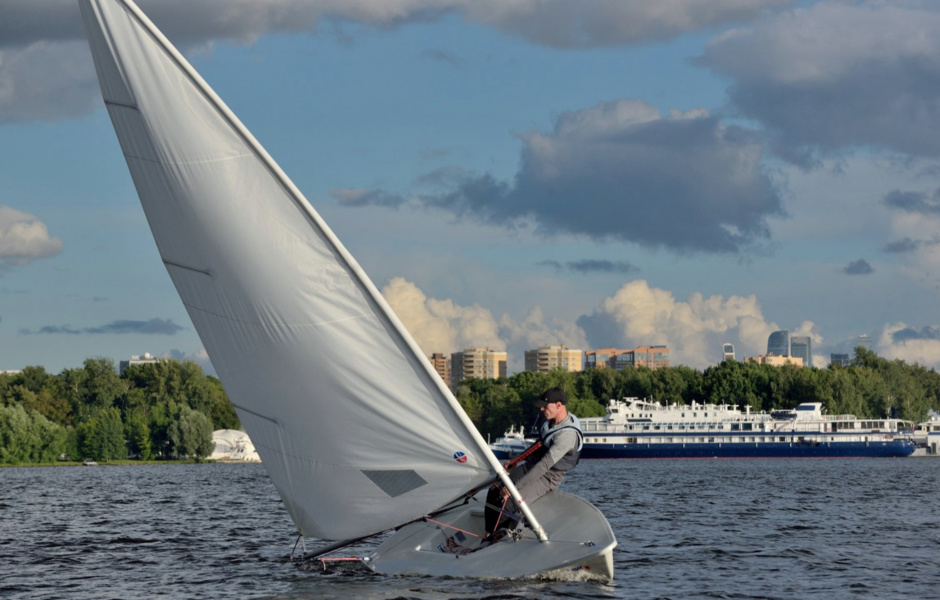 Why be ready for the first lesson on the laser?
Bathing.
For the first lesson it is better to choose a weather day. The Shuttleboat, unlike a keel boat, is easy to flip. One embarrassing movement during a tack change can result in too much slope and rinsing of the sails. A beginner is inevitably in the water. His task is to stand on the centreboard and return the boat to its normal position by its weight (yachtsmen say to put it on an «even keel). What's more, you may be asked to intentionally turn the boat over to learn how to restore it. Do not be afraid, it is normal. Small weight is not only a threat of overturning, but also a large margin of buoyancy, so it's relatively easy to do even for a girl or teenager.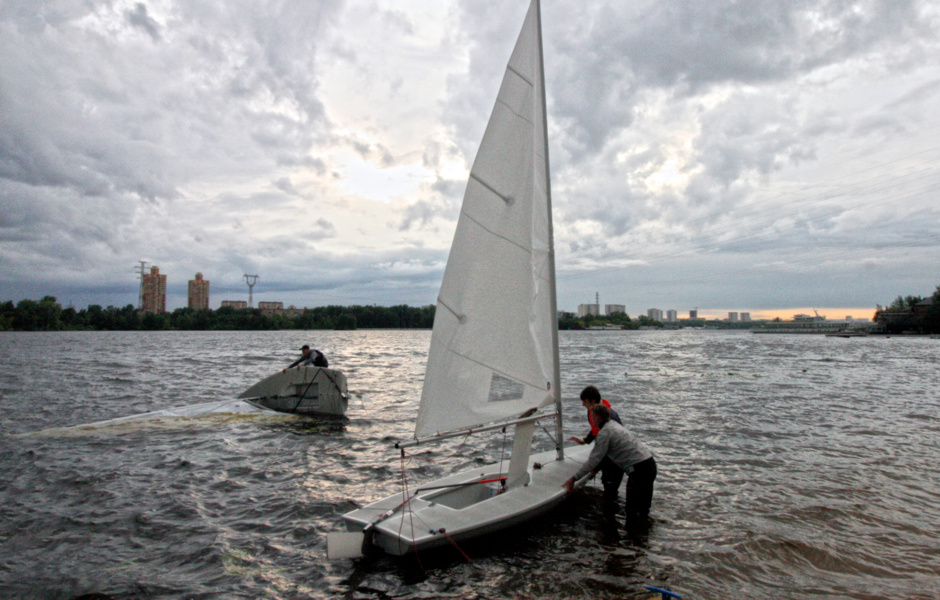 So that an instructor can get on your boat and walk with you for a while.

«An extra» person aboard a single dinghy doesn't do a very good job of speeding, but you'll feel much calmer and can ask all the questions you need. In the future, you can choose the format of the session: the instructor trains with you on another laser «or» follows you on a boat. In«Proyachting», the first option is more expensive than the second (3000 per hour versus 2500 per hour). The next level of advancement is group training, when you race in a small group under the supervision of an instructor on a boat. Here already practiced the strategy and tactics of racing - you compete with each other on a standard scheme with two signs (windward and windward) and the starting line, which is also the finish line.
Going out on the water without an instructor is much cheaper than training with an instructor (1000 rubles per hour in PROyachting), but you need to grow to this level. You will trust the «laser»if you are already confident in its control and do not crash into the pier or passing by the motor. Safety first.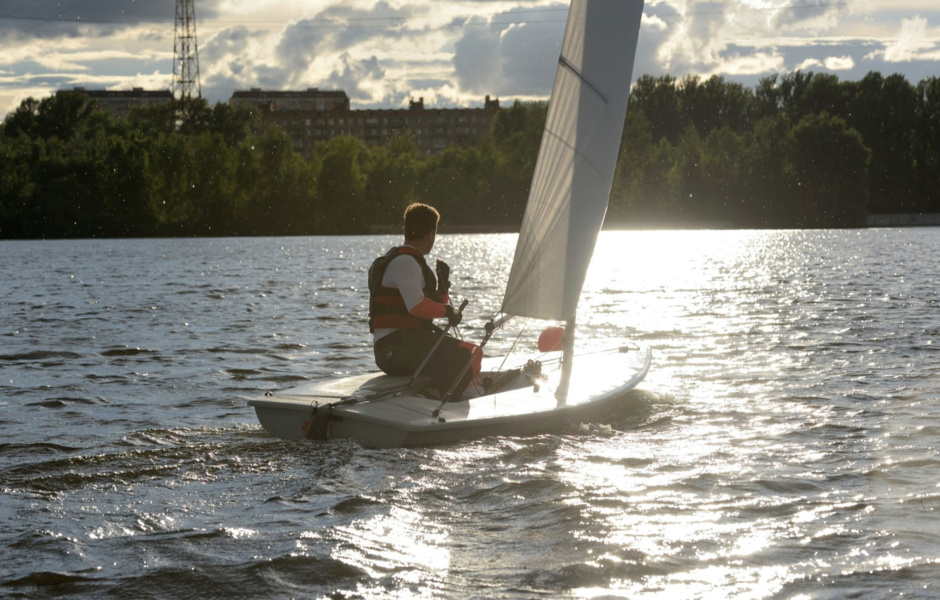 In the absence of the theoretical part.
Fans to sleep on lectures at the university - here you have nothing to do. Practice, practice and again practice - that's how training on the laser«works.Instructor PROyachting Nikita Klimentiev is guided by a saying It is better «to see once, than to hear ten times, and»he is absolutely right: even having notched up names of courses concerning a wind, on water you, most likely, at first, will confuse a leeward board with a windward one.
What to wear on training on the laser«?
Don't forget to bathe occasionally and that when you launch the dinghy, your feet will definitely get wet. Therefore neoprene - your all. A wetsuit with lap reinforcements and neoprene boots is the best outfit for a beginner laserist. Plus a safety vest. The cheapest version of the crew can be found in Decathlon«:»fully dressed for training here will be possible for 10 thousand rubles. Don't forget about sailing gloves - I would recommend them with your fingers. The cap, fastened to the collar, is a masthave on a sunny day, otherwise the glare on the water will dazzle.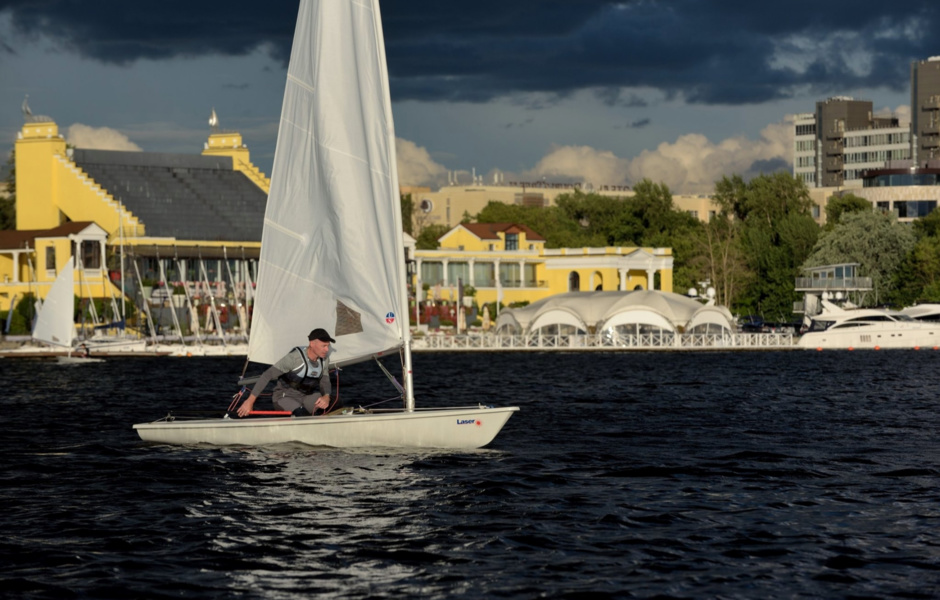 Instead of an epilogue.
So, it's worth going to practice on the laser«»:

To someone who already sails on keel yachts and wants to pump up his level.
Those who have just tried sailing and want to participate in regattas, but no team or do not want to depend on other crew members (Vasya can today for training and tomorrow not, Masha is always late, etc.). )
Someone who's just a little introverted, and who likes the idea of being alone with the wind and the wave.
Someone who has enough persistence, money and free time. An hour of training with an instructor costs 2.5-3 thousand rubles, and it lasts at least 2 hours. Bonus: having learned, you can go out on your own, and it will cost three times cheaper. And you can also buy a laser «»or its Russian version of the Ray «and» pay nothing at all: the boat is relatively inexpensive (200-300 thousand rubles per used version), lightweight, transported on the trunk of the car and stored in the garage. In addition, it is not obsolete - the class has clear standards and is evolving very slowly, so you can»sell the «laser for about the same money. Move from «Radial» to «Standard», or vice versa, 4.7? Easy: simply buy the top section of the mast and the corresponding sail to the standard hull.