While passing through the Dardanelles Strait, the 26.64-metre Ferretti motor yacht Gemini crashed into a breakwater in Eceabat Marina, Çanakkale, Turkey. The incident happened on 30 March. It is assumed that Gemini was on her way from Greece to Turkey and collided with the breakwater. The yacht's captain immediately reported the situation to the Ćanakkale Straight Ship Traffic Services Directorate.

Details
The local authorities, including the Coast Guard, Çanakkale Port Authority officers, and the Provincial Directorate of Environment, Urbanization and Climate Change, have already sent teams to check the yacht, resting with its bow on the breakwater. They will investigate the accident cause and the extent of the damage.

About the yacht
Gemini is one of the numerous Ferretti 870 units. She was delivered in 2014. The yacht has a GRP hull and superstructure and can accommodate up to eight guests and four crew members. Powered by twin MTU engines, she has a cruising speed of 25 knots and a top speed of 30 knots.
Ferretti 870 was a highly coveted yacht model that made a name in the luxury yacht industry. The yacht featured a sleek design, exceptional performance capabilities, spacious and comfortable interior. Until recently she was one of the most popular Ferretti Yachts models. But last year Ferretti Yachts launched the first hull of the new model Ferretti 860. Ferretti 870 is no longer in the range, but still available on the brokerage market.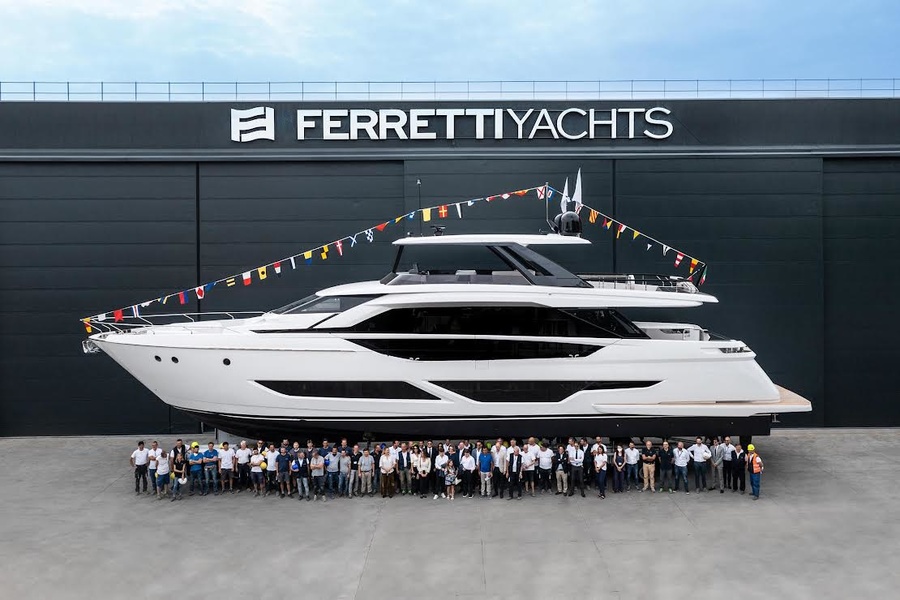 Ferretti Yachts, the Italian yacht builder of the Ferretti 870 Gemini, is known for its luxurious and high-performance vessels. The company has been producing yachts for over 50 years and is considered one of the leading players in the global yacht market.
Dardanelles Strait is one of the most hazardous and potentially dangerous waterways. The incident involving Gemini serves as a reminder of the importance of safety measures and precautions while operating a yacht, especially on crowded and challenging waterways. It is also a testament to Ferretti yachts' durability and strength, which can withstand such incidents without significant damage or harm to passengers and crew.