It's a dramatic ending.
- Get her in here! - The captain screams. And I'm standing like a dug in and I don't know what to do. She's old, isn't she? If I drag her, she'll die on the way. Is that what we'll do with a corpse in the middle of the sea? Where do we take him? And the captain's burning up - that you're hesitating, and the old lady's heavy, I'm afraid I can't cope.
All this will happen a little later, it seems, on the fourth of the seven days of our yachting trip, while the horizon is clear and we are engaged in the most routine business - waiting for a taxi driver at Dalaman airport. Our way is to Turk Cell Marina - as they like to emphasize, the most expensive marina in Turkey - the road by car will take no more than half an hour. In Turk Cell we are waiting for a sailing cruise yacht, on it we will learn the basics of sailing during the amateur regatta Sails Up! Spring Cup.
A little education for those who have never lived on a yacht. A yacht has everything you need, but on a scale that fits a 14 meter sailing boat. There's a place to sleep, an oven stove, a fridge, sockets, compact toilets with showers. If a breakdown starts over the Internet, wait until the marina, there is always free Wi-Fi, if you still need it.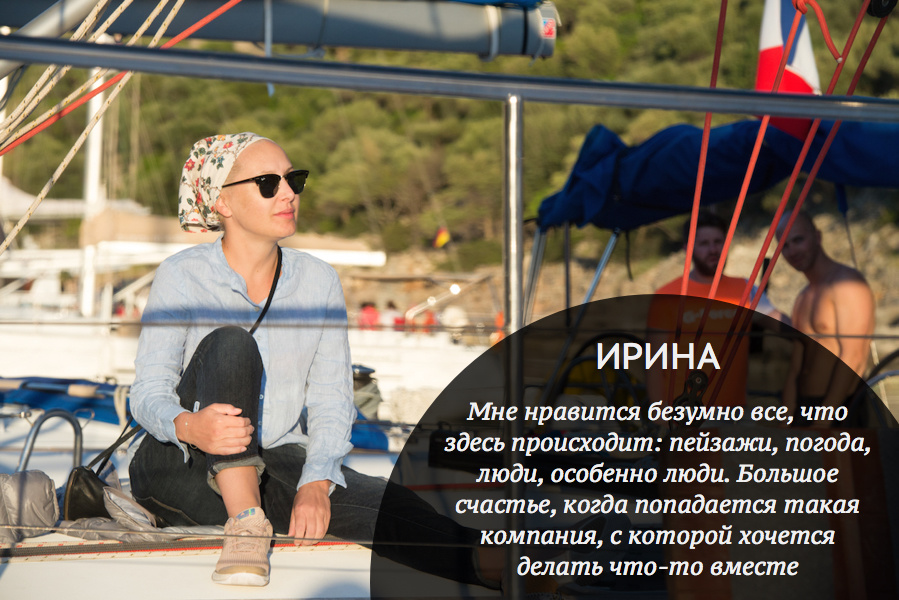 But when you go to the regatta alone, the first question that concerns you is who are the people I have to live with? The question is unseemly for limited spaces - with your team you will share everything: cabins, duties, tea-coffee, bad and good mood. When I interviewed the founders of the Sails Up project last year, they stressed that they are very careful in selecting people.
The regatta is partly about sails and yachts, but the main thing, as always in life, is people, new relationships and a light friendly atmosphere on board.
There are 8 people in our team - if you don't take the captain into account, then our experience in yacht racing is close to zero, and otherwise we have a lot to talk about, we have on board creative people, romanticists and a bit adventurous.
For the amateur.
The cost of participation in Sails Up! Spring Cup - 1000 euros, add a ticket to the place of the regatta, a refundable deposit of 200 euros and the cost of food and fuel. The last item for our team cost 150 Euros per person. The pleasure is not cheap, especially considering the current exchange rate. However, contrary to their own skeptical «crisis» forecasts, the organizers quickly staffed the boats. Perhaps, the chosen business scheme worked - in fact, the regatta had two organizers: Breeze Club and Sails Up!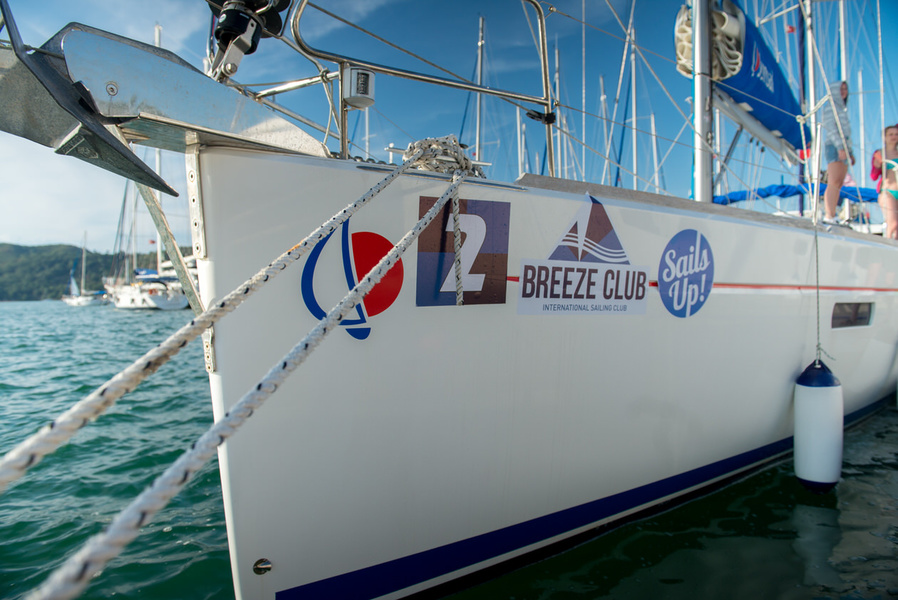 Breeze Club worked in Turkey: its representatives were engaged in chartering fleet, coordinating races and «resolving» all issues on site. The guys from Sails Up took the promotion of the event in the media, professional photo and video shooting, entertainment part and attracting customers.
In fact, what does the regatta routine consist of? Two or three races a day - depends on the weather, active gathering (on our yacht so accurately), swimming, trips to coastal towns - in our case Fethiye and Gechek. Nights at anchors in secluded bays alternated with nights in marinas, where you can take a shower with comfort, fill the tanks with water and, if necessary, buy food.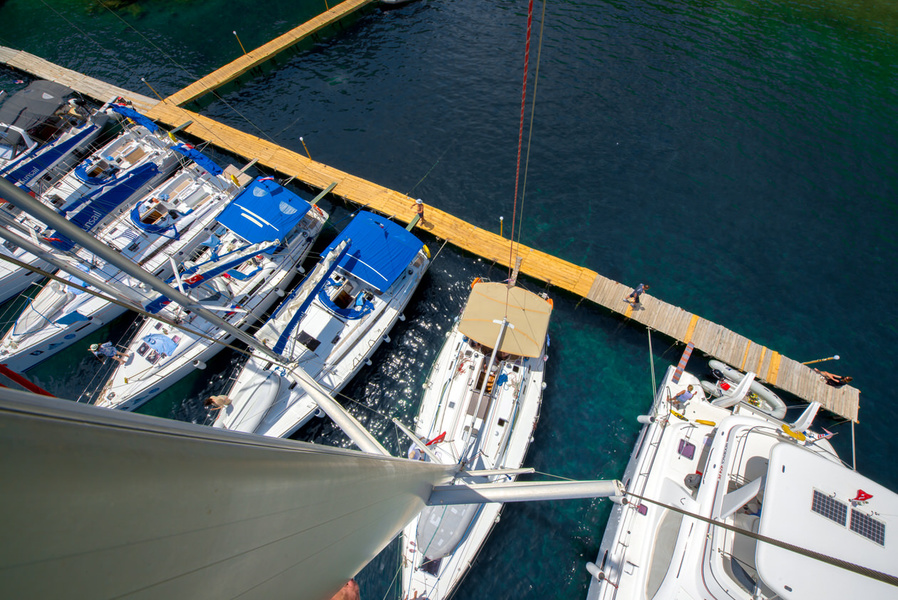 Evenings can be held in restaurants, where there was an entertainment program for the participants, and if it's a wild bay, the boats tied up and arranged dancing and visiting.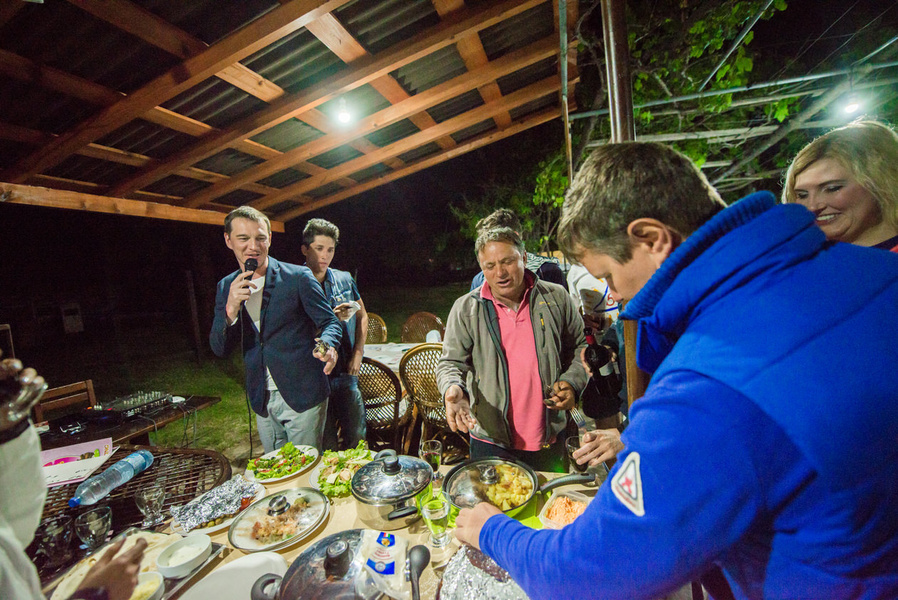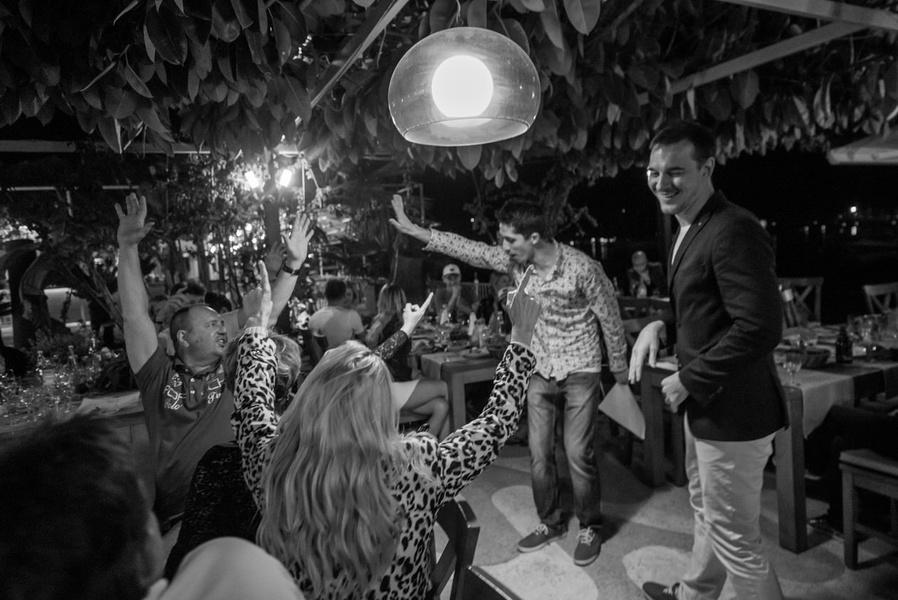 For the first time in the first class.
If you can't twist the overstag, don't worry, the amateur definition implies that you don't have to. The majority of participants do not have basic sailing skills and have no idea about mooring, manoeuvring and good marine practice. Everything will be taught. Here, as with a car, it is better to try once on your own than to look «at the Fast»Lifting Room a hundred times.
Unlike car driving, unfamiliar terms will be many times more.
Have courage. But if there is no further desire to go deeper into the subject, you can do with the basics necessary for safe sailing.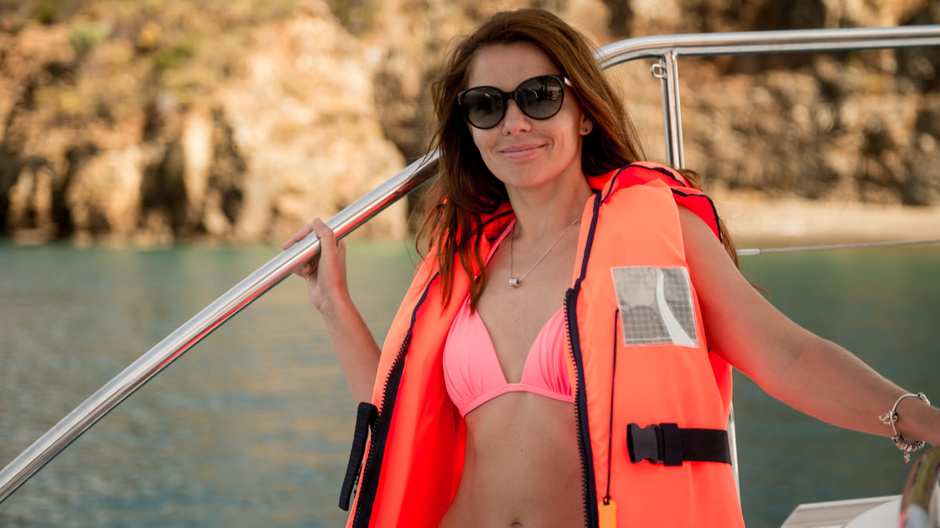 We were given one day to practice on the water - we need him first of all to form a team, people rubbed together and the captain understood the strengths and weaknesses of each. Battleships, with good reaction - on the tank, those who have enough strength to pull the ropes - on schools. Each skipper at Sails Up! Spring Cup chooses his own strategy of behavior with recruits, it usually depends on the level of training and curiosity of the crew. Some people prefer to do everything on their own - steering with their left heel, and poisoning schools with their right hand, demanding the minimum from the crew. Others painstakingly explain how things work and then explain again and again...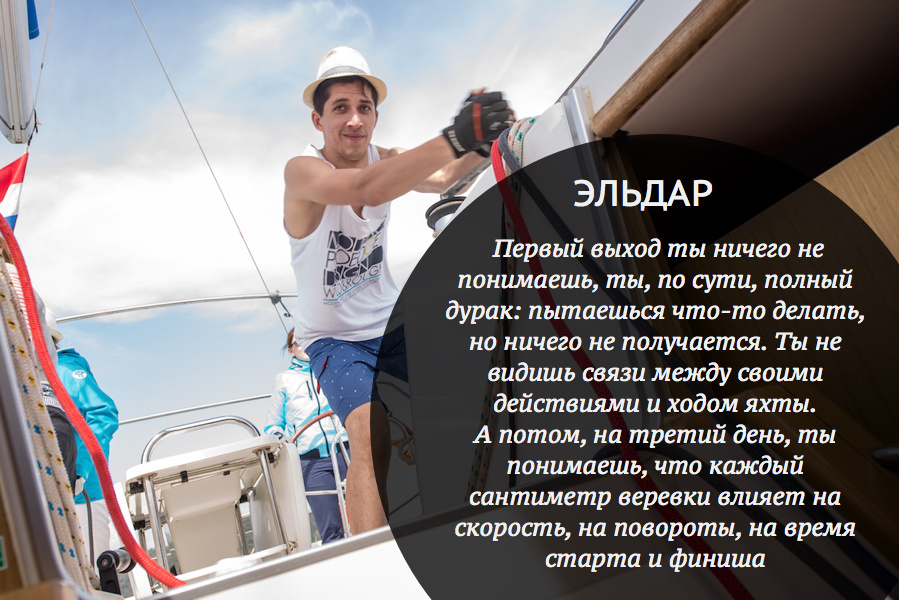 You can't load a dictionary of yachting terms into your head in one sitting. Hiccups, stack halyards, knock, grass, we're out, we're in. New recruits react in approximately the same way.
What does all this mean and can we do it again, but slower?
After a while there is a connection between a new vocabulary and items on the yacht, and then the most interesting begins.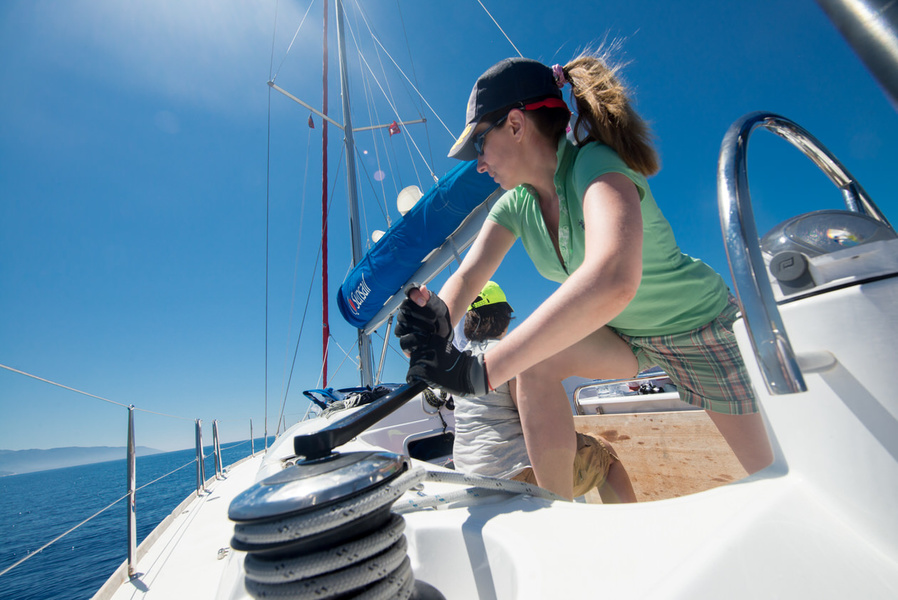 What's good about the Breeze Club/Sails Up regattas - no one will make you love sailing - the boat has enough hands to do without yours - relax if the shower asks (don't disturb). But practice shows that the team spirit is stronger and you will want to be useful at least in something, knowing that your actions will bring the team closer to victory.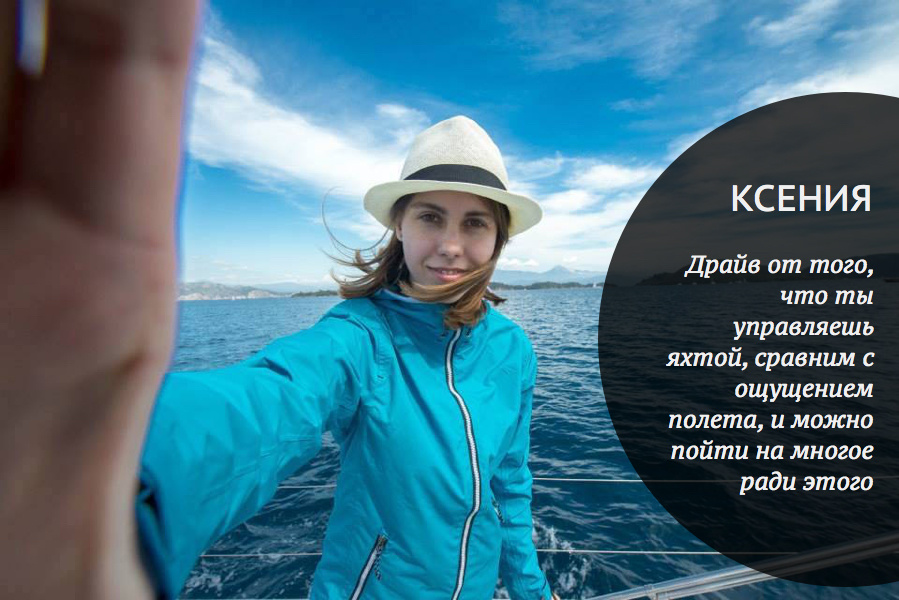 By the way, it's a very gentle entrance to sailing and a great opportunity to see if I need it.
And it happens - people run into «romance, sails, storms, helm, jack sparrow», and there you calm, navigation, ropes.
It is better to realize that you are closer to «megayachts, martinis and James Bond» and change your priorities.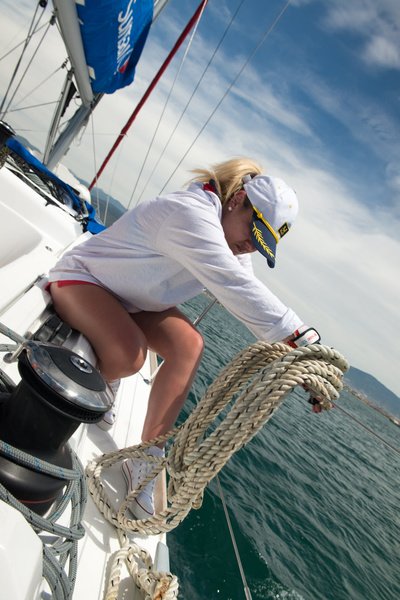 It's a dramatic conclusion.
Neither in Euro-tour, nor in a luxury hotel, nor on an exotic beach, fate will bring you closer to so many inspiring people.
Well, yes, of course there were no old ladies - just a dream (but oh what a colorful one), told by one of the participants of our trip. She dreamed that a stackel is not a sail at all, but an old lady named Axel, and the captain demands that she be thrown from one side to the other. And all her dreams are worried about the fate of the old woman - is it a joke that suddenly she can't stand such rough treatment and will give her soul to God during the race?
I too will have yacht dreams: on a plane to Moscow and the first week at home. Nothing dramatic, our yachting weekdays - we are trying to see whether the sorcerers have fallen in love with us or not.