We continue to introduce you to sailing yacht classes. In the last article, we talked about sports dinghies and catamarans. Now we will consider popular classes of keel boats - sports and for active rest on water. Some modern models were created more than 50 years, participated in the first Olympics and became a real classic of sailing. Others embody all the latest developments in the yachting industry. And together they bring together a large community of fans from all over the world.

Keel Monotypes
Among keel boats, monotype yachts hold a special position. They are built strictly within the given rules and used primarily for competitions of each class separately.
«Star»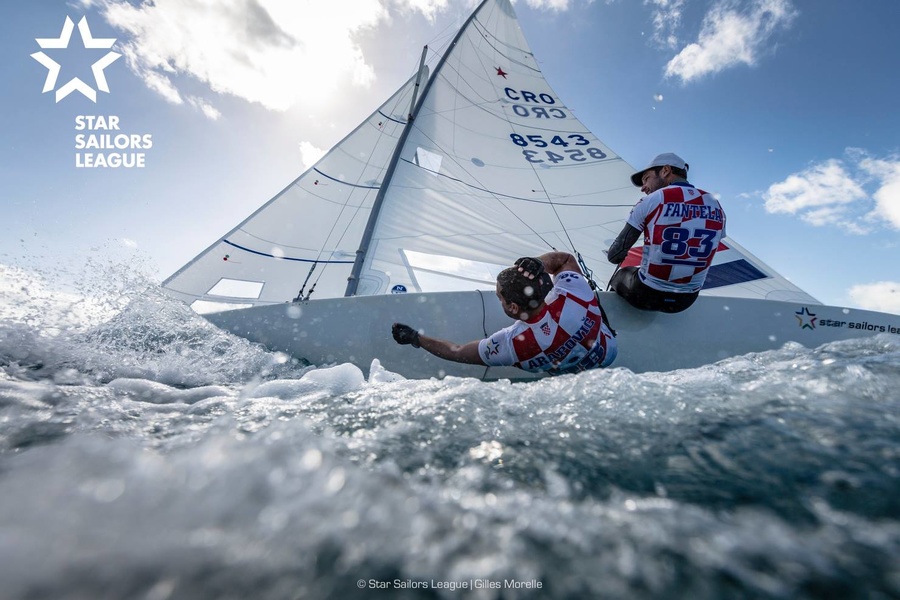 It is rightly considered the most famous keel boat with a crew of two. The real legend of sailing owes its birth to American yachtsmen George Corry and William Gardner. In 1908, Corrie, seeking to make sailing more accessible and mass-produced, commissioned the Gardner bureau to design an inexpensive keel yacht. The first prototype, painted by Francis Sweisguth, passed the Long Island Strait sea trials in the summer of 1910. In 1922, the United States championship was held, in which more than one hundred boats participated, and in 1932, «Starship» was included in the Olympic program. From almost his birth, he had been constantly modernized. Originally armed as a «Guardian» with a short mast and hafel almost the same length, the boat quickly became a classic Bermuda sloop. The boom length was comparable to the height of the mast. Following global trends, this ratio gradually changed, and by 1930 the boat's size had reached its current size. In order to keep the boat affordable and to reduce costs for athletes, the Class Association's management prohibited the use of carbon fiber in the manufacture of masts and hulls. Dacron was fixed as the material for sails. From 1932 until 2012, Star was only once banned from the Olympics. And today they are absolutely seriously considering his return to the Olympic program.
Length: 6,92 mShirina:
1,73
mHull weight:
671

kgSaddle: 1,08 m
Sail area:
mainsail/stacker/ 24,1/4,6 m2Crew:
2 personsString
and year of creation: USA, 1911
«Dragon».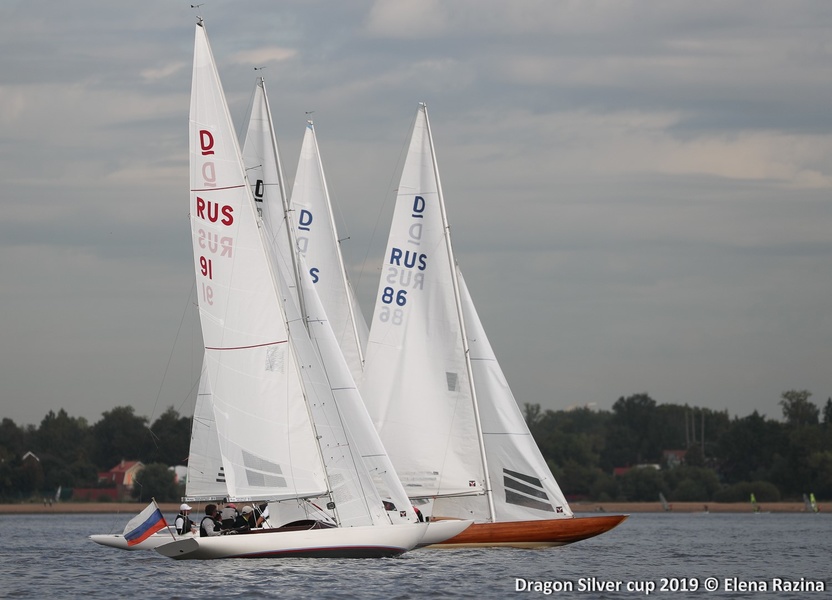 Another sailing veteran. The boat was created in the 30s of the 20th century by the Norwegian Johan Anker and has a classic hull form. The «Dragon»'s crew consists of three people, the sailing arms are Bermuda sloops. In the process of evolution, the boat received a plastic hull and a technological rankout. But to this day, «classical»regattas are actively held, to which only wooden boats are allowed. And the popularity of such regattas has only been growing in recent years.
Traditionally«, the Dragon» has been the choice of the aristocracy. Perhaps the fact is that the boat appeared at a time when only the chosen could afford it. Or in an incredibly elegant silhouette, with a direct reference to the first racing yachts and the «America»'s Cup. Either way, if you want a boat that was driven by John Kennedy or the Prince of Monaco, the «Dragon» is the best choice.
Length: 8.9 mShirina:
1.95
mHull weight:
1650

kgSaddle: 1.2 m
Sail area
: mainsail/stacker/spinnaker 16/11.7/23.6 m2Crew:
3 personsString
and year of creation: Norway, 1929.
SB20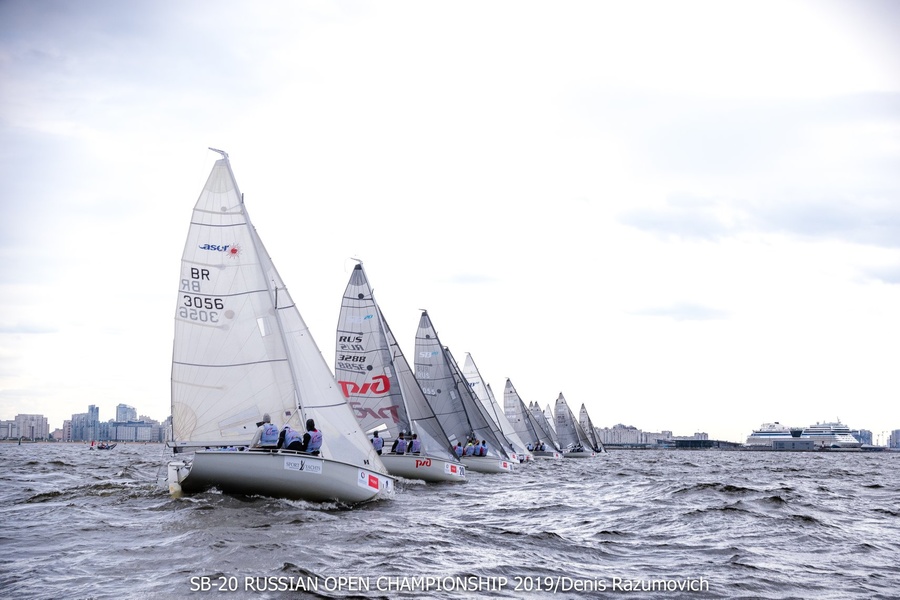 The SB20 is a modern sports keel yacht with a modest budget and is easy to launch. The plastic monotype was originally built at Laser Performance Ltd by renowned racing boat designer Tony Castro. Until 2012, the class was licensed under the name Laser SB3 and was then renamed SB20. This speedboat has an extra large light sail (genaker) and is armed with a Bermuda sloop. It is able to glide and is equally available for beginners and professionals alike. The number of crew members is limited to a total weight of 270 kg. Thanks to a special detachable mechanism, the keel is raised when the boat is launched, which greatly simplifies the parking requirements. Another feature of the SB20 class is the total ban on opening. Even if you put your hand behind a special steel rake, you will break the rules. Today many sailing schools have appreciated the technical capabilities of this boat and often use it for training.
Length: 6.05



mSailing width:
2.15
mHull weight:
1650

kgSaddle: 1.5
mSail area:
mainsail/stacker/genaker 18/9.05/46 m2Crew:
3 personsString
and year of creation: UK, 1999.
Melges 20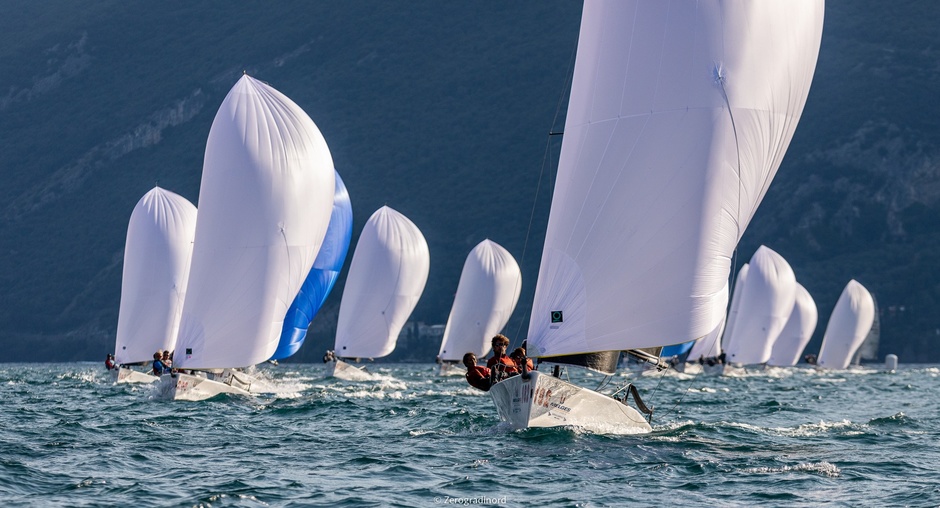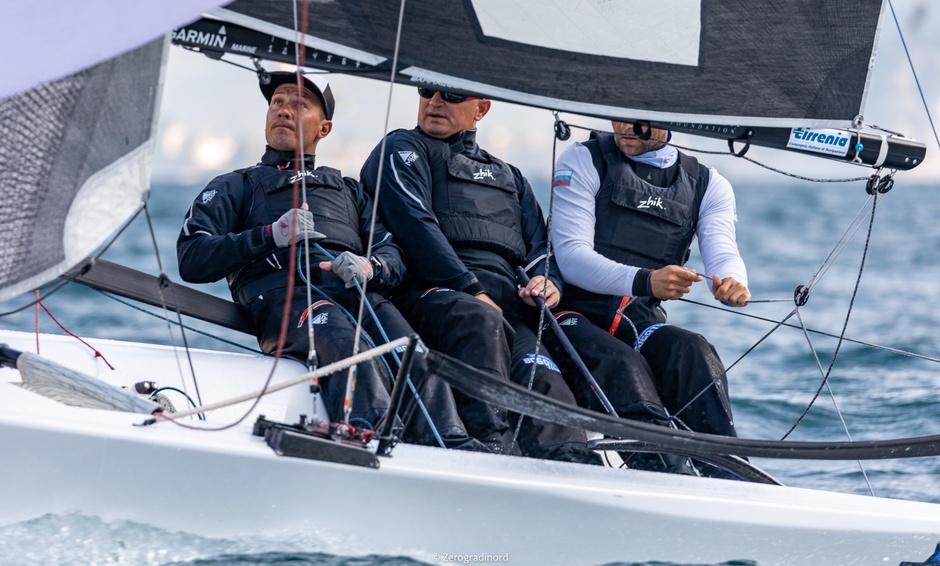 The idea of a light keel boat, close in philosophy of management to sports dinghies, was embodied in Melges 20 project by marine designers John Reichel/Pugh Yacht Design. The U.S. quickly developed a fleet of very impressive sizes, and then the Melges Performance Sailboats high-speed monotype found admirers all over the world. The lack of restrictions on crew weight is one of the undoubted advantages of Melges 20 for beginner teams. But the professionals also appreciated this boat thanks to its lifting keel, which makes it much easier to carry and discharge on water, and its aesthetic design. Every year a whole series of competitions is held in the world, from national to world championships.
Length: 6.1 mShirina:
2.1
mHull weight:
520

kgSaddle: 1.37
mSail area
: mainsail/stacker/genaker 16/8.2/40 m2Crew:
3 personsString
and year of creation: USA, 2007
J/70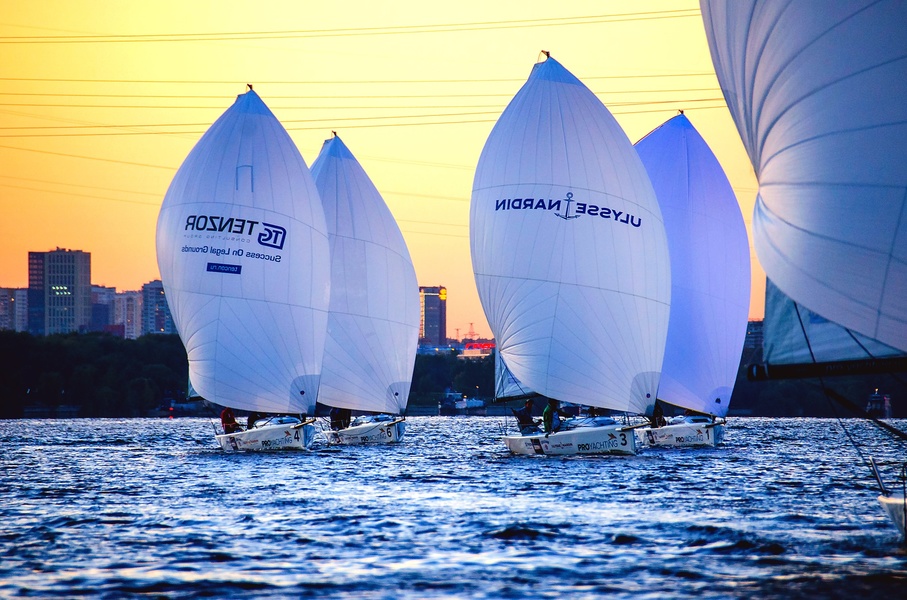 The ideal heir to the legendary «Dragon» class can be considered class J/70. And it's not just a matter of having a shelter cabin, as it is designed more for storing sails than for crew rest. Today this keel monotype is one of the most in demand among racing yachts. The spiral staxel allows for quick changes in sail configuration. The carbon fiber mast can be easily bent, allowing settings in an extremely wide range. The number of crew members can vary, although 4 people can be considered optimal. The boat's dimensions are adjusted to the transportation on the trailer, which simplifies logistics. The J/70 is ideal for coastal navigation or enclosed water bodies. But you need a crane to dump it on the water. The J/70 fleet is constantly growing, so this acquisition will be a good investment for the future - the J/70 will not become obsolete yet.
Length: 6.93 mShirina:
2.25
mHull weight:
795

kgSaddle: 1.45 m
Sail area
: mainsail/stacker/genaker 11.472/9.55/45.6 m2Crew
: 4 personsString
and year of creation: USA, 2012
Melges 32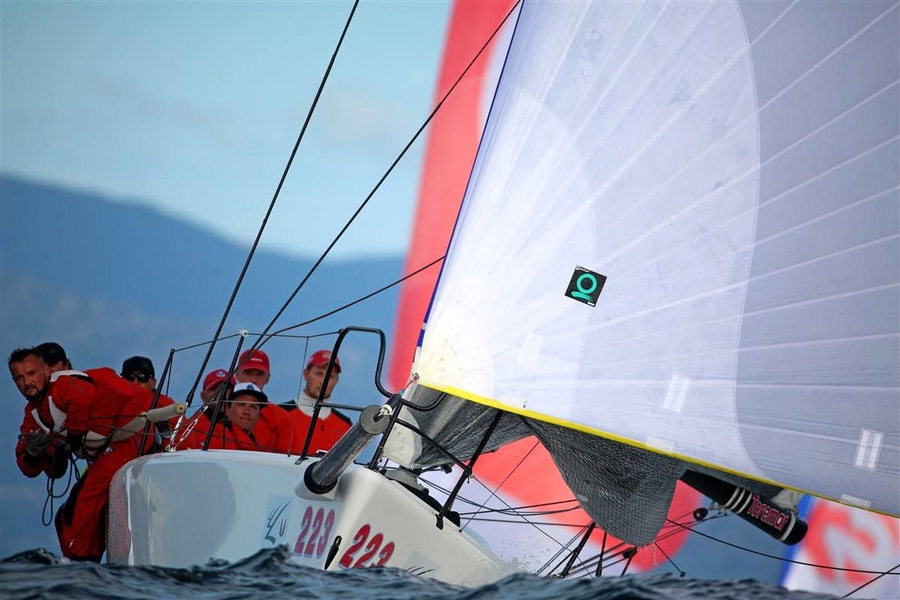 Project Melges 32 was called to fully realize the racing ambitions of the team of six people. The boat is designed to achieve maximum speed on full courses while maintaining excellent performance on the aviators. The fibreglass hull has been designed with carbon reinforcement on the busiest sections. The weight of the crew is limited to 629 kilograms. The boat is delivered with an extensive sailing wardrobe, capable of providing high speed in a wide range of wind conditions.
Length: 9.7 mShirina:
3
mHull weight: 1712 kgSheduling:
2.13 m
Sail area
: mainsail/stacker/genaker 41.3/23.6/121 m2Crew
: 6 personsStrana
and year of creation: USA, 2005
Melges 40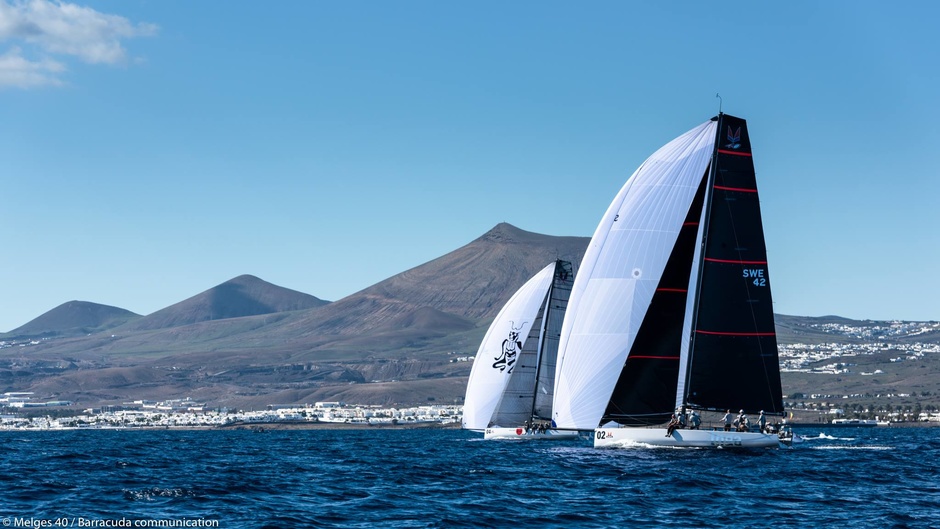 An uncompromising project on the verge of classic and ultra-modern yachting: there are no hydrofoils yet, but a rocking keel has already been used. In 2017, authoritative Yachts & Yachting magazine awarded the boat the title Keelboat of the Year. Despite its impressive length, the hull of Melges 40 is empty inside, so the elements of this boat are exclusively coastal racing.
Length: 11.99 mShirina:
3.53 mDepth:

3250

kgSaddle: 3.2
mSail area
: mainsail/stackel/genacer 72/49/200 m2Crew
: 9 personsString
and year of construction: USA, 2016.
RC44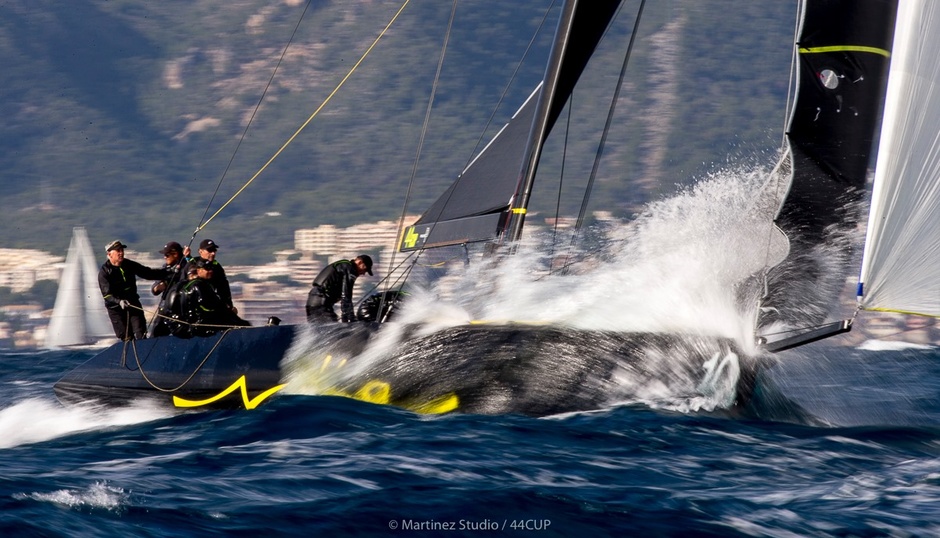 If you choose Koenigsegg from cars, then in the world of sails you should pay attention to RC44 class. The philosophy of a boat designed by Russell Coutts - it should be complex, technical, incredibly fast, but the owner should be behind the wheel, not a hired pro. Inside the fleet there is a strict uniformity, so that victory depends solely on the skill of the crew, tactics and helm. There should be a total of 8 people on the boat during the race. In addition to the crew itself, the crew includes at least equipment to keep the mattress in good condition.
Length: 13.35 mShirina:
2.75 mDepth:

3560 kgSaddle:
2.9
mSail area
: mainsail/stacker/genaker 70/60/170 m2Crew:
8 personsString
and year of creation: Hungary, 2009
Open

Open class boats are a separate category. They cover almost the entire size range, from the smallest yachts to ocean monsters. The main thing is the number that follows the word «Open» - the measurement point into which each particular boat should fit. Thus, the famous Hugo Boss of Alex Thomson is a bright representative of Open 60 class. The Class 40, which has grown from Open 40, is gaining popularity. These boats were another attempt to combine excellent speed performance with the possibility of a relatively comfortable cruise. To do this, the class rules had to be fine-tuned. The Class 40 has now become an independent fleet with more than 100 yachts. It includes boats built by Akilaria, Jumbo and Pogo shipyards.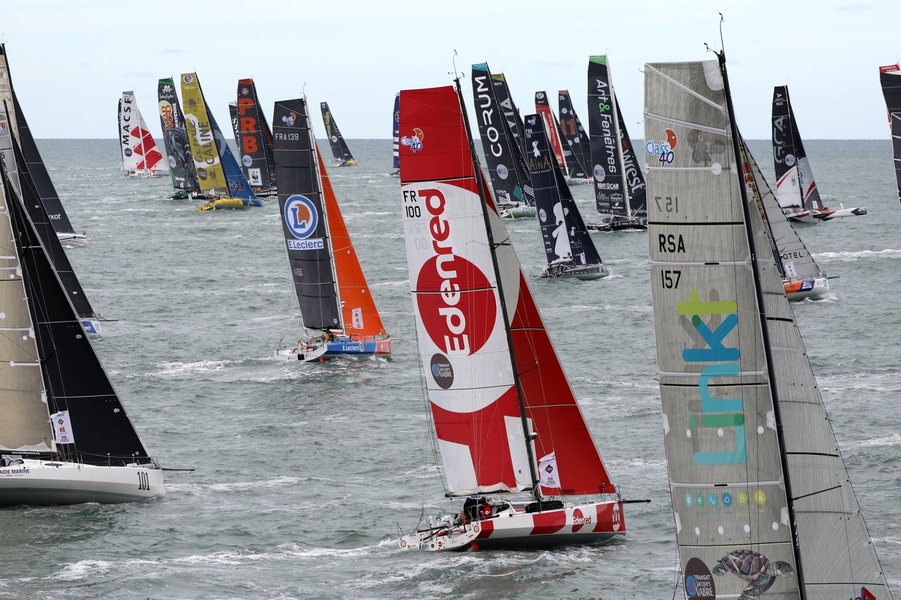 Class 40 / Pogo 40 Racing-cruising
Length: 12.18 mShirina:
4.4 mShifting capacity:

4800 kgSaddle:
2.2 m
Sail area:
main sails/spinnaker 115/160 m2Crew:
4 personsStrana
and year of creation: France, 2005Open


60 / Hugo Boss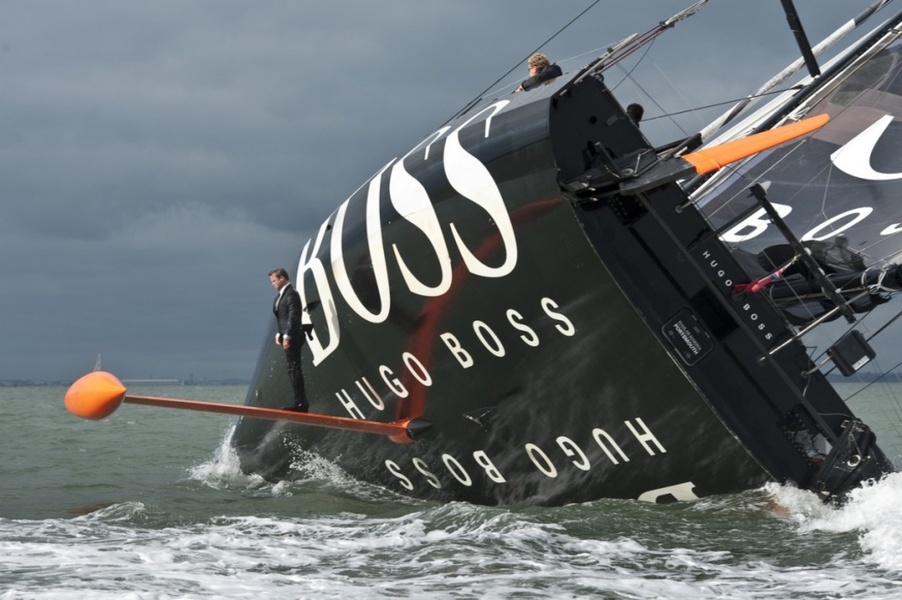 Length: 18.23 mShirina
: 5.8 mDeposition
: 7500 kg can be changed due to ballast tanks.

Sinkage: 4.5 m
Sail area:
633 m2Crew
: 1 personString
and year of creation: United Kingdom, 2019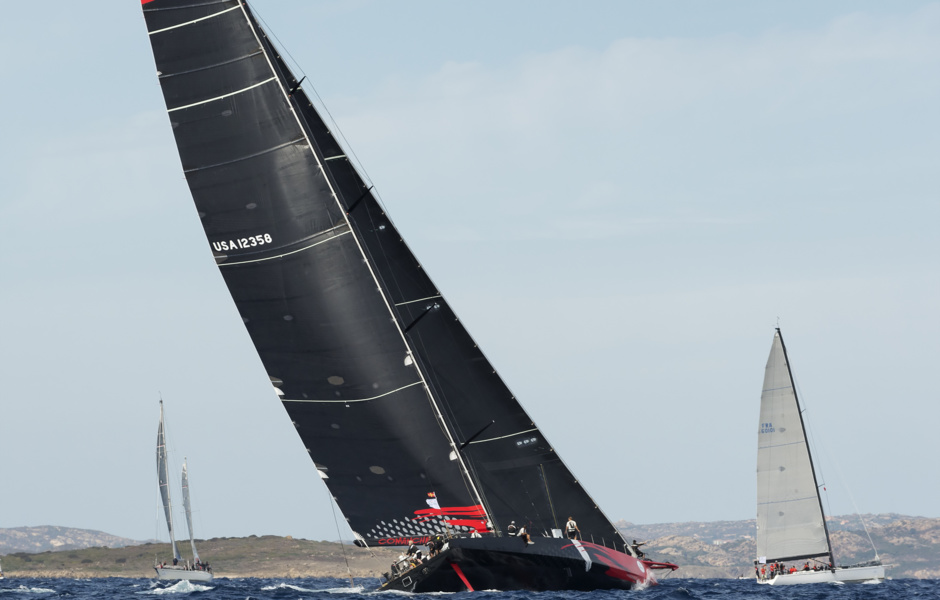 Length: 30.46 mWidth
: 7.85 mDepositment
: 30000 kg can be changed by ballast tanks.

Sedimentation: 6,67 m
Sail area:
1100 m2Crew
: 18 personsString
and year of creation: France/USA, 2014
Cruise racing yachts
Among those who appreciate comfort on board and regularly make long cruises, there are many racing enthusiasts. Cruise racing yachts can be:
of the same design;
custom-designed yachts.
Cruise racing monotypes
In case you want to do without any recalculations and see clearly who the winner is, you should choose a yacht that can participate in mono-fleet races.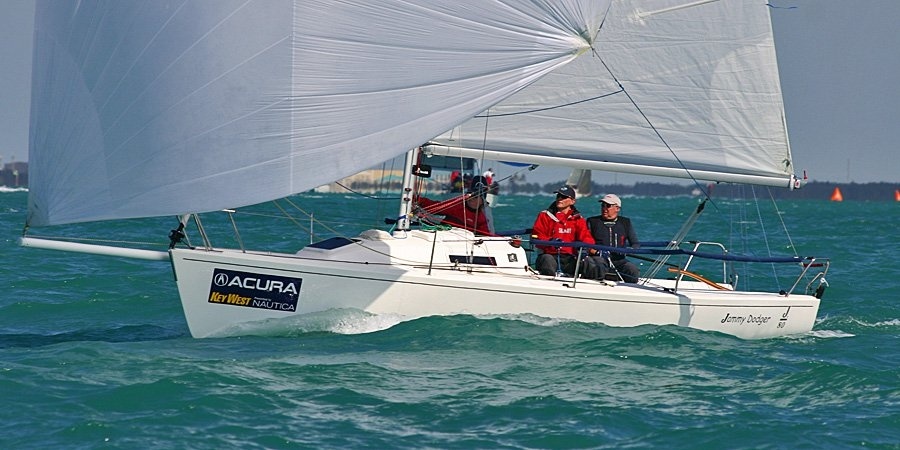 This class is the big brother of the J/70. Designed in 1992 by Rod Johnstone, this Bermuda sloop combines ease of operation and reliability. The boat allows you not to limit your sailing area to closed reservoirs. The cabin is comfortable enough to spend the night on board and the spacious cockpit allows you to confidently work with your sails. The J/80 is suitable for both family yachts and teams with sporting ambitions. The boat is easily transported by trailer and has all the logistical advantages of the J/70.
Length: 8 mShirina:
2.51 mDepth:

1315

kgSaddle: 1.49
mSail area
: mainsail/stacker/genacer 20.9/13.7/65 m2Crew:
3 personsString
and year of construction: USA, 1992.
J/99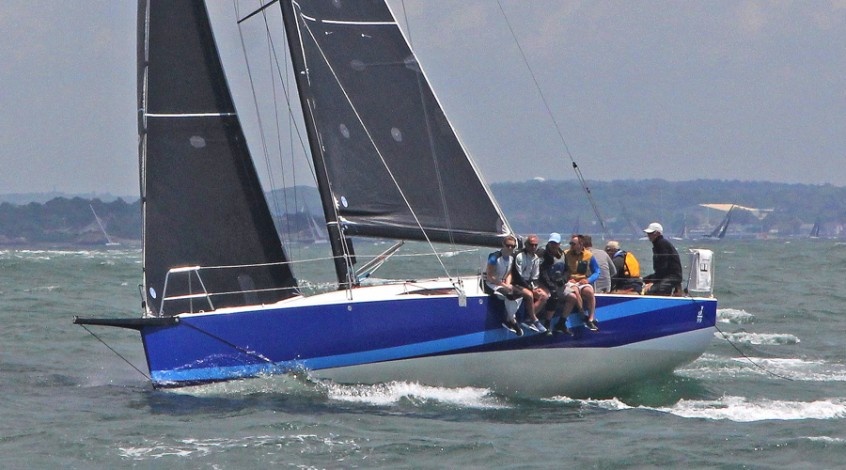 The last novelty from the companies J/Boats and J/Composites is the high-speed offshore boat J/99. Comfortable enough inside, the Bermuda sloop is optimized for outstanding sport performance. The ergonomics of the cockpit and the deck space allow the crew of 4 people to handle the boat with confidence. The J/99 confidently glides under the genaker. As the yacht accelerates to high speeds, it begins to sail in the pennant wind. Here the control technique starts to resemble the 49er, when overtaking the real wind the yacht goes steeper and is almost not on the fullest courses. This yacht will be perfect for offshore Rolex regattas or Caribbean races due to her perfect size ratio, including for transportation, and measurement score.
Length: 9.94 mSHINE:
3.4 mSHINESS:

3800 kgSize:
1.99 mSail area
: main sails/Genacier 58.6/100 m2Crew
: 6 personsStransom
and year of construction: France, 2019.
Beneteau
Benjamin Beneteau opened his boat production in 1884. By now, the small workshop has become one of the industry leaders. The total turnover of Beneteau Group exceeds one billion dollars. Under its wing the Beneteau family gathered such brands as Delphia Yachts, Jeanneau, Lagoon, Monte Carlo Yachts and many others. Directly under their own brand, the most popular were Beneteau First's 35, 40 and 45-foot racing boats. The last two form the core of the fleets of many charter companies. And as a consequence, they are widely represented at amateur regattas, especially in the Mediterranean Sea. In addition, the cruise fleet is based on the Oceanis series - also capable of racing, but focused primarily on comfort.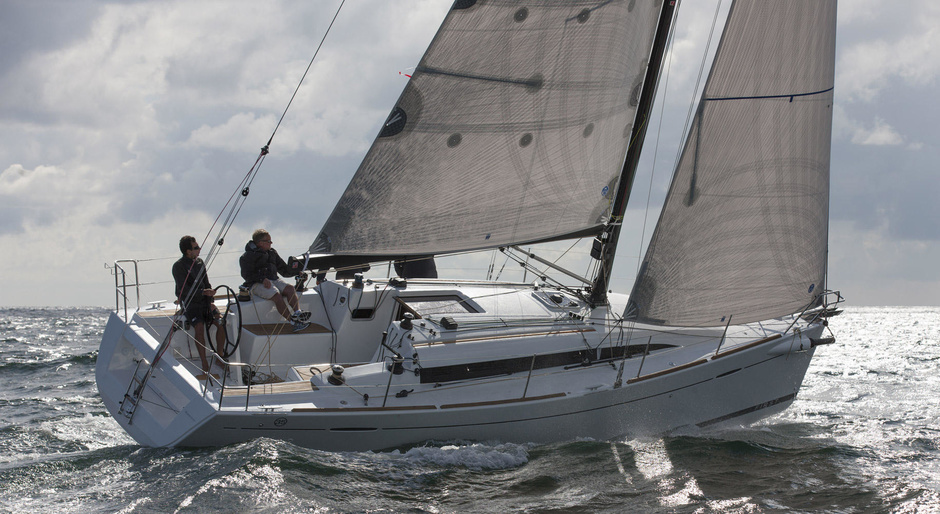 Length: 10.85 mShirina:
3.64 mShifting capacity:

6060 kgSaddle:
2.2 mSail area
: main sails/spinnaker 72.47/103 m2Crew
: 4 personsStransom
and year of creation: France 2013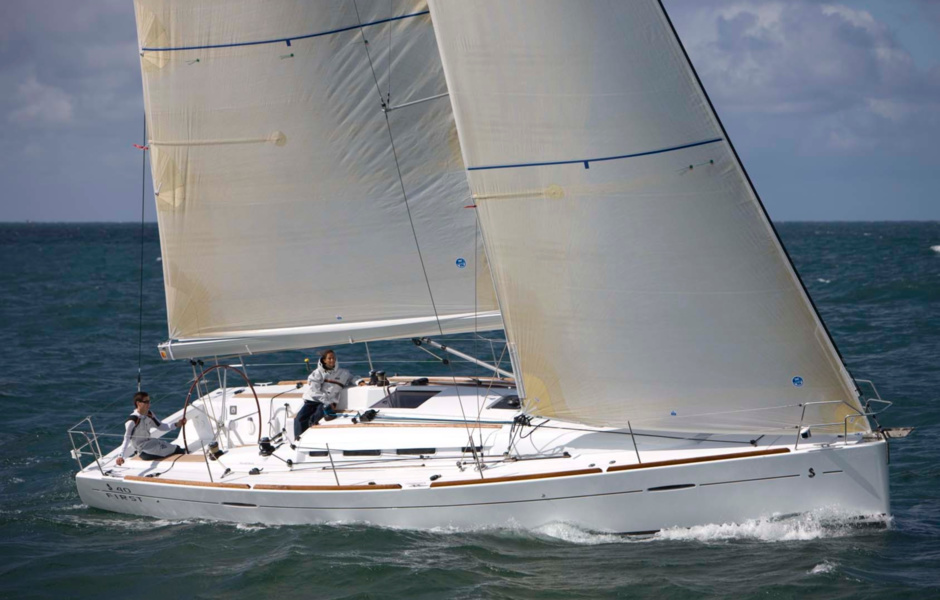 Length: 12.58 mShirina:
3.89 mDeposition:
7900 kgSaddle:
2.45 mSail area
: main sails/spinnaker 90.5/147 m2Crew:
6 personsString
and year of creation: France, 2016.
Length: 14.07 mShirina:
4.2 mDeposition:
11540 kgSaddle:
2.75 mSail area
: main sails/spinnaker 115.9/140 m2Crew:
6 personsString
and year of creation: France, 2008
Nautor's Swan
In 1966, Pekka Koskenkyla, a Finn fascinated by sails, founded the Nautor AB shipyard. Together with designers from the American company Sparkman & Stephens, he began production of boats under the Swan brand. The boats quickly gained popularity with famous athletes and brought victories in regattas around the world. In 1969 Swan 43 took the Admiral's Cup and in 1974 Swan 65 Sayula II won the first Whitbread Round the World Race (now Volvo Ocean Race). Since 1998, the shipyard has been part of the Ferragamo Group. With the advent of the 21st century, Nautor's Swan focused on the production of monotypes with the possibility of customizing each individual copy. All of them remain single hull yachts armed with Bermuda sloops. The current range includes Swan 48, Swan 54, Swan 60FD and larger. The number traditionally refers to length in feet. In large regattas it is often possible to find separate scores for Swan 42 and 45 boats - they are so popular. There are also ClubSwan 36, ClubSwan 50, ClubSwan 125, which are designed primarily for racing within the mono fleet.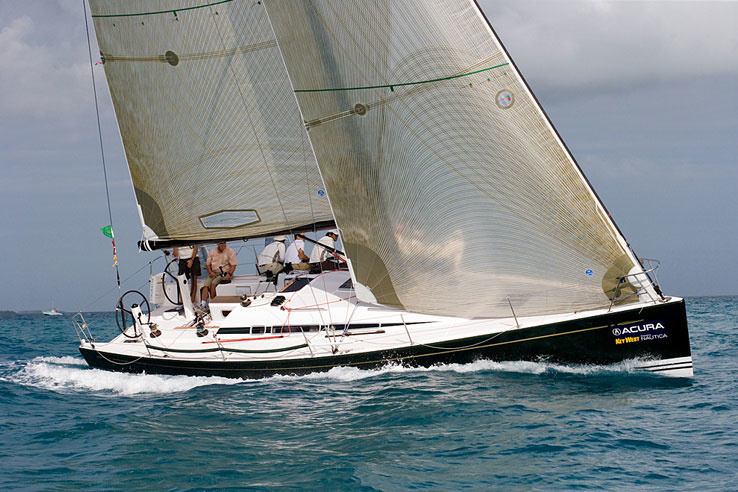 Length: 12.98 mShirina:
3.93 mDeposition:
7200 kgSaddle:
2.7 mSail area
: main sails/Genacier 109.2/185 m2Crew:
6 personsString
and year of creation: Finland, 2005

Swan 45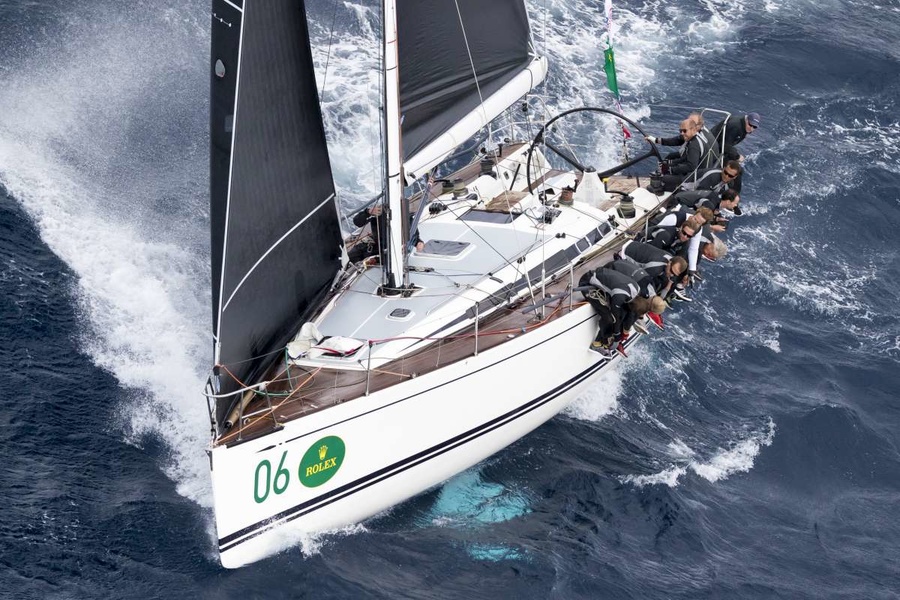 Length: 13.38 mShirina:
3.91 mDepth:

9850 kgSaddle:
2.8 mSail area
: main sails/spinnaker 113.82/153 m2Crew
: 6 personsString
and year of creation: Finland, 2001.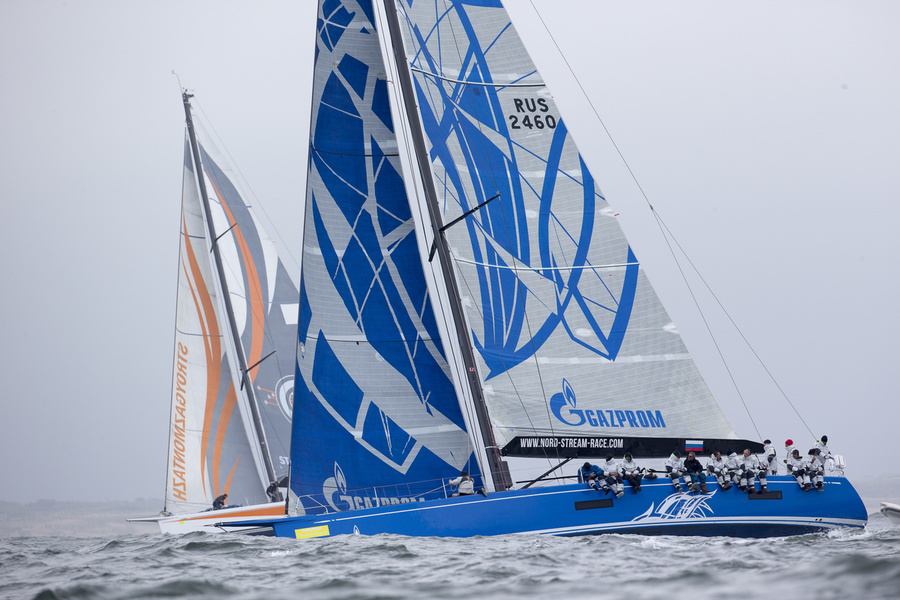 Length: 18.86 mShirina:
5.09 mDeposition:
18700 kgSaddle:
3.6 mSail area
: main sails/spinnaker 220.85/320 m2Crew:
7 personsString
and year of creation: Finland, 2016.
There is no doubt that such manufacturers as Jeanneau, Shipman are also worth mentioning. Each of them will have enough sold boats of the same type to make a separate big regatta. But we will not stop at each one separately - everything has its pros and cons, which are shared by the owners on numerous profile forums.
Individual projects.
There are many individually designed boats in the world. But this is no reason not to participate in the regattas. In one of the past articles we have talked about rating systems, with the help of which the results of boats with different technical characteristics are evaluated. In short, in order to participate in the regatta, every owner must pass the ship measurement and get a certificate of the system specified in the Regatta Regulations. The Rambler 88 is a bright representative of the individual approach to the construction of racing yachts, which showed the best time at the RORC Caribbean 600 and Rolex Middle Sea Race, but lost position after recalculating the time.
the Rambler 88.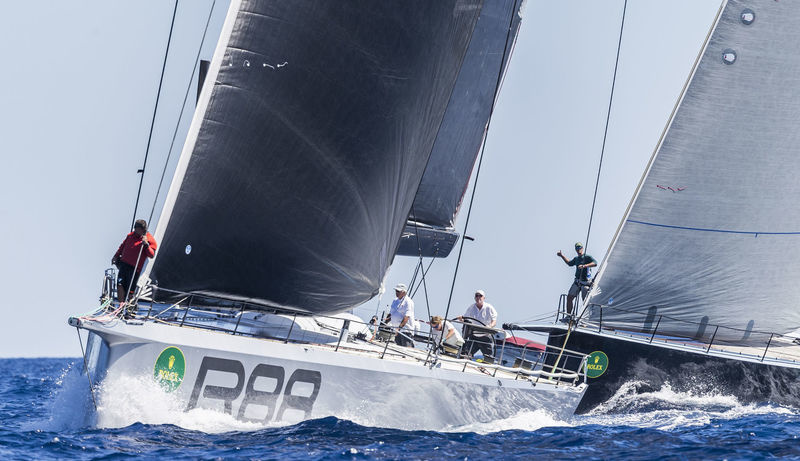 Length: 26.82 mShirina:
7.1 mDeposition:
22000 kgSaddle:
6
mSail area:
512 m2Crew:
19 personsString
and year of creation: USA, 2014
To sum up, the main rule is simple: whichever boat you choose, it should be safe, consistent with your experience, while leaving room for growth and bring joy. After all, true yachtsmen are truly happy people.