A yachtsman enthusiast with 30 years of experience, Jonathan Russo, owner of the Sabre 38 Sachem and Etchells class racer, has written a column for The Observer magazine with tips for the first time inviting someone to relax aboard a yacht. What to talk about and what to keep silent about when talking to the owner so that he will want to call you again instead of landing you on a nearby desert island? Read it in our translation.
When you are invited to take a boat trip, be sure it can be the most exciting event of your summer. Technically, a «yacht is» understood as a pleasure boat, which is not used for commercial fishing or transportation of people. Even a 30-foot motorboat already falls within this definition. In this article, however, we will limit the concept «of a yacht» to larger vessels where the owner requires at least one professional crew member. This is usually the case on yachts at least 60 feet long. On board such a boat you do not need to know how to operate it, and the more important is the issue of general horseshoe, if you certainly want to be invited on board again some day.
First, all yachts are divided into motor and sailing. Their essence is very much the opposite, the aims and characters of their owners are usually the same. Below are a few tips on what to do and what not to do on board that should be taken into account.
If you were invited aboard a motor yacht.
Learn a little bit about the yacht. It does not matter who invited you: your friend, friend or brother, google who built the boat, how big it was when it was built. It would impress the owner if you knew something about his yacht. Yachting this level is always a big investment. Owners are proud of the name of the designer, the shipyard that built the yacht and her model. Don't forget about it. If you have been invited to a yacht built by Burger, Feadship, Benetti or any Dutch shipyard, you are on board something special. Let the owner know that you know that. If the yacht is serial and built at a Trinity or Choy Lee shipyard, just don't say anything.
Learn a few nautical terms. The restroom is a latrine, the back of the yacht is stern and to the «left» and to the «right is» not, eat «left» and «starboard».
Find out who the designer is. If it is someone famous, for example, Hargrave or Sparkman & Stephens, knowledge of names can be useful in conversation. The origin of the yacht is very important.
Appreciate the effort you have invested. As the yacht has a captain and crew, she is carefully looked after. The crew is paid for it. Pay attention to the shiny lacquered woodwork, polished chrome handles and impeccable interior. The owner has a point»on this«, so you will find a common language.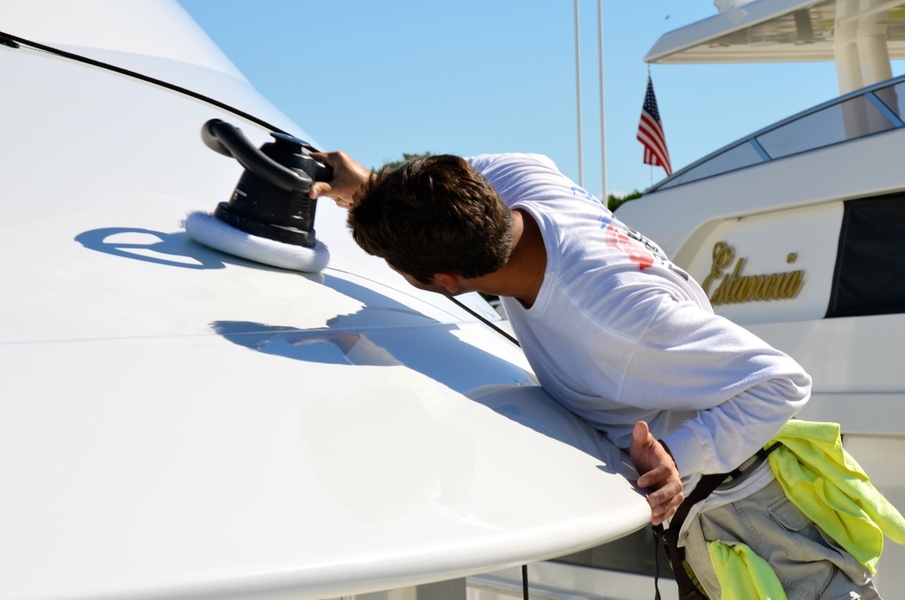 Talk about what the owner needs the yacht for and where it goes. Where does she winter? Did he travel to Maine, for example? Try to find out how he spends his time on her, and you might have a fascinating conversation.
Don't discuss fuel economy. In the yachting industry, almost everyone talks about the sustainability of their products. But the reality is that buying a private yacht is the last thing you can do for the environment. Fuel consumption on a yacht is calculated in gallons per hour, and believe me, you would not want to know how much it can be. A 90-foot yacht can easily be filled with $25,000. Do not discuss the cost of anything at all: crew, maintenance, purchase price, etc. You are on the water to have a good time.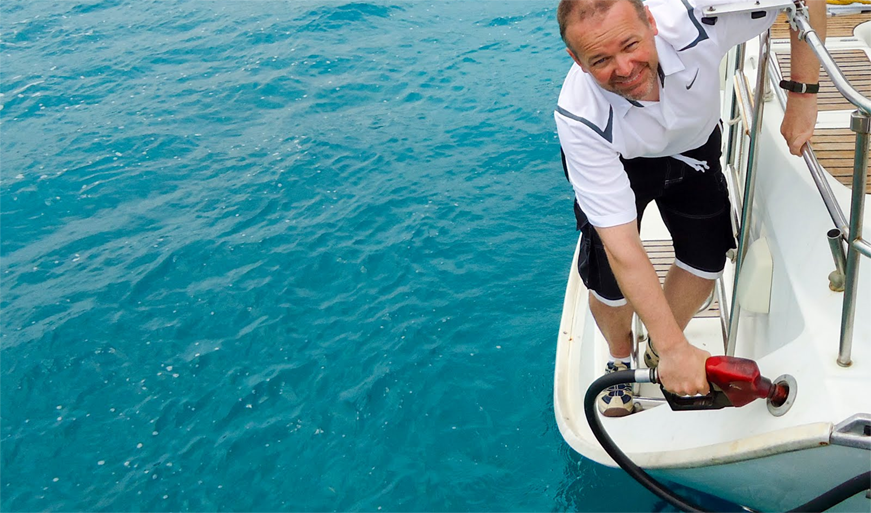 If you're invited to a sailing boat...
Also, look for information about the ship so you know anything about it. If it's Swan, Hinckley or Wally, you're on a very expensive boat. When you're talking about it, pay attention to the quality of what you see around you. If the yacht was designed by Bill Tripp, Jr., Bill Tripp lll, Ted Hood, or Chuck Paine mention that it was the best.
Read about sailing in general. It's not as complicated as it looks. Remember that the front sail is a jib and the one behind it is a grotto. If there are three or more, it's a bit more complicated, but learn these two first. Understand that there are only four directions from which the wind can blow: Badewind, Gulfwind, Buckstag, Fordewind. Remember their names.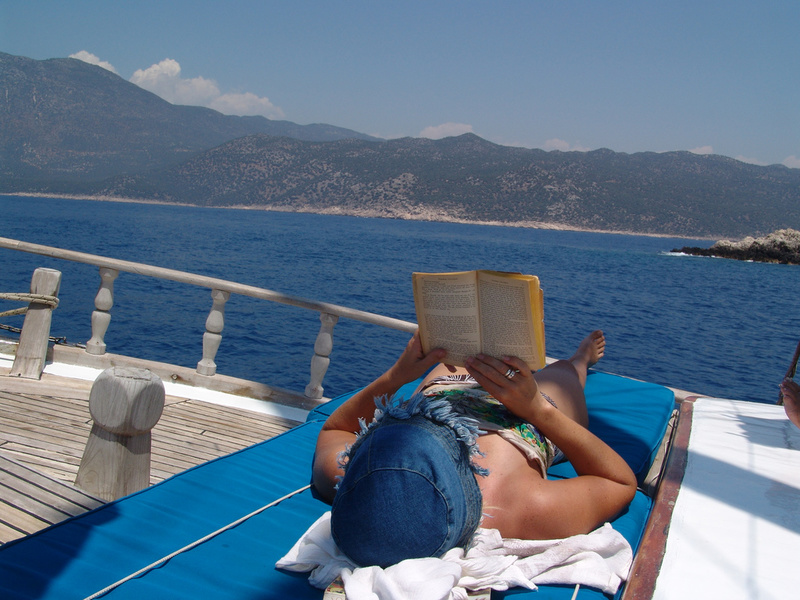 As mentioned earlier, discuss the owner's sailing adventures and where he goes on his boat. Ask him where he has travelled across the ocean and about offshore regattas in which he could participate. Find out why the owner chose this class of yachts from classic, racing and cruising ones. Ask, thus keeping the conversation going.
Sailors do not tolerate fools. Never ask: «Can she tip over? .».. A sailing yacht does not tip over! They're not going out in the storm with you. It doesn't matter if it's under sails or engine, but you'll go back to the berth. There is no way to piss off the owner of a sailing yacht faster than to ask stupid questions about its stability and whether it can flip over. If you are nervous when the boat is rolling, just accept that it is normal and smile.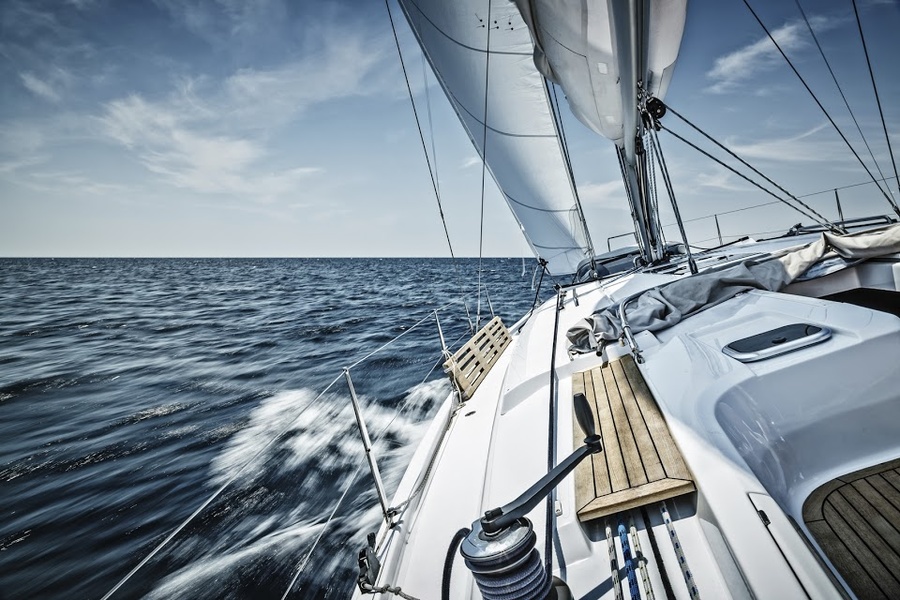 Both motor and sailing:
To prevent sea sickness, ask to show the interior while you are still at the quay wall. The fastest way to earn sea sickness is to be in the four walls when you're on your way. Stay outdoors, watch something on the beach. If you're not feeling well, get distracted by something. Focusing on sea sickness is the worst solution.
Warm things will not be superfluous, the water is usually colder, especially if it is windy and you are on a sailing yacht. Even if it's hot in your beach house, you should dress warmer.
Wear comfortable things, but nothing flying or too long. Things that flutter can get tangled up in winches or get caught in moving mechanisms. A boat is not a nightclub, don't take advice from Mariah Carey! Dress humble.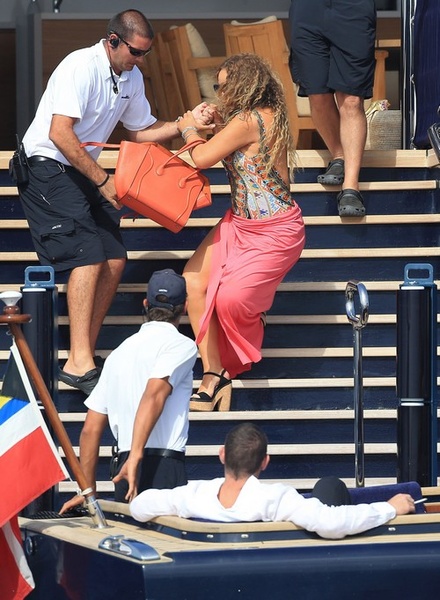 Treat the crew with respect. A hired crew is a highly qualified staff in a difficult business. They're at work, so don't flirt with them, like asking for sunscreen on your back.
The binoculars are designed to look at the sea and the far shore, not to look at bigger yachts. What's more, never focus on бо̀льшие yachts, or those that look more expensive, or ask about them. Admire them, but about yourself.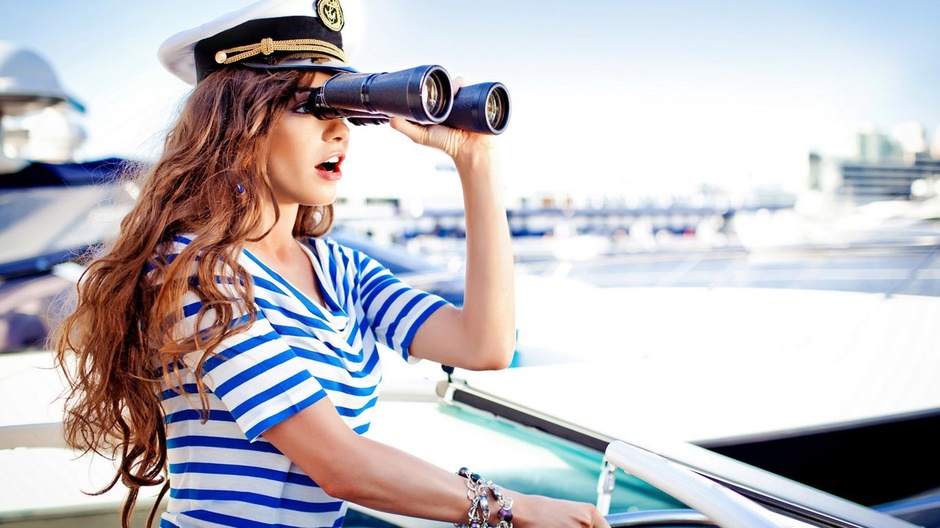 Do not put other yachts into installations. Otherwise you will never be invited again!
Have a nice rest!