«Keep your course on that big pile over there,"»said the skipper and handed the steering wheel. The wave was throwing the boat up and it seemed like it was something magical to drive. «The big pile» turned out to be the island of Nisyros, the place where the active volcano heats all the water underground to 70 degrees. At that moment, these fascinating details were of little concern to me. The main thing was the process: to hold the steering wheel and watch the wave and wind closely. Basically, in silent weather the autopilot could easily cope with a task, but the skipper entertained passengers and gave to drive.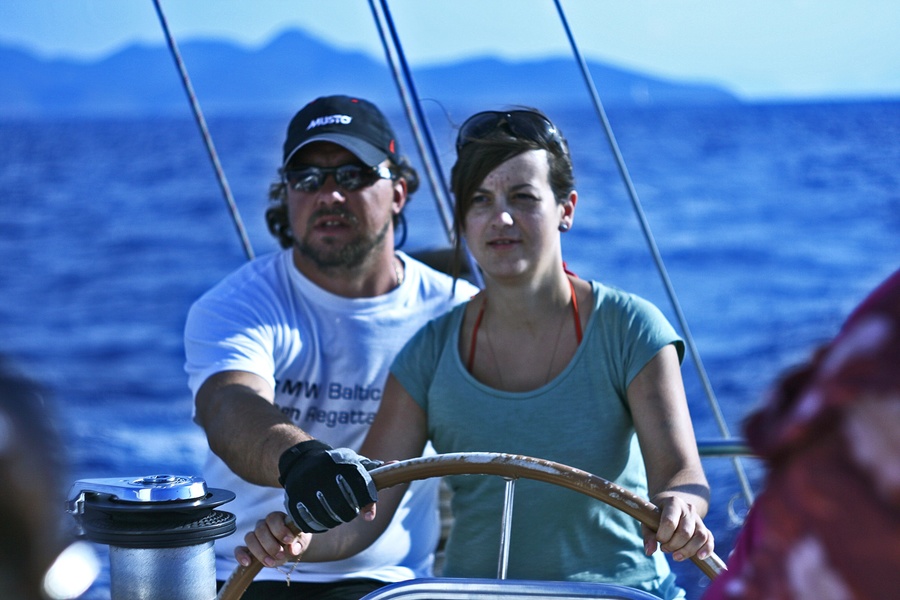 For the one who stood at the helm, time would stop. There seemed to be no better way to become one with the incredible elements.
A working trip to Greece was not just a boring round-table conference. According to the program for journalists planned a small four-day regatta with the route Rhodes - Simi - Kos - Nisiros - Rhodes. The organizers planned to demonstrate investment opportunities in the region. Most of the media representatives were on board the sailboats for the first time. I had to go out to sea in a storm on a border ship once before and it was too unforgettable. So it was psychologically very difficult to get on board, and I cried sincerely, sitting on the quay. One of skippers has come and has resolutely carried away my suitcase onboard. There was nowhere to go, I had to give it a try.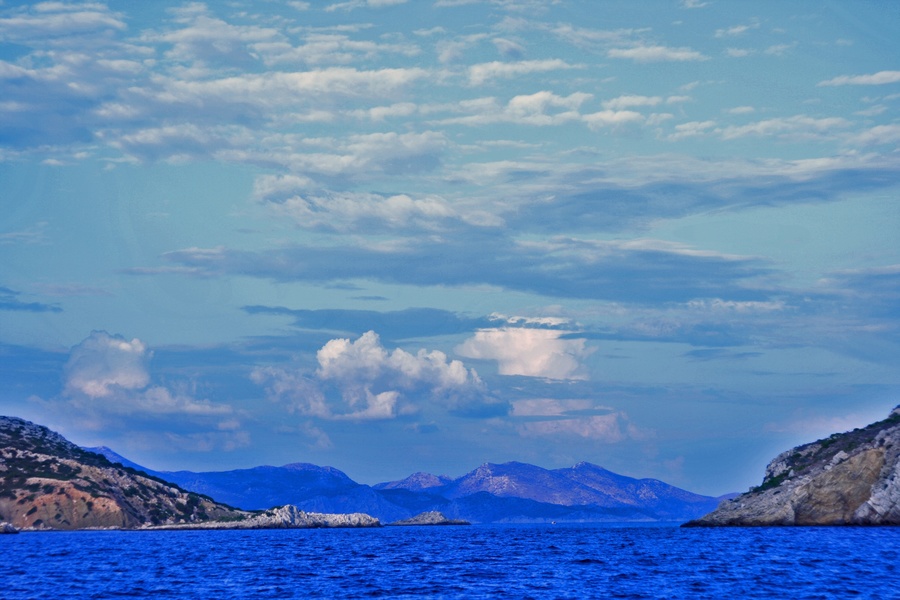 This first sailing trip changed everything. When I saw the city of Rhodes on the horizon and had an hour and a half to go until the end of the adventure, I was seized by a feeling of despair: it seemed that I would never again be able to see such boundless space and reach the special level of freedom that you get when you control the shell in the middle «of the big» water. So before I went ashore, I realized that it was time to look for ways to go back. The skipper readily shared his way of obtaining the yachting rights. Theory and practice, everything is simple and complicated at the same time. I did a quick calculation: there should be enough money for the theory, but there is still time to live to practice. In winter, few people go to take their exams under sail.
«Why do you need a yacht license if you can't even drive a car?»
This question was asked by everybody around. Someone laughed, someone mocked or just wondered. It was almost impossible to explain to people why I was so tempted to build routes and count the depth at high tide. If they found out the cost of training, they would most often spin silently at the temple. For useless knowledge to give so much money! However, the benefit really seemed ephemeral: at the weekend after a hard working week we had to go by train to Odintsovo, where the yachting school was located, and there persistently taught navigation and ways of tying the sea knots. However, I continued my studies, and my persistence eventually bore fruit. Practice at sea (which, by the way, the school gave me an installment plan) taught me a lot of what still helps me in normal land «life. I have firmly learned three main lessons.
Lesson #1. Do not waste your strength when circumstances are unfavorable.
When I doubted whether I had enough physical strength to pull the right school, I heard the advice: Do not «pull when the wind interferes, even very strong people can not cope with it. You only need to pull the rope at a convenient and successful moment, then you do not have to put any effort . Really - how much not to argue with the bosses, it will be right, how much not to achieve the result, but in unfavourable circumstances do not wait for the result.
Only at the right time and in the right place can one become a winner.
Lesson number 2. It is important who you are and not who you want to seem.
A cap, sunglasses, inflatable jacket and topsides turn a mid-level manager into a sea-soaked traveller in one moment. Whoever you are on the beach, there, in the sea, very different roles and tasks. On board all the pontoons and beautiful stories are quickly tested with practice. When I took the internship, there were people from very different backgrounds among the flotilla participants: middle income employees, students, top managers of companies, owners of small businesses and even a senior official. As a result, they all left their regalia on the shore, because when working with schools and sails, all past achievements were not important and even useless. More valuable was the girl clerk, who knows how to tie bowline than the owner of a profitable company, who forgot how to do it.
Difficulties in communication disappeared after a storm of us all eight hours in a row equally hard rinse. no one else considered himself better than the other.
The sea has redistributed the importance of people in its own way. The captain of the nearby boat and the owner of the yachting school made us coffee without embarrassment, while the businessman shared dry clothes with the student as his suitcase was completely soaked.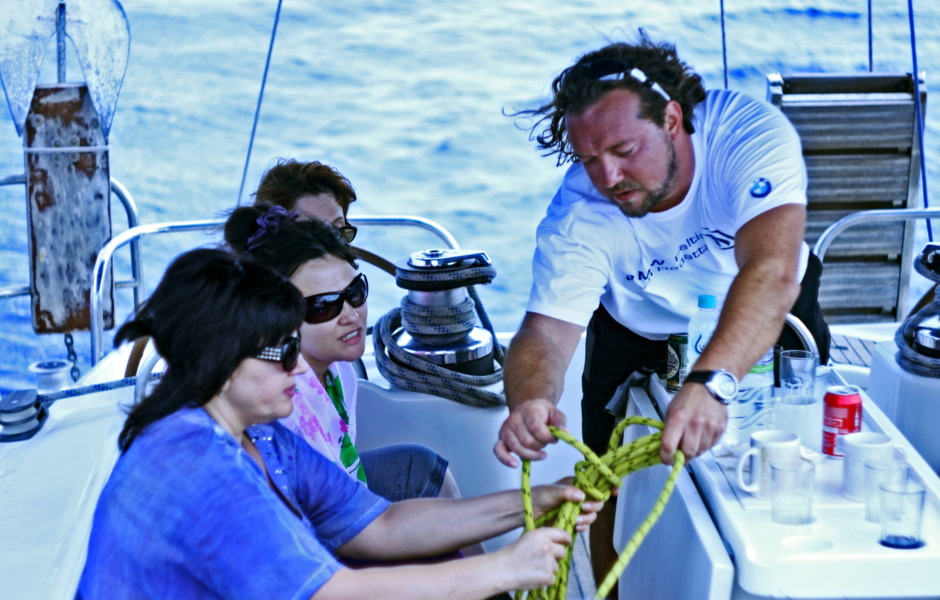 Such a practical approach is especially appreciated by top managers of companies. They are the first to come to the yachting school, and then their subordinates are pulled up. Ability to do everything independently and correctly understand what is happening is very much brought up.
In our realities, you often fall prey to impressions from the installation or stories from PR and journalists, and this is a distorted reality. Facing the harsh elements very quickly sobers up and shows the true face of any inflated story.
Lesson 3. Assume the worst outcome.
Today's fashionable positive approach to events does not help much at sea. It's the other way around. It's» better to forget the phrase«. Wonderful will be those who are prudent and cautious.
Wisdom of the sea: all doubts are treated for the worse.
As soon as it seemed that the rope will untie - urgently go to correct it, believe me, feelings do not deceive you. In a usual land life we often do not have time to make a straw because we do not know about this rule. The main property of the sea is that it paradoxically brings us back to the solid ground, teaches us to look at the world more realistically and evaluate people.
To sail successfully, one has to master a million nuances and wisdoms that change habits, make us more attentive and trust ourselves. Even if you've taken everything into account, something can go wrong - a wave will change or a squally wind will fly. Being ready for any situation is probably the right approach in all maritime and life situations.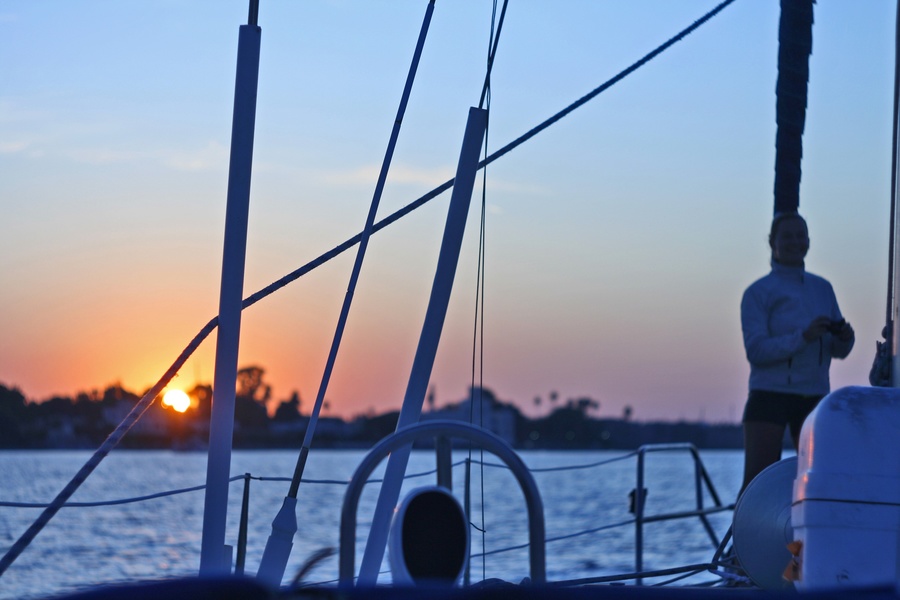 Epilogue
I got my yachting license seven years ago. I can't say that we can sail the oceans and seas every month, but at least once a year we gather with close friends and go to sea. It is an important tradition and - I will say more - a necessity for mental health. Both at me, and at many acquaintances work can proceed and remotely, so only the sea can take away from hands the computer. I myself always wait for my phone and social networks so that no one can pull at an inconvenient moment.
In the last three years, the number of people I know who've ever been on board a sailboat has increased dramatically. More and more people are giving up their traditional beach holidays in favour of sailing. I think the popularity of yachting will only grow further.