All the sights on the shore are explored, the tan no longer gets any more golden, and diving just with a snorkel and flippers is boring? Recreation on the yacht during anchorages becomes much brighter if you have extra equipment for water activities on board. In this article we've compiled some unusual options of what can be stored in your boat's garage for such occasions.
Tandem Jetovator Kit
Although flying over the water in a jetpack can evoke a sea of positive emotions for both the pilot and observers, few people can be surprised by them these days.
How about two-person flights? That is exactly what the American company Jetovator - one of the first in its segment of the market, which has been actively developing during the last 9 years - has designed for.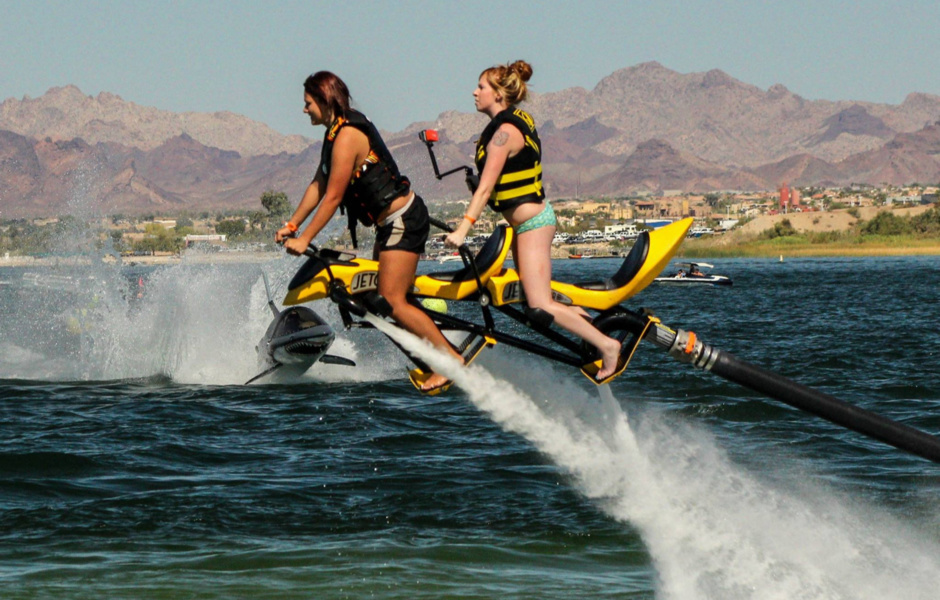 This «exercise bike» is capable of lifting 181.5 kg over 9 m above the water and accelerating up to 40.2 km/h (i.e. almost 22 knots). It can dive to depths of up to 3 metres.

With the introduction of the Tandem Jetovator, learning to fly and performing tricks is now possible with an instructor.
The aircraft can be flown from both the front and back seats, which gives newcomers the peace of mind of knowing that an experienced pilot will always be there to help them out if something goes wrong.
It's also worth mentioning that for the most sophisticated pilots, Jetovator offers custom-designed vehicles. For example, for the fans of the film saga «Star Wars» the company once made a water analog of gravicycles, exciting chases on which not once could be seen in the films of the series.

And for people with disabilities, Jetovator came up with a jet-powered wheelchair.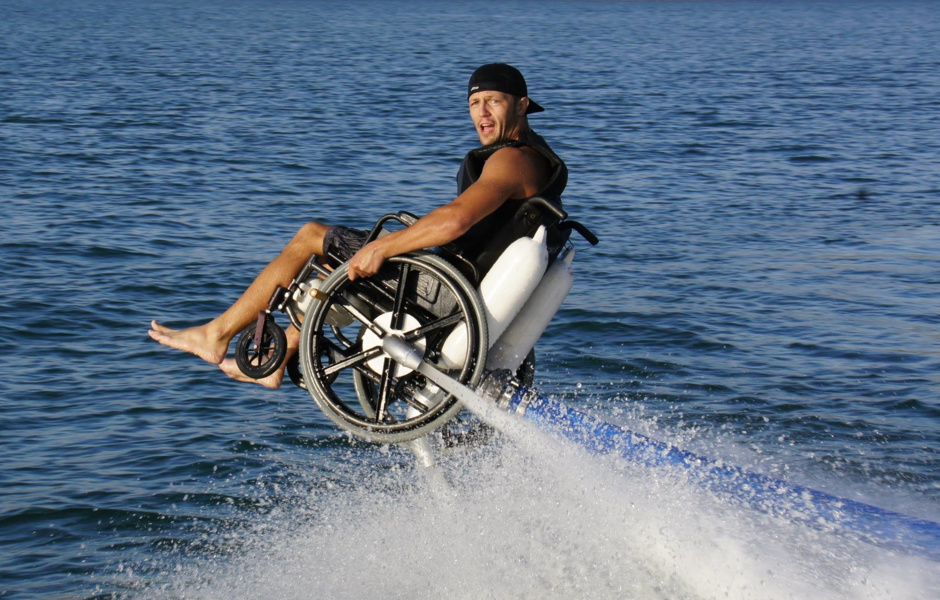 Seabreacher .
Another American invention, which certainly will be appreciated by many fans of extreme sports on water - the high-speed diving Seabreacher .
The length of such a metallic dolphin (or fish, or reptile, which the designers disguise the boat), depending on the model is 4.8 to 5 meters, width - just over a meter. Riding, diving, jumping and spinning in all directions can be done by one or two people.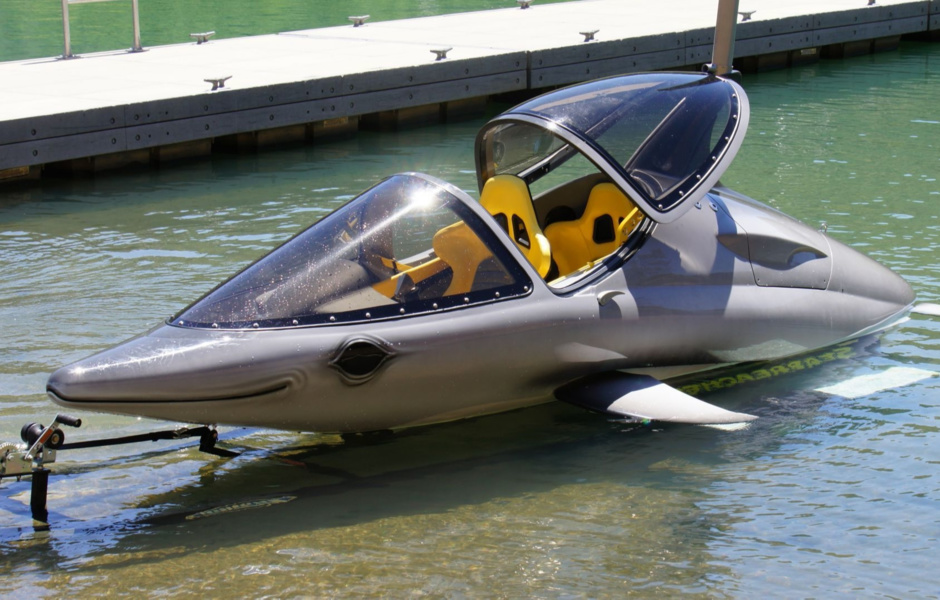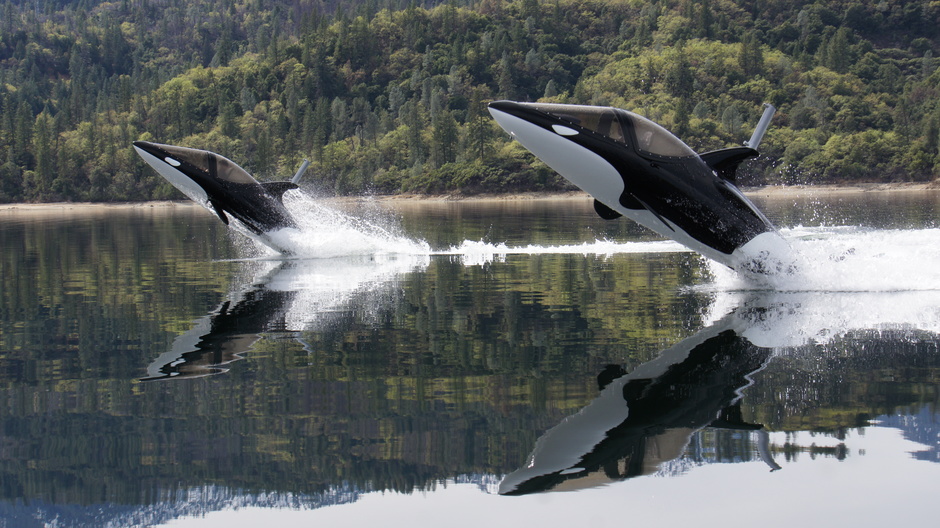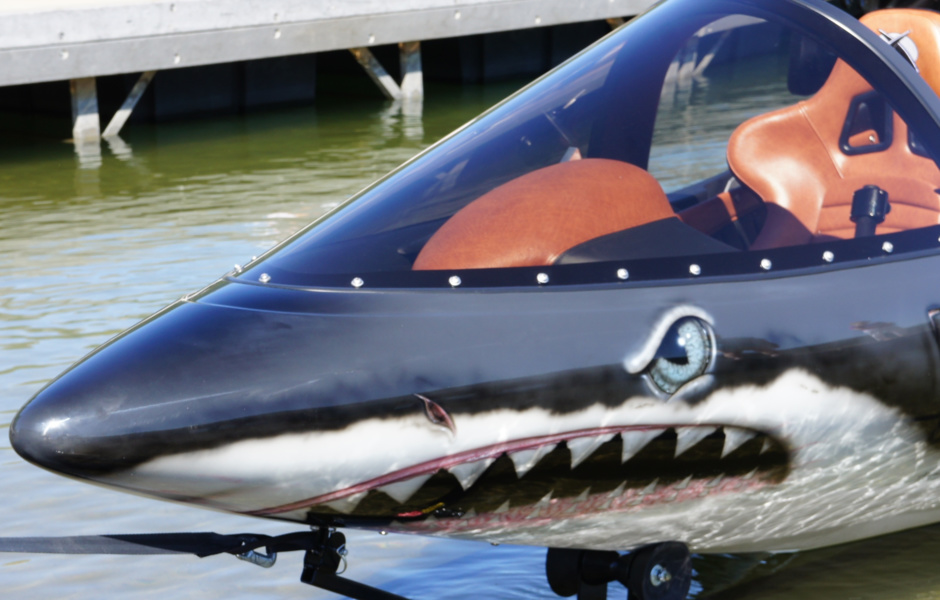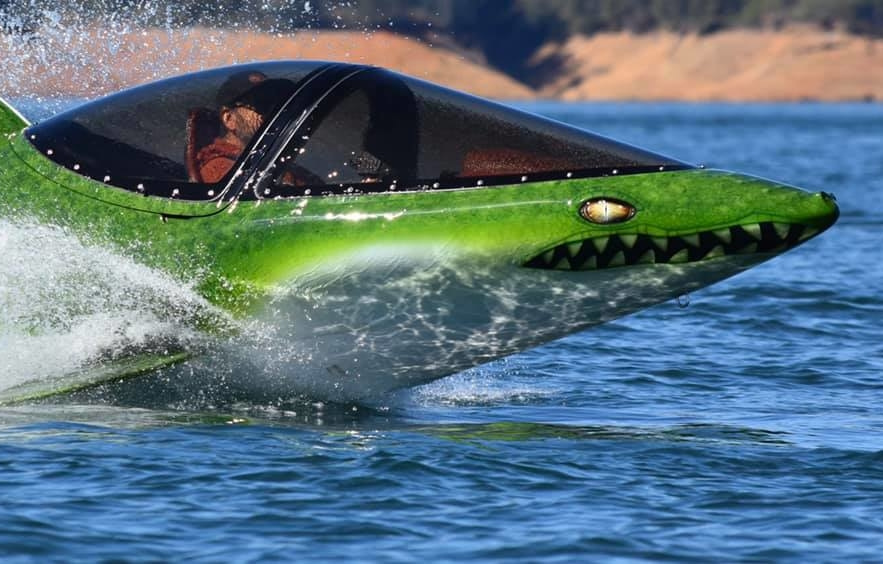 The Seabreacher is powered by an engine with 230 to 300 horsepower.
These enable the Seabreacher to reach speeds of up to 96.5 km/h (52.1 knots)! When the Seabreacher jumps out of the water, it can soar to a height of 6 meters.
However, the Seabreacher dives to a height of only 1.5 meters underwater. In «submarine mode» speed is limited to 17.4 knots (32.2 km/h).

A Bluetooth-enabled audio system inside the cockpit provides the opportunity to spin a beautiful wheelhouse while listening to the appropriate soundtrack. A VHF radio station will enable you to exchange impressions with a passenger or spectators on shore.

The Platypus
Flying at high speeds is wonderful, of course, but it's too fast to explore the sea kingdom in such mode - everything flashes before your eyes. For those who are already ridden and ready to slow down and relax a bit, the French company Platypus Craft together with design-studio VPLP has released a curious trimaran for diving in shallow water.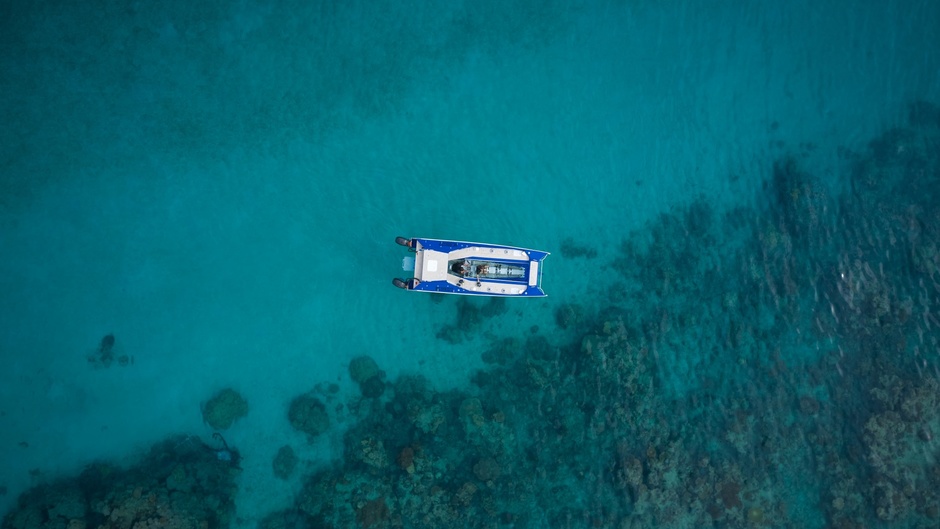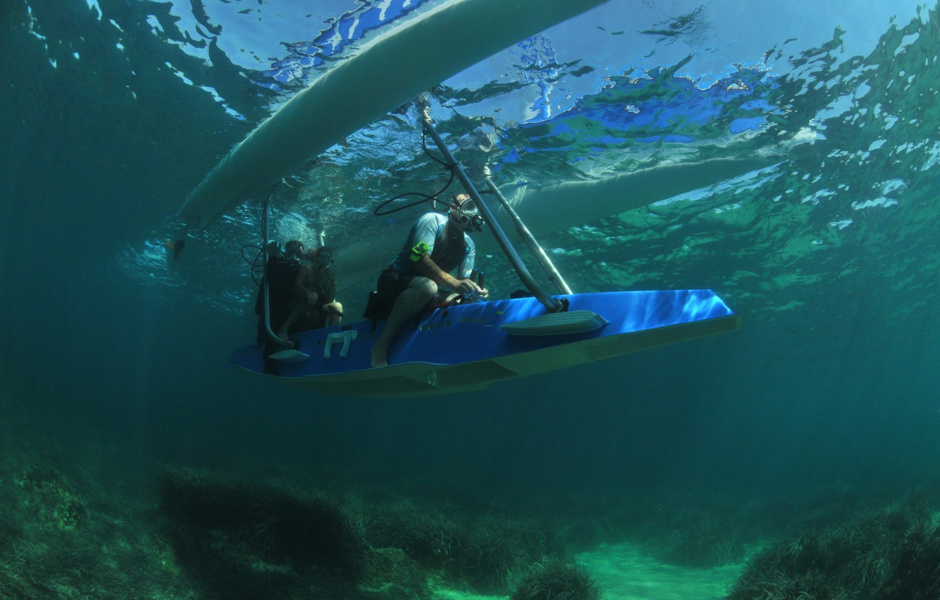 The center section of the fiberglass or aluminum vessel is connected to the side hulls with movable brackets. This allows it to be lowered to a depth of up to two meters. Depending on the model (the company has three) the length of the boat is 7.77 to 9 meters. The width of the boat is 2,5-3 meters. There can be 6 to 8 people on board.

A built-in compressor supplies air to the passengers, so no additional equipment is needed for diving. Likewise, the divers themselves do not need a diving license (although, for safety purposes, it is best if at least one of them has one). Thanks to the integrated communication system, passengers can talk to each other during the dive and share their emotions.

It is worth noting that thanks to Platypus, even handicapped people who have some kind of difficulty with independent movement can join the diving.
No more than 6 of them can be underwater at a time. At least, that's how many of them are accommodated by the air supply system. Moreover, the weight of persons on the submersible part of the trimaran must not exceed 400 kg.
Platypus is equipped with a pair of outboard engines. They can be either gas or electric. With them, the trimaran can go from 10 to 40+ knots (the minimum, of course, applies to electric motors). When the center section is submerged, speed is limited to 3-6 knots. One battery charge is enough for 60-120 rises and falls of the central part and 4-8 hours of autonomous operation of the air compressor.
Subwing
Another way to make shallow water diving or snorkeling more diverse is to dive with the Subwing, which was invented in Norway.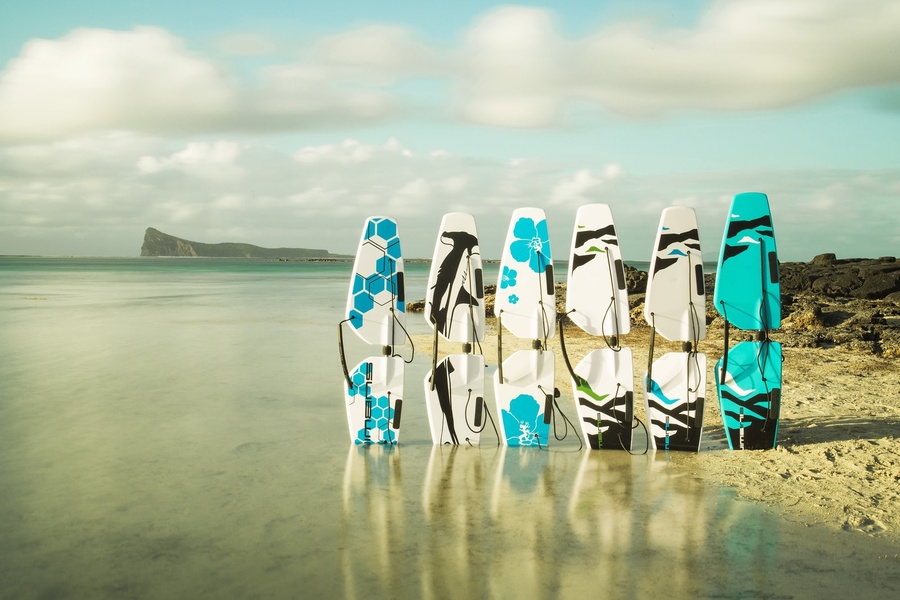 A special boat to pull the wing and the diver, unlike wakesurfing or other similar sports, is not required. Will suit any tender, which can be floated at a speed of 2-4 knots. Both a scooter and a sailboat will do.
The diver (it is probably quite possible to call him «subwinger») holds on to the plate and without any effort glides behind it in the water column. If you want you can twist, stand on the wing of a comrade, roll together holding one wing or make a chain of people holding each other's legs - whatever stunts you can imagine. When holding their breath is no longer possible, subbingers simply point the wing toward the surface to inhale air, and then withdraw back to the depths. Just like dolphins!

Swimming with the wing doesn't require any specific skills, other than basic swimming skills of course. So the underwater wing is suitable for both adults and children. Save your underwater adventures in the memory by filming them on the GoPro camera which conveniently attaches to the wing.
The weight of the wing is 2.5 kg, each half has a length of 56.5 cm and a maximum width of 26.5 cm. Buyers can choose one of four options of wing coloring.
Subwing donates 1% of every sale to charity, the Sea Shepherd Marine Conservation Society.
Unusual paddleboards
The hobby of paddleboarding, standing on wide boards, is capturing more and more people. However, some people might find the classic version of this activity too boring.
That's where the XL RIDE giant paddleboard by British Red Paddle Co. comes in. The board is over 5 meters long and 1.5 meters wide.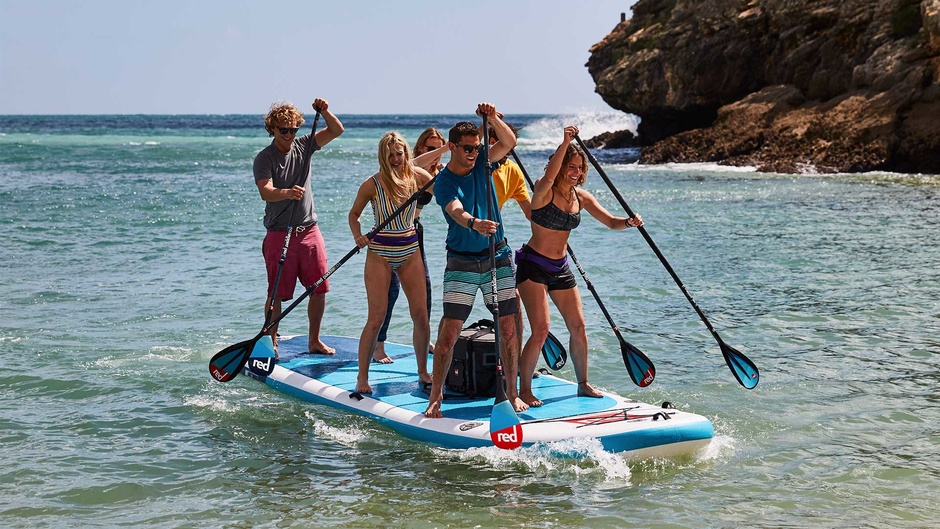 «It can hold up to 110 kg, which is enough to put» up to 8 people (with room for your dog) on board at one time.
Aesthetes and lovers of minimalism will love the almost completely transparent model Le StandUp from the French company Loeva. This board is 3.2 metres long and 0.7 metres wide.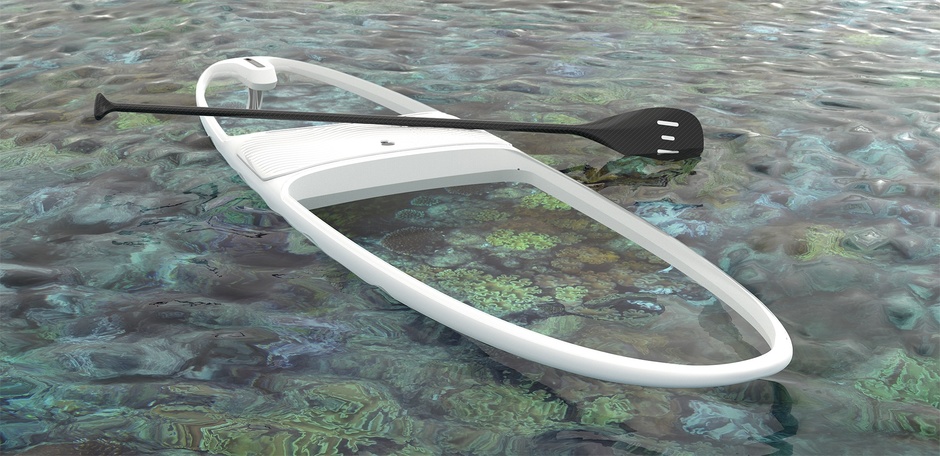 It features an LED light which illuminates the bottom within a radius of 15 metres. One battery charge, which operates the diodes, lasts for 3 hours.
The company donates a portion of the proceeds to independent experts from Reefscapers,an organization dedicated to the protection and restoration of coral reefs.
There are options for those who like paddleboards but do not like paddling. For example, the Spanish company Red Shark Bikes produces four models of boards with built-in exercise bike.

It seems this concept should especially appeal to triathletes: if your swim training took place in open water, you do not have to leave the coast anywhere for bike training. In terms of transport, the Red Shark Bike requires no more bag than a conventional bike.
Those who are closer to athletic walking are not left out either. For them, the American company Hobie has come up with two models of Mirage Eclipse stepper paddleboards.

The boards are 3.2-3.6 meters long and 0.85-0.92 meters wide. The support, which helps to keep your balance during walking «» , is adjustable in height. But it can be removed if it is not needed or for transport.
Electric surfboard
No waves, no boat-drawer, but you want to go surfing? Surfboard with its own motor can be a way out in this situation. Swedish companies Radinn and Awake produce such boards.
Radinn manufactures three models, two meters long and weighing 9-15 kg. Thanks to the electric water jet engine they can reach speeds of 52-56 km/h. Battery charge lasts for 25-45 minutes. Adjust the engine power depending on the level of the athlete and just your own wishes can be made via the mobile app.

«Thanks to the modular system, when the owner would like to upgrade» his board, he can simply buy a new motor or battery instead of ordering a new surfboard.
Awake makes two models that are slightly shorter than the Radinn boards. They are under 1.8 meters in length. At the same time, they are heavier, 34-35kg (16 of which comes from the battery). Maximum speed is the same 52-56 km/h, but the battery is able to hold a charge up to 1 hour.

Inflatable amusement park
You can have a friendly race with the popular obstacle course format right on the water in any cove you like. Both children and adults can have a lot of fun. A variety of modules for this release American companies Fun Air and Aquaglide.
«The range of Fun Air includes a variety of slides, climbing walls, a platform for» jousting tournaments on a narrow crossbar, a tower for jumping into the water from the upper decks of boats, a giant pillow catapult, golf set on water, barriers for sea pools, and inflatable islands for recreation and storage of water toys.

Modules from Aquaglide include slides, trampolines, ladders, «webbing» and climbing walls on which you can climb, swings and a variety of obstacles. The company's range is larger than that of Fun Air, although not all items are in stock for immediate delivery.

RoboSea Robo-Shark.
The 2.2-meter drone shark from Chinese company Robosea will be your eyes and ears in the underwater world. This mechanical fish weighs 75 kg and swims at speeds up to 10 knots. Thanks to the fact that the shark moves like a real one, it doesn't need a propeller to propel it. So it consumes less energy and does not make unnecessary noise that could frighten animals.