Most often two types of engines can be found on boats: outboard engines and tilting heads. At that, boats designed for an outboard motor are usually supplied without an engine. The boat owner must purchase the motor separately, and the cost of the motor can be half or even more than half of the boat's final cost.
Shipyards specify the maximum and minimum motor power that can be installed on board. They can also advise the client on specific suitable models. However, the final decision rests solely with the future boat owner.
In this article, we will talk about the features, advantages and disadvantages of each type of engine that can be found on boats
Choosing a boat engine by type of fuel
Gasoline and diesel
While swashbucklers come in both gasoline and diesel, the vast majority of outboard engines run only on gasoline.
There are exceptions to this rule, though. In 2016, Swedish company Cimco Marine developed the world's first diesel outboard engine. Since then, market leaders like Mercury Marine and Yanmar have adopted the technology.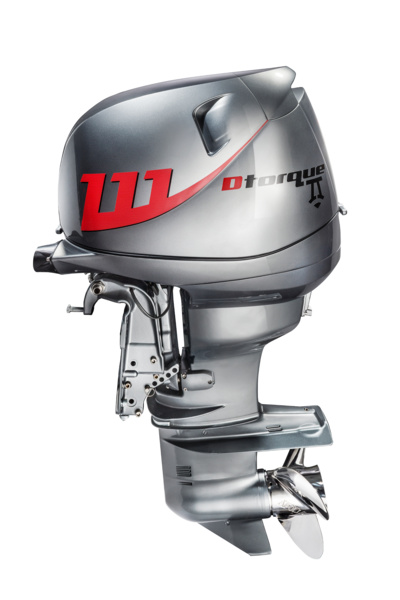 Gasoline engines are more compact, lightweight, and quieter than diesels of the same power. This is especially important when we're talking about an engine for a small boat. Besides, the petrol engine vibrates less. But the gasoline engine's fuel consumption is higher and the fuel is more expensive.
Diesel engines are more economical, less fire hazardous and serve twice as long with regular maintenance than gasoline engines. Besides, their exhaust contains less carbon monoxide, but, alas, all these advantages are opposed by the impressive size and weight.
We have already told earlier in a separate article about a choice between petrol and diesel.
We shall add, that to choose petrol with the highest available octane number is not better than to fill up with the cheapest fuel.
If an engine has a high ratio of cylinder displacement to combustion chamber volume («compression ratio»), fuel with a too low octane rating can spontaneously combust early («detonate»). This reduces the engine's power output and puts a lot of wear and tear on the engine.
But you should not buy fuel with a higher octane rating than recommended by the engine manufacturer. The higher is the detonation resistance, the higher is the price of gasoline, as various additives are added to improve its characteristics. It makes no sense to overpay for the ability of fuel to withstand without detonation the pressure higher than it will be in the engine before the scheduled ignition. It will not make your power go up, but the amount in the receipt at the filling station will.
Only high-octane gasoline is required for high-performance engines.
Most outboard engines are designed for 89 gasoline.
Electricity
Electric motors allow you to enjoy yachting without harmful emissions into the water and the atmosphere, in absolute silence. Compared to internal combustion engines, they have low power.
However, for boats up to 10 metres this is sufficient. For example, a Swedish 7.7-metre boat with a Candela Seven electric motor is capable of speeds up to 30 knots. And Russian 8,9-meter electric boat «Molniya»- up to 36 knots.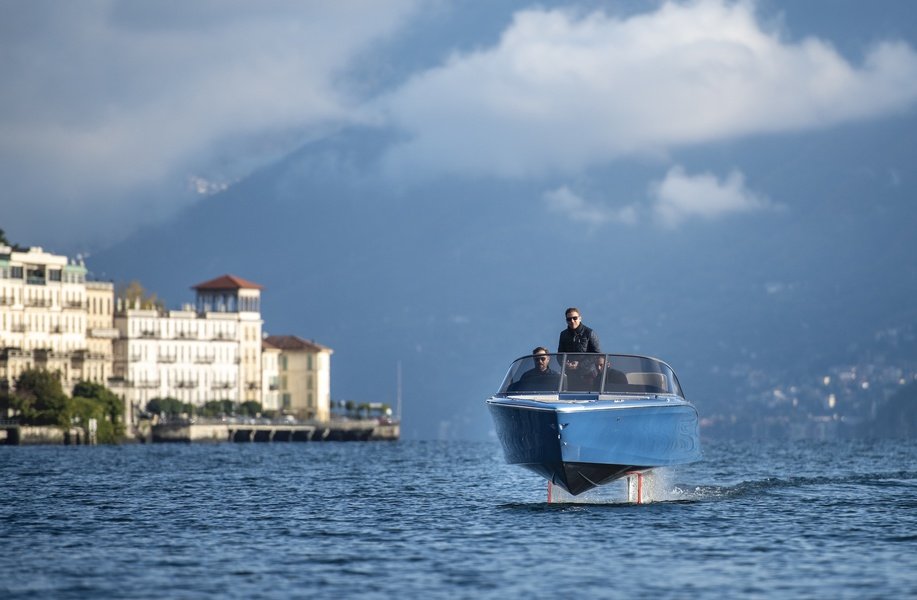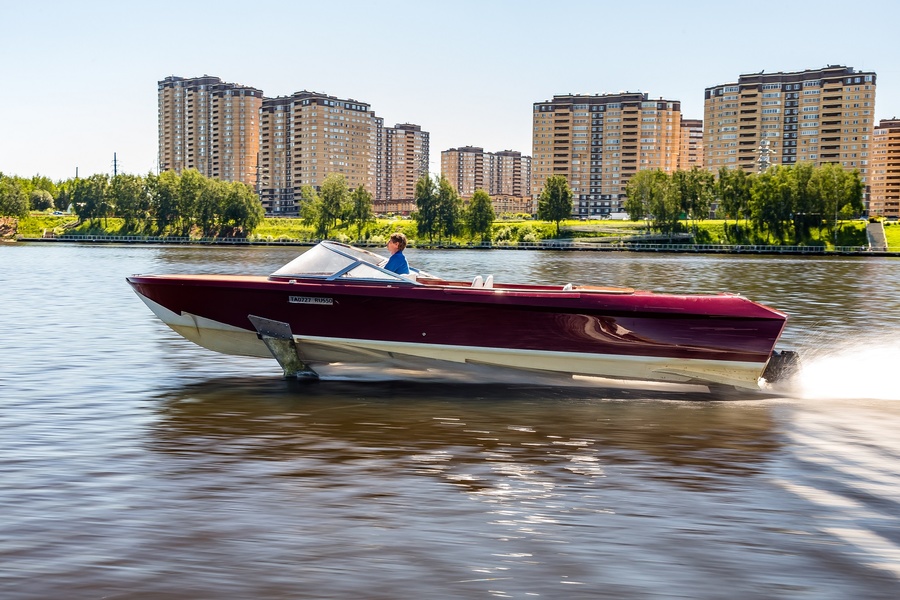 Of course, both models are equipped with hydrofoils, but still for an electric motor this is an excellent result.

You have to realize, however, that at top speed the electric boat won't go far: for example, Candela will only go 50 miles, while«Lightning»- 25.
Low-powered outboard electric trolling motors are installed on fishing boats, especially the so-called bass boats - boats for catching small fish in fresh water. The trolling motors are mounted not only on the transom but also on the bow of the boat.
The leader in the segment of electric motors Torqeedo produces (besides small motors for trolling and medium-powered 5-20 hp) outboard motors, which are equivalent to 40-80 hp in power.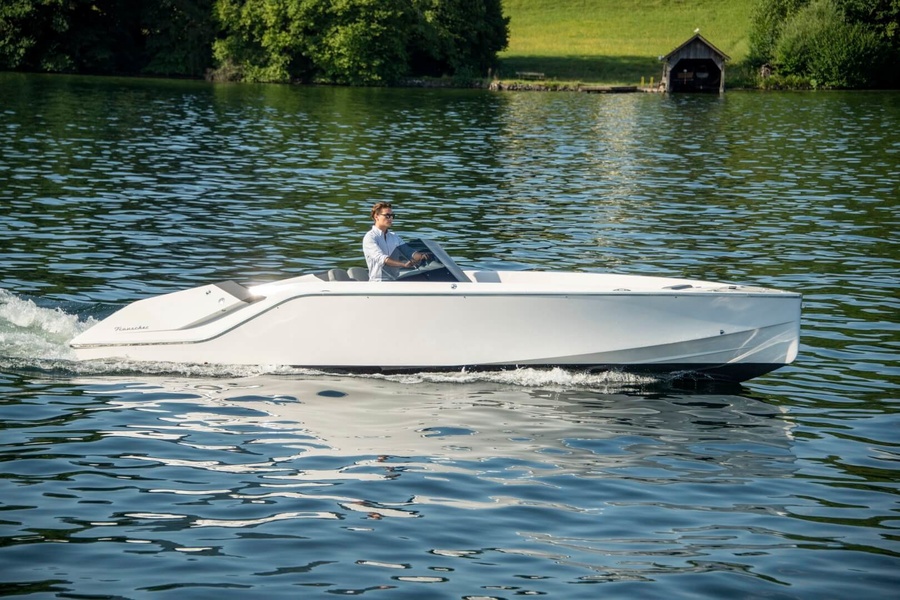 These motors are installed in particular on Frauscher design boats and are designed for larger boats over 10 tonnes. They are the first such engines in the world, which are mass-produced.
Danish Bellmarine produces an electric version of the Mercury Alpha One.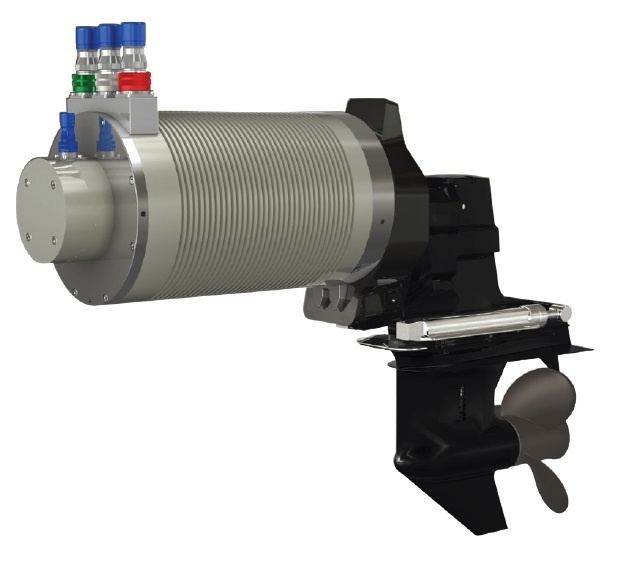 Propane
For outboard engines since 2014 there is another fuel option - liquefied gas (propane). The pioneer was the British company Lehr (today in its range of 4 models ranging from 2.5 to 15 hp). Later, the Japanese Tohatsu released Tohatsu MFS 5 LPG, rated at 5 hp, and then similar engines appeared in the U.S. Mercury Marine.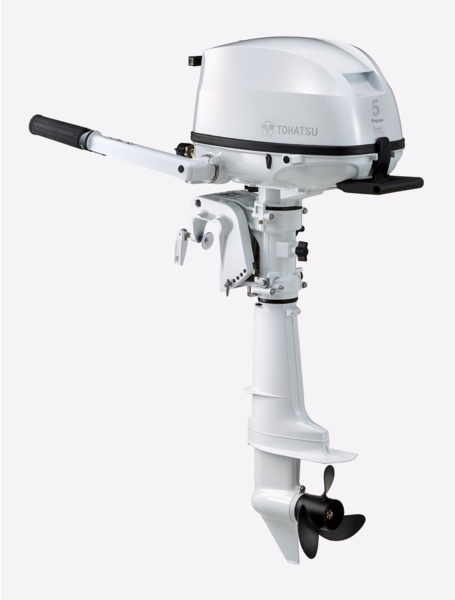 Propane engines are not so «environmentally friendly» in terms of exhaust composition as the electric ones. But still they are much (at least by 30%) more «selenium» than their gasoline counterparts. Propane engines are also quieter.
Propane engines are more efficient. And since gas is stored more compressed, gas outboards are also easier to start.
Unlike gasoline, propane does not need to be mixed with oil, and thanks to the lack of ethanol in its composition, propane does not deteriorate during long-term storage. The LPG storage system is particularly tight, and the engine owner can not worry about water getting into it.
The gas engine is more expensive than its gasoline counterpart of the same capacity. And in case of problems, it will be harder to find a mechanic to serve the propane engine - this technology is too exotic yet. However, daily maintenance of such an engine is simple.
Outboard motor or tilting motor?
To begin with, there is no such a choice for the buyers of small powerboats up to 100 hp. For them, there are only gasoline outboard engines. But you have to choose between different types and brands of outboard engines. What power a motor has to have? Should I get a 2-stroke or 4-stroke? Carburetor or injector? Which leg length should I choose?
There is a basic rule: in order to put the boat on planing, you need to have not more than 11 kg (25 pounds) of the loaded boat weight per 1 hp of engine.
Accordingly, for example, Yamaha of Japan has conveniently divided its outboard engines into groups as follows:
Up to 25 hp. Portable. Designed for hunting and fishing boats, as well as small tenders.
30-40 hp. Compact. Universal.
50-70 hp. For self-propelled pontoons and other flatboats. For fishing and recreation.
75-115 hp. For family recreation and water sports.
150-200 hp. Lightweight, versatile, fuel-efficient engines.
200-250 hp. For fishing boats, large flatboats and multipurpose boats.
225-300 hp. Light speed engines. For cruising away from shore.
350 hp. For travelling offshore on larger seaworthy boats.
425 hp. For boats over 15 m (50 ft).
Two-stroke engines can be found among models with horsepower from 2 to 250 hp, while four-stroke engines can be of any horsepower, up to a maximum of 450 hp. Nevertheless, in practice the owners of small fishing boats, inflatable PVC boats and RIBs who need 2,5-5 hp power would probably prefer two-stroke engines.
The two-stroke motors are lighter and simpler in construction. They are easier to service. More modern four-stroke engines are more complex. They are heavier and more expensive, but economical to run and quieter.
Carburetor outboard engines are cheaper, easier to maintain and less demanding on fuel quality. If fuel quality and service leaves much to be desired, carbureted engines are the ones to consider. «The more advanced injector engines are not», though they are more stable at any rpm, economical and environmentally friendly.
In general, the bigger and more seaworthy the boat, the more modern and expensive the engine should be. However, you should take into account peculiarities of the water area, where you go and how often and how much you load the engine.
The length of the engine leg determines the draft of the boat with an outboard. One and the same engine can have several different engine leg lengths. These are indicated by special letter expressions in the engine name. For example, the letter S in the engine name means «short» leg, the letter L means «long», LL, X or Y means «extra-long», and UL, X or XX means «ultra-long». Different manufacturers use «X» for different categories, so to know the exact length, you will have to study the specifications of the particular model.
The leg length needs to be adjusted to the height of the transom.«The distance between the bottom of the boat and» the leg over the propeller (anti-cavitation plate) should be 5-25 mm, otherwise the propeller will not work efficiently.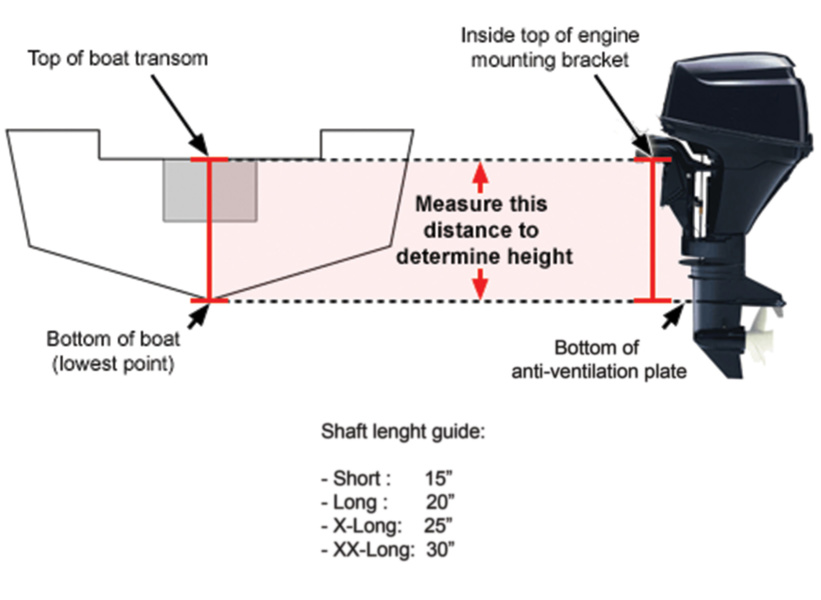 We will talk more about choosing an outboard in a separate article.
If the weight of the boat is more than 160 kg, the power of the engine must be at least 100 hp.
From this power, the outboard engines have some competitors in the form of stationary water jets. And when the power grows to 135 hp, the variety of engine options in boats grows due to the tilt-turners.
Tilt-turn speakers are in a sense outboard engines, «evolved» into stationary ones. We already talked about the design, pros and cons of this type of drive in the article on stationary motors.
Compared with outboard engines, speakers have the following advantages:
More powerful. The Mercury Racing sports speaker is compatible with a 1,650 hp motor, which is more than 3.5 times more than the most powerful outboard engine.
Economical fuel consumption. Diesel speakers are more common than diesel outboards.
Thetwin propeller, like Volvo Penta Aquamatic speakers, improves boat handling.
The low center of gravity is the key to a more comfortable ride while planing.
Inside the hull, the engine is not affected by the environment. This, other things being equal, allows the engine to live longer.
A stationary motor will never be removed from the boat when the owner is away. It takes a lot of effort to remove the column. Thieves will not be able to do it quickly and discreetly.
Free swim platform at the stern. With outboard engines, guests are likely to find only modest deck protrusions along the sides. Sometimes, however, the role of the swimming platform in this case is played by a drop side (so, for example, the designers of the 11.9-meter Jeanneau Cap Camarat 12.5 WA solved the problem ).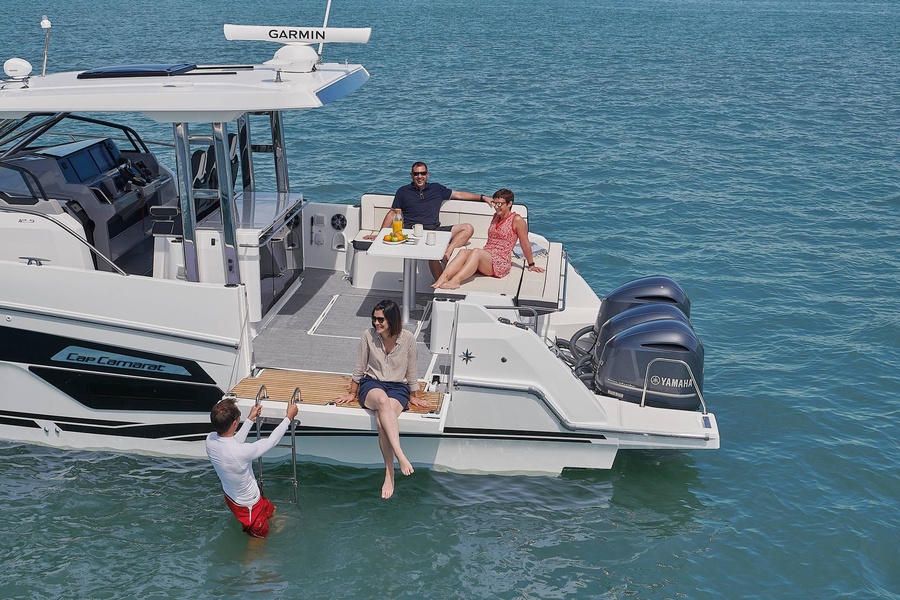 But there are also parameters by which outboard engines win over speakers:

Even with equal power, it's cheaper to install an outboard motor. For example, the Nimbus Weekender 9 with a 300-hp Volvo Penta V8-DPS column is $8,000 more expensive than the same model with an outboard Mercury Verado F300 V8. And if you buy a boat without an outboard motor (to then install something of your choice), you can save $12600 over the price of this boat with a pre-installed speaker.
The drive and motor are combined into one design, so you don't have to buy the motor «piece by piece».
However,you'll also need to replace the motor if necessary. Whereas in the case of the column you can buy a new drive or a new motor for it separately.
Mobility. The Volvo Penta V8-DPS column tilts 52° when lifted. Mercury Verado F300 V8 - 67°. When you need «to push» the motor to the transom while planing to lower the bow of the boat, said column operates within 3° of«neutral» position, while the outboard motor operates within 6°.
Mobility. Removing the outboard motor for repair (or just for the winter) is elementary. But with the column there will be a lot of hassle.
Does not take up space under the deck. The free space can be used, for example, for storage under the cockpit water toys.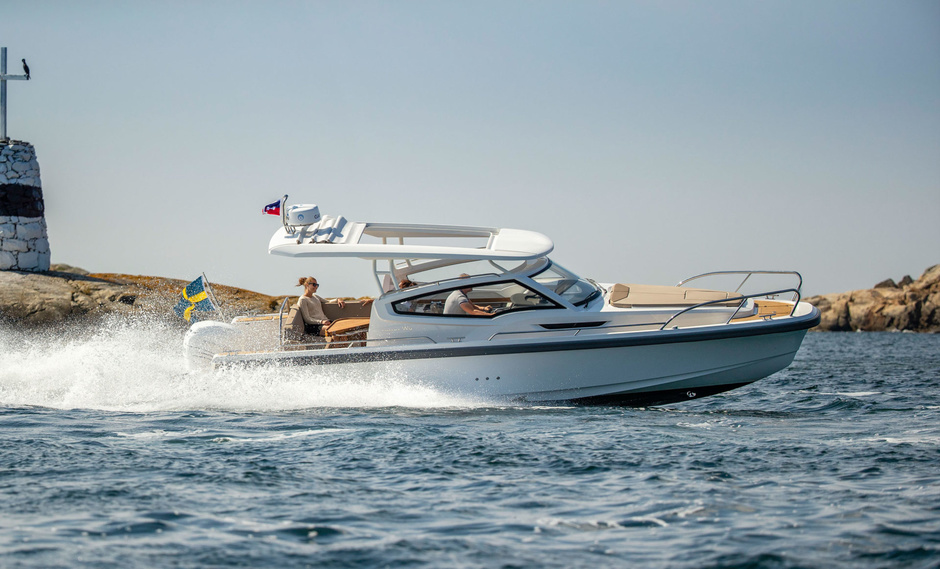 To summarize
For small fishing boats, small outboard carburetor two-stroke engines or trolling electric motors will do.
The most universal type of engine for boats - four-stroke injector outboard engine capacity of 100-200 hp.
These are installed on boats from 5 to 9 meters, designed for short walks and fishing in uncomplicated waters. For example, Beneteau's Barracuda and Antares series or Jeanneau's Merry Fisher.

For fishing in difficult water areas with rocky bottom or floating debris, you should give preference to a waterjet instead of a propeller.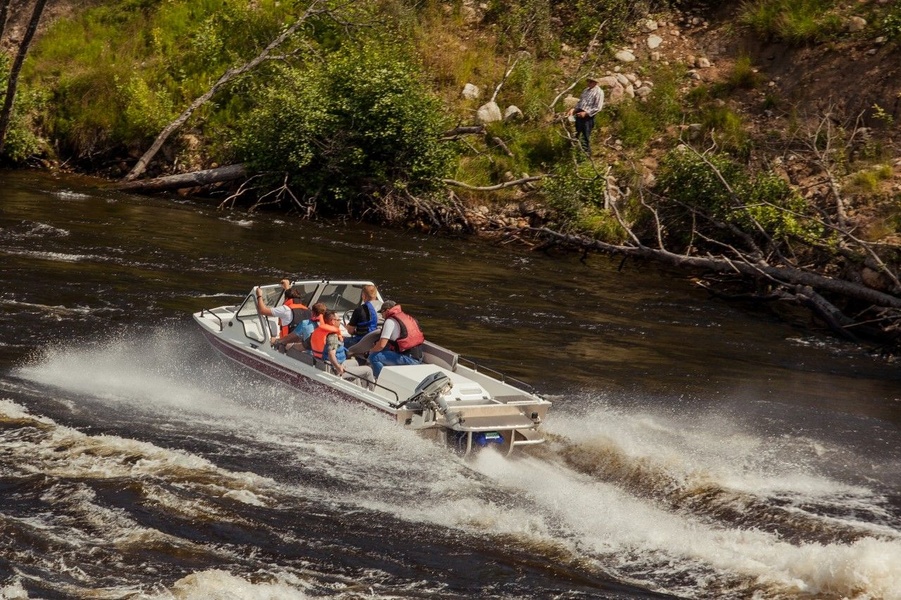 Propeller-driven propellers are the choice for those who intend to operate their yacht frequently and for offshore areas.
They are often installed on large cabin boats and on models where a swim platform is important. It is also a good transitional option for those who intend to move to a larger yacht in the future.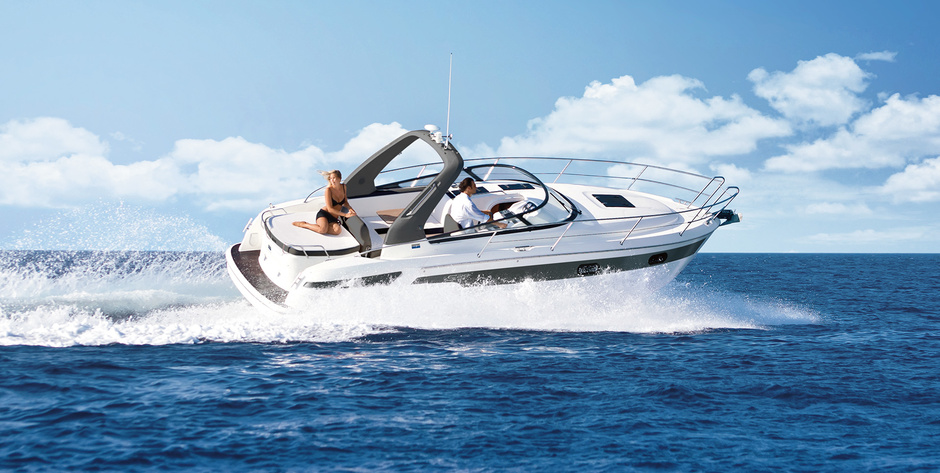 For water sports, manufacturers have adapted all three types of engines: outboards, speakers and water jets.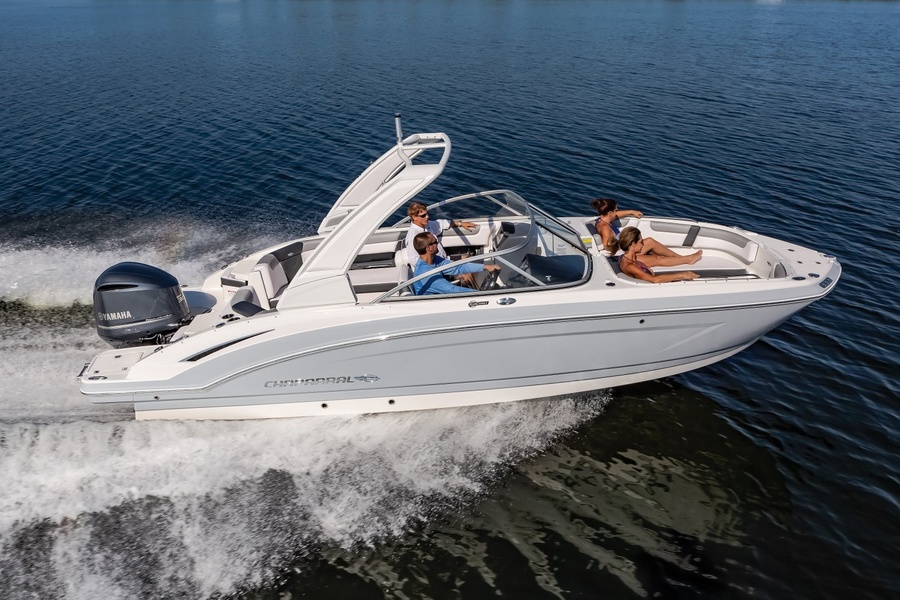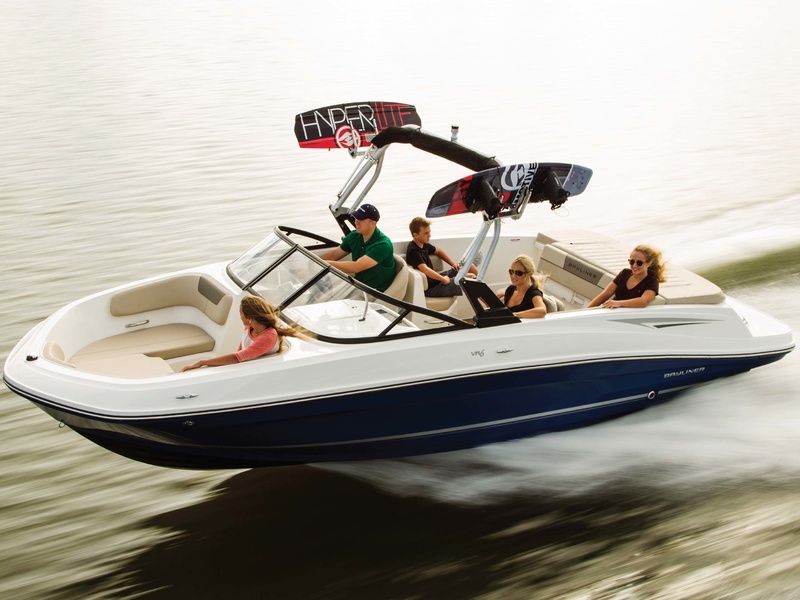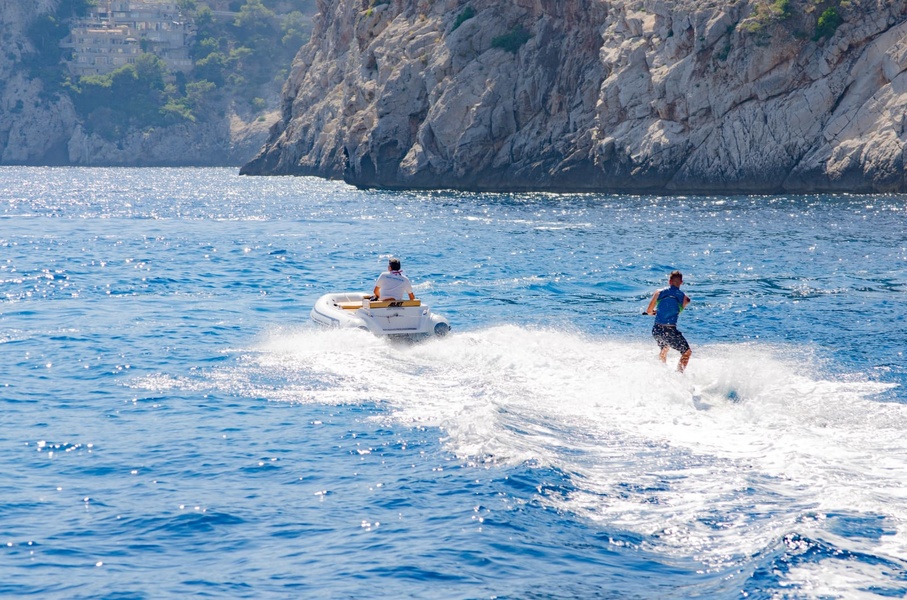 And yet it says a lot that the leaders in the market of sport tugboats, like American companies Nautique Boat, Bayliner , Crowline, Chaparral and Four Winnsmostly use stationary engines on their boats.