The «line of Numarine XP pocket-sized» explorers has been expanded with a flagship of no longer pocket-sized, superyacht-sized 45m.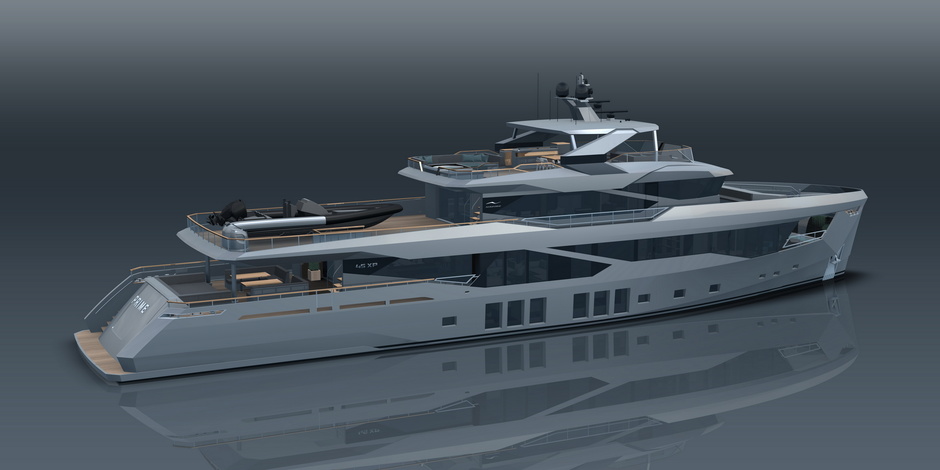 «Luxurious and comfortable, she is designed to be able to go anywhere in the world. With the new Numarine XR45, the world becomes a much smaller place», that's how the basic concept of the boat was formulated.
The XR45 promises that the Explorer will have «unrivalled seaworthiness». At a cruising speed of 11-12 knots it will be able to sail up to four thousand nautical miles. The boat is expected to reach a top speed of 16 knots. She will be powered by two CAT C32 970 KW engines.
She will be powered by two CAT/ONAN 118 kW generators and a CAT/ONAN 50 kW backup.
With a maximum displacement of 450 tons, the draft of the boat will be 2.2 meters, so it will be able to sail quite close to the shore.
For the tender, the authors of the project have left an area aft on the upper deck. To lift the boat to this height, a crane capable of bearing up to three tons will be installed there.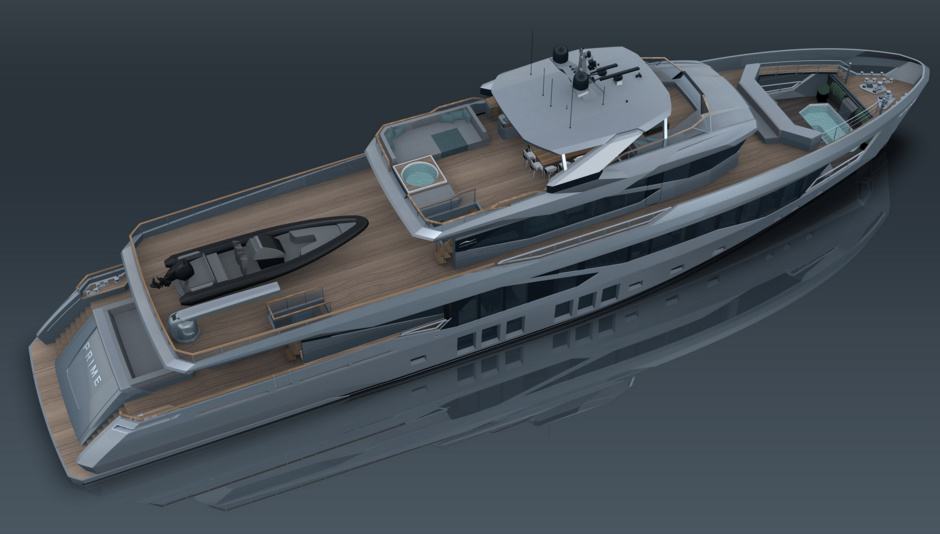 » At «the traditional garage area aft on the lower deck will be only a spacious covered beach club with a separate bathroom and a small storage room for the necessary small items.
The maximum width of the hull will be 9.25m. Eight cabins (the cabin layout suggests 13 persons) will be provided for guests and crew. Most of the cabins will be located on the lower deck: the guest cabins at midships and staff cabins in the foredeck - separated by a small galley and a wardroom. The main galley will be placed on the main deck above.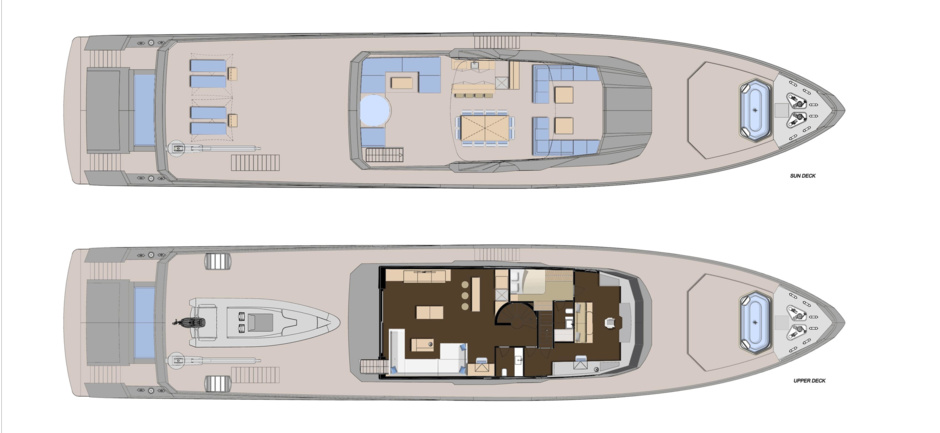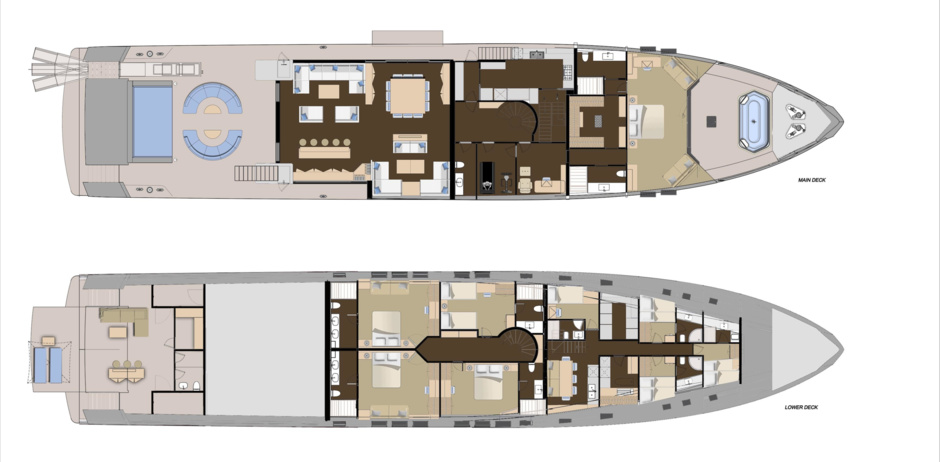 The owner's suite will be forward on the main deck.

From here, the Master will have direct access to the outside area with a plunge pool.» A window has been made on the upper deck above «.
It will probably be possible to jump into the pool from there, if the water depth allows.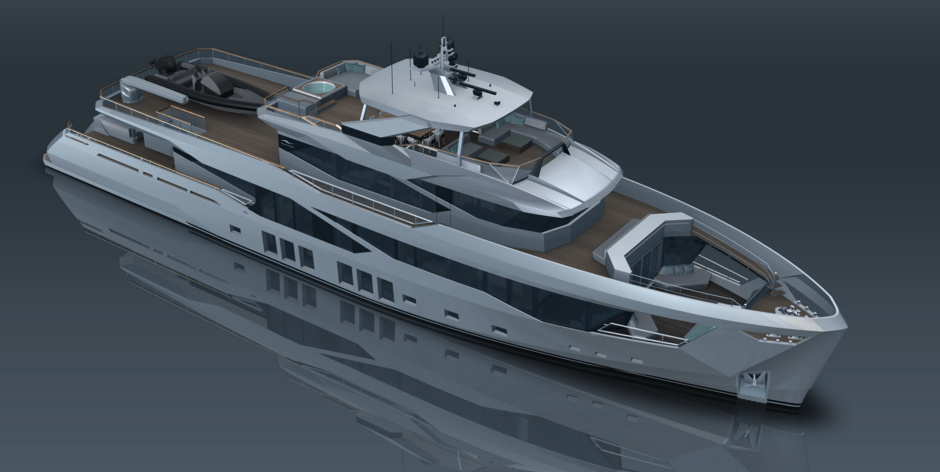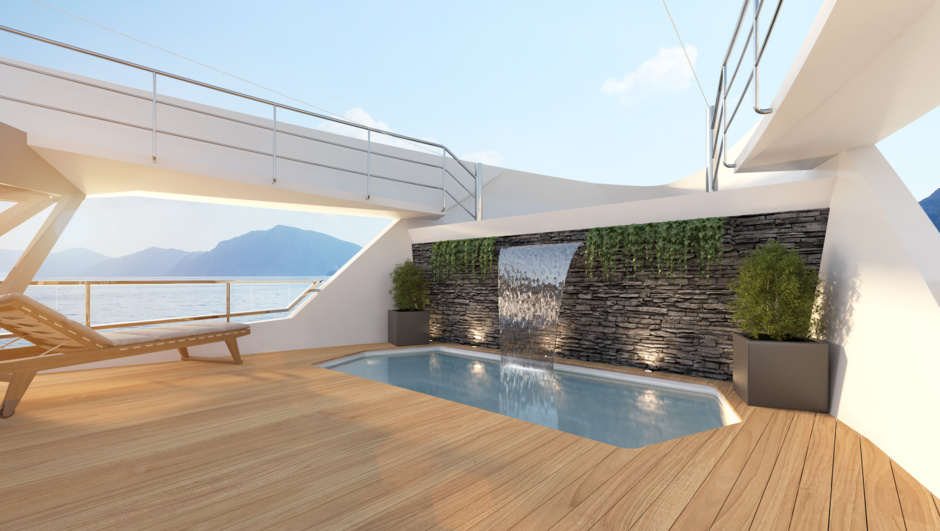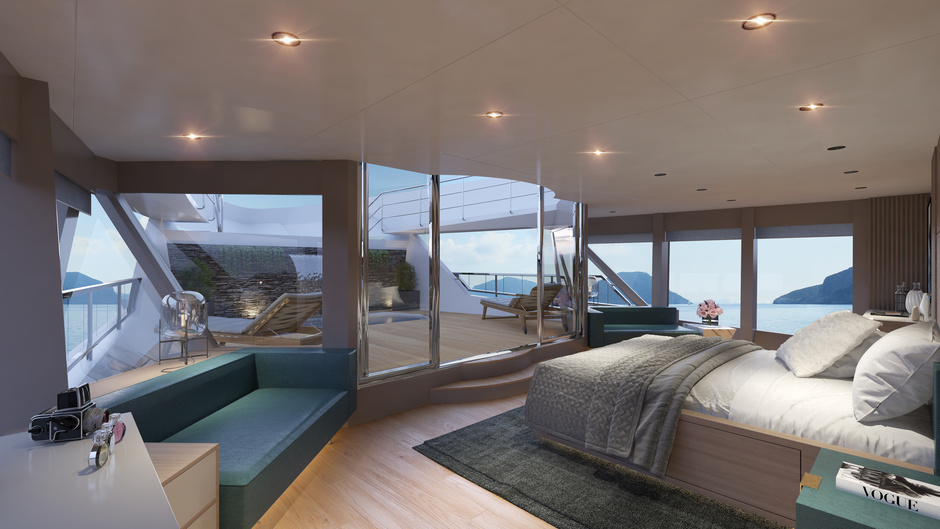 Adjacent to the master stateroom will also be a study and a small gymnasium with separate WC. Another layout highlight on this level will be the balcony on port side that can be accessed from the salon.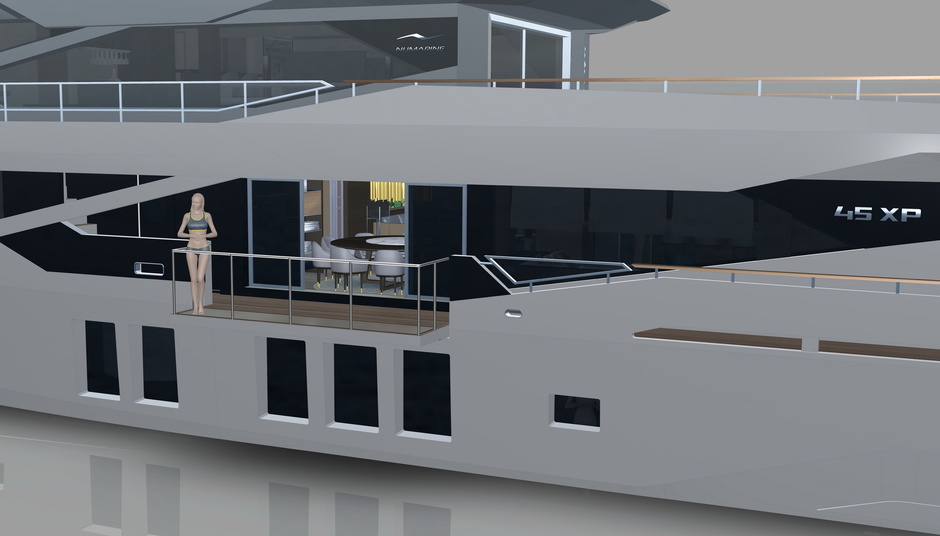 » A further two-person cabin «will be located on the upper deck next to the helm station. A Jacuzzi will be located on the sun deck above.
Her design is completed and now it is a question of building the first hull. The yard has already received several offers from potential future owners.