Not only fashion houses, but also yacht and boat manufacturers regularly update their range. Although it is impossible to draw up a full calendar of premieres for the year in advance, itBoat has compiled new models, whose forthcoming releases are already known in the first weeks of the new year.
The first of the three parts of the selection consists of small yachts and powerboats up to 15 metres in length.
Axopar 22 Spyder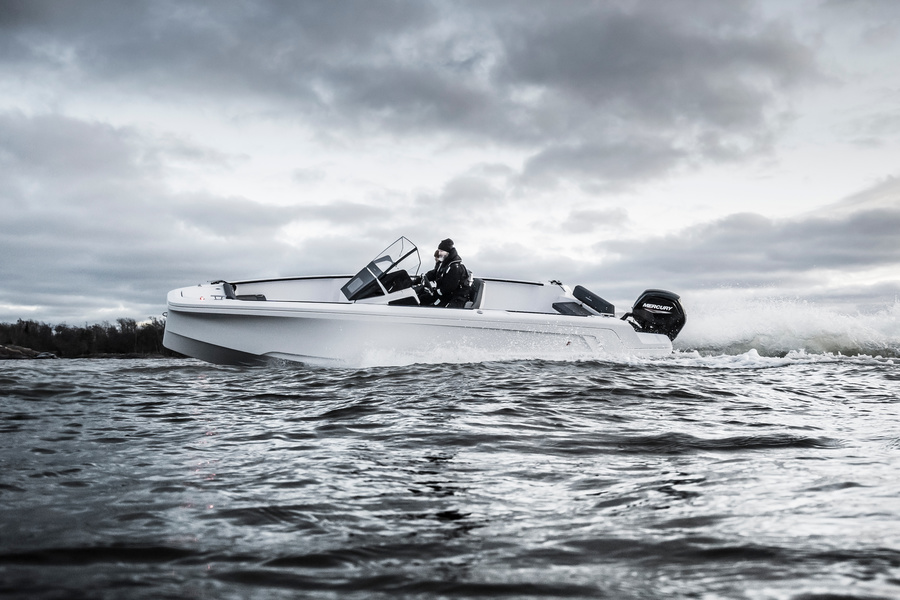 Formally the first hull of this model was presented on Youtube on December 8, 2020. But surely this 7,2 meter long boat for 7 passengers can still be put on the same level with the boats that will be presented after the New Year, in January or February 2021.
Axopar 22 Spyder is an example of a boat with first class handling which can be compared in level of comfort to the larger 8,5-11 meter models of the shipyard.
It is fast, but safe, stable and predictable, a boat for coastal cruising that consumes fuel economically.
The compact Axopar 22 Spyder retains all the qualities of its bigger brother and yet has something of its own, such as the ability to manoeuvre easily in tight places with minimal downwind drift.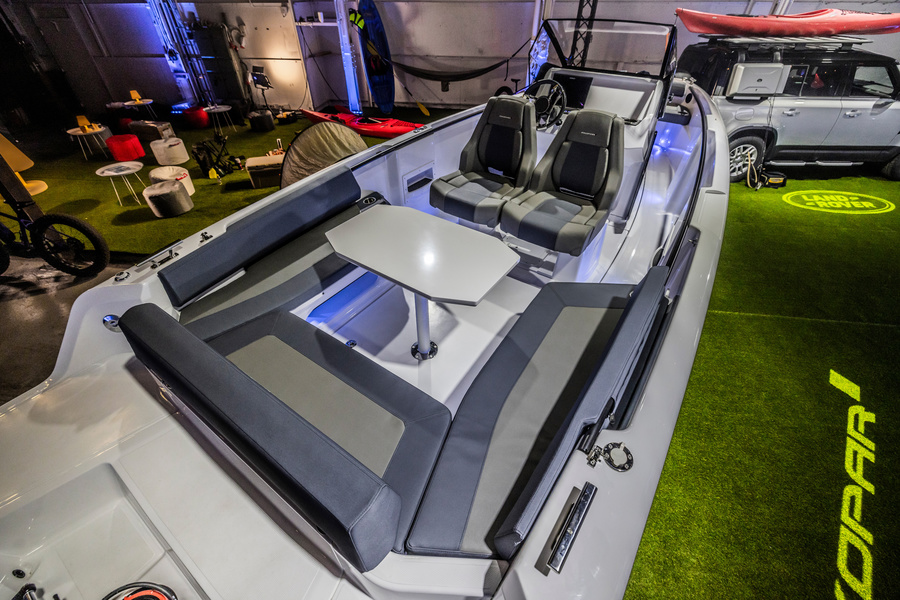 The model is available with 115-200 hp outboard engines which allow the boat to reach a top speed of 45 knots.
«With the most powerful engine at a cruising speed of 27 knots, the Axopar 22 Spyder consumes» 1 litre of fuel per nautical mile.
At the same time, up to 230 litres can be stored on board.
A wide range of options will allow owners to get a boat that suits their needs exactly. The layout can be changed, storage compartments can be added, and interceptors can be fitted .

For water sports enthusiasts in need of a powerboat, Axopar has developed special bundles of options in conjunction with Jobe Watersports.
Highfield Boats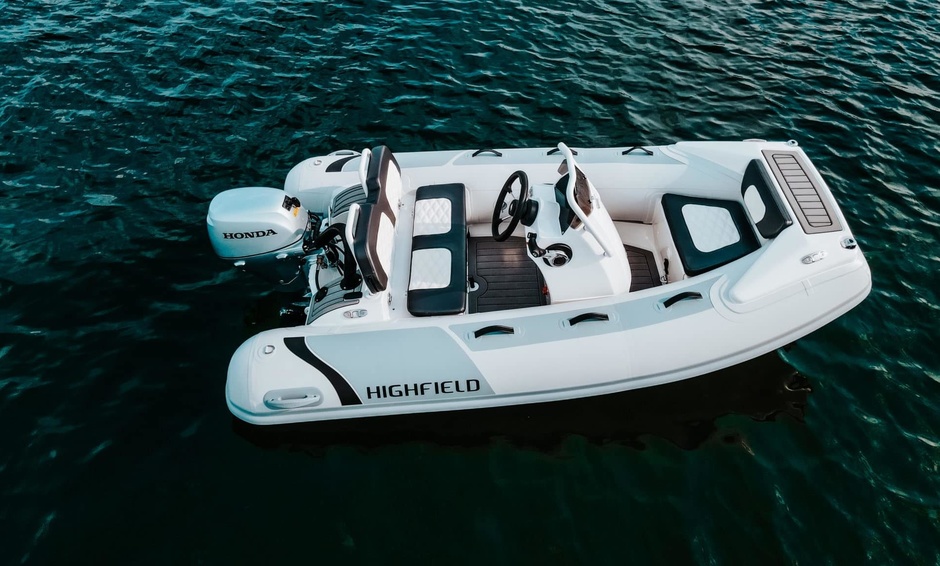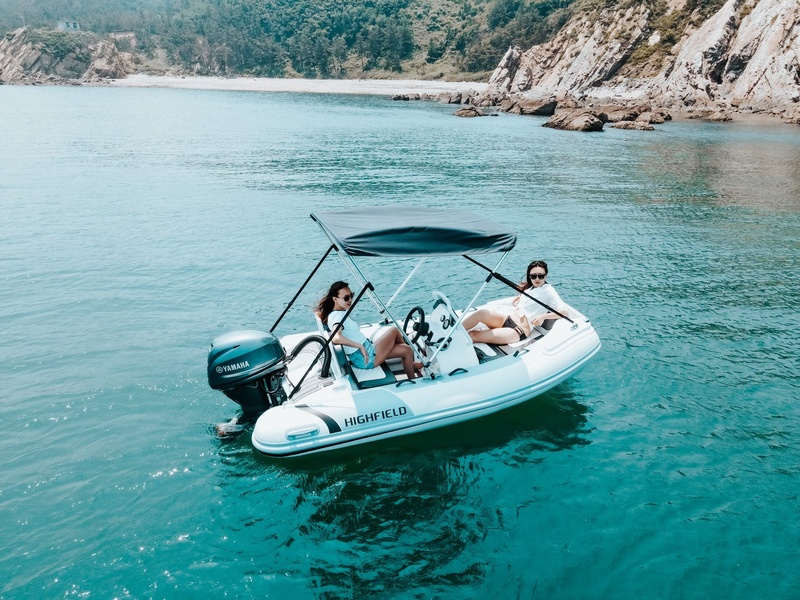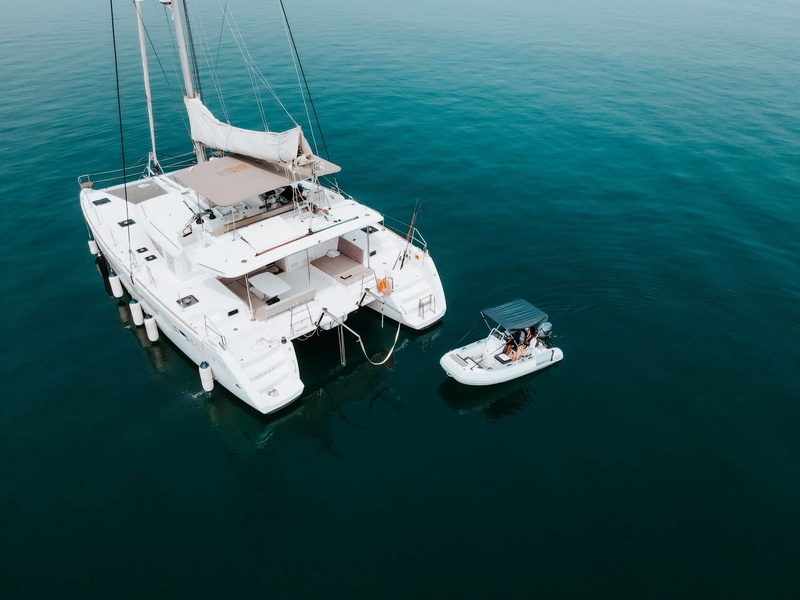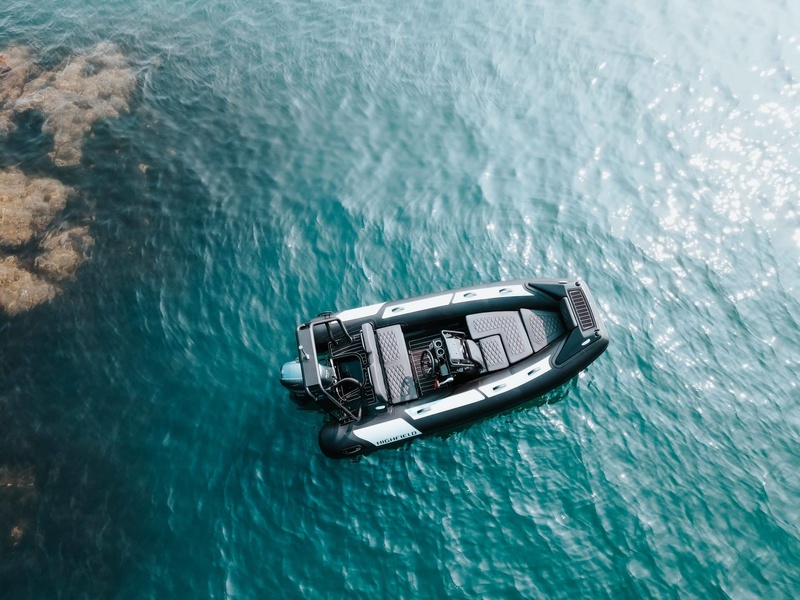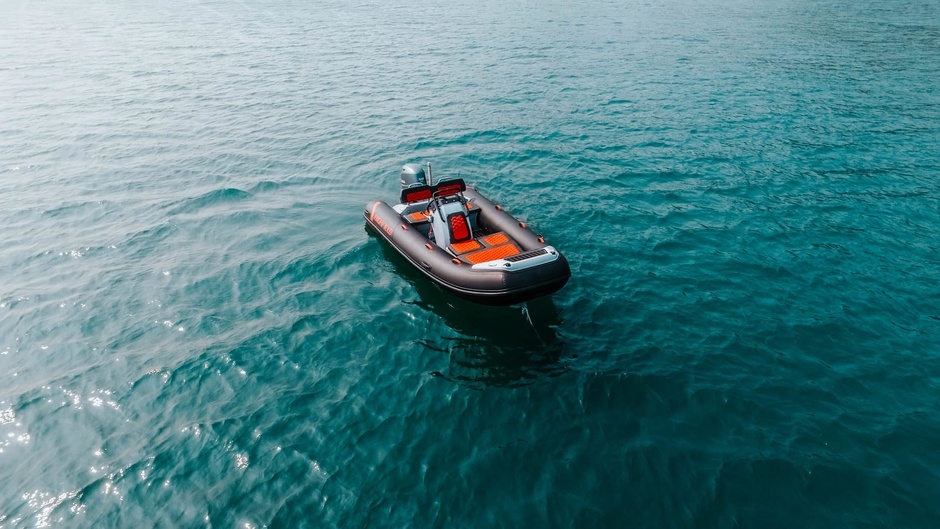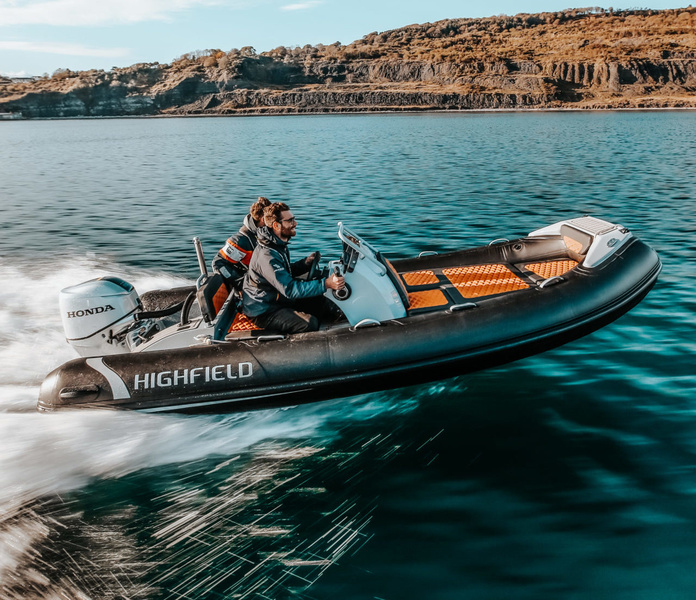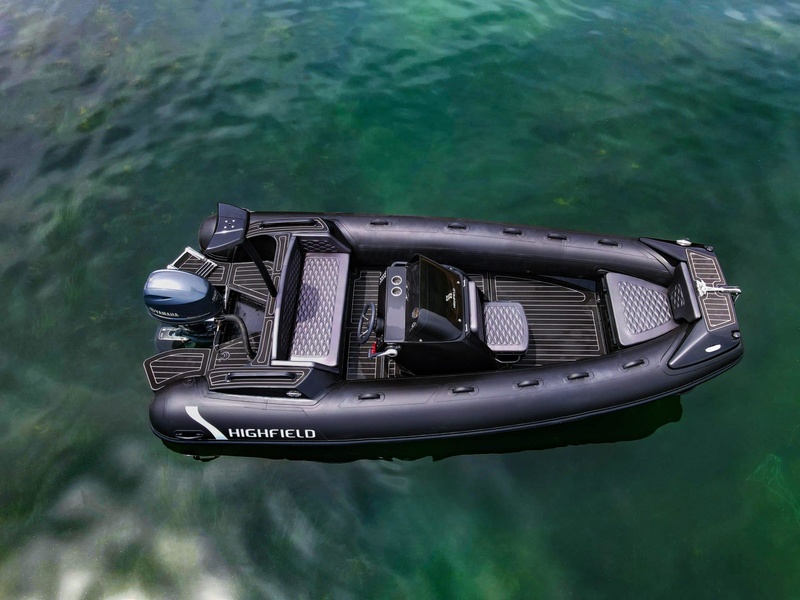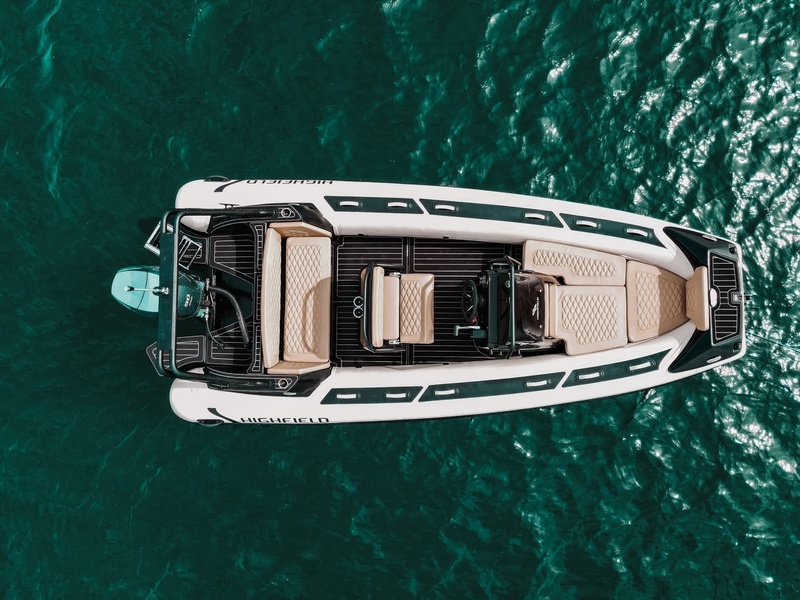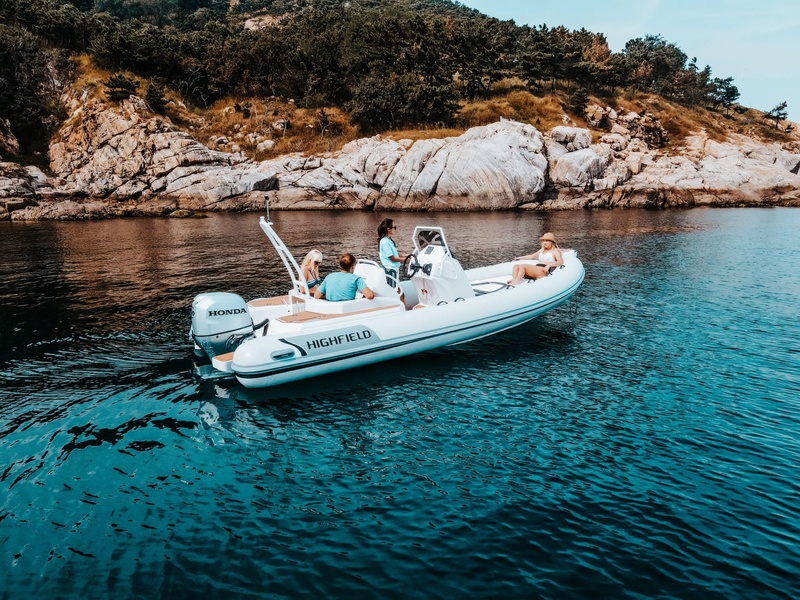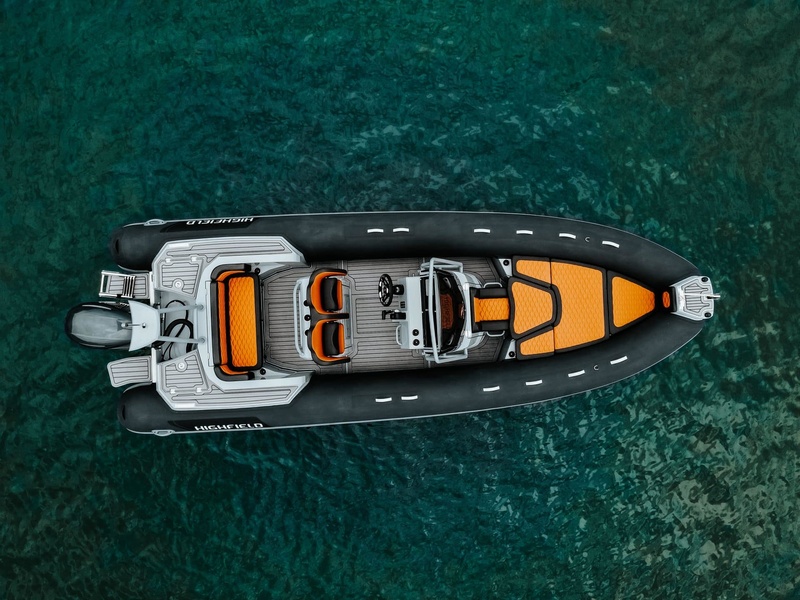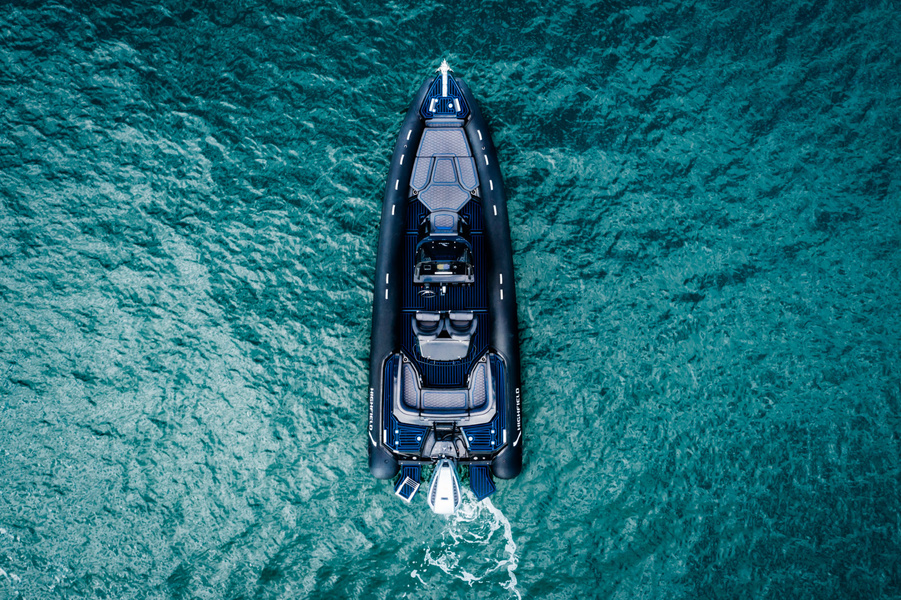 US powerboat manufacturer RIB Highfield is launching a new range of performance optimized aluminium-hulled models for 2021.
With a line-up of 11 boats from 3 to 8 metres in length, Highfield is embarking on a programme that will see it developed over the last ten years.
They have been under development for the past 10 years. The new flagship SP800 has a stepped hull from the Norwegian studio Berserk Design Racing led by Petter Martens.
The three younger models, not reaching 4 meters in length, are oriented to use as tenders or to make other short trips. They are lightweight and easy to board and launch, store and maintain. Meanwhile, the fuel tank is neatly hidden away and will not get in the way.
The following three models in the 3.9 to 4.6m range are designed to provide companionship for larger yachts. At the same time they can be used as compact but quite comfortable family day cruisers.
The two 5-metre Highfield models in the new range claim to be the roomiest RIBs in their size.
They will be used both in cool and rainy northern climate (thanks to the system of self-ventilation), and in the south, where will be very useful full-side Sundeck.
The sea-going performance and ruggedness of the SP520 and SP560 hulls is well proven, with the new updated hulls that were tested extensively on the two Highfields around Ireland seven years ago. The expedition went off without a single mishap.
The three largest RIBs in the new range are also based on well-proven hulls. They are extensively used as lifeboats in the UK and as fire-fighting vessels in Germany, as well as helping to stage regattas at various levels, including the Vendée Globe, the Extreme Sailing series and ORC races.«The flagship SP800 has ample WC space and a galley with» island for cooking.
X-Power 33C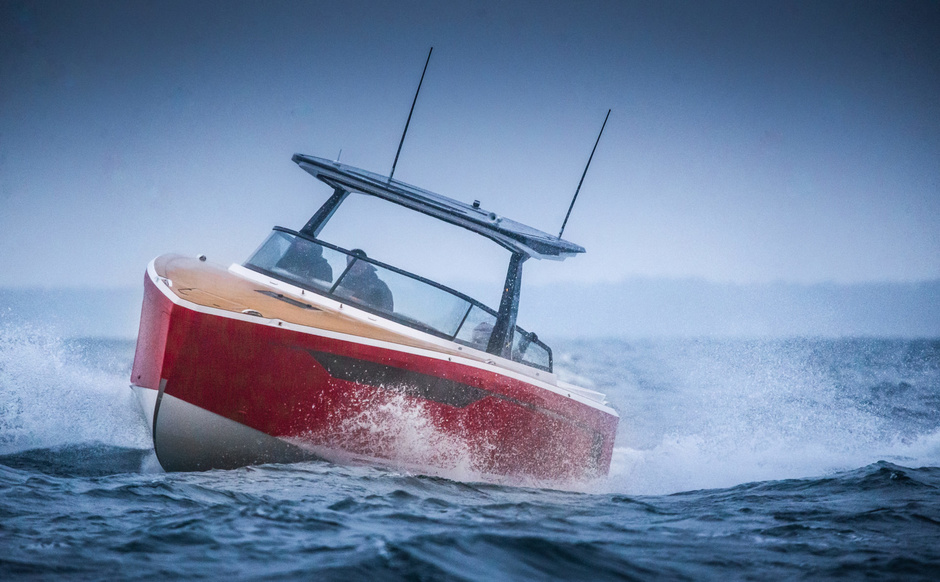 The 10.2m X-Power 33C is the first powerboat from the Danish X-Yachts shipyard. The company previously built only sailboats.
It was based on stepped hull with a patented Petestep technology. The same type can be found, for example, on RIB powered by electric motor Zodiac eJET 450 . The Petestep development makes the boat more stable both when cruising and when parked. All 8 passengers will also appreciate the smoothness with which she moves through the waves. Furthermore, thanks to the improved hydrodynamics and reduced water resistance, the stepped bottom optimizes fuel consumption.
The X-Power 33C will require 35% less energy to accelerate than comparable models of the same size with a different hull.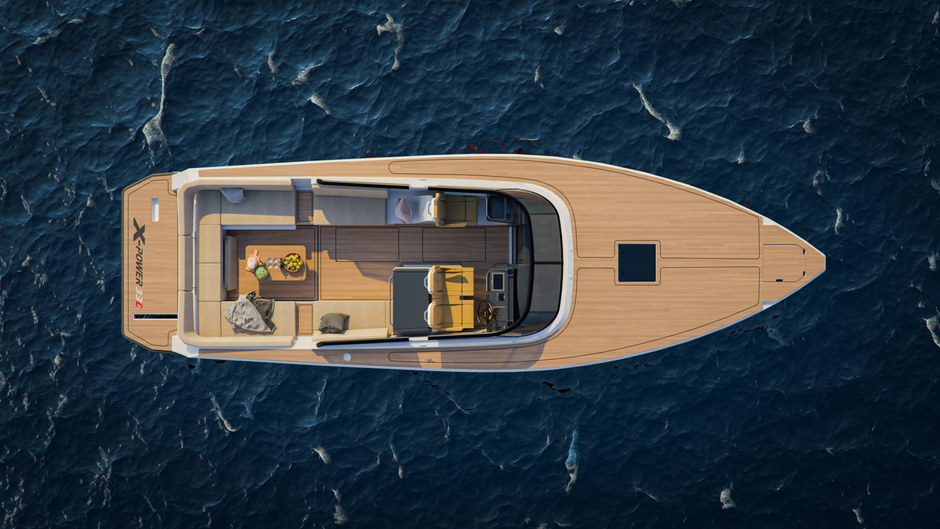 The model will be delivered with Yanmar stationary engines rated at 320-270 hp.
The official presentation of the boat is scheduled for January 16.
Bavaria Vida 33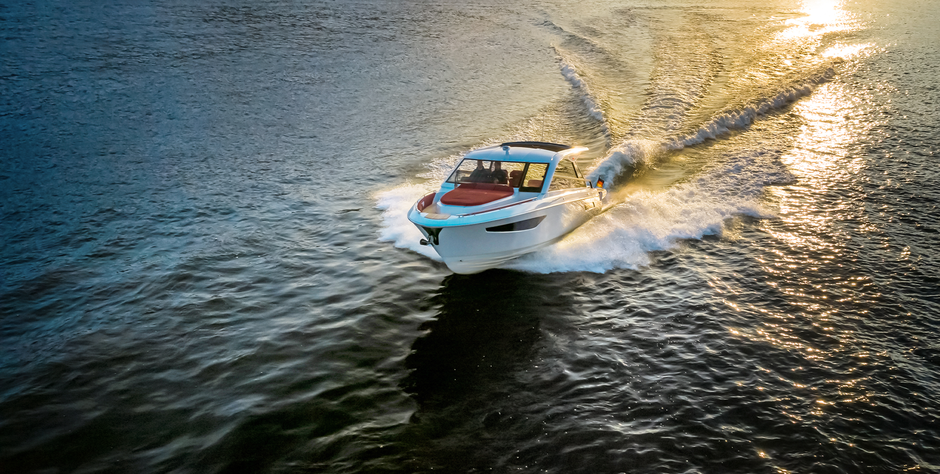 It will be possible to get acquainted with 11-metre motor novelty from German shipyard Bavaria in spring. The model will be presented at the booth of the company at the boot Düsseldorf show which was postponed from January to April.
This sportboat with its dynamic and elegant silhouette will be available in two versions: open and hardtop. The forward space of the boat can also be customized according to the owner's preferences. Upon request, it can be a relaxation area for six with a cocktail table and sofa or a spacious sunbathing area with a one-level sundeck along its perimeter. In total, up to eight people will be able to gather on board.
Regardless of how the forward section of the boat may look from the outside, underneath there will be a large transformer stateroom that will serve as both a crew cabin and adouble berth. There will be enough space for a small bathroom.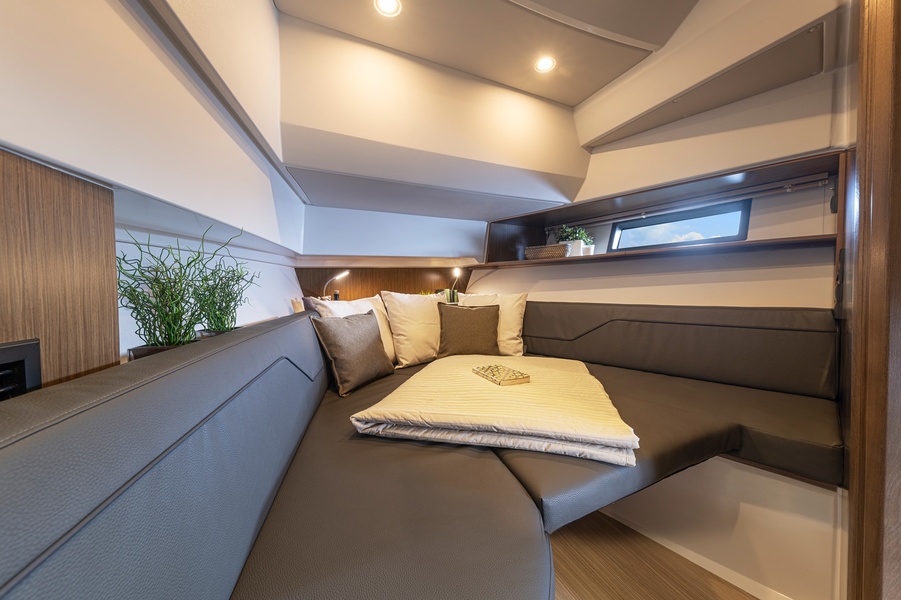 All these features will contribute to a comfortable use of the yacht for week-end cruising.
And with the CE-B certification (offshore, onshore), these cruises can be considered virtually limitless.
A pair of 150-300hp Mercury outboard engines will power the Vida 33.
Beneteau Gran Turismo 41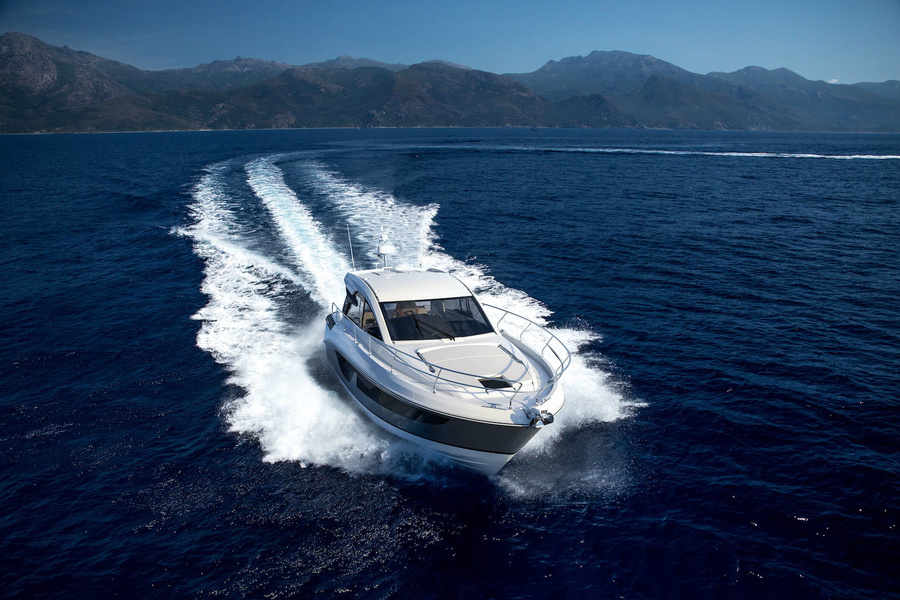 This time French shipyard Beneteau prepared an expansion of the fast cruiser Gran Turismo line as a present under the Christmas tree for its fans. The lineup will be expanded with another 12.7-meter model - a sporty, elegant successor to the popular GT 40, which has been in production since 2016.
Compared to its predecessor, the Gran Turismo 41 will be much more comfortable to live aboard. Take for example the forward beach club options, which now allow you to equip a sunbed with reclining backrests and install a sun awning over it. The sunbathing area aft has also been redesigned and is flush with the U-shapedsofa.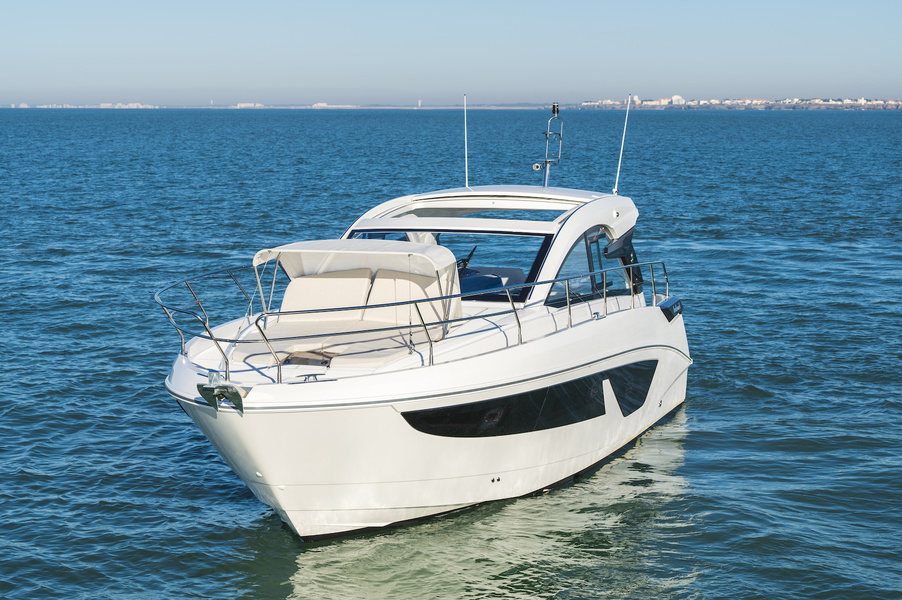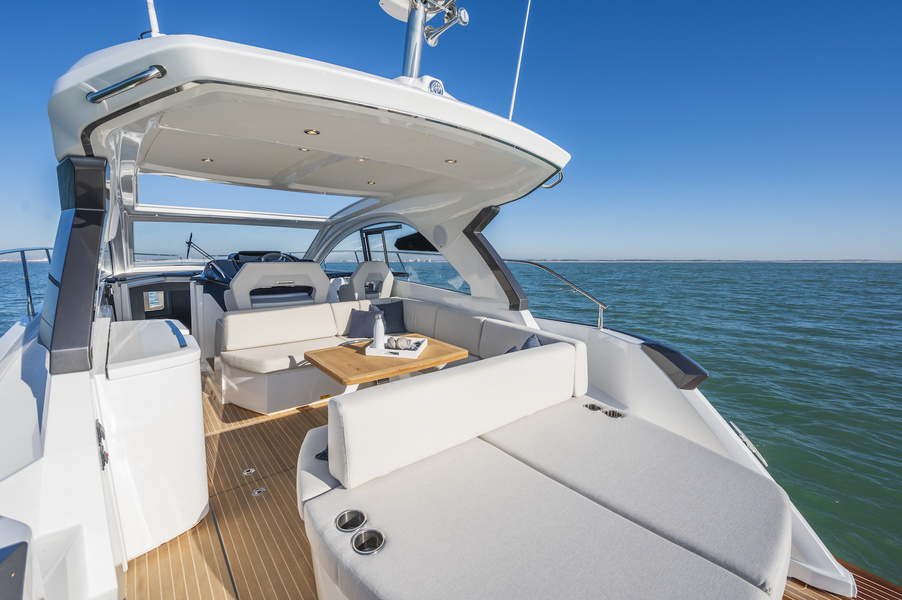 The glazing beams on board are extra slim, so that the cabin is flooded with natural light. At the same time, the roof, as on many other Beneteau models, has a sunroof as standard, allowing a refreshing sea breeze to enter the room. The lower deck will house the galley, WC and two staterooms across the almost 4m wide hull.
A pair of twin Volvo Penta 300-380 hp engines will propel the GT 41 to 33-38 knots.
The Air Step hull, with Beneteau's own technology, will guarantee fuel economy and yacht stability even at high speeds.
This is further aided by her Zipwake interceptors.
Valhalla V46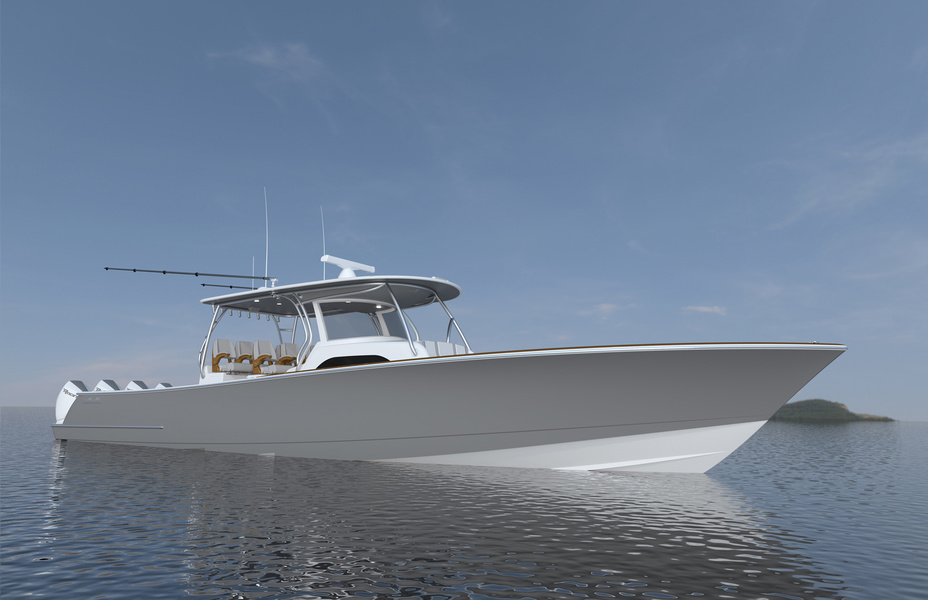 US boat manufacturer Valhalla Boatworks («a subsidiary of» Viking Yachts since 2019) will add a fourth model - a 14-metre boat - to its range from the end of January 2021. Like the brand's other 3 boats, this will be a center console model with outboard engines. It will be based on a two-stage hull designed by Michael Peters Yacht Design, who also works with Jeanneau and Hinckley.
The 4m wide boat has been converted into a massive center console cabin that is flooded with light through four portholes and boasts a 2m high ceiling.
There is enough space for a galley with a two-burner stove and microwave, and for a forward corner sofa-turner with a table in the bow that turns into a big bed at night.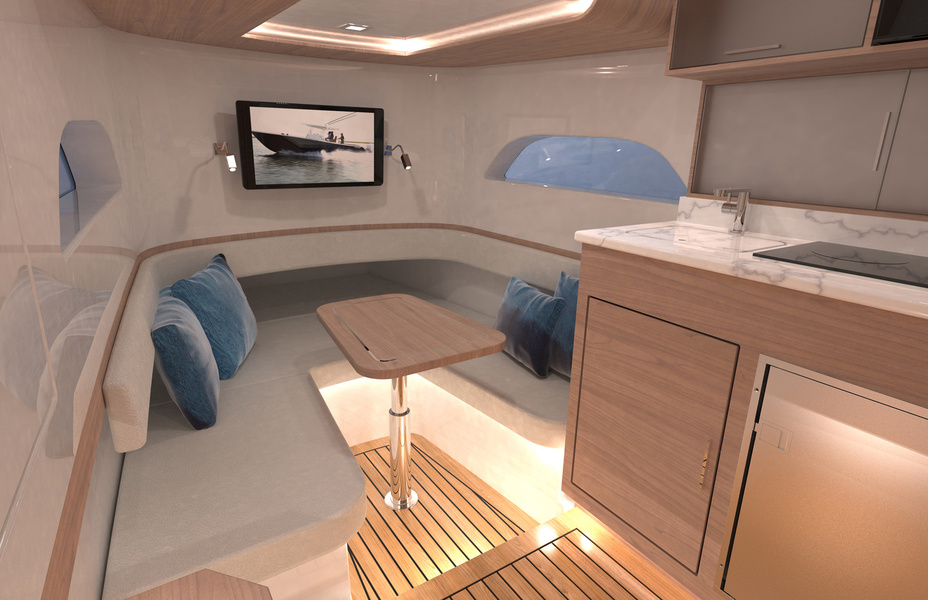 Deck seating and settees are also available for fishing trips with family and friends (and fishermen are this boat's primary target audience). For fishermen, on the other hand, the V46 has roof-top options. The owner will be able to select the rod storage and retention system that suits him.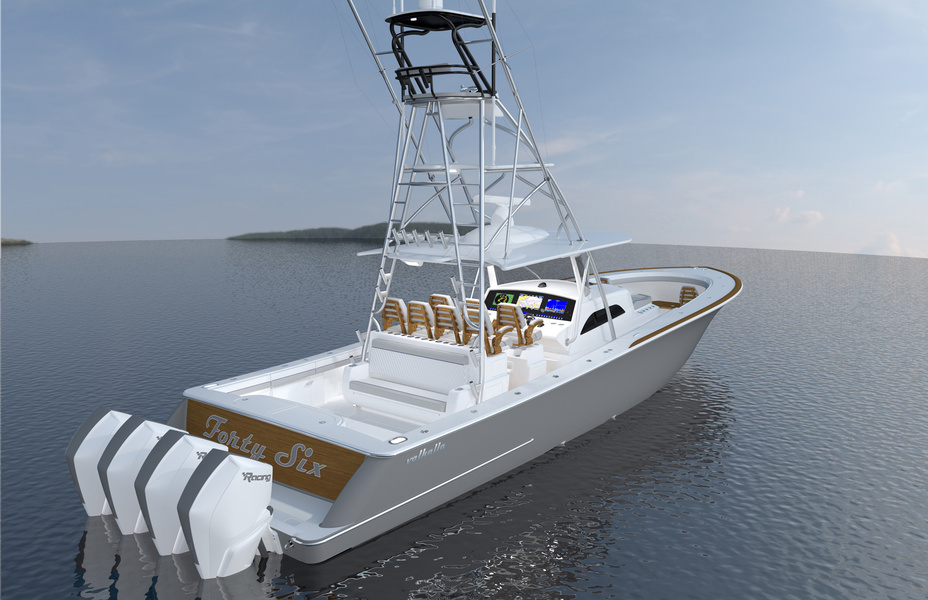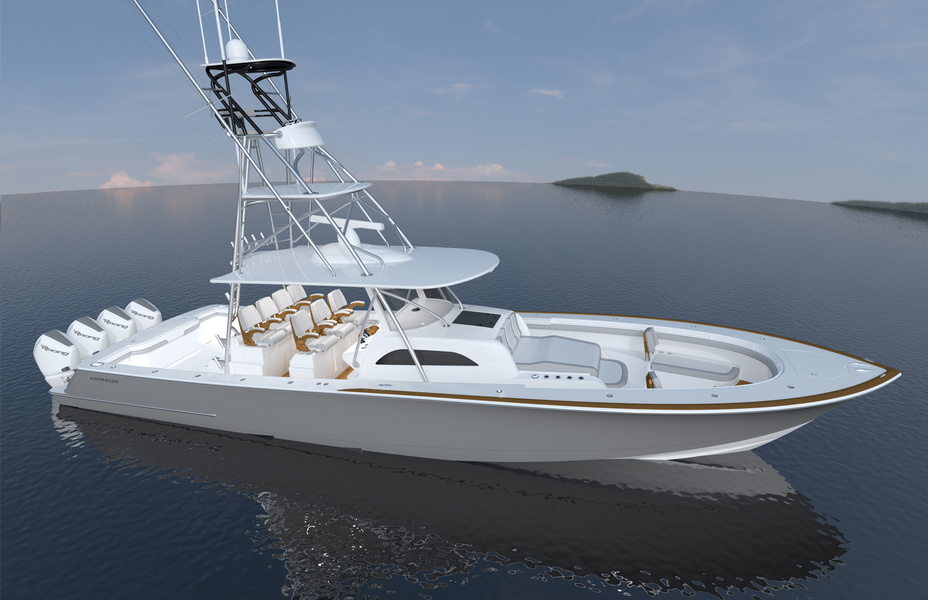 For storing catches, up to five lockers can be installed on the boat's deck, each equipped with choppers and a drainage system.
A 700 litre fuel reserve will allow you to go fishing in places that are far away from the home marina.