Slovenian GreenlineYachts is expanding its «range of eco-friendly» hybrid motor yachts. The new Greenline 45 Fly will be presented to the public during the upcoming Cannes Yachting Festival, which will take place from 10-15 September.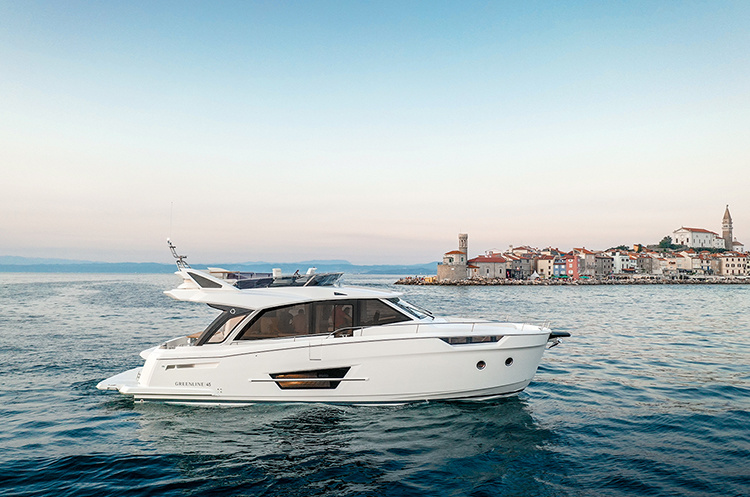 «Although Greenline 45 Fly has a sporty profile, it is a practical and spacious cruiser that is ideal for spending long hours on the waterwith familyand friends», as described by Greenline.
J&J Design was responsible for the exterior design and naval architecture of the 14.43 meters boat. The stylish interior, filled with natural light thanks to the abundance of glass in the superstructure, was designed by Italian Marco Casali from Too Design.
The enclosed cockpit, comfortable forward seating and well-proportioned flying bridge will offer a private area for utmost relaxation.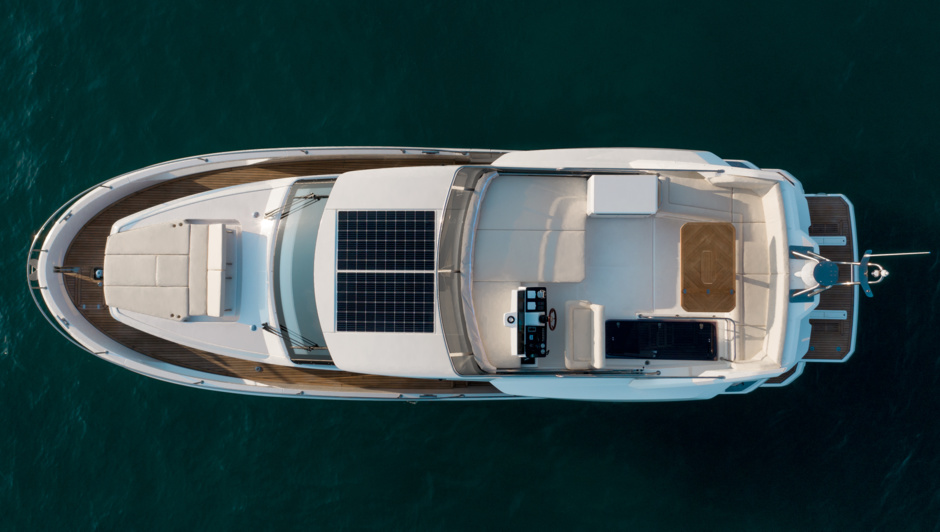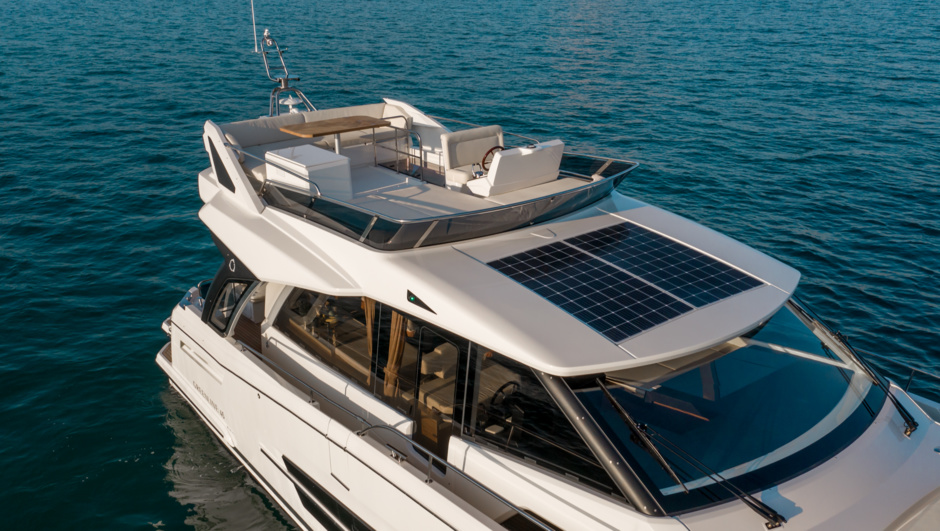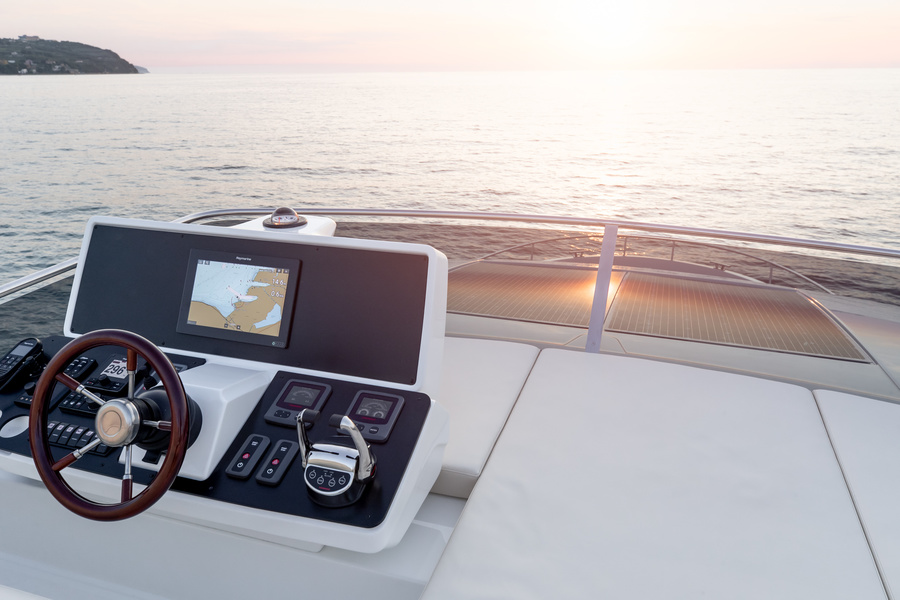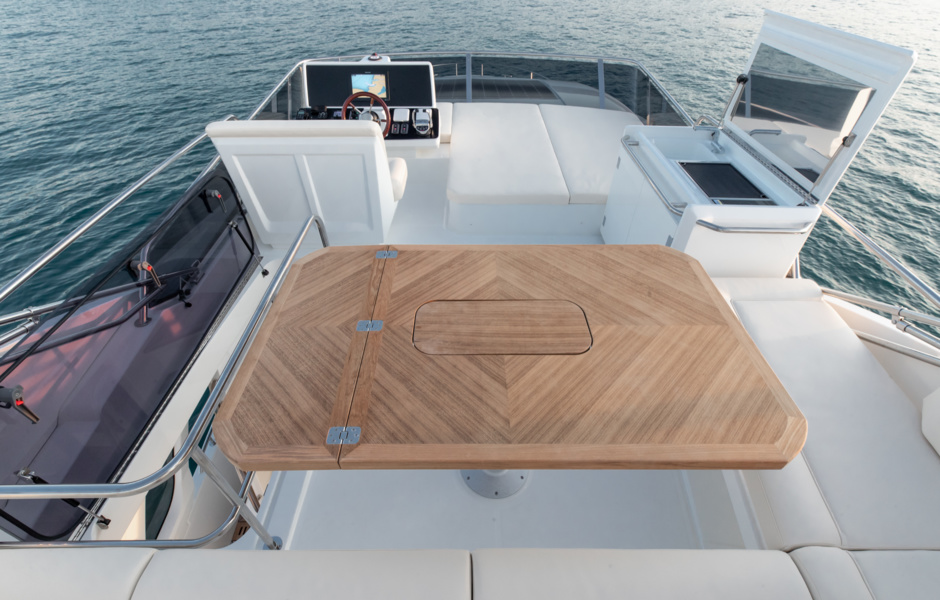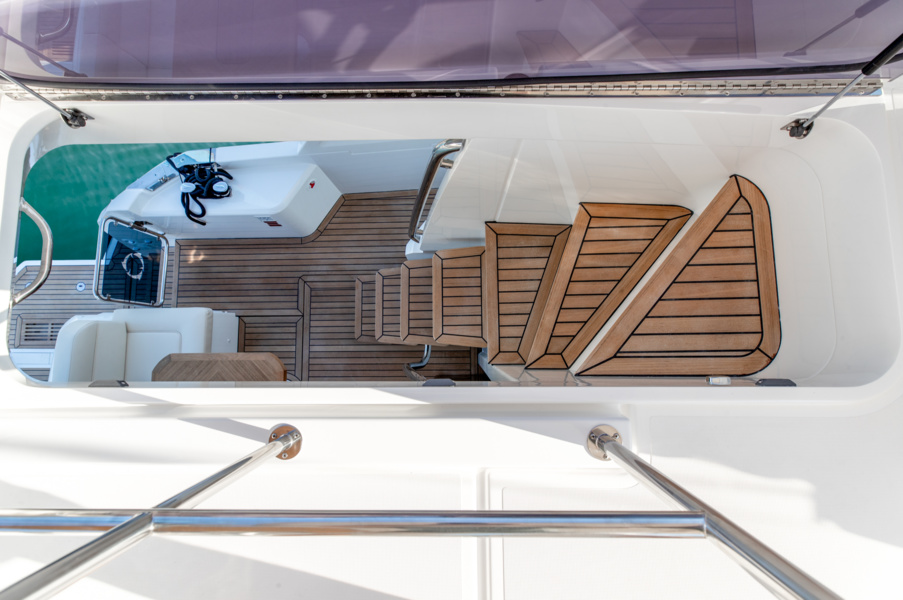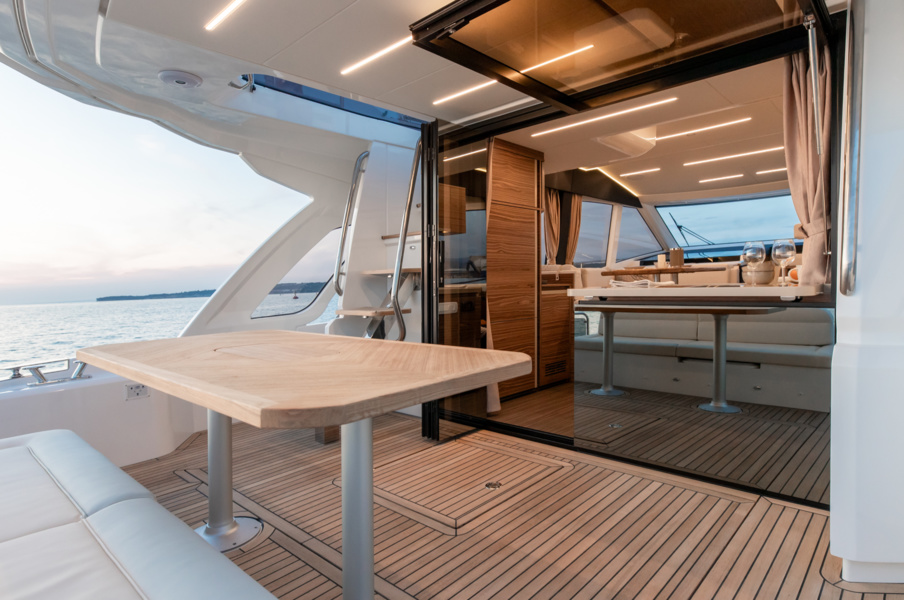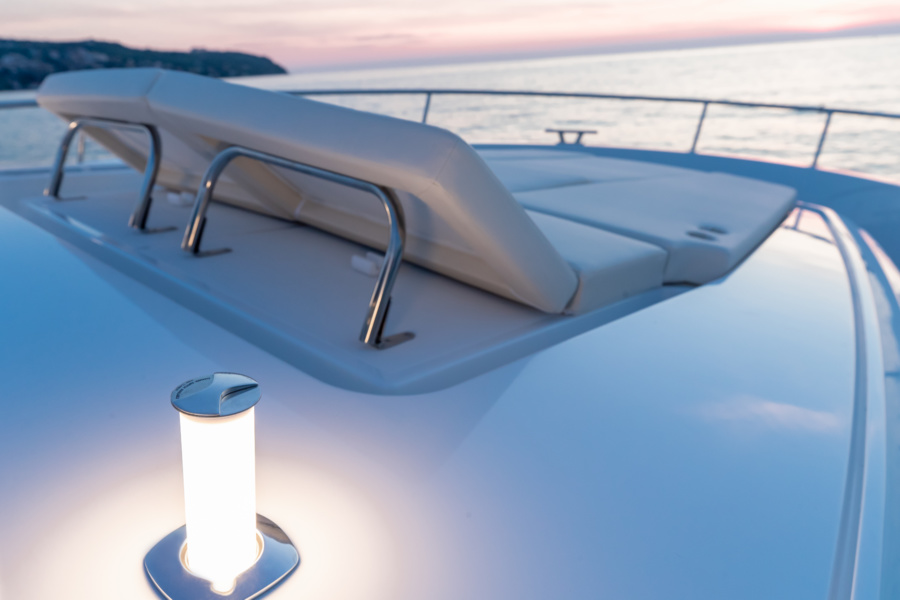 Upon request of future owners, a foldable swim platform can be added aft. A swim platform will provide additional onboard storage for water toys.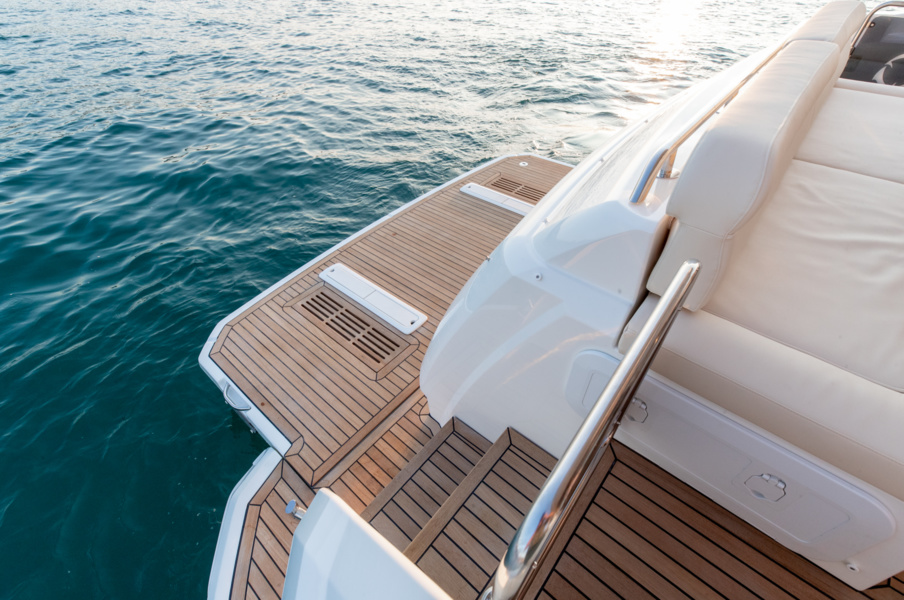 Greenline offers two layout options: two cabins with two walk-in closets or three cabins with two spacious bathrooms.
The main trump card of the 45 Fly is her master stateroom.
Lying on a king-sized island bed, boat owners will enjoy a bedroom that would grace a higher class yacht as well. A brightly lit dressing room offers not only hangers and drawers, but also a vanity table.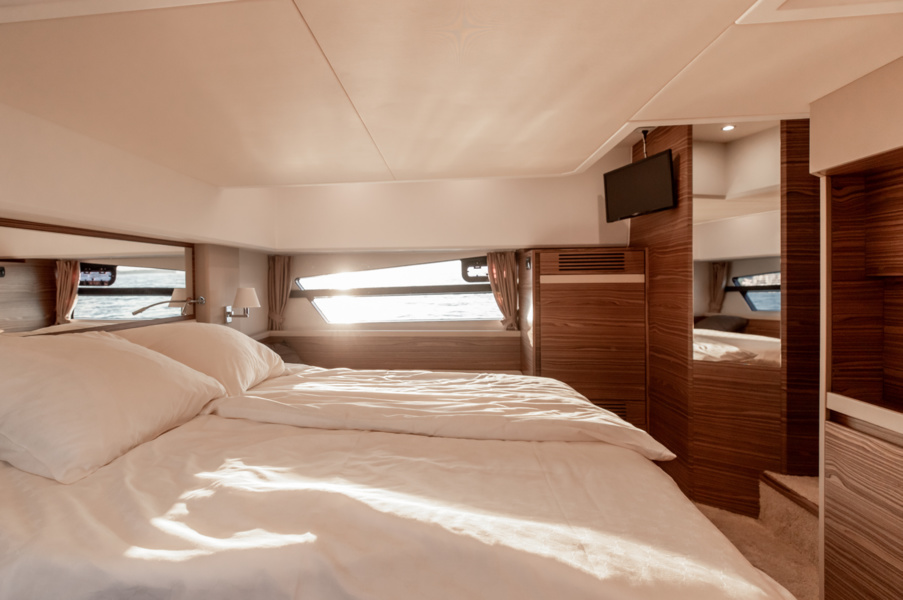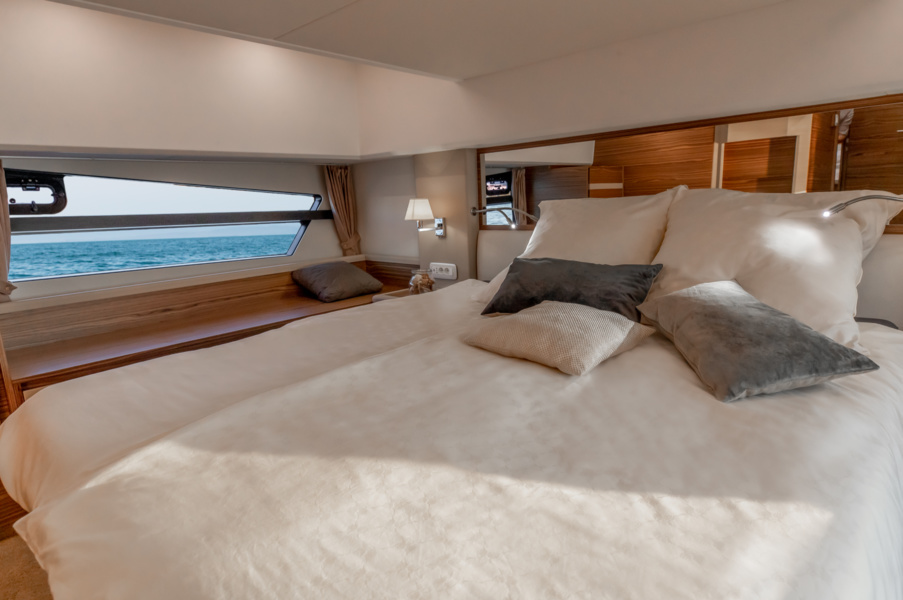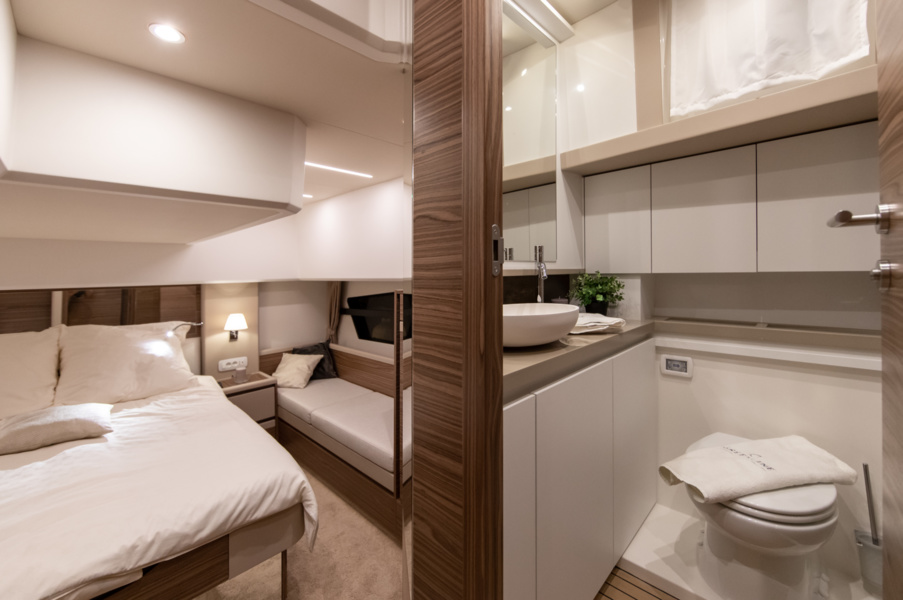 The forward VIP stateroom boasts two meter ceilings and good light exposure thanks to eye-level windows. The classic round portholes at bed level provide ventilation to the cabin, so you don't need to turn on the air conditioning.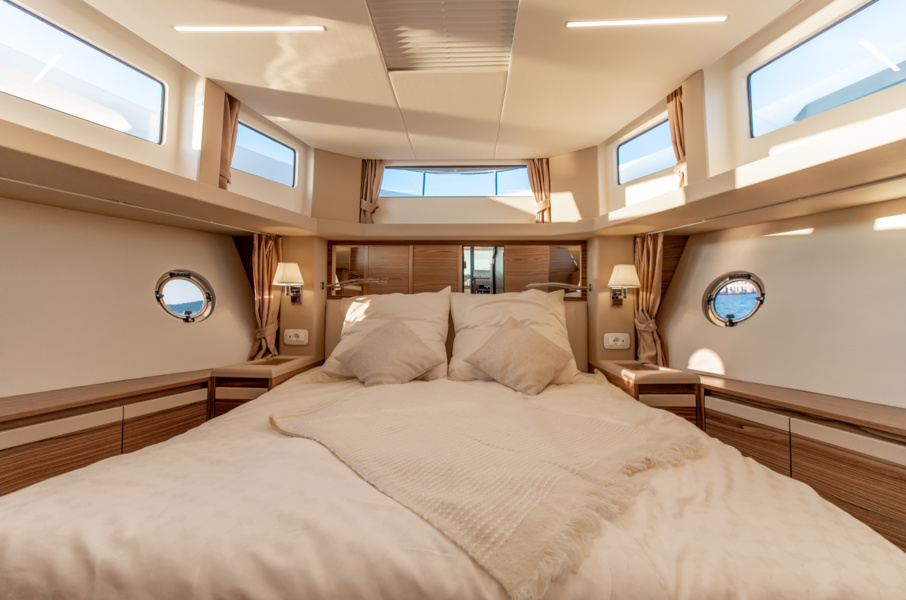 The three-cabin layout is created by not having a walk-in closet in the master stateroom. In its place there is an additional cabin either with a double bed or with folding bunks and wardrobe.
The 45 Fly's galley has everything you need for comfortable cooking: a refrigerator with freezer, induction stove and oven. An optional grill and sink can be installed on the flybridge.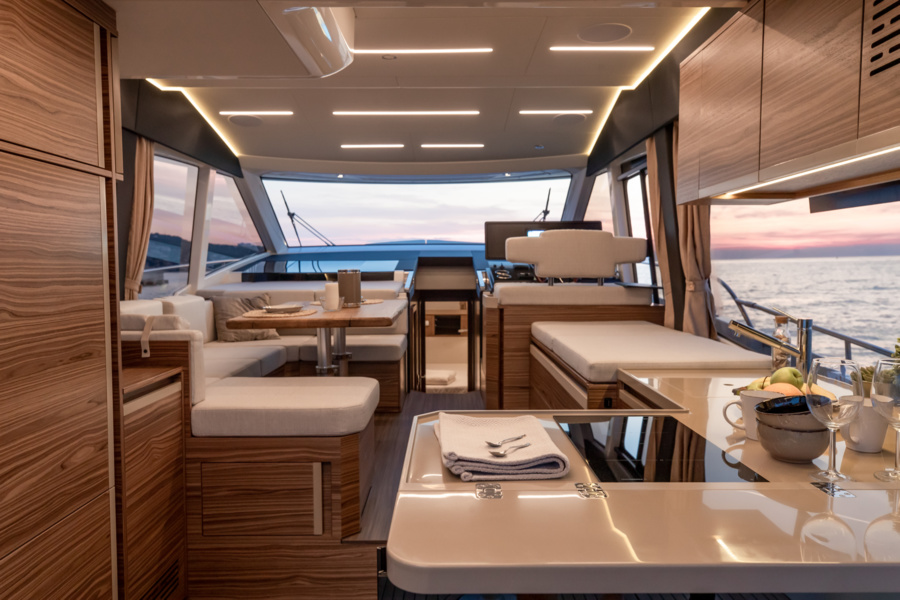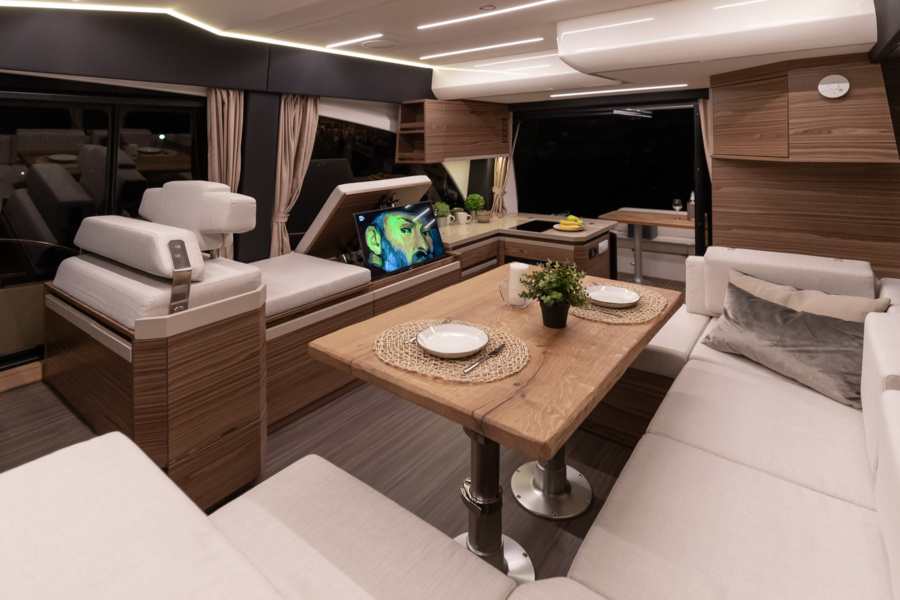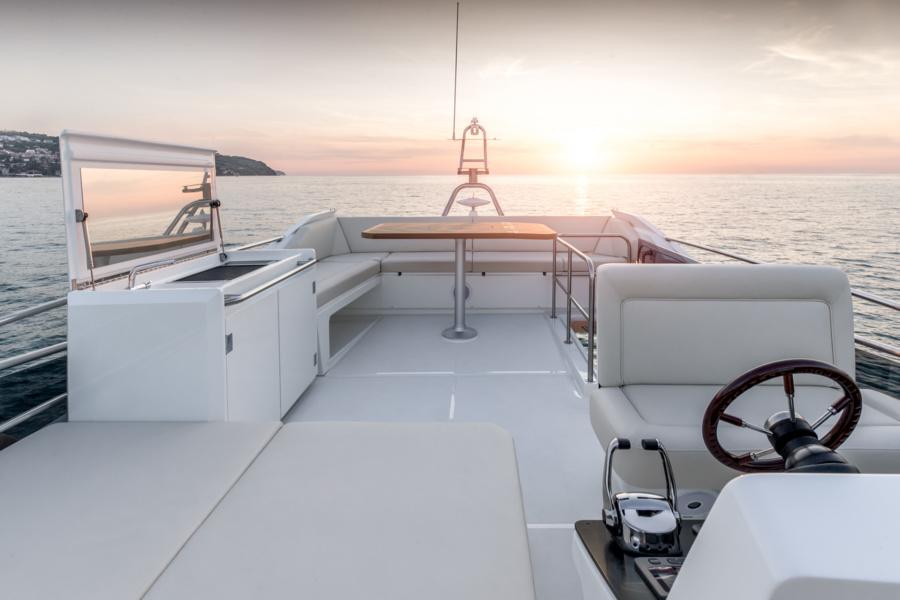 The owner can choose Volvo Penta or Yanmar engines. In the standard configuration, a pair of 220 hp diesel engines is installed onboard. However, they can be replaced with twin 370 hp engines and the 45 Fly will be capable of a top speed of 25 knots. It is also possible to install Volvo Penta IPS500 (380 hp each) or IPS600 (440 hp each) and then the 45 Fly can be operated by joystick. If the IPS600 engines are selected, the boat will have a speed of up to 30 knots.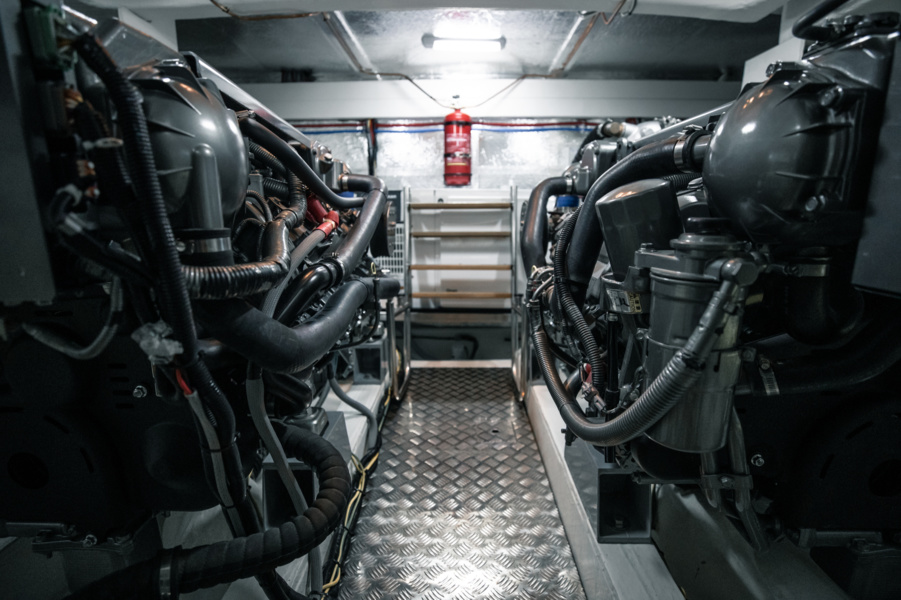 Which engine the future owner selects will determine the features of his future boat hull.
«Each hull is specifically designed with the type of drivetrain in mind to ensure optimum propulsion of the boat with the chosen engine», explains Greenline.
What else? The fourth-generation H-Drive diesel-electric hybrid unit. The combination of solar panels with a linear electric motor provides 230V AC power on board at all times, so there's no need to crank up the noisy generator. The outlets are positioned so you can forget about extension cords.
«No other boat in this size moves so quietly and produces no harmful emissions like the 45 Fly», Greenline proudly points out.
In silent mode, the yacht can travel up to 30 nautical miles at 5 knots. This mode is ideal for leisurely exploration of the shoreline from the water or approaching an anchorage.
Greenline has already received an order for 25 units. The first boats are scheduled to leave for owners in early summer 2020.