The creator of the «Dancing House» in Prague, one of the greatest architects of our time, Frank Gehry, finally fulfilled his long dream: he built a sailboat for himself, as amazing as his famous buildings. Itboat publishes the Foggy story told by Wiki Ward.
Last July, on Friday night, Frank Gehry, accompanied by his son Alejandro and friend Bobby Shriver, landed at Barnstable Airport on Cape Cod. Straight from the airport, they drove to Kennedy Compound Park in Port Hyannis. That's where he first saw her, anchored just off the coast. There was a crowd at the port because, as Gehry says, Hayannis is a «true sailing community»and also because Foggy (full owner's name Frank Owen Gehry) is a unique boat.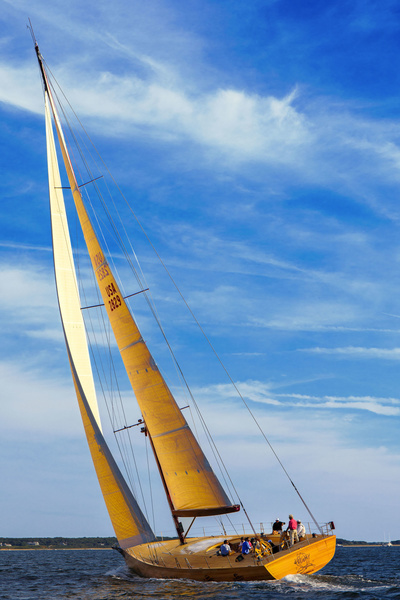 Made of traditional larch with accents of titanium and lattice windows shining in the sun like scales of fish, it looks like a mad mix of past and future.
Gehry sat down in an inflatable tender with red seats, whose colour echoed that of the 105-foot Foggy mast, and headed towards her, accompanied by a crowd of «John F. Kennedy» and «Mary Shriver». «I was very proud»then," he said later. Frank is almost 87 years old (his birth date is 2/08/29 - Foggy's sail number) and it feels like he's been walking his whole life to this point. Gehry is a passionate yachtsman and this passion has left its mark on many of the buildings he has designed: the Guggenheim Museum in Bilbao, the IAC building in New York, and most recently the Louis Vuitton Foundation in Paris. However, it was only recently that he decided to design his own sailboat.
«I used to have no resources, and when they came, I was too busy with my buildings»," he says. However, in 2008, Gehry began thinking about designing a boat. He has a Beneteau First 44.7 in a fiberglass hull parked in Marina del Rey, California. Gary rides it on Sundays, often with architect Greg Lynn. The wives of both men usually stay on the shore (Lynn even named his boat Girlfriend).
What if, Gary thought, he had managed to create a boat that would be both his business card and the bait for his wife Bertha?
He told the developer Richard Cohen about his dream. Also a yachtsman, Cohen wanted to build a big racing boat. They agreed to work together and invited Herman Frers, an Argentinean naval architect known for his designs for some of the world's most elegant and fastest sailing boats.
«Don't let me get too crazy," said Frers Gehry. - The boat has to be a working»boat.
Frers fulfilled this request by rejecting Gehry's plan to create a flat deck with no cabin. When it came to choosing the hull material, however, Frers and Gehry were divided. Speed-loving Frers offered a carbon fiber, lightweight and brittle material normally used for racing boats. But Gehry wanted a sailboat made of wood, partly because of «his knowledge» of the material, partly because he simply loved it. Frers got a bad feeling when he heard about it, because wood adds weight to a boat without increasing functionality. «I had little hope that the project would come true»," he says.
But in 2012, Cohen found a solution: to build a boat entirely out of wood, not partly. He contacted Brooklin Boat Yard in Maine, a small company known for its work with wood. One of the tricks of this shipyard is the «cold forming»method, which involves laying wood in several layers around a high-tech core, making the hull lighter and stronger than traditional formwork. Steve White, 61, owner of Brooklin Boat Yard in his second generation, was delighted to have had the opportunity to work with Frank Gehry, although the involvement of a non-specialist architect in the process did not make him any easier.
And then he got Gary's drawings of lattice windows on deck and aft. «Wildness!»That was his reaction.
In addition to the use of unconventional materials such as titanium, with which few marine engineers had to deal, the «spores were around every element of the boat - every bar, every door handle». There were fears that some of the unconventional elements would not only slow the boat down, but also make it unsafe.
«Glass takes a lot of strength»from the hull," White said, likening Foggy «windows to holes in the pipe».
To see if the lattice windows could withstand the pressure of the wave, he and his team took the samples to the University of Maine Technology Laboratory at Orono, where they were tested for durability. The windows were safe.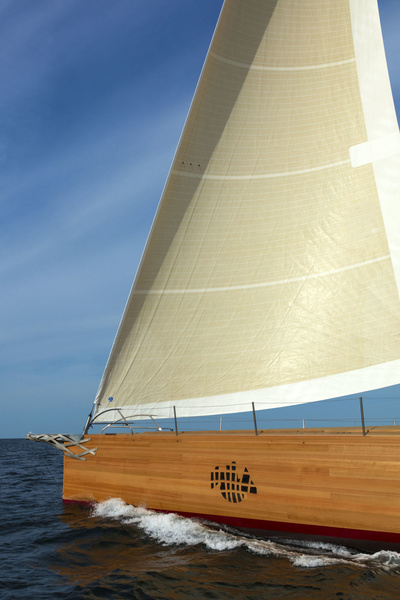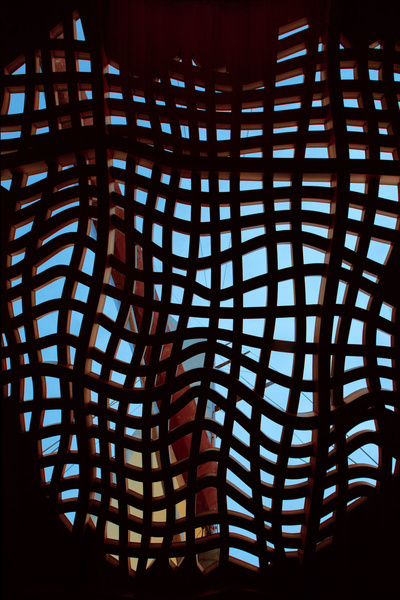 Understanding the «language of the» boat, Gehry, with the help of his son Sam and a 3D printer, had «fun»playing with Foggy's design.
«A boat like this is designed for romance»," says the architect.
At the heart of this fantasy is a salon with sofas covered in sheepskin from New Zealand and a psychedelic colourful carpet created by Joyce Sheen, Gary's daughter-in-law. Together, all of this transforms internal space into something between Austin Powers' lair and the discotheque.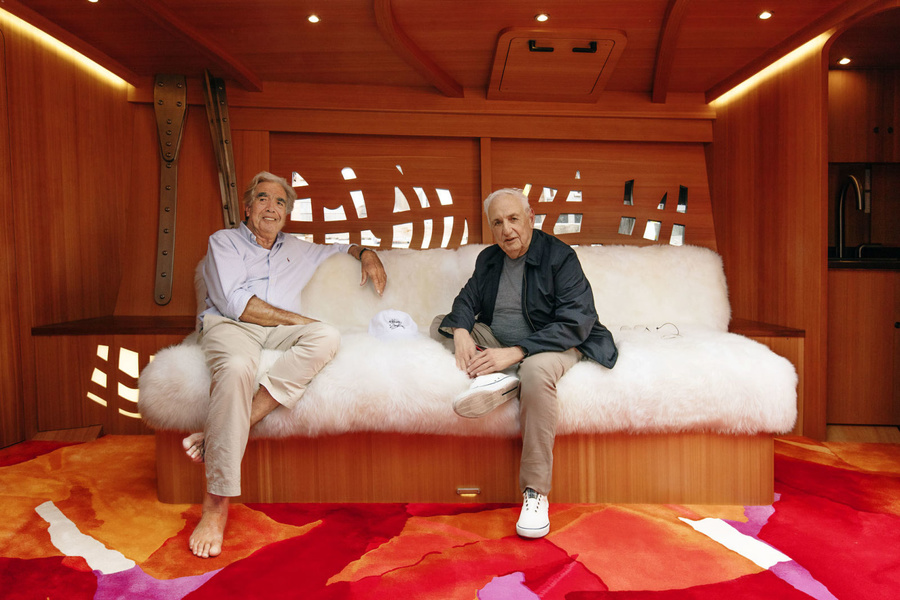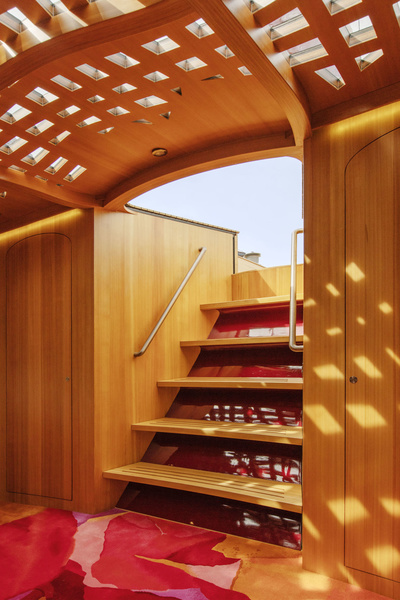 It's really «wild». When he first set foot on board the Foggy in Hayannis, Frers, like White, sighed a sigh of relief: «it works».
«It also worked» the following weekend, when Cohen and the crew were testing Foggy. Deprived of nectoses, bowsprits and unnecessary weight (including even a psychedelic carpet), equipped with black carbon-fibre racing sails, Foggy showed the best time last summer in the 52-mile Round the Island race.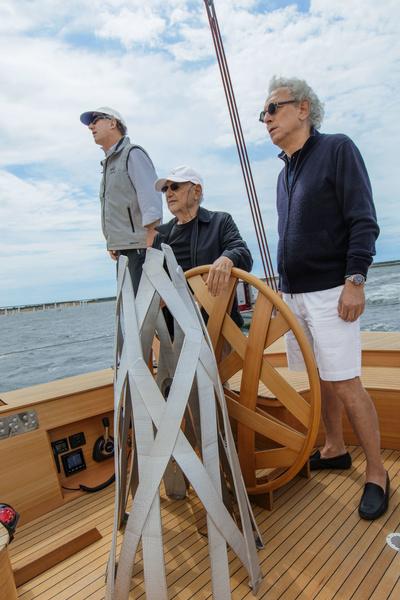 Gehry and Cohen plan to go to Foggy in Miami, Cuba and Panama where Gehry will visit his recently completed Museo de la Biodiversidad, planning a trip to coincide with the historic opening of the third stage of the Panama Canal Locks. After passing through the canal, Foggy will travel to Costa Rica, Lower California (location of another of Gary's buildings) and Marina del Rey, where Gary intends to race her for the weekend.
Well, what's next? «And then we build a spaceship»," says the architect.