The Ferretti Group blew up a yacht show in Cannes. This year the company presented twenty-five yachts, five of them world premieres. Six of the yachts brought by the Ferretti Group to Cannes took the World Yacht Trophy. The CEO of the Ferretti Group, Alberto Galassi, gave an interview to French Forbes in which he described the company's plans for the next five years. Here are excerpts from there.
In the next five years we will see another Ferretti Group, which will be very different from the company you know today. We will support our development by acquiring a new production site in order to increase our production capacity. At the moment, we have almost exhausted our existing production capacity and infrastructure.
We have set ourselves the target of achieving a profit of EUR 1 billion.
We will invest heavily in research and development of new products, as well as in the design of new models, which we hope will always be only better and more beautiful than the previous ones.
In the next few years you will witness the emergence of a new brand in the group's portfolio, perhaps even two, and the opening of a new production site.
In 2019 we will release six new models. In the near future the first Ferretti Group yacht with hybrid engine will appear. I do not believe in fully electric yachts, but in hybrids. Why not? Because we are not yet technologically ready to switch completely to electricity - the question of batteries has not been resolved. The same problem is now acute in the world of car manufacturing. But I am sure that hybrids will change the landscape of the yachting industry in the near future.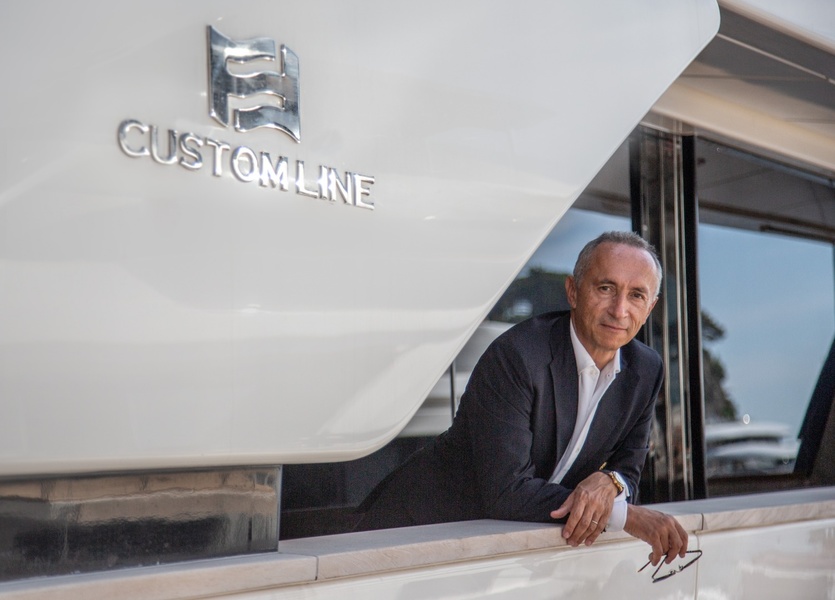 Within the group, we've taken a decentralisation course. The idea is that each of our employees only works with a certain brand, not with all six. Let me explain: when the same teams start working for different brands at the same time, there is a danger of mimicry of creative processes and design mixtures.
In 2012, Ferretti Group was bought by the Chinese company Weichai. Today it owns 86.82% of the group.
Weichai brought organization and discipline to Ferretti - two things necessary for good corporate governance that did not occupy such an important place in Ferretti's corporate culture before the Chinese ownership.
Now we have to, for example, write a 100-page report every month.
Our new owner is also very interested in R&D, which is very valuable for the company. Indeed, even if we had to face economic difficulties that would force us to cut some items of expenditure (Ferretti Group reached a profitability in 2016), we would never have been given the green light to cut back investment in technology.
Weichai urges me - and even forces - to guarantee an investment cushion of 30 million euros for the development of new models, the search for new materials, engineering. this is a rather rare approach, especially for Italy.
At the same time, our main shareholder does not interfere in our creative process and our strategic decisions: we remain completely free.
For many reasons, the year 2018 will be more difficult than 2017, especially because of the prevailing geopolitical climate. There is a lot of uncertainty about how the business political relations between the US and Europe, Brexit, will be affected, or the fact that Turkey and China are no longer Ferretti Group markets. That's why people are now on hold. They are weighing everything for and against buying a boat now or later. But despite this difficult context, we are already exceeding our financials last year (in the first eight months of 2018 the Ferretti Group's profit increased by 22% compared to the same period last year).