For some superyacht owners, getting a finished boat is the end, not the beginning of history. They take part in creating the project and enjoy the process: they develop sketches with their designer, scroll through fabric samples, agree on other subtleties with the shipyard and then watch as the steel skeleton gradually becomes the realization of their dreams. The project itself is an adventure. That's why, having walked through the Mediterranean» with their new toy«, they sell it and start all over again.
And why not create an exciting and yet useful project that will last even after construction? The growing popularity of expedition yachts shows that boat owners have already started doing this.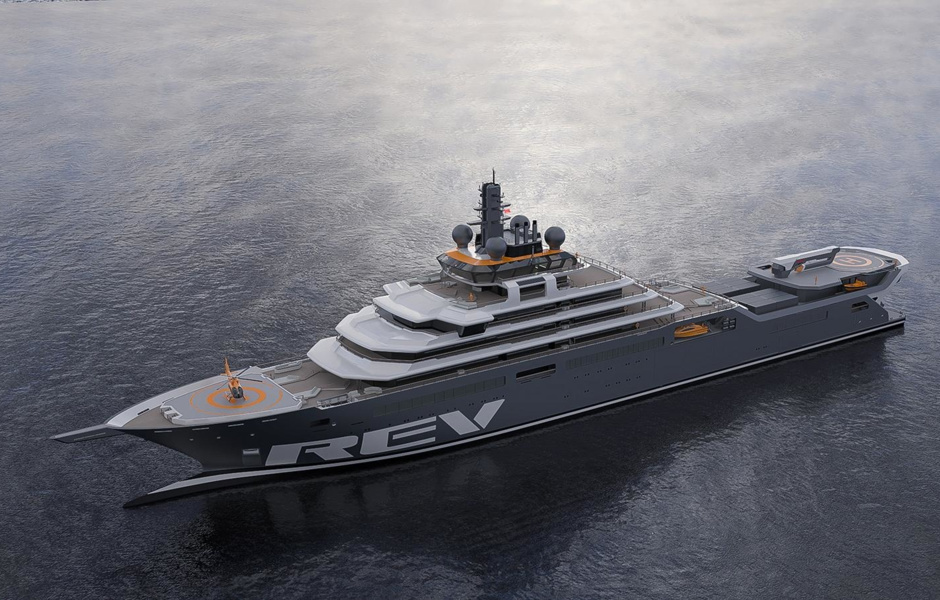 Norwegian billionaire Kjell Inge Røkke has gone well ahead of the rest with his ambitious project REV.
When completed in 2020, the 181.6m Explorer will be the largest yacht in the world and also the largest available for private charter.
However, the giant size is not the only thing that makes this project unique: the research superyacht is called upon to carry out a grand mission to save the world's oceans under the auspices of the World Wildlife Fund (WWF) of Norway.
It all started when Ryokke, as the owner of the shipping and fishing business, noticed how much the world's oceans suffer from pollution and poaching. The Norwegian tycoon joined the Giving» Pledge«, a philanthropic campaign launched by Bill Gates, his wife Melinda and Warren Buffett. Its main purpose is to encourage«the wealthiest people and their families to donate most of their wealth during life or after death to society's most pressing problems.
But while Gates, as part of this movement, created a project to eradicate malaria around the world, Röckke focused on the health of the oceans. To accomplish his mission, he set three goals: to establish a World Ocean Headquarters environmental centre in Fornebu, Norway; to create an open source ocean data base; and to build the world's largest expeditionary research vessel.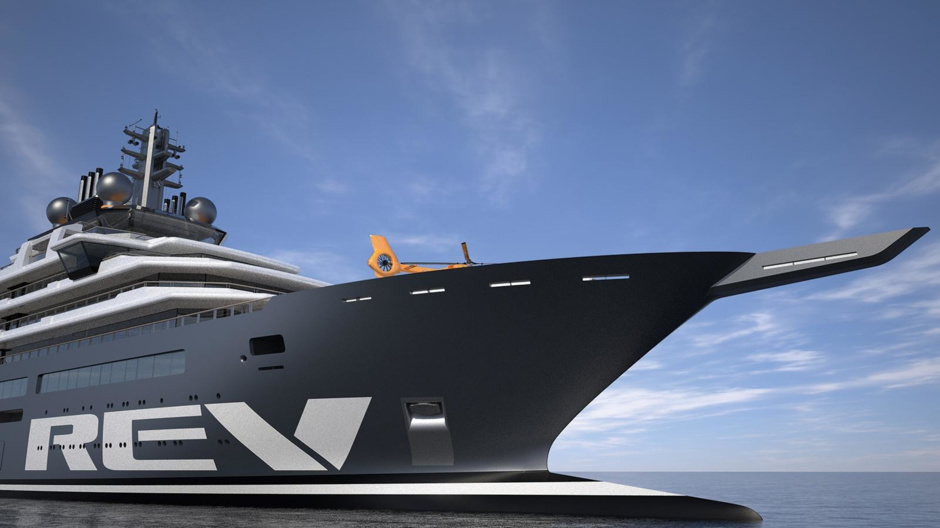 The project, called REV (Research Expedition Vessel) is one of a kind. It was born at the beginning of 2016 and initially did not exceed 140 meters in length. However, it eventually grew to 182.9 metres in size in order to accommodate the impressive amount of research equipment on board, which designer Espen Oeino called the «European Submarine and Shipbuilding Technology Fair.
In essence, as REV Ocean's CEO Nina Jensen says, it will be a «floating factory of thought»that will bring together scientists, technology experts, innovators and even mathematicians. They will not only have to identify and discuss the environmental problems of the seas, but also solve them.
In doing so REV will have the main features of a superyacht, including the luxurious design of the guest rooms. This will allow to take on board passengers who wish to join expeditions and to use the money gained from the charter for the maintenance of the vessel. So hybrid REV can be called not only thanks to diesel-electric engines.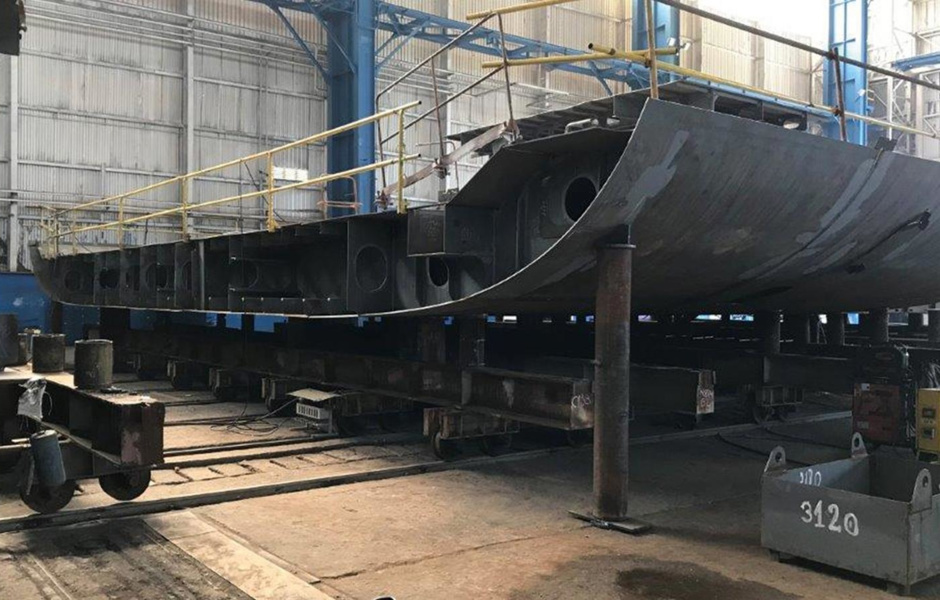 «Röckke was particularly inspired by Graham Hart's Ulysses program, seeing that there is no other way to build such a vessel than a standard solution»," says George Gill, Owner's Representative and Director of REV, referring to a New Zealand billionaire who has ordered two research yachts.107-mi. и116m Ulysses from Norwegian commercial yacht builder Kleven rather than a superyacht yard.
The experience of super-rigid boats and the lower price make commercial shipyards more and more popular among expedition yacht customers (by the way, German giant Lürssen foresaw this turn and last year bought a stake in Kleven). Röckke, on the other hand, chose the Norwegian shipyard Vard. He was attracted by the shipbuilder's own hydrodynamics, naval architecture and engineering expertise departments.
Then he put together his dream team: WWF Norway's CEO Nina Jensen took over as Head of Mission; Alfa Nero's Chief Engineer George Gill was entrusted with overseeing REV's assembly; Espen Oino has a portfolio of expedition yacht projects (e.g. the 72-metre Cloudbreak),has been involved in exterior design; Johnny Horsfield and his studio H2 Yacht Design, who worked on the interior of the first 107m Ulysses (now Andromeda).
The development of the design took about a year. During this time, scientists made suggestions on how to make the boat most useful to them, and the team adapted the design accordingly. And here's what came out of it.
Firstly, the REV will be able to go almost anywhere it needs to go. It will have an impressive range of 21,120 nautical miles at 11 knots, as well as a huge warehouse and septic tank that will allow 90 people to stay on board continuously for up to 114 days.
Additional provisions can be placed on board the vessel in containers on deck, which will increase the autonomy for another 20 days. There are three accommodation options depending on the type of voyage. It can be a ratio of 28 guests and 54 crew members, 60 scientists and 30 crew members or 28 passengers, 24 scientists and 30 crew members.
«In my opinion, initially it was more of a yacht, but over time it has become more and more like a research vessel," Espen Eino shared his impressions, noting that the space reserved for a large spa has eventually become a research laboratory. - It is clear that each of the researchers has different needs, so flexibility is key to the project. They often come with their own equipment, so we have a huge deck that can store up to twelve 20-foot containers, as well as a large crane with a range of 25 meters that can handle loads weighing up to 15 tons.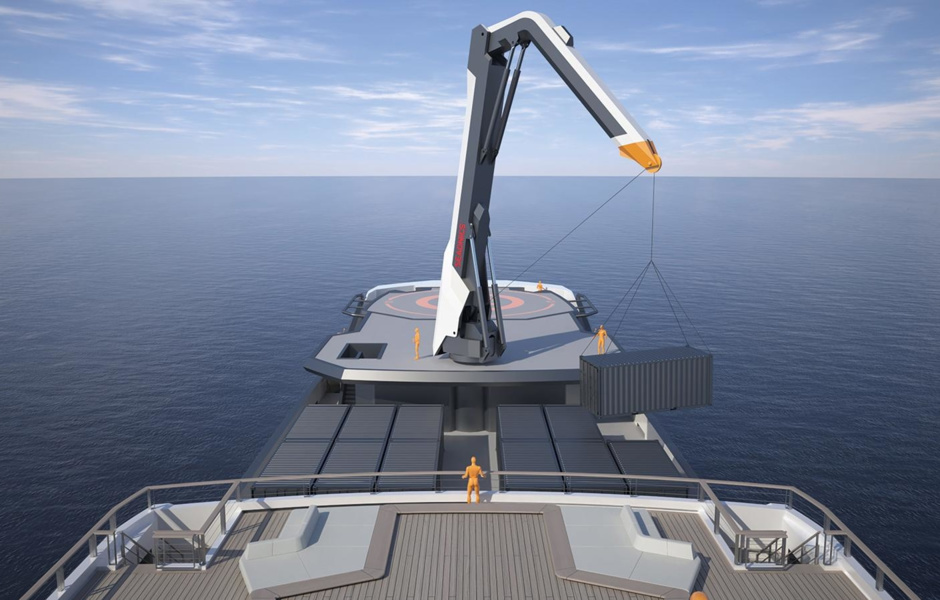 This modular approach with large vacant spaces will allow professionals to bring their equipment, deploy on board laboratories, assembly rooms and offices, and set up hangars for research, development, welding and 3D printing. Also on the yacht will be created conditions for real time testing - this is an important part and bright feature of the project.
Talking about the problems REV will be working on, including ocean acidification and overfishing, Jensen said: Of course «it is great and useful to receive data, to archive it so that people can find it and write reports, but in general it does not change anything. Our boss has an engineering mind set, so we told him: we are a research vessel, but let's go further, let's invite engineers, programmers, robots, give them everything they need to collect data, and then let them act - they can actually do research and development and immediately create material products. Yes, we need more knowledge, but the most important thing is to move from theory to action.

The main priority for us will be the problem with plastics, and microplastics in particular, are plastics that break into smaller pieces. Waste on the water surface represents only one percent of the total amount of contamination. Imagine if, for example, we could come up with some mechanism that would allow ships around the world to collect microplastics while they are operating. Be it a filter, a pump, or some kind of advanced vacuum device that could only suck in plastics and not sea creatures. That would be phenomenal.
REV will collect plastic from the water surface as it works, and then burn it in a special incinerator that can dispose of up to five tons of plastic per day.
Ultra-high temperatures will destroy the harmful combustion gases and create the thermal power that will be used on board. This is one confirmation that REV will become a truly green «boat,» not just a boat filled with scientific equipment.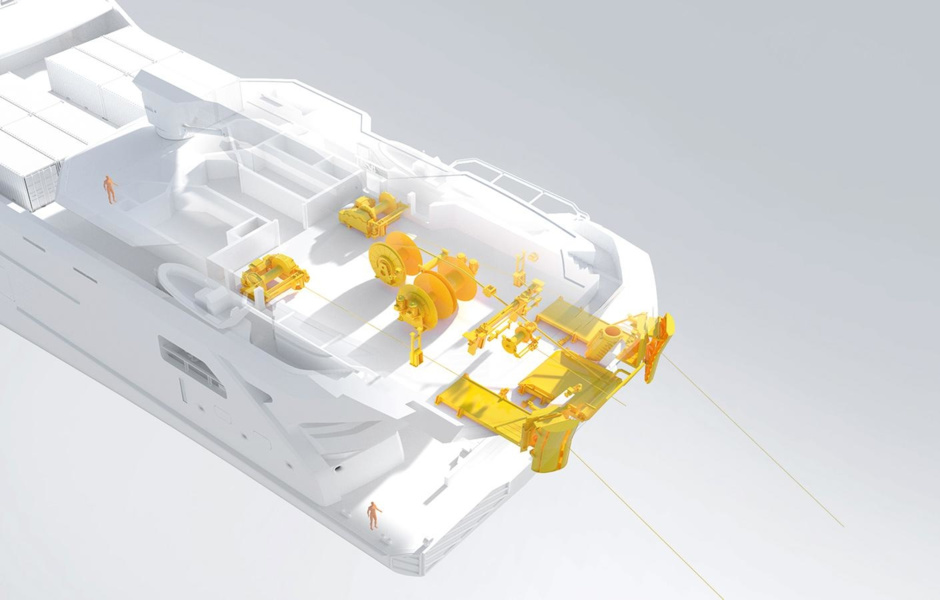 The yacht is equipped with a set of modern engines that meet Tier III environmental standards. They will be complemented by a large lithium battery of three megawatts, which will help reduce the load on generators and save up to 20-30% fuel.

«This is a diesel-electric yacht, but with quite modest power," says Oino. - We've been studying alternative fuels, but there may be problems with the tasks that will be faced by the ship, as LNG or hydrogen may not always be found, especially in remote areas. So we chose diesel, but the boat has a relatively modest cruising speed of 17 knots, and therefore the smallest carbon footprint.
To clean the exhaust fumes, particulate filters will be used. The boat will also be equipped with Vard's patented SeaQ Green Pilot system, which, according to Jill, measures «sulfur and nitrogen levels in the exhaust fumes and can help the crew find optimal cruising speeds for minimum emissions. In addition, the»heat from the engines will be used to heat water for domestic use on board.
But the developers did not just focus on the stuffing of the boat. The team also works with paint manufacturers to find hull paints and anti-fouling agents that do not emit any harmful substances. More importantly, the REV hull is designed to DNV-GL SILENT-R standards to prevent underwater acoustic pollution.
«Turbulence along the hull and propeller blades creates potential risks to the marine ecosystem that are unacceptable to us," says Severin Akervik Ulstein, manager of Vard Design's architecture department. - Severin Akervik Ulstein said: "The solution to this problem required us to push the boundaries. The hull has two large thrusters, a 30-square-meter wing mounted one meter below the keel plate, two pairs of retractable 14-square-meter active stabilizers, two retractable 3-meter keel and a 40-square-meter moon pool (opening at the bottom). In addition to this, we had to place research equipment throughout the hull and any bubbles generated by the movement of the yacht could interfere with it. At the same time we had to achieve world-class fuel economy and the hull had to be designed to DNV-GL Ice PC6 standards. If you had placed such conditions on any other designer, the answer would probably have been 'it is impossible'. It is amazing what the result can be when there is no other option but to succeed.
The specially designed nose bulb, which removes air accumulated under water during the rocking process, helped to solve this difficult task. This effect is enhanced by the most uniform distribution of the load on the screw blades, thus avoiding peak loads, which often cause pressure fluctuations and noise. Large shipbuilders are always eager to solve this issue one way or another, but Oino has gone a step further by applying technology from the submarine world.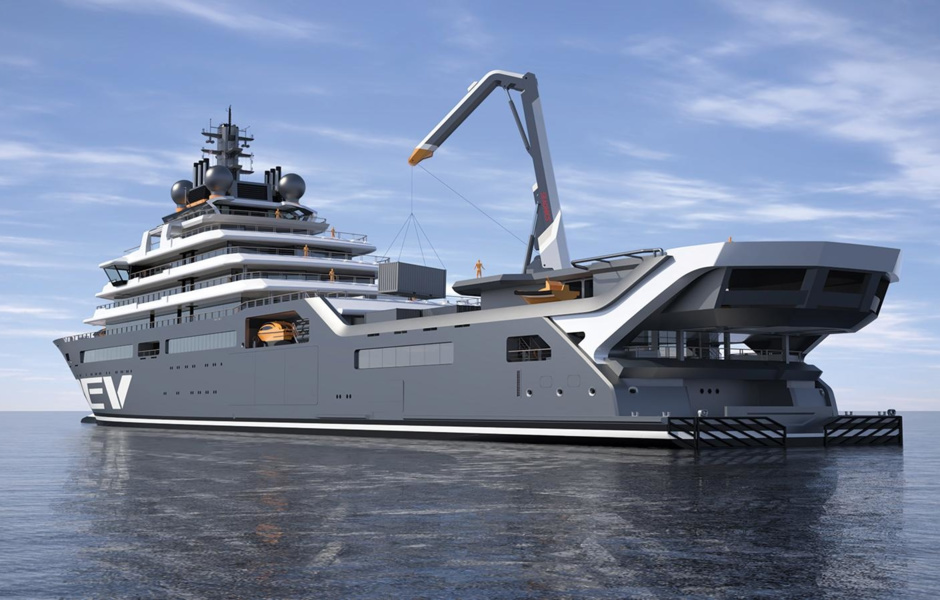 So, who of the scientists will be lucky enough to work at REV?
«We are working with the Norwegian Research Council and a number of leading scientists in Norway to set up an independent scientific committee," Jensen explains. - We will accept applications from institutions and individuals from all over the world, and based on certain criteria the committee will select the missions in which the ship will participate. It is very important for us that all scientific research that will be conducted on board will be of the highest quality and independent.
Röckke plans to cover all REV's costs himself - the scientists will not pay a penny. However, for additional financial support of the project, the vessel is designed to make a profit by placing passengers in luxury apartments.
Those wishing to join scientific expeditions, for example, to explore the deepest coral reefs in the world, thus contributing to their protection and restoration.
The guest space is located in the forward section of the superstructure and includes cabins, saloons, gym, dining room and more. In addition, when visiting the harsh northern latitudes, one of the aft decks can be closed to create a giant winter garden.
The wealth of such unusual objects on board required the designers to make detailed calculations of longitudinal strength.
«There is a 24 x 22 x 7 metre research hangar on both sides of the ship's midships with full length side doors and a height of six metres," says Akerwick Ulstein. - Immediately in front of him there is an 80 m² atrium, which passes through seven decks - next to the main vertical technical area. Tens of thousands of hours were spent on structural analysis in order to carry out this work.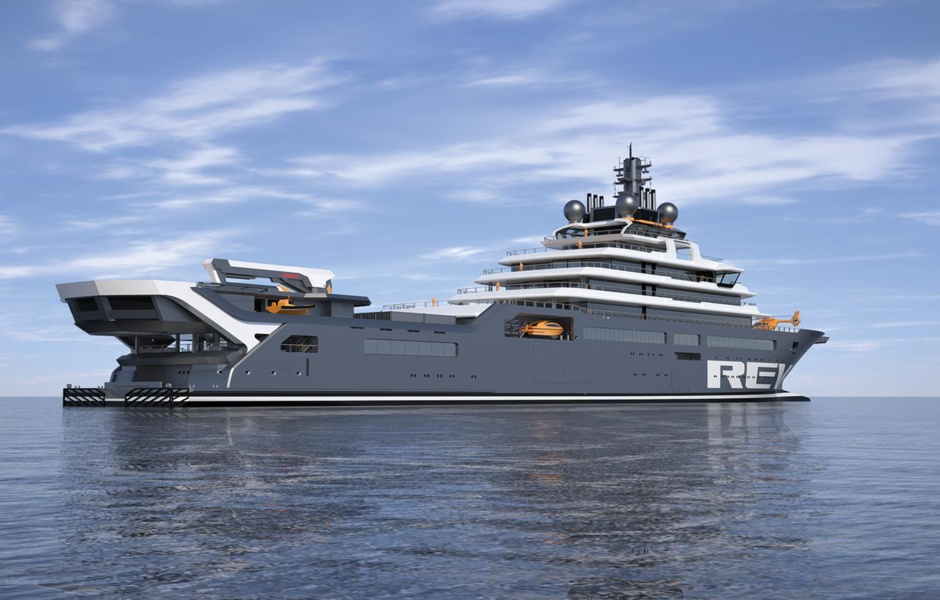 When creating the interiors, too, not everything was easy. Since the design had to meet the safety standards of the SOLAS passenger vessel, Johnny Horsfield was limited in his choice of materials for the interior decoration.
Rather than, as he put it, studying «the regulations, the»designer used materials that were unusual for a yacht's interiors. For example, the design uses a minimum of wood because SOLAS considers it to be flammable.
«We use a lot of black and hot-rolled metal for elements such as door frames. Some walls also have concrete panels on them,"»comments Horsfield.
The result is a modern design in grey-brown tones that combines Scandinavian, industrial and funky styles. His gem was a spectacular six-span atrium, which, according to the author, is a work of art in itself.
Horsfield is not the only designer who took part in the project: the Norwegian artist Magne Furuholmen also contributed to the project; in the past he was a member of the pop group A-ha who chose a large collection of art objects for the interior design of REV.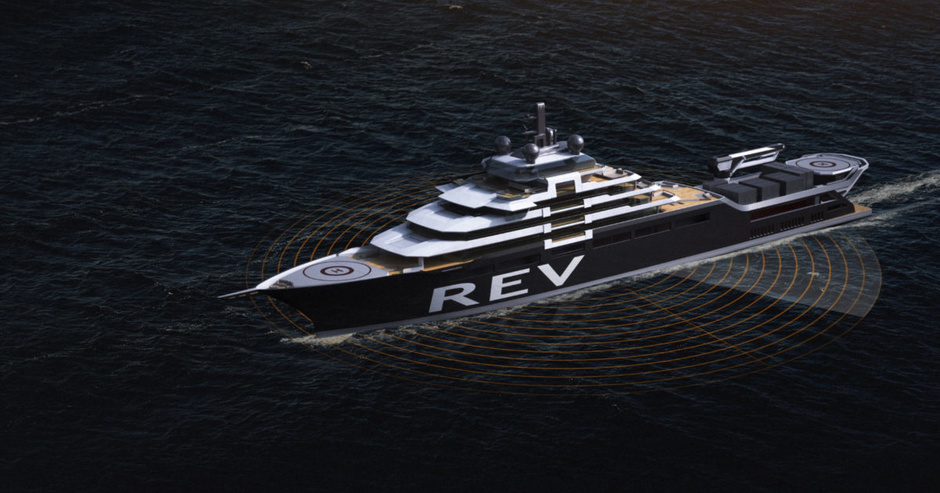 Among the research equipment on board the giant explorer will be state-of-the-art echo sounders and sonars, which will enable the detection of fish, mapping of seafloors and currents, and even the detection of sediments under the seafloor without taking samples. They will also be armed with stand-alone submersibles on the boat.
The REV retractable keels will be equipped with four high-sensitivity hydrophones for listening to marine mammals.
«They are located outside the hull and outside the boundary layer, a layer of water moving with the boat. Any sonar in the boundary layer captures slightly distorted data due to water movement, and our instruments will operate in calm water with greater accuracy," explains»Espen Oino.
In addition, an advanced trawling system will be used on the boat, which will allow obtaining flora samples from depths up to 3000 meters.
«Usually, when you're sampling biomass or fish," says George Jill, "you just drag a net and actually fish. We took the technology developed by the Norwegian companies and installed a pipe at the end of the net. Thanks to the large vacuum system, the fish will arrive alive on the vessel, it can be counted and released back almost unharmed.
The REV main hangar will be equipped with a 7.7 x 5 meter lunar basin, which will provide scientists with access to water from the bottom of the vessel. The LARS system will make it possible to launch and lift submersibles through the opening hatch, and the REV team is also negotiating with several submarine manufacturers to create submersibles that will be able to fully meet the needs of this grand project.
«They will be able to sink deeper and be more efficient both in terms of science and operational data transmission," says»Nina Jensen.

On materials of Boat International.