The first Dynamiq GTT 135 is preparing to be launched in early January. Work on the 41m all-aluminium Stefania in Tuscany has lasted two years and is now finally at the finishing line. Stefania is now ready for her pre-launching tests which will separate her from the Ligurian sea.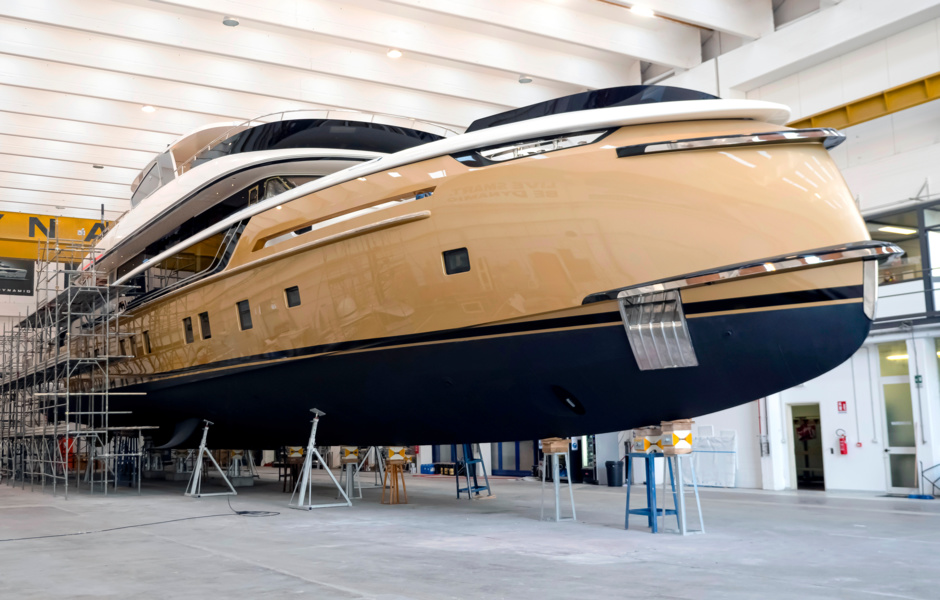 The exterior and naval architecture of the GTT135, like that of many Dynamiqs, was designed by the well-established Dutch hydrodynamic team of Van Oossanen Naval Architects andDobroserdov Design. In typical Dynamiq fashion, the boat has a Fast Displacment hull with a reverse bow and extended waterline and a Hull Vane foil-stabilizer aft. Also on board is Rubber Design's unique torque compensation system, which damps vibration and keeps gearbox components in the correct position.

A pair of MAN V12 1650 shaft-driven engines will propel the Stefania to 20 knots.

Onboard water and fuel reserves are enough to sail up to 3,500 nautical miles without a port call. This is enough fuel and water to cross the Atlantic, allowing her to be used for recreational boating, whatever the season. In summer in Europe, in winter in the Caribbean. The 1.8 meter draught allows for just as much. The GTT135's streamlined hull form reduces water resistance and contributes to economical fuel consumption.

Guests will spend their time during cruises in the spacious 120 m² sundeck with a Jacuzzi, bar and a pair of 75-inch television screens.
The Sundeck GTT135 is one of the largest in this class of yacht.

A second bar is located downstairs in the beach club area by the water. A 4,500-litre swimming pool is also located on the main deck. Its linear dimensions are not specified, but if one imagines a round skeleton with a depth of 0.76 m, the pool would be more than 3 m in diameter.
On cool evenings guests will be able to gather in salon on the main deck by the real cosy fireplace.
Guests will be accommodated in 5 cabins on the lower deck. The owner's suite occupies the most comfortable position at midships.
Ceiling heights on Stefania exceed 2 metres.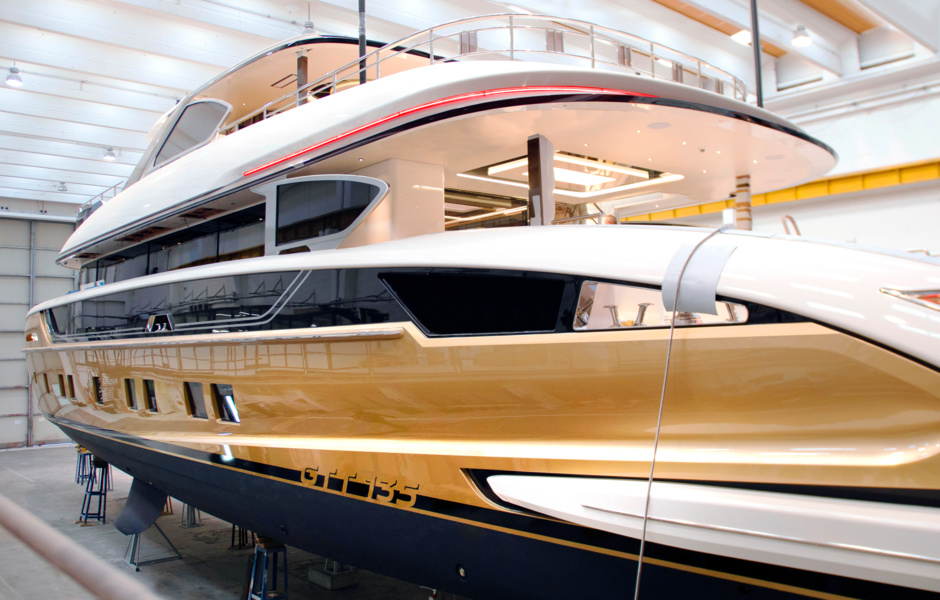 Once Stefania passes sea trials in January, she will sail to her home port of Monaco and will be available for charter through Arcon Yachts.

Dynamiq is motivating potential customers to consider ordering a second GTT 135 hull. The company promises to set a special base price for it and reduce delivery time. Optionally, the boat will be outfitted with furniture and interior accessories from Bentley Home.