The ideal world where all technics moves on the earth, water and air, without breaking sounds of the nature, without harming ecology, and people do not suffocate from exhaust gases, exists while only in imagination and in cinema. But the mankind makes confident steps in this direction, actively introducing electric motors and power installations in daily life.
The electric motor invented in 1834 by Russian physicist Boris Semenovich Jacob is now capable to give out incredible capacities. But the whole world is working on increasing the capacity of lithium-ion batteries, which are necessary storage devices for autonomous operation of the engine. And while many manufacturers are watching this process from the outside while waiting for new discoveries, the particularly daring are moving forward with confidence.
Tesla manufacturers equip even thousands of years of locks with charging stations for their cars and are working hard to reduce charging times. And the more demanding sea vessels are equipped with hybrid and diesel generators.
Greenline Yachts is the only brand to mass-produce yachts with hybrid propulsion systems. The owner of the shipyard Vladimir Zinchenko - our compatriot - has recently surprised everyone, having turned the company crushed by deep crisis into a successful developing brand. Four years ago the shipyard was bankrupt, and today it sends five world premieres to Dusseldorf, the most expected of which are fully electric Greenline Neo E-drive and Greeline 39 E-drive. If you come to Portorož, Slovenia, the owner of Greenline and Shipman will meet you in person and tell you all about the details of the yacht production, which has the latest developments and a huge soul. Perhaps his sincere attitude is one of the factors in the brand's rapid success. And it is Vladimir Zinchenko - the person who can tell about features of electric motors and hybrid installations in the best way.
Vladimir, who are your clients? Who are these people who prefer electric motors and hybrid installations?
Our customers are ordinary people who want a little more comfort than you can get from a piston boat.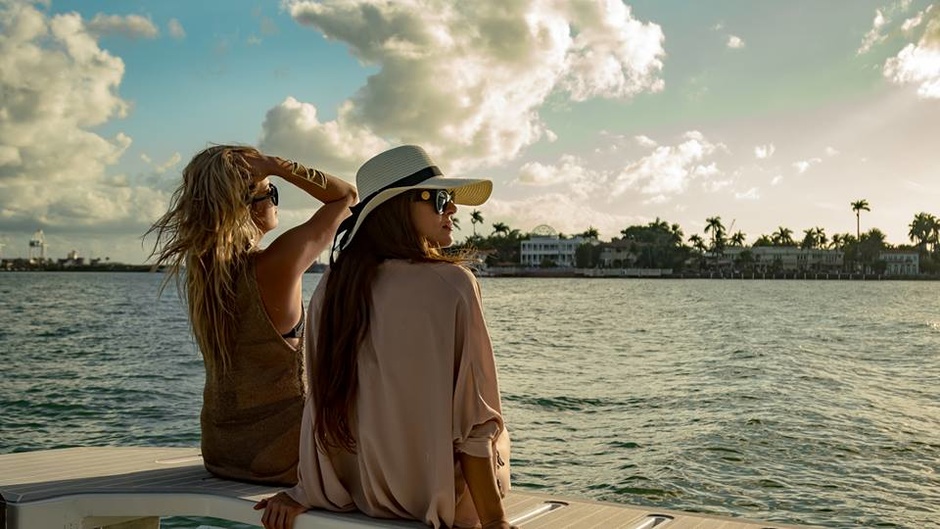 Electric motors are a slightly finer matter. I would say that first you have to listen to the customer as a doctor and then make a diagnosis. Many people want electricity, but not everyone fully understands how it works and how to use it.

Often customers mistakenly think that the main advantage of a hybrid yacht is savings on fuel and maintenance. Of course this is true, but it is not just savings that make people choose a hybrid or electric motor.
So what else does the owner of an innovative boat win?
As we all know, a yacht is not a basic necessity. A yacht is a beautiful and expensive toy, which should bring joy and pleasure to its owner while he and his family or friends spend their holidays or weekends on it. Most readers know that a vacation and a weekend are not always enough to have a good rest and enjoy nature on the water. So you want to spend these days or hours as well as possible. And it is the high quality of the weekend you can get from a hybrid yacht.
There is a saying that a «yacht is not a home,»which means that a yacht cannot provide the same level of comfort as at home. Owners of motor yachts know very well that there is always a lack of electricity on board, and the devices that you want to have on the boat are becoming more and more. The simple solution is to start a diesel generator, but in a beautiful quiet bay at anchorage you want to be in silence and, as they say, merge with nature. And the generator spits exhaust fumes, grumbles, vibrates and irritates. That's when the hybrid comes to the rescue.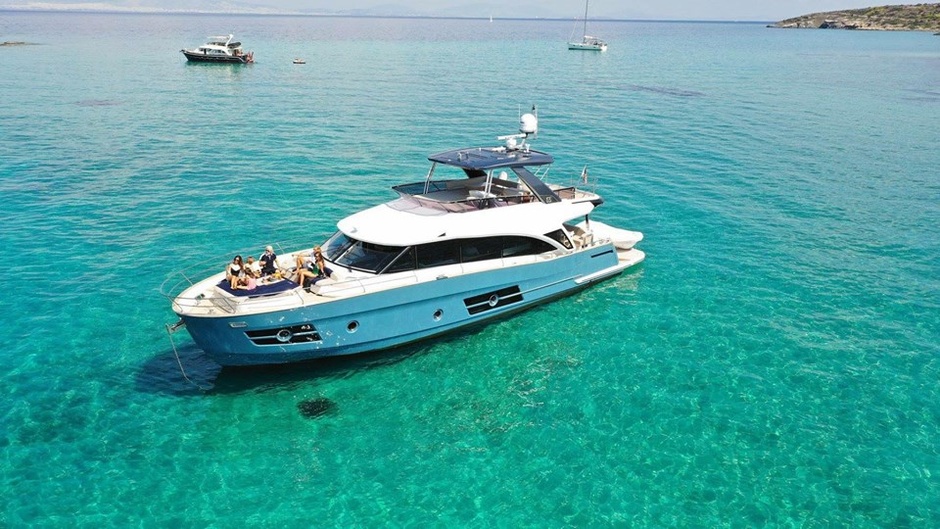 The electrical energy stored in high-tech batteries will be used at anchorage for internal consumption. This means that the refrigerator, air conditioning, dishwasher, washing machine, coffee machine, toaster and hair dryer can be switched on at any time without starting a diesel generator. Battery capacity is in the tens of kilowatts, and the stored energy will be enough to keep days at anchor and not think about charging.
And if you add a couple of kilowatts of solar panels to all this, your yacht will have complete energy independence.
Where and for what purpose is the use of hybrid and electric yachts relevant in the first place?
Hybrid yachts have the same limitations and sailing areas as piston yachts. For example, we have OceanClass yachts in our range with a range of over two thousand miles of category A - the open ocean. So with hybrids, there's no limit to what you can do.
Fully electric yachts certainly have less autonomy, but this does not make them any less interesting.
Most of us spend our time on the water during the daylight: we left the marina with friends, walked to the nearest bay, anchored or pegged at the beach, fried kebabs, bought and returned home by sundown. In the evening the yacht was put in the marina for recharging and by the next morning the batteries were full again, which means that your weekend continues!
A fully electric yacht today has a range of 20-80 nautical miles. In most cases this is sufficient if you choose rivers, canals with speed limits or lakes where nothing else can be used except for sailing and electric yachts. Sceptics will say: «Well, if you missed the moment and spent more energy than you planned. Winds and waves have risen, how do you go home now?» We have the answer to this question: a diesel generator - a set with an additional track extension«. It recharges the batteries and allows you to continue driving at six knots with a range of up to 200 miles. In most cases, this speed is enough to make it home in time for dinner.

And, of course, no one cancelled the solar power. The sun will constantly fill the batteries with free and clean solar energy.
Do Russians change their attitude to this topic? Or is it still some kind of abstraction, like 10 years ago?
The whole world is changing and is looking at clean and alternative energy sources with great interest. With full confidence I can say that the majority of orders of Russians are yachts with hybrid installations. Of course, I am talking about our Greenline yachts.
A stranger always gets scared. How reliable are hybrids and electric motors? What kind of surprises can you expect from them?
Surprises are possible at the design and testing stage. But next year marks the tenth anniversary of Greenline Yachts. During this period around one thousand yachts and around one thousand hybrid units have been produced. Today we are producing the fourth generation of hybrids, which is more powerful and reliable than the previous ones.
Look at the internal combustion engine: pistons, valves, liners - thousands of explosions occur every minute in the combustion chamber. Now look at the electric motor: just two parts, stator and rotor. And one part is stationary. These parts don't rub or touch each other. Reliability of electric motors is much higher than any internal combustion engine.
Among other things, the electric motor does not need service. At all.
How far can one go using only the energy of the sun?
All Greenline yachts are equipped with solar panels depending on the roof size. The total power is 1200W or 1800W. This energy is enough to sail at speeds of 2.5-3.0 knots. So on a clear summer day, you can walk about 15-20 nautical miles with solar power.
How does battery power loss happen? How much will it cost to replace them after, for example, 10 years of boat operation?
In a hybrid installation, batteries are the most expensive and need to be treated with care. We have developed a controller that ensures optimal charging and discharging of batteries. This enormously extends their service life. As of today, it is 2400 charge/discharge cycles. Suppose there is one cycle every day (this does not happen in real life), and then the batteries lose 25% of their capacity. And that would happen in six and a half years. In reality, Greenline's hybrid units have been at sea for ten years now, and only a few batteries from the very first series have been replaced to date.

We also do not forget that progress is inexorably moving forward, and new, more powerful batteries are entering the market. We hope that in ten years' time it will be possible to buy double the capacity of the batteries with the same money, or the same capacity will cost half the price.
In January 2019, the unique all-electric Greenline 39 E-drive will premiere in Düsseldorf. Tell us about it.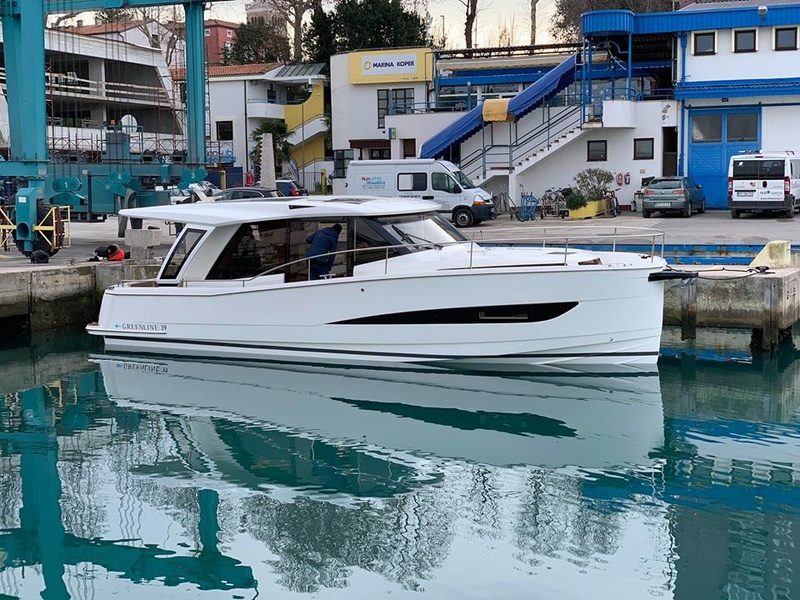 The creation of an electric yacht is not only about replacing a diesel engine with an electric motor. The hydrodynamics of the hull of a yacht must be optimal for electric traction, then the desired result can be obtained from the boat. Originally all Greenline yachts were designed for hybrid installations. As they say, this is our thing. When we presented the new Greenline NEO E-drive at this year's Lake Balaton exhibition in September, our Hungarian dealer ordered a fully electric Greenline 39 E-drive. It's been just over two months - and a yacht on the water - and we are very pleased with the results. It's very good for the lake. The top speed is 10-12 knots.
In the engine compartment, we installed one Torqeedo DeepBlue 80HP electric motor and two new BMW-I3 batteries of 40 kWh each. With the new batteries, we increased our power reserve to 80 nautical miles at 6 knots.
The owner of a boat with an electric motor does not spend on fuel or pay tax, what then remains the cost?
The cost of maintaining a yacht is always one of the sickest questions for the owner. But here we can also make you happy. The electric motor and the batteries are maintenance-free, so the yacht's maintenance is made up of the cost of parking and normal work, just like on any other yacht: the application of neobraschayka, replacement of zinc anodes ... And in a week solar panels will fully charge the batteries of your Greenline.
How do you see the yachting industry in ten years? What are your plans?
Hybrid installations in the yachting industry are not something new. The very first hybrid unit was built over a hundred years ago and has been used on all diesel submarines. So boats and hybrids are old friends. They got acquainted with the civil fleet not so long ago, but immediately became friends. I am sure that hybrids will take a worthy place in the civil shipbuilding market, because there are no disadvantages in this scheme.
In the hybrid yacht market Greenline Yachts is now the world leader in production and technology. We hope that in cooperation with VOLVO, Torqeedo and other strong partners we will be able to stay on the crest of the hybrid wave. Follow our news and - welcome to Dusseldorf: hull 17, stand A42, where we will present eight yachts, five of which will be world premieres.