Yachting World Magazine wondered how to turn an expensive hobby into a source of income. Elaine Bunting and Terysa Vanderloo talked to yachtsmen who have found a way to earn money while living and sailing on a yacht.

Imagine that your office life is in the past. Traffic jams or subway crashes, fake smiles, slush and greyness... It would be great to get rid of all this! Every year more and more people challenge the traditional routine and familiar career. Sea lovers are enviously looking at yachtsmen's photo reports and looking forward to their holidays. Somebody hates life on land, and these people do everything: they start saving money and looking for ways to get out of the ordinary - no matter how hard they are. And a lot of people do it! But we are not talking about volunteers willing to sacrifice absolutely everything, and not about savages from the sixties and seventies, but about successful highly educated professionals who were able to use their knowledge to work in the most comfortable environment for them.
If you, like most thirties and forty years old children of the digital age, are smart, then life on board a yacht can turn out to be not only a pleasant pastime, but also a successful business model that will allow you to both devote time to your family and achieve a better balance between work and life. And as a bonus - the realization that you really live and breathe with your chest.
Do you want a really serious CEO's salary - and this without getting off the boat? Anything is possible, you just have to become part of the superyacht industry. But don't think it's easy. Not at all: like any dream, it requires hard work and sacrifices. And the freedom we mentioned is not quite complete: you will be able to sail the oceans, but where and when you go is not up to you.
But let's not go into lengthy explanations. The above is possible, but it's not him we're talking about. We're talking about becoming captain of our ship and choosing our own route. It's not a bad idea to make money.
Start a video blog.
Ragged offices are increasingly seen as a relic of the past: in the XXI century, there are many new ways to make money. Freelancers who set their own rules and entrepreneurs who exist through crowdfunding platforms (or, in other words, crowdfunding) are making a lot of progress.
Many new platforms give preference to people who are creative. What's worth Patreon - a service that allows you to work at the expense of donations from your fan base.
Many leading personal video blogs, including those on YouTube, earn most of their money through crowdfunding.
The days when all that was decided was advertising for corporate sponsors are over. Donations have a multi-level structure, where «donors are» divided into «classes» according to a certain hierarchy. The higher the level, the higher are all sorts of bonuses like exclusive paraphernalia or materials that are not available to others.
The more successful you are, the larger your «donor»base is. Speaking about real examples, Sailing SV Delos - four media experts, furrowing seas and oceans on the Amel Super Maramu yacht - immediately comes to mind. One video brings them a lot of money - 14 thousand dollars. All this - thanks to 1800 «donors», who watch an average of four new clips a month.
Another such channel is called Sailing La Vagabonde. The famous video blogs by Riley Whitelum and Elayna Carausu attract a huge audience. On average, they receive $10,000 per episode. An illustration of their success is the new Outremer catamaran. And this, you know, is no joke.
These two channels alone have spawned about 400 imitators. Such people are willing to do anything to fake their idols, but sea mortgage and other possible difficulties become an insurmountable obstacle for those who can not plan ahead.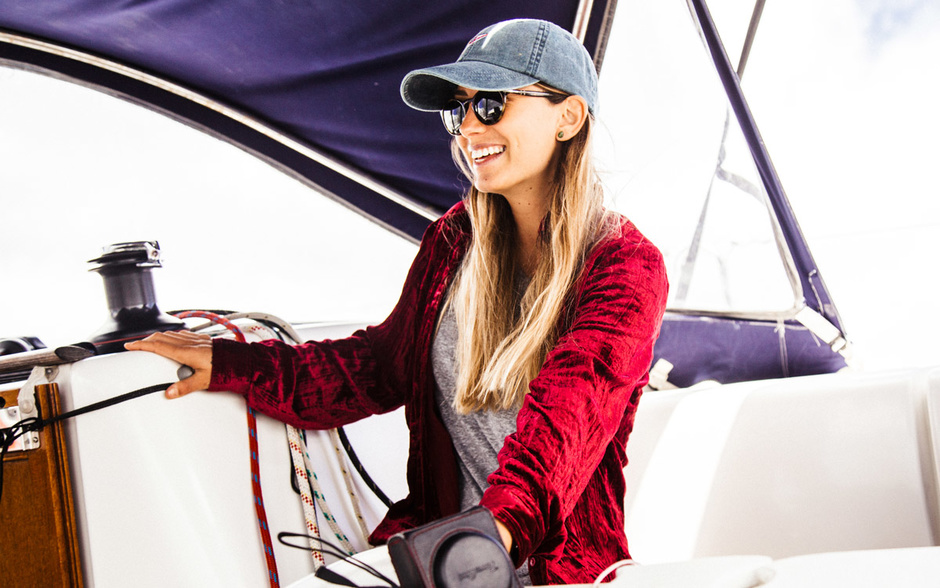 There is another way to go: to make their own documentary. It's more complicated: you have to have a certain base of viewers and understand how social networks work. It definitely wouldn't hurt if you were young, beautiful and good looking in a bikini. Emotional resistance will also help - many commentators on the network sharp on the tongue and always find something to complain about.
From the outside it seems that the stars of such videos live a dream and there is nothing to bake, but it is not quite true.
They work in the same way every day, and their «spontaneous» adventures need storytelling, good operator and quality installation.
And if rollers have to go out frequently, we have to look for places with high-speed Internet, which already limits the range of possible routes.
What was rejected by traditional media has now acquired new relevance thanks to crowdfunding. At Patreon, you can use your knowledge in almost any field - there are handicraft workshops, daily biblical mailings, and political debates in the form of podcasts.
There is a chance that some of your skills are compatible with navigation. Maybe you are a teacher, translator, business instructor, designer or illustrator? All these specialties will find their application. You could just work remotely.
The formula is usually simple: the more freedom and time you want, the less potential benefits.
But it's still more than possible to make enough money to travel for your own pleasure. Many of our interviewees admitted that they now work even more and harder than in the office and earn less. But it does not matter, because they get much more out of life.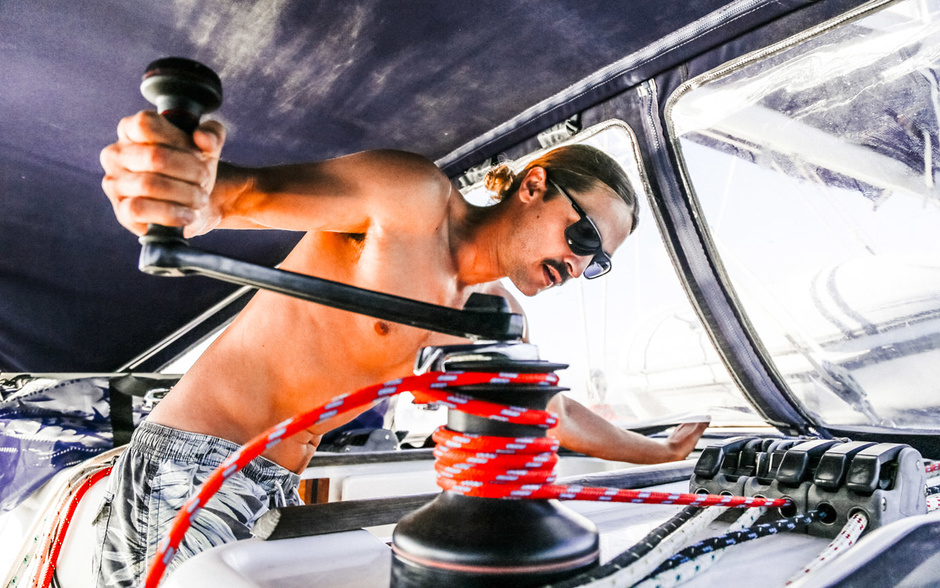 The digital revolution has freed a huge number of people from the shackles of corporate culture, but are you ready for such a significant change?
Among the pioneers are Tasha and Ryan Hacker. In 2015 they sold their education business and bought a new Fontaine Pajot Helia 44, which they called Cheeky Monkey. Climbing aboard the port of La Rochelle in France, they spent 18 months on the water, traveling from the Atlantic to the Caribbean Sea. During the voyage, they saw both the Panama Canal and French Polynesia.
Tasha became a director and created a channel on YouTube called Chase the Story. It was a strange thing for her, but even though she had never done it before with a camera, she had a lot of related knowledge in marketing and information exchange. So she was able to cultivate a fast-growing fan base.
Tasha has three sources of income:
YouTube (partly thanks to Google AdWords advertising, partly thanks to Patreon), which generates between $200 and $3000 per month;
Own articles published in popular magazines, ranging from $250 to $1,000 per piece;
Dividends on investments that became possible after the sale of the company.
But Tasha didn't just shoot the video for the money:
«Creative work allows me to remain an active and thinking person».
Working as a «YouTube» requires a certain discipline, which has allowed her creative side to play out.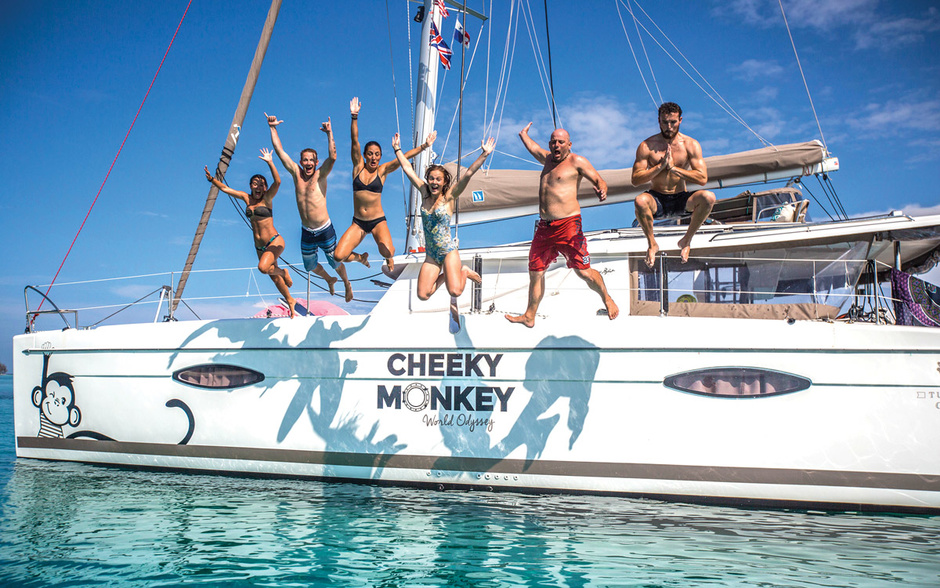 But there were no casualties - for example, it is important not to go far from an Internet source.
For anyone thinking of making money on YouTube or writing about alternative lifestyles, Tasha has some advice:
«If you like to write or shoot, and you want to earn on it, money will certainly appear, and the work will not be in the burden. But if you're primarily thinking about money, not the creative process that you'd like to avoid, then you may fail. You have to be ready - and want - to spend hours behind the monitor in beautiful ports. It takes time to get an audience together. When there is no money, it is love that allows you to move on, no matter what».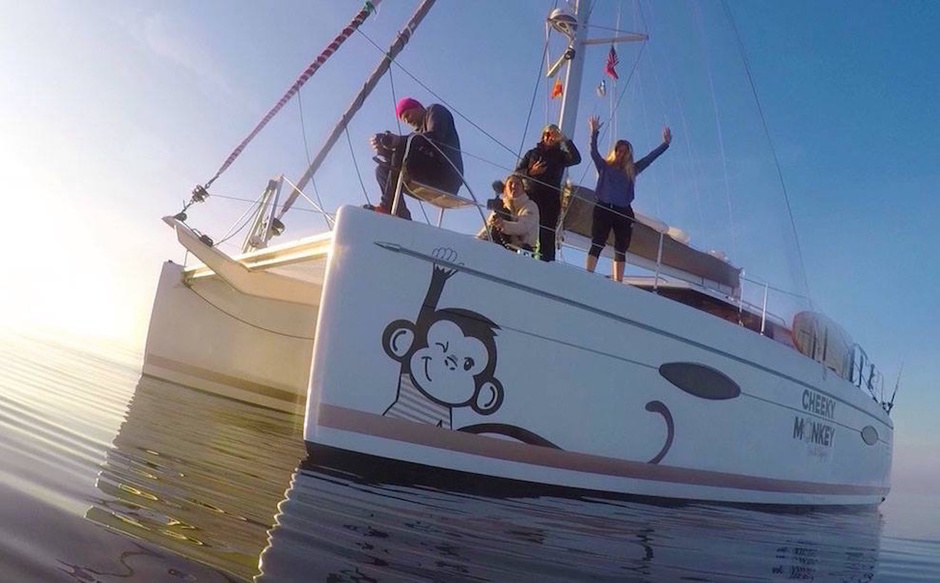 Create a startup and develop it from aboard...
Peter and Octavia Bergman. (Petter, Octavia Bergman) 14 years ago they tried to go out to sea and immediately fell in love with yachting. Soon they bought the Hunter 44DS SV «Bella Marina». They sailed along the Pacific coast of the USA and Mexico for a whole year and then settled in Silicon Valley. But they didn't like living in one place, so they immediately began planning the next step. How do you combine a successful career in IT with a love of swimming?
Octavia returned to work on the software, and Peter was in charge of programming. Together they nurtured a new business that could be done on board the yacht. All this resulted in the Quartermaster program for boat management - from boat owners to boat owners. If everything goes according to plan, the program will continue to do what you like. But while the project is in its infancy, Octavia continues to advise clients aboard the yacht.
The family has also invested in real estate, which also generates a steady income. Bergmans earn between $1,000 and $10,000 per month, depending on Octavia's success.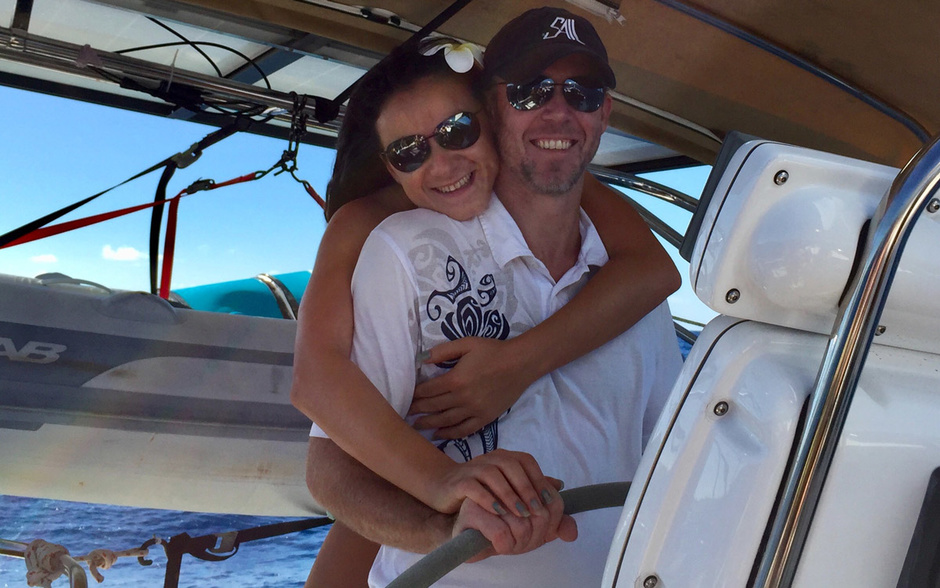 For two years now, they combine remote work with navigation. Now they're in Hawaii, next destination is the South Pacific. According to Octavia, all this reminds us of an «old corporate balance between life and work, which in principle did not exist». According to her, such work requires them to stay in one place longer, because it's very important to have access to reliable Internet.
Peter and Octavia admit that they have less time left for fun and boat maintenance. That's a minus, but a minus with which they'll gladly accept. They're sure they made the right choice.
«This lifestyle allows them to sail the seas and enjoy sunsets and clean water before they retire. Alternative lifestyles are becoming increasingly acceptable in both society and business. We are all connected by a single communication network, and the Internet can be found on any stretch of land. Why not use it?»
Work remotely.
Andy Schell, an American, and his wife Mia Karlsson, a Swedish, by the time they were thirty years old, had decided to combine the pleasant with the useful. They offer their clients an example of what sailing is so good and why they enjoy doing it so much. Andy also has his very popular podcast On the Wind.
«For money we assemble the crew and set sail on our 1972 S&S Swan 48 "Isbjörn". Our route is published at 59-north.com, usually two years in advance. We sail about 10,000 nautical miles a year in 10 trips, which last from a week to almost a month," Andy said. - We have several tasks: to create a business that doesn't seem like 'work'; to earn enough for happiness, but never just think about money; to live simply and cheaply; to find free time for our own hobbies and family with friends. Our business is inextricably linked to life, and we will not be able to gain wealth. Of course, money is different in the IT industry, but I want to spend my life doing what I love, not working and saving money in the hope that I can invest it in retirement. I skip the middle and earn my living by sailing».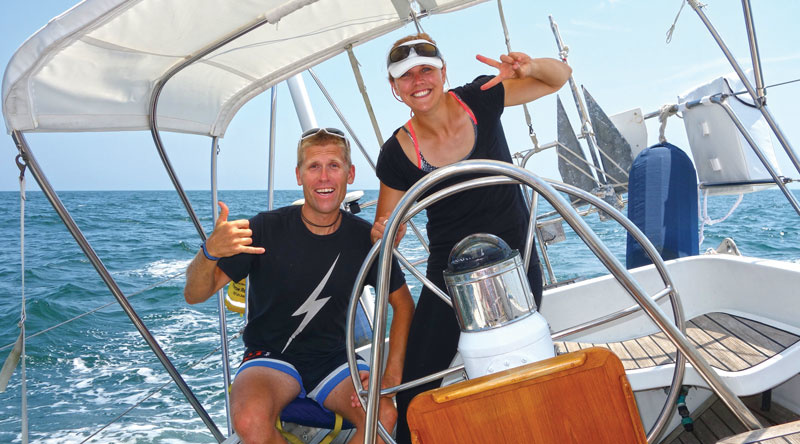 Our business plan started at the end. There are many studies that confirm that the level of happiness increases with income, but only up to 70 thousand dollars a year per family.
This number has become our goal. The main thing was to understand what to do in order to achieve this amount, without taking into account the cost of unsold beds, unexpected repairs, etc.
«We bought a 45-year-old boat and replaced almost every bolt in it. We got it relatively cheap - for 130 thousand dollars. However, the restoration took another 150 thousand. This spring, after a long period of downtime and repair, it will come out on the water like new. We have on hand a beautiful sailing boat, equipped with everything you need - and all this for 300 thousand dollars».
«As for income, we were able to even exceed the figure of $70,000. Besides the services we offer, I have a popular podcast On the Wind, which also brings money through sponsorship agreements and donations. It also happens to be our main source of marketing - about 75% of our customers were originally fans of the podcast. In the autumn in Annapolis we hold seminars, and sometimes we write articles in magazines.
If you put it all together, we make 200 thousand dollars a year, although, given the huge costs of restoration, net profit in 2016 and 2017 was about 40 thousand. But we are ready to raise the bar even higher.
A sailboat costs about $40,000 a year for maintenance, insurance, parking and so on. Every 50-60 thousand miles (five-six years) you have to buy new sails, which costs 25 thousand. But the business itself does not require much - we do without paperwork and without a physical office. Everything is stored in the "cloud"».
«Ironically, sailing like work is not freedom at all. Yes, we choose where and when to sail, but it is worth approving plans as there is no turning back. Freedom is just before we go aboard. You can do whatever you want in the dead season, except for my podcast and business»management.
«What scares me the most is my future family. When we have kids, I won't want to swim anymore. I'll have to take turns going out to sea. But from the beginning we shared that passion, so there's reason to be optimistic».
Become a freelancer.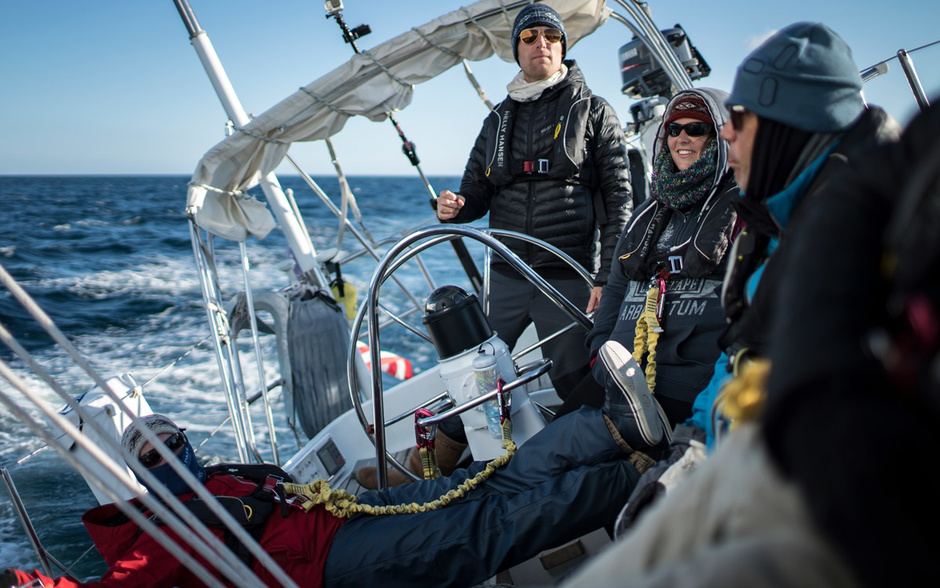 Matt and Lucy Wilcox have been sailing for 14 years. Two years ago they purchased a sailing catamaran 2005 Lagoon 380 which explored the East Coast of the USA and the Bahamas.
The plan was simple: to waste all their savings and then return to work. But, as is often the case, the sea did not let them go so easily.
Back to «normal life», the Wilcox family realized they couldn't live like that anymore. Instead, they hurried back to independence and turned into digital nomads.
Lucy worked at the university and gave lessons online. On the water, she found a similar job and began teaching English to Chinese students. Matt works in photography and graphic design. He finds the job on the freelance stock exchanges. In addition, both Lucy and Matt act as editors and photographers for the Waterways Guide and write articles. As a result, they devote 20 hours a week to work and earn a total of $2400 a month.
Sometimes the lack of a mobile network does not allow you to explore everything you want, and you can not forget about Lucy's courses, which always begin at 17:00.
They have two weekends a week, which they devote to research of uncharted places and just rest. When there is time and desire - or when bad weather makes you stay in port - the Wilcoxes increase their workload. When sailing and working on a sailboat, or when there is simply no connection, the main source of income for the time is put aside.
«Remote work has allowed us to find balance in life and enjoy it more. We get 25% of what we earn on land, but we have never felt more successful. Work and swimming is a hundred percent win for us».
Make sailing your business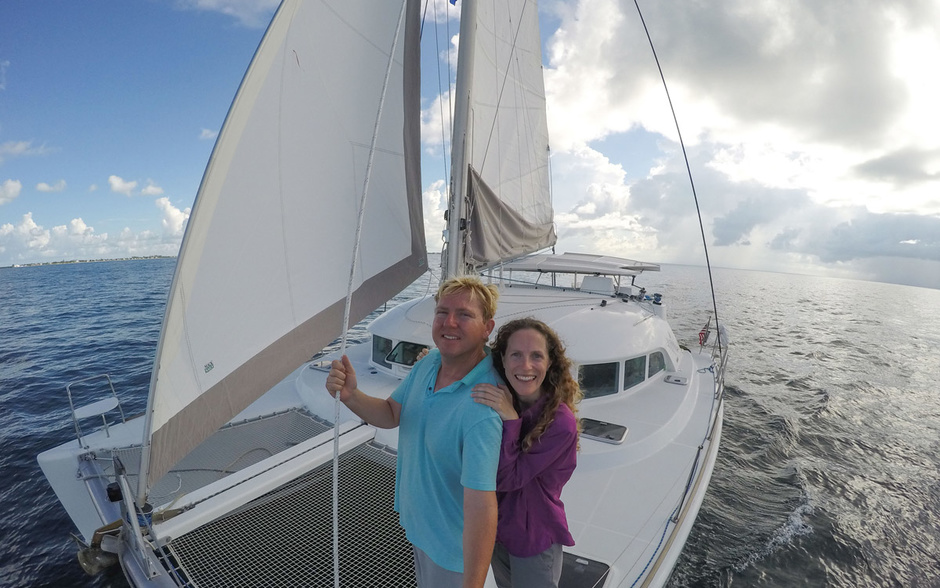 Bruce Jacobs and Rachael Sprot decided to turn shipping into a full-fledged business. That's how Rubicon 3 came into being. The success of the company is illustrated by three new yachts bought afterwards. Bruce and Rachael are a vivid example of modern businessmen who combine professionalism, determination and adventurous spirit.
«Rachel and I grew up in very different environments. She is the daughter of a professional sailor and has worked at sea all her adult life. I spent 12 years in the industry and was involved in marketing and development»," says Jacobs. - In 2012, it was reported that Hummingbird (then called Blackadder) was up for sale. We borrowed and begged, but we were able to buy it from Clipper Ventures. I didn't have the slightest doubt that we would outperform all the competitors. But clients are only half the business.
For five years now, none of us have worked less than 60 hours a week, and often there is recycling.
Part of this is due to our plans to create a completely new type of company that would allow professional seafarers to learn, receive decent wages and a guarantee of employment».
According to Jacobs, anyone who thinks about working on the water has to understand the complexities of balancing life and business.
«For the first two years we sailed on a yacht without a break. It was a definite blow to family life - I was a newlywed, and with a newborn. Now, as administration and management have taken up all our time, we do two trips a year».
«When you work for yourself, it's hard to keep the balance between work and life. There is less free time left, but there is motivation and satisfaction from work».
With regard to the question of money, Bruce confesses: For «five years we had to give ourselves some small things (nothing at all in the beginning) because there was too much to do. Now we get enough money to pay our rent and bills, and that's perfectly normal. All the surplus goes back into business».
«I want to warn anyone who is thinking of giving up the current situation in favor of something completely new. Finding a hobby is easy, but if you do it every day, it can become a routine. The maritime industry is stingy. Swimming's great, but few people can make money on it».
«I suggest you plan your career. How will it progress? What will it take to learn, what courses will it take to learn, where will it take you in 20 years? If the answers do not come to mind, or if you do not like them, then maybe it is better to leave swimming as a hobby».
Translated by Denis Koshelev for itBoat.