If 1421, when the legendary Admiral Zheng He with his flotilla of «treasures of hundreds of junks» circumnavigated almost the entire world (it is believed that heeven discovered America 70 years before Columbus), was the zenith of China's long history of shipping, then 2013 can be considered its sunset. It was then that President Xi Jinping - just a few months after taking office - began hunting tigers «and flies, fighting»corruption among government officials and businessmen of all kinds.
Part of his anti-corruption crusade was the introduction of a 44 percent tax on the import of luxury goods, as well as tight controls on hospitality and personal expenses. Indicative symbols of wealth - sports cars, luxurious banquets, «Rolexes»Diamond-soaked flights of private planes Learjet, bottles of Rémy Martin and 50-year-old Moutai variety wine at $20,000 a bottle and, of course, superyachts immediately attracted attention and displeased the Central Discipline Commission of the Communist Party of China.
«We must fight both 'tigers' and 'flies' at the same time by vigorously investigating the offences of top officials, and vigorously tackling unhealthy trends and problems of corruption among the people," Xi Jinping said»then.
According to official figures, dozens of people have been investigated, arrested and sent to jail, including ministers - so many that last year's Beijing Qincheng Senior Officials' Prison ran out of free cells.
Demand for status paraphernalia collapsed, and this was well felt by Western luxury goods vendors and manufacturers. The yacht market was particularly affected, and this is understandable: hiding a superyacht is more difficult than a diamond ring or a Porsche.
Before the start of the anti-corruption program, China's yachting sector had started to gain momentum after the cultural revolution of Mao Zedong destroyed the remnants of the country's once glorious shipping heritage. For this timid resurrection, thanks are due to the Beijing 2008 Olympic Games.
New hope
Then came the financial crisis that hit the entire West. China - with its seemingly armoured economy and almost double-digit industry growth - has become a great«eastern hope for» leading yachting brands. An international fleet of brokers and shipbuilders has rushed into the Chinese market.
A coastline of 14,500 kilometers, stretching from Bohaiwan Bay in the cold north to Tonkin Bay in the tropical south, has become the main entertainment area for the new Chinese rich. By the way, the country has more than one and a half million millionaires and 338 billionaires (according to the company Wealth-X in 2017).
China was going back to the big yachting.
Without wasting time, brokers and shipyards have organized exhibitions and set up meetings. Foreign shipbuilders settled in local prestigious marinas, paying indecently high membership fees and a yacht berth, the cost of which often started at 1 million yuan (£110,000) per year.
The local shipyards came to life, laying the keels of the copied foreign and self-developed designs. In some cases, Chinese and foreign shipbuilders set up joint ventures, but often both managed on their own.
The conscious super-rich of the Celestial Empire took a reciprocal step: they started buying the boats of famous foreign brands at three times the market value and mooring them in local expensive marinas. There was no price to pay. The main thing was not to lose face or, as the Chinese say, to comply with mianzi, a philosophy according to which it is most important to maintain your reputation and image in the eyes of others.
The 2012 report of the China Cruise and Yacht Industry Association (CCYIA) states that at that time there were about 3,000 yachts of various sizes in the country. The Association predicted that by 2020 this figure would reach 100,000 and the local yachting business would grow to €10 billion. The world was skeptical of this prophecy. At the same time, orders for small superyachts, starting from zero, literally took off.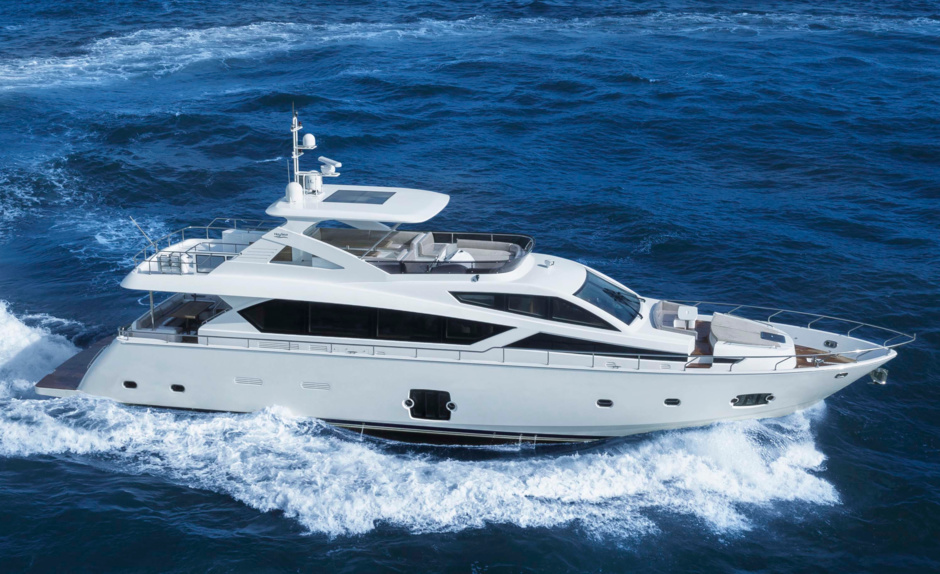 The local shipyards were winning. For many years without the attention of the domestic consumer, the Chinese shipyard Heysea received eight orders for its 82nd model in 2010, even before the first boat was completed. One year after the financial crisis in the West, according to local media reports, sales in China were 4.15 billion yen (£450 million).
«After 2008, the yacht market began to grow rapidly as the financial crisis in the West had little impact on China,"»says Gordon Hui of Sunseeker Asia in his Hong Kong office.
Jona Kan from Silver Yachts Australia adds that unexpectedly at the same time, Chinese businessmen took a special interest in superyachts to entertain their customers.
But Icarus was flying too close to the sun. A couple of years later, global financial problems began to penetrate into China's economic system. There was a wave of cuts, inflation increased. But the wealthy members of the Communist Party and their magnate buddies were in no hurry to say goodbye to the luxurious life.
The excited masses looked threateningly at Beijing, waiting for it to finally tackle such demonstrative wastefulness. The newly elected president of the People's Republic of China Xi Jinping did not make them wait long and announced a hunt, as a result of which dozens of high-ranking heads flew away. Thus, he firmly and loudly made it clear that any display of pompous luxury now will not be left without attention.
Brokers' phones were silent, records in shipyards' order books were gone, and showrooms were empty.
«After more than three years of anti-corruption policy the Chinese yachting market has frozen and sales have decreased by 95%. It has been virtually dead since 2015,"»says Gordon Hugh.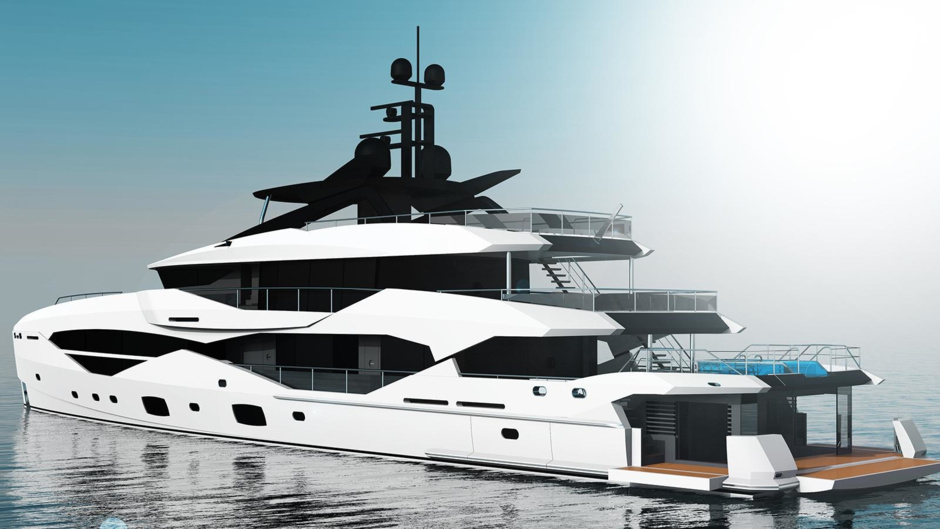 Sunseeker, purchased in 2013 by Wang Jianlin, China 's fourth wealthiest entrepreneur, was forced to close two of its three dealerships in the mainland.
«There were times when China accounted for 15 percent of Sunseeker's global sales, which is now less than 5percent," Gordon comments».
Several Chinese shipbuilders have gone bankrupt: due to high VAT and import duties on imported parts such as engines, companies have simply become unprofitable. Local marinas tightened their belts, cutting prices in half to avoid the fate of Xiangshan Yacht Club in Fujian Province (at the opening it was the largest marina in Asia, but went bankrupt in 2014).
However, it would be wrong to attribute the half-moon state of the Chinese yachting market solely to the fight against corruption and the global financial crisis. Attempts to create a culture of private shipbuilding in the Celestial Empire were made even before the notorious cleaning of tigers «and flies - after»the very favorable reforms for this former head of China Deng Xiaoping, launched in 1981. But they were not successful.
Hong Kong broker Mike Simpson of Simpson Marine, one of the largest boat dealers in the region, agrees that the import tax on foreign boats was almost a fatal blow. At the same time, he notes that there were serious obstacles to the development of the immature market before that.
«We must remember that China is a relative newcomer to yachting," comments Simpson, who founded his company in Hong Kong in 1983. - He has experienced ups and downs. An obvious deterrent to his development was the ban on importing used boats, which was introduced even before the luxury tax. The last two or three years have been quite desperate. I don't think anybody's made any money. Over the past few years, everyone has only had to invest money to just stay in business in China.

Culture .
The lack of a yachting culture is often cited as one of the reasons why the Chinese market is constrained. In the West, yachting is a relaxing holiday in the sun, an exciting weekend stroll to a secluded bay or island, and for sailboat owners, a thrilling rush ahead of the competition during the regatta.
In China, a yacht has always been a means of maintaining an appropriate image and reputation and has also been considered the prerogative of the ultra-rich. But even among this target audience there is little demand. According to Wealth-X, only two percent of all Chinese moneybags have a yacht or at least are interested in buying one (compared to 6.7 percent worldwide).
«The Chinese believe that boats are for very wealthy people," says Rocky Wang, Burgess' chief representative for China. - Many Chinese people still have no idea what yachting is. The yachting culture is still in the early stages of development. Yachting is very new to them. Those Chinese who are planning to buy a boat are doing so primarily in the business interest. Buyers are business owners, investors and entrepreneurs who use boats for entertainment during the day, rarely staying on board for the night.
Of the 200 yachts located in Shenzhen city in the south of the country - where Deng Xiaoping began his reforms half a century ago - about 70 percent never left the yacht club. Instead, they serve as a platform for receiving important clients and government officials.
some of the boats were bought without engines, as their owners did not even think about ever going out to sea.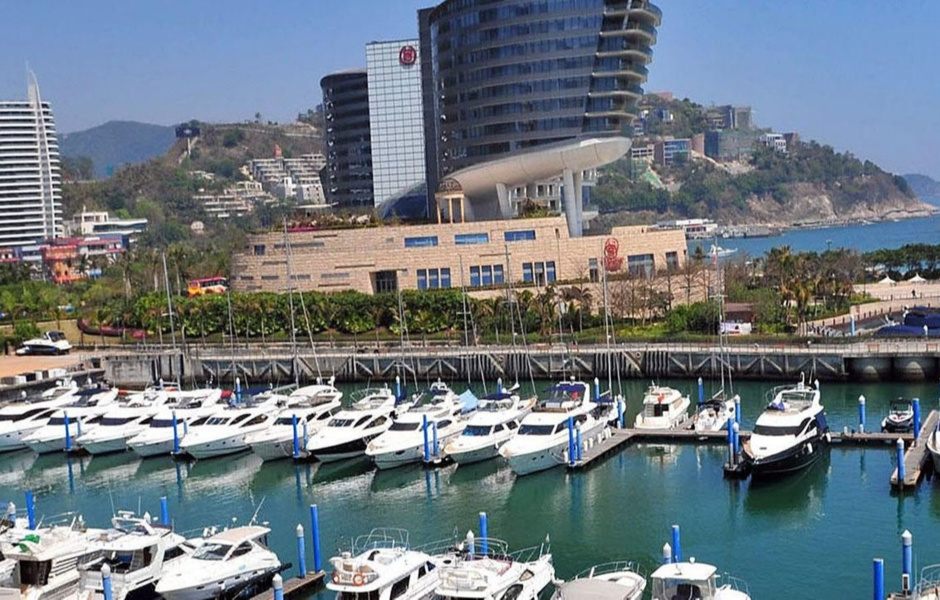 In China, it will not be difficult to build a $30 million marina with a luxury club and spa. However, it will not be easy to organize a full service including repair yards, spare parts dealerships, equipment and navigation facilities, coast guard service ready to help aground boats, yacht schools and so on.
The shortage of qualified Chinese crew is also a serious problem. There are about 60,000 people in the country, mostly of school age, visiting sailing clubs. But it is a great challenge to assemble an experienced crew who can handle a 60-meter vessel.
«That's why Chinese yacht owners have to invite foreign crews with sufficient experience in servicing and managing the boat, which is accompanied by additional headaches when applying for visas,"»explains Simpson.
And what's with the crazy red tape and total control: China protects its coastal waters like a hawk.
Try one nautical mile from Qingdao Beach or a couple of cables along the coast of Sanya, you'll be immediately surrounded by patrol boats packed with uniformed guys demanding permits.
A day's boat ride is seen here as an enemy invasion or a bold escape with state secrets.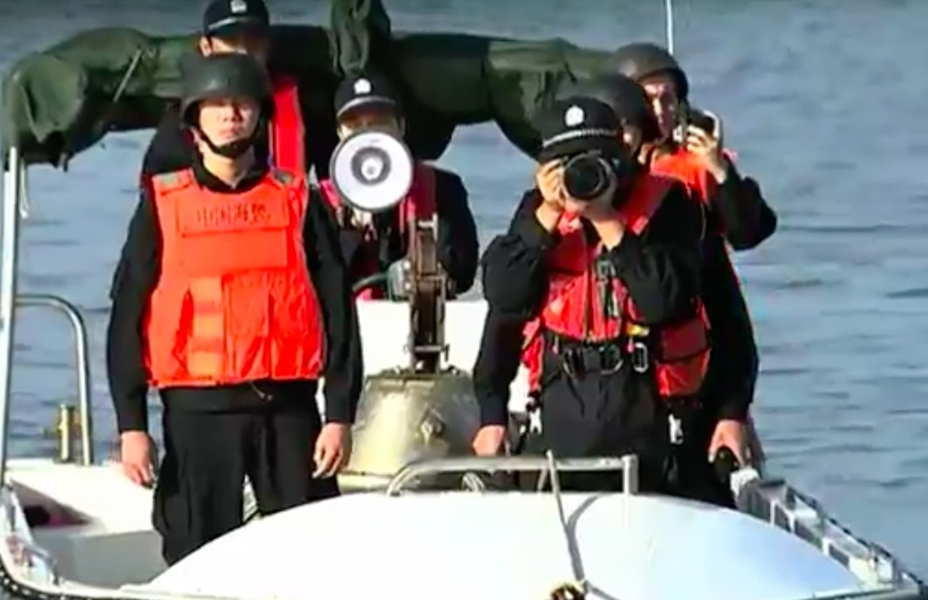 «It's true," admits William Ward, CEO of the Clipper Round the World race, who visited two Chinese port cities at the last edition: Sanya in the south and Qingdao in the north. - The government protects the coastal waters as military facilities. Everything is very strict, a lot of red tape - it simply does not need anyone. There must be an opportunity to just jump into your boat and slip away on it with a sense of carefree fun and relaxation, as is possible in the UK, the Mediterranean and, in principle, everywhere .
China's geography is also playing a role. The perfect cruise involves a journey to paradise islands and a comfortable mooring in a charming seaside city. You can only count on such a trip in the Celestial Empire in the south - off Hainan Island. But even if you go there, as William Ward recently did, you need to get an official permission to go out to sea - and it is not the fact that it will also be given.
It is no wonder that the Chinese who own a superyacht or are planning to buy it soon are eager to make their pride and joy out of Chinese borders. They send boats to Thailand, Malaysia, Singapore and Australia, while those who are wealthier choose the USA and the Mediterranean.
The Future .
However, the first rays of the new dawn of the Chinese yacht market have already appeared on the horizon.
In April, Pride Mega Yacht shipyard in Yantai launched the largest boat ever built in China, the 88.5m Illusion Plus.
The yacht was the jewel of the Monaco Boat Show and was put up for sale for $145 million. The success of this deal will give a special confidence in the future of Chinese shipbuilding.
Chinese holdings have started buying international superyacht brands again. China Zhongwang, the world's second largest producer of aluminium extrusion products, recently acquired a majority stake in Silver Yachts, which produces fast and economical superyachts made of high-quality aluminium. The yard's Commercial Director, Jonah Kahn, said the company will soon have a facility in the Pearl River Delta to build superyachts for the Asian market.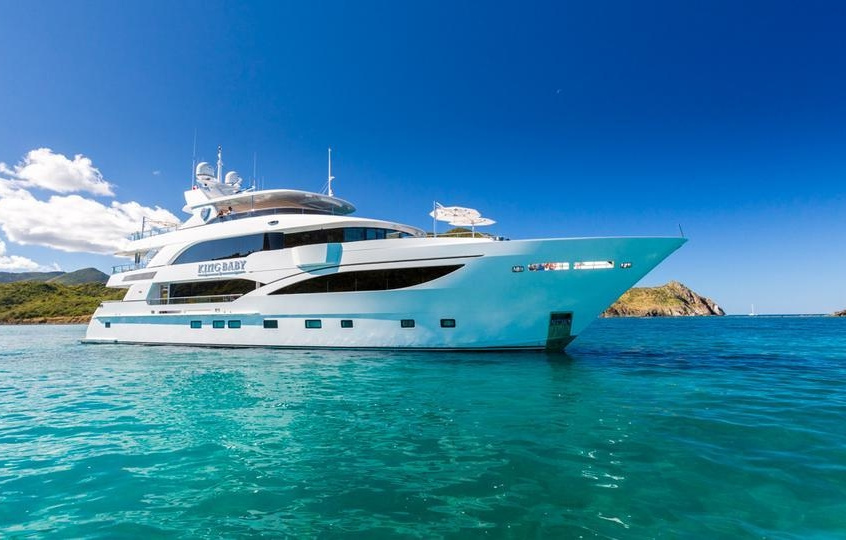 The Sunbird conglomerate, which already included five shipyards, added IAG Yachts to its portfolio in 2015. The result of this takeover is the production of the 42.7 metre superyacht King Baby, the largest fiberglass motorboat built in China.
Established in 2007, Heysea Yachts, China's largest shipyard, was ranked among the top 20 most sought-after shipbuilders in 2018 by Boat International magazine. Allen Leng, Chairman of the company, notes that the shipyard is attracting more and more interest among domestic customers because it takes into account their wishes: a galley under deck, more space for communication and entertainment instead of numerous cabins.
«There is a growing number of Chinese clients who have a better understanding of the yachting culture and lifestyle that she believes: owning a boat is more than just a floating platform for doing business and maintaining image," Leng says. - More and more Chinese customers recognize that domestic yachts offer the same quality and after-sales service as foreign brands. We also note the demand for small yachts, which shows that people are beginning to associate boating with entertainment and leisure, and that yachting is no longer just for the rich.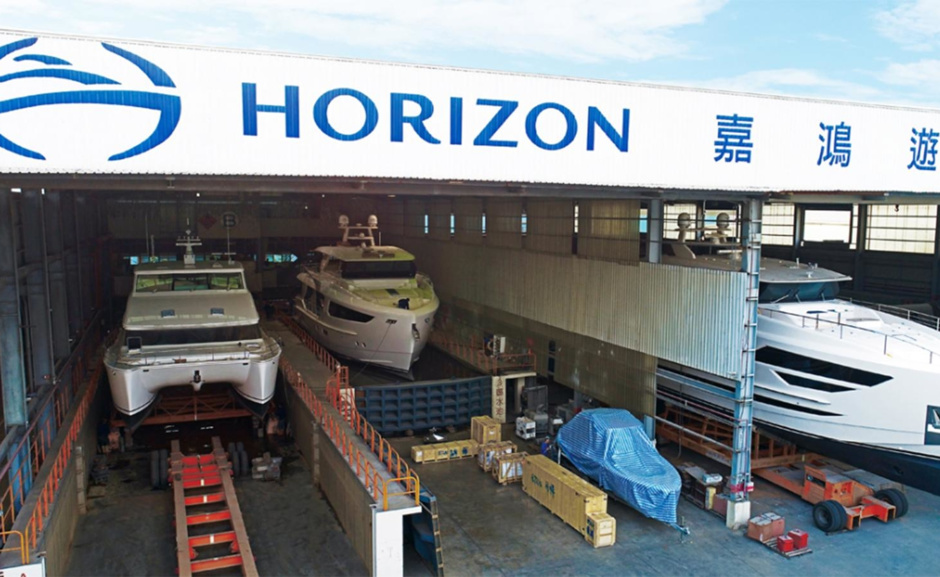 Horizon Yachts representatives say their company's products, including the new FD series, are gaining popularity among Chinese buyers who are increasingly advanced in yachting.
«For example, buyers from Shanghai or Sanya prefer to moor their boats at yacht clubs and hand over management to them," says Horizon Yachts Marketing Director Lily Li. - Over the past five years we have delivered 120-foot and 145-foot superyachts to customers in Shanghai.
According to rough estimates by Mike Simpson of Simpson Marine, about 50 percent of the yachts sold in China today are locally produced.
«The quality is improving," he says. - Sometimes you have to take a good look when you see a yacht coming: you think it's a famous foreign brand, but when you take a better look you realize that it's actually a locally made boat.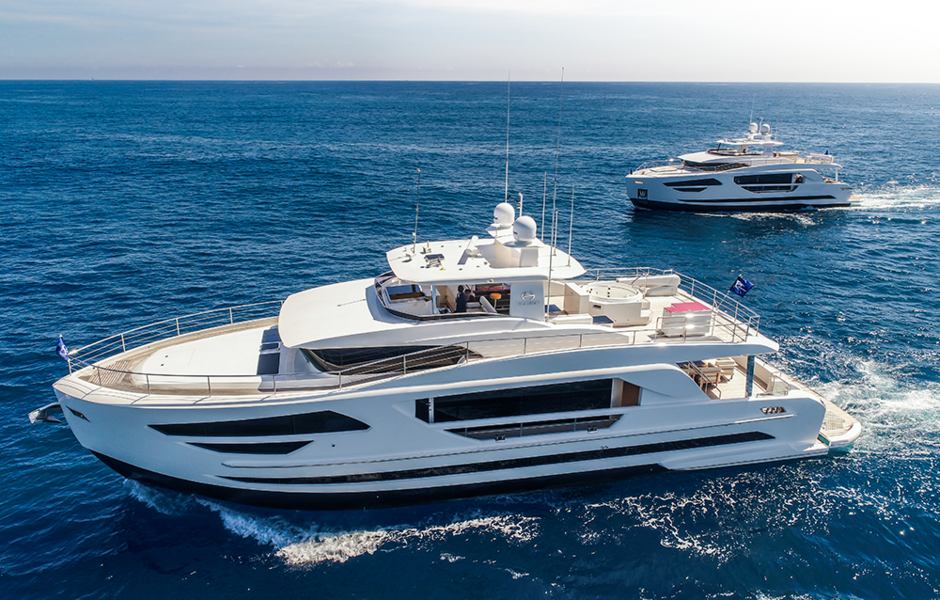 Hugh of Sunseeker, though a little less optimistic, admits: I think overall, though slow, «the market is improving. I can say that 70 percent of our customers for the years 2015-2018 are Chinese mainland with companies registered abroad. But they keep their boats outside of China.
Recently the local sailing and crew training system has received such a necessary impetus for development.
In April, UK Deputy Ambassador to China Martyn Roper and President of the Chinese Yachting Association Qiu Chun signed an agreement to open three training centres designed to bring Celestial Navigation to British standards.The centres will offer courses from the Royal Yachting Association. Just think: in the UK, seven percent of the population knows how to drive a boat. If we achieve this in China, we will be talking about eighty million yachtsmen.
Mike Simpson spoke about the benefits of a new initiative called the Greater Bay Area Development «Plan. The idea is to unite eleven cities located in the Pearl River Delta into a super agglomeration. Among other things, it will allow you to sail along the coasts of Hainan - with the port of registry in Hong Kong and Macau - and not pay a huge tax.
In addition, there are now discreet but decisive talks calling on Beijing to relax and bring the rules of boating in coastal areas to a common standard.
William Ward says he has talked to officials at city and provincial level and they understand how important it is to develop China's yachting industry and how useful it is for the tourism business: I have talked to «many officials. They understand the situation (the choking of all this red tape) and tell Beijing that vacationing on a boat implies a completely different culture and that its change will have a good effect on private and regional businesses.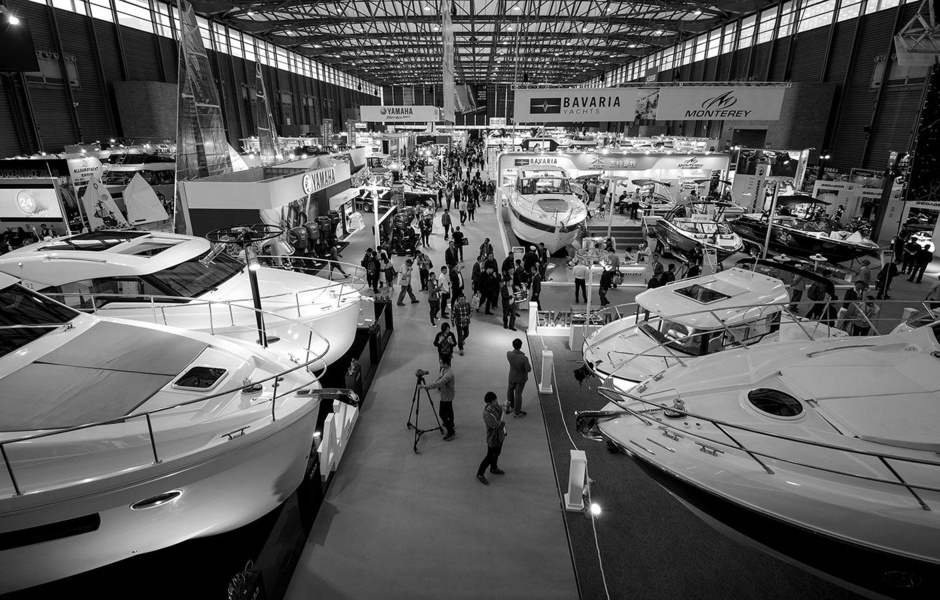 The yachting culture is already starting to change gradually. According to Delphine Lignières, one of the founders of the Hainan Rendez-Vous yachting festival, at the 2018 Shanghai Boat Show many of the participants presented something new to the local market - more affordable yachting.Fishing boats and cruisers stood side by side with huge superyachts.
«Contrary to myths, many Chinese people love water fun, including sailing and fishing," says Linier. - I notice that more and more people now walk on small boats on inland freshwater lakes. This is what I see as the future for the market - the sale of small pleasure boats for use on lakes, rivers and estuaries. This will help to create a yachting culture, and over time boats will become more and more. It will happen gradually».
The Boat International article was translated by Diana Karpovic for itBoat.