On the way to the yacht club everyone has an obvious question: «What are we going to sea?»It will arise when choosing a yacht for charter and especially when it is time to buy your own boat. You need to understand not only which classes of sailing yachts are on the market, but also which are better suited to your specific needs.
How did modern pleasure sailing boats come into being
The first yachts were born from small high-speed boats for transporting people, courier and cargo. Dutch ships began to build pleasure sailing boats on a fairly large scale from the end of the 16th century. Naturally, the main demand was provided by crowned persons and noblemen close to them.
In 1826 the first sailing regatta Kaus» «Week was held under the patronage of King George IV. Competitions were held on gaffed schooners and tenders. By the way, he began his passion for yachting much earlier as Prince Regent.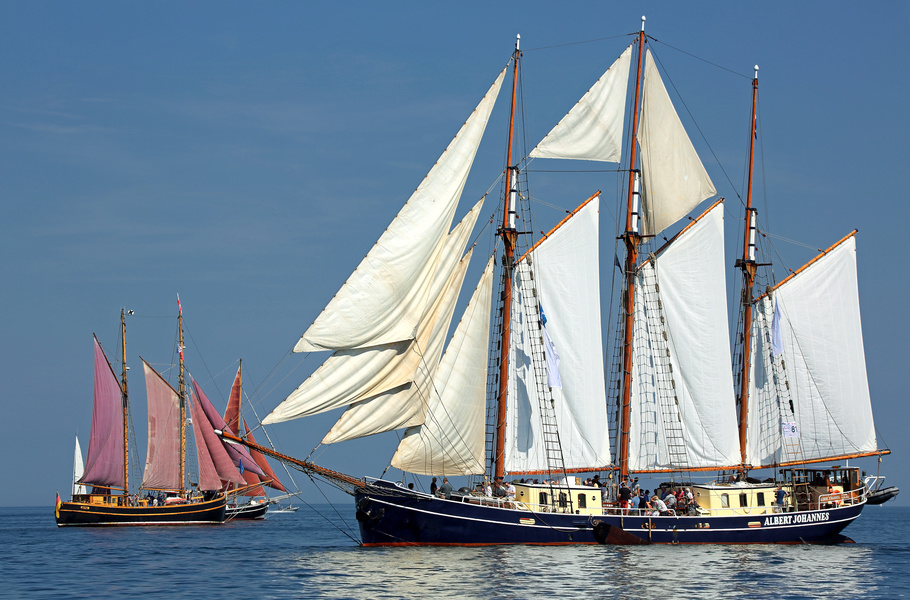 Unlike the first papyrus sails of the ancient Egyptians who had a single straight sail, most modern yachts have three sails:
The mainsail is a big sail that attaches to the mast.
Staxel - a smaller sail which is attached to the stack (a cable holding the mast at the front).
The spinnaker/genacer is an extra lightweight, large area sail that can be lifted on a sailing course.
Types of sailing yachts
All sailing boats can be divided into several types according to three main parameters: the number of hulls, the principle of stability (the ability of the vessel to keep or quickly return to the equilibrium), sailing weapons.
By the number of hulls boats can be:
monohull (single hull) boats;
with two or more hulls (catamarans, trimarans).
Multi-hulled boats faster than single-hulled boats. In addition, they are much more resistant to a certain angle of incline, but then the overturning becomes inevitable and its consequences are much greater.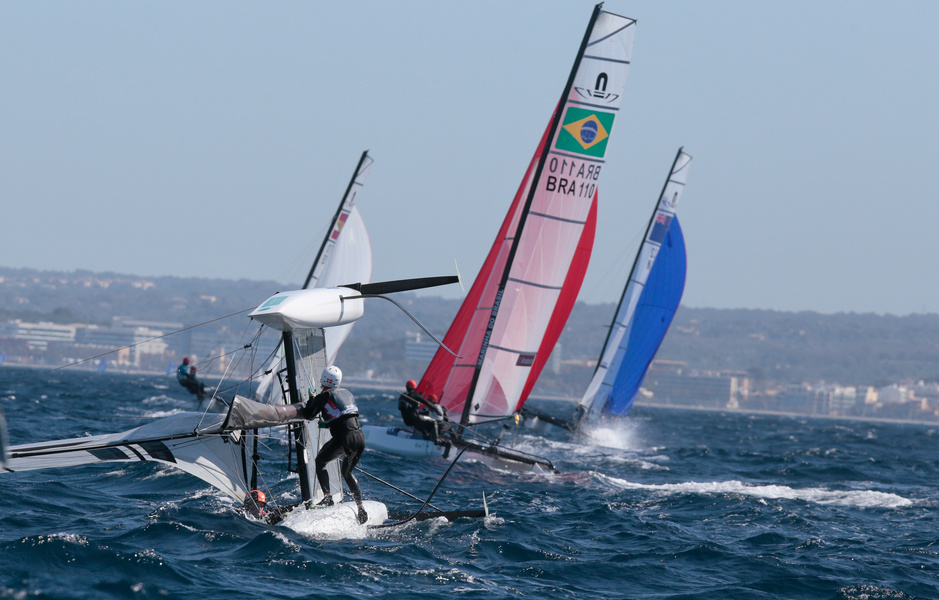 By the method of staying stable, all single-hulled boats can be divided by:
dinghies .
keel yachts
trade-offs
Kiel yachts
Have a falschik (heavy lead or cast iron ballast keel for stability). The maximum you can do with a keel boat is to put it on water with sails. Then it will surely return to its original state.
Shuttlebots
They have only a lightweight lifting fin. Its main task is hydrodynamic. The stability of the centreboard is maintained by moving the weight of the crew. As a result, it is not very difficult to turn such a yacht over.
Compromise
In this case, the additional ballast is placed inside the hull, and the heavy centreboard contributes to increased stability. A compromise is much harder to reverse than a normal centreboard, but it is not insured against a complete overturn.
Sailing arms - a set of elements of equipment of a sailing vessel: sails, rankings and rigging. The most common types:
«bermuda sloops», cruising yachts;
Single Sail «Kat is» especially popular with single dinghies («Zoom 8», «Laser», «Finn»).
The purpose of sailing yachts
The world of sailing is extremely diverse and every yachtsman can find a boat that meets the most original requirements, or build it to order.
All yachts can be divided according to their purpose:
racing - sports equipment designed exclusively for participation in regattas, such as Olympic classes;
coastal cruise boats that do not require a highly qualified crew;
cruising yachts - boats that can withstand long autonomous passages, providing the crew with a sufficient level of comfort;
cruising and racing - yachts with a full salon and, often, high speed.
In this article we will focus in detail on racing dinghies and catamarans, and in the next article we will look at keel yachts: sports, pleasure, cruising and sports cruising.
Sport dinghies.
As professional yachtsmen say: «Whoever raced a dinghy can race anything». All the basics of yachting will be learned as clearly as possible on these fast and compact yachts.
«Optimist»

The first boat to be used by children aged 6-7 years. Externally similar to a square trough, this monotype has an excellent navigability. Rare in our time, the sprint arms (a thin rail resting on the mast, holds the top corner of the quadrangle sail) gives an opportunity to touch the history of the sail. Since 1965, the International Class Association has held many regattas, including world championships, and has ensured that manufacturers comply with the rules of construction.
Length: 2.31 mSails:
1.13 mSails:

35 kgSails
with/without centreboard: 0.84/0.13 mSails area
: mainsail 3.3 m2Crew
: 1 personStrana
and year of construction: Denmark, 1961
Class Website
In the itBoat catalogue.
«Zoom 8» (Zoom 8)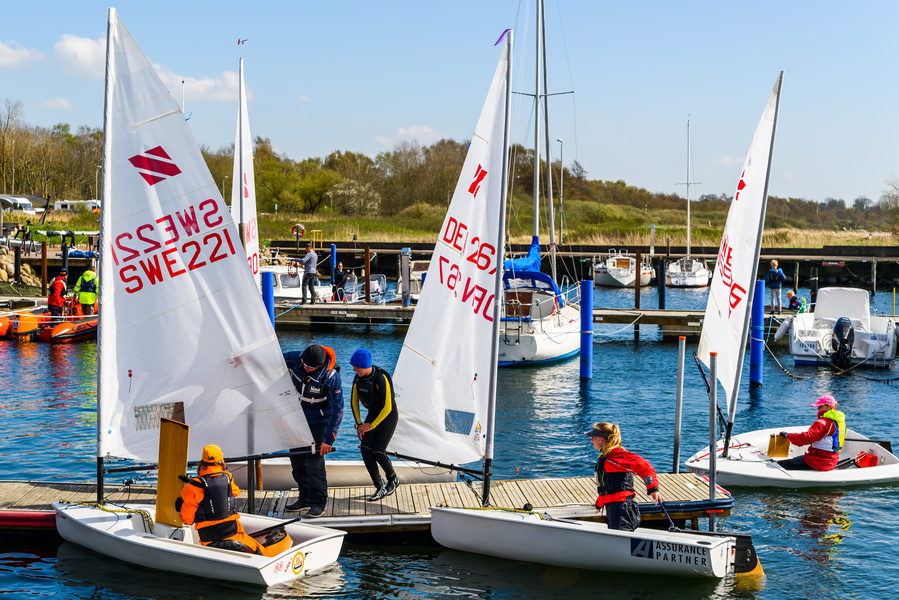 In 1992, Finnish designer Henrik Segercrantz built an alternative to «Optimist» - «Zoom 8». The fibreglass monotype with the «Kat» type arms is no longer a «trough»but a real sports yacht. The main thing - «Zoom 8» has all the basic sail settings available on large boats. Optimal helm weight from 35 to 65 kilos. So when you start racing as a child, young athletes can continue their careers up to the age of 18.
Length: 2.65 mShirina:
1.45
mHull Weight:
35 kgSheduling
with/without centreboard: 0.9/0.2
mSail area
: mainsail 4.8 m2Crew:
1 personString
and year of creation: Finland, 1992.
«Laser»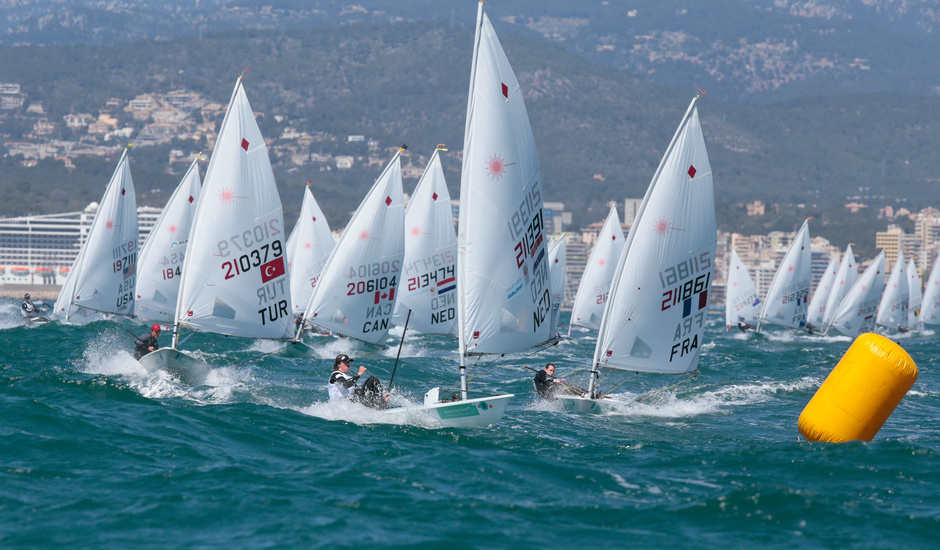 In 1969, Canadian designer Bruce Robert William Kirby created a dinghy dinghy, which became one of the most successful mass monotypes in the world. Conceived as a solo boat with the most simplified settings, it turned out to be a fast and athletic boat. The simplicity of construction and the low requirements for the initial qualification of a yachtsman allowed the «Laser» to quickly gain popularity. The great racing potential laid down by the designer has led to the fact that since 1996 the class has been present at the Olympic Games as a male single boat. In 2008, the female version, «Laser Radial», also became Olympic: a shortened mast with a sail area of 5.76 m² was installed on the same hull. The novelty has replaced the less fortunate «Europe» (Class Europe) in the Olympic cycle. Convinced of the success of this approach, the next step was to build a Laser 4.7 with even smaller sails for very young athletes. The main advantage of this design over the Zoom 8 is that all the equipment the yachtsman has developed is safely transferred to the Senior «Laser». In addition, only a new sail and one of the two parts of the mast will be needed to start training. It is no wonder that small sailing schools around the world have appreciated this approach and the «laser» confidently holds the palm of the Olympic class championship in terms of fleet size.
Length: 4.23 mShirina:
1.37
mHull weight:
59 kgSheduling
with/without centreboard: 0.88/0.2
mSail area
Laser/Laser Radial/Laser 4.7: mainsail 7.06/5.76/4.7 m2Crew:
1 manString
and year of construction: Canada, 1969
Class Website

In the itBoat catalogue.

«Finn»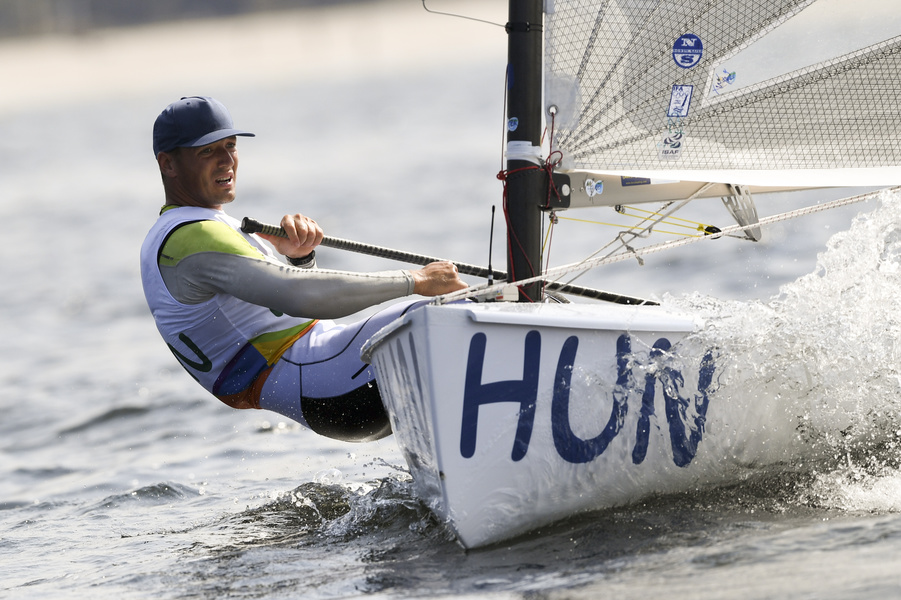 Another long-time survivor has a «Kat»sailing weapon. In 1949 it was designed by Swedish Rickard Sarby. Three years later Finn was on the Olympic programme. Over the years, this class, remaining a strict monotype, has managed to survive an entire technological revolution. Plywood and dacron have been replaced by carbon fiber and ultra-modern laminates. The look of the athletes themselves has also changed significantly. While «Finn» used to be a heavyweight»boat«, the modern helmsman can be in the middleweight category, but must be in excellent physical shape. He was one of the first classes to officially allow «pumping» - rowing sails. And now, even in low and medium wind, the athlete has to do a lot of physical work all the time. The boat has a lot of settings and as a result requires high skill of a yachtsman.
Length: 4,5 mShirina:
1,5
mHull Weight:
107 kgSaddle
with/without centreboard: 0,84/0,15
mSail area:
mainsail 10,2 m2Crew:
1 personString
and year of creation: Sweden, 1949

470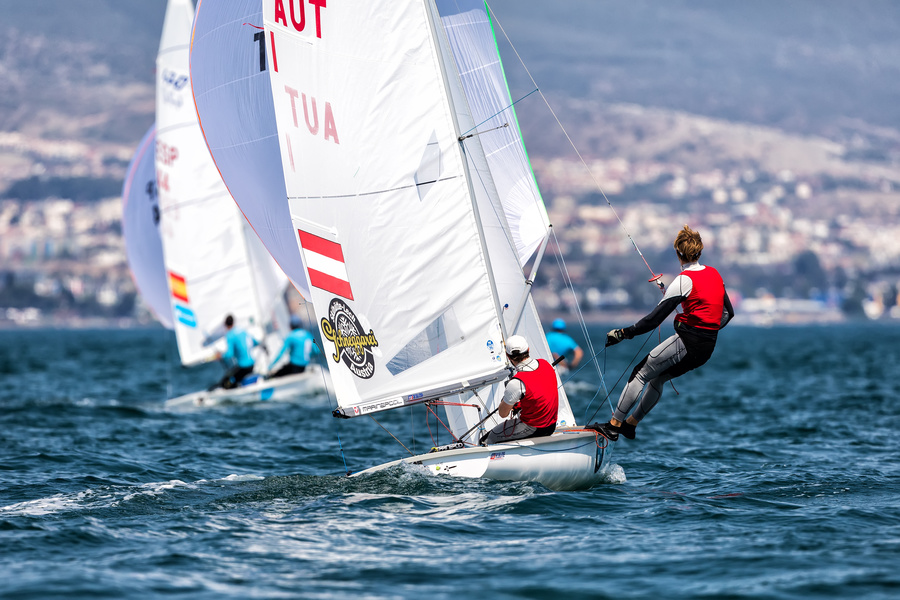 If all you need in dinghies is you and the boat, all you need is a crew to follow them. Ship roles are divided quite simply: sailor and helmsman. And the interaction in this pair must be on an intuitive level.

A classic example of a dinghy-double. Designed in 1963 by the Frenchman André Cornu, the monotype made its way to the 1976 Olympics. The optimal number of adjustments combined with a reasonable sailing area allow the crew to easily reconfigure the boat and focus on the steering. On the one hand, the 470 forgives many mistakes, which allows athletes to start their journey in twos with this boat. On the other hand, to win the competition, the control technique and understanding of sailing must be impeccable. The boat is equipped with a sailor's trapeze: without it, it is no longer possible to effectively open such a sailing area. Beginning with the 2020 Olympics, boat 470 will be a mix: the crews will be mixed, i.e. consisting of a man and a woman.
Length: 4.7 mShirina:
1.7
mHull weight:
120 kgSheduling
with/without centreboard: 1.08/0.15
mSail area:
mainsail/stacker/spinnaker 9.45/3.59/12.16 m2Crew
: mixed, 2 personsString
and year of creation: France, 1963
«Fotininer» (49er)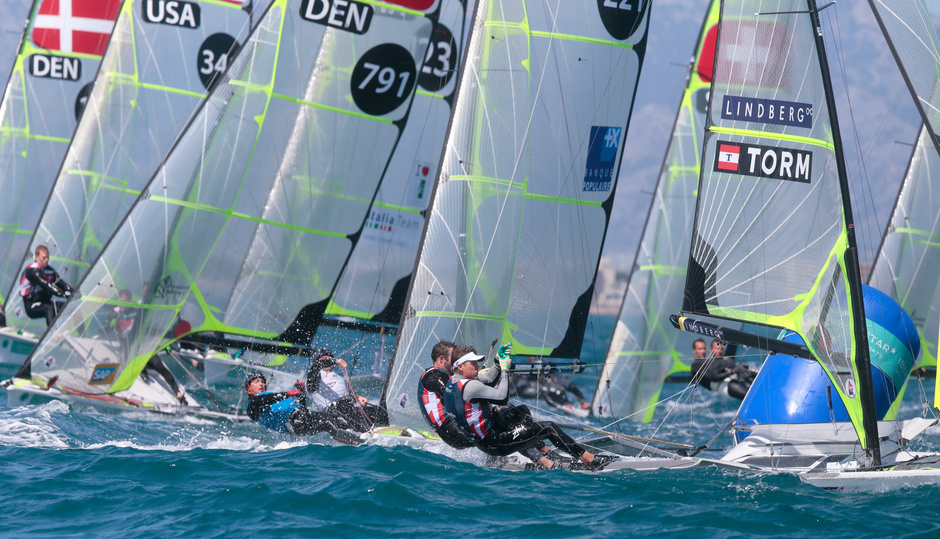 The most technical single hull two in the Olympic program. The overloaded «ski-sail» was created by Julian Bethwaite especially for the Sydney 2000 Olympic Games. Both crew members work in the trapeze to cope effectively with the heavy loads. As a result, the «Fotinainer» (49th) places maximum demands on the athletes' preparation and fitness. Similar to «Laser Radial», the «Fotininer FX» (49erFX) was created with the same hull, but with a shorter mast and reduced sail area. Due to its features, this class is a real forge for professional teams performing on large keel boats. High physical activity combined with the need to fine-tune the sails allows riders to become experts and squeeze the maximum out of any yacht.
Length: 4,995 mShirina:
2,9 mShirina:

70 kgSaddle
with/without centreboard: 1,45/0,15 mSail



area 49er: mainsail/stackel/genacer 16,1/5,1/38
m2Sail area
49er FX: mainsail/stackel/genacer 13,8/5,8/25,1 m2Crew:
2 personsString
and year of creation: Australia, 1995.
Similar sports dinghies

There is a huge variety of pleasure boats and even cruising boats, built on the schemes of sports. They are perfect for closed reservoirs, easy to transport and operate. These boats serve as an entry ticket into the world of yachting for those who are not planning a sporting career, have limited budgets or do not have a deep enough reservoir suitable for keel boats. A good example of a cruising yacht is the Laser Bahia, while a cruising dinghy is the Presto 30.
Sports catamarans
Tornado.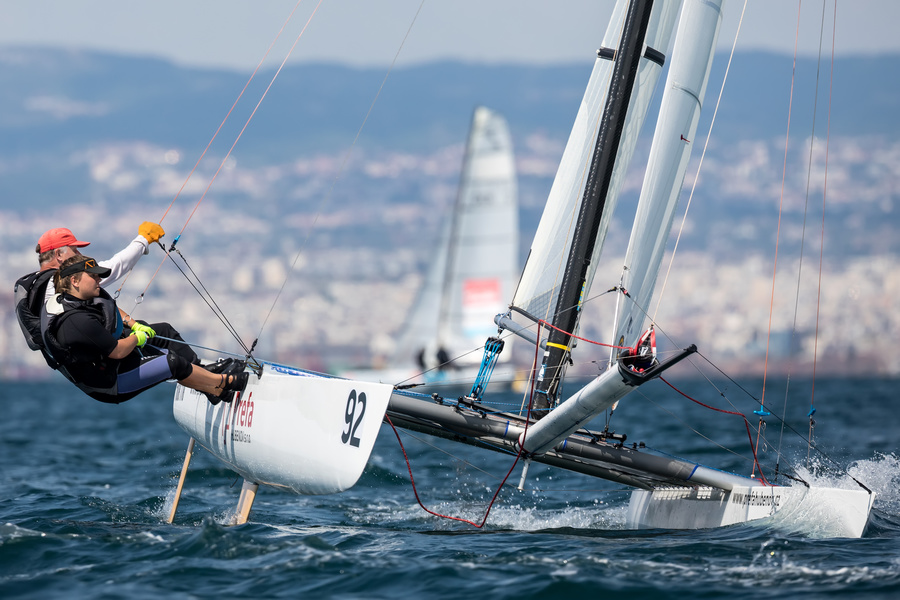 A racing catamaran monotype and the first multihull yacht in the Olympics. The catamaran was designed in 1967 in the UK, and ten years later it was the first to participate in the Games. For the most efficient opening a sailor had a trapeze at his disposal. «The tornado» was excellent on one float and was out of competition with other Olympic classes in terms of speed. In 2000 he underwent a significant upgrade: the shape was changed and the sail area was increased, there was a gennaker and a second trapeze for the helmsman. However, in 2008, the catamaran was excluded from the Olympic program. But it still remains very fast and very attractive for fans of high speed on water.
Length: 6.09 mShirina:
3.08 mShirina:

155 kgSheduling
with/without centreboard: 0.76/0.15
mSail area
: mainsail/stacker/spinnaker 16.35/5.29/25.77 m2Crew
: 2 personsString
and year of creation: UK, 1967
«»(Nacra 17)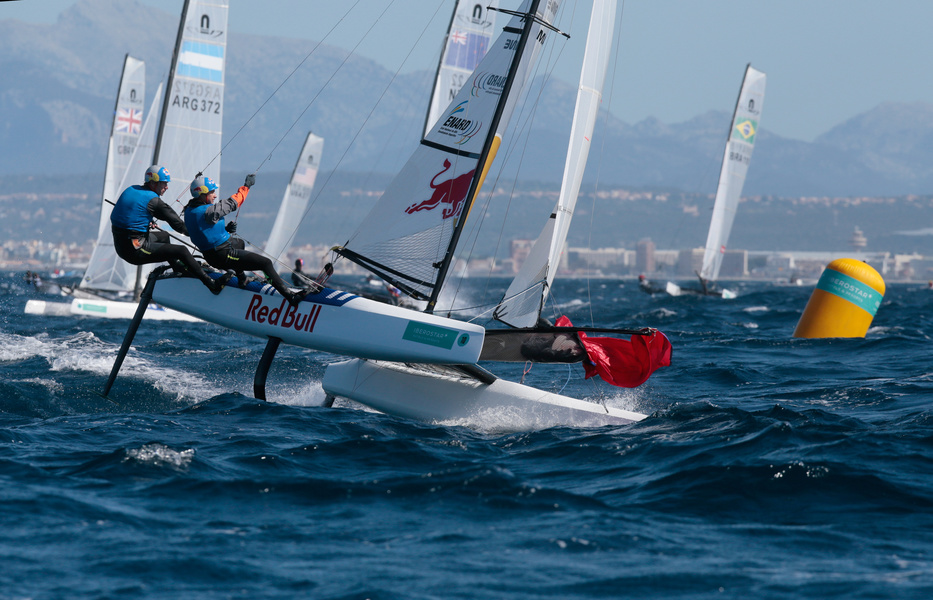 The project was developed in 2011, and already in 2012 it was decided to include the class in the Olympic program for 2016. The first world championship was held in 2013, but the fleet was very small. In addition, the athletes had a lot of questions about the mattress, which was literally being finalized in time for the Games. Despite the young age, the class has been successfully upgraded, and at the 2020 Olympics it will be presented in a version with foyles. In fact, this sports projectile is already difficult to call a yacht: two floats «flying» over water on hydrofoils, which requires a number of completely new skills for traditional sailing. As a consequence, «Nakra 17» today is the domain of professionals aiming at Olympic gold.
Length: 5.25 mShirina:
2.59
mHull-Weight: 142 kgSheduling
with/without centreboard: 0.7/0.2
mSail area:
mainsail/stacker/spinnaker 14.45/4/18.5 m2Crew
: mixed, 2 personsString
and year of creation: Netherlands, 2011
GC32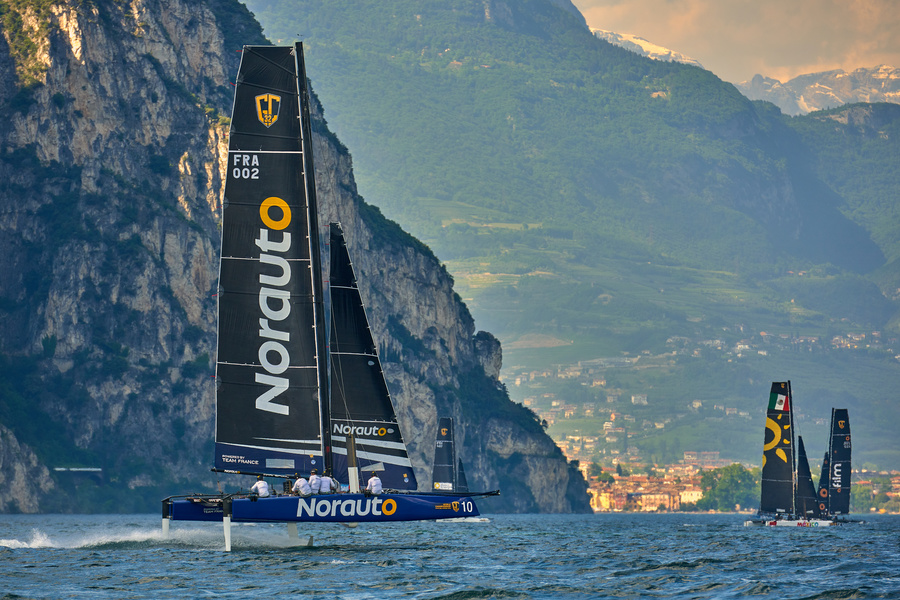 An incredible speed of 74 kilometers per hour, four hydrofoils, a protective helmet as a mandatory outfit - all this is the ultra-modern carbon catamaran GC32. It was he who replaced the Extreme 40 at the famous Extreme Sailing Series regatta in recent seasons. This extreme car has revolutionized the concept of sailing racing, making it a truly mass spectacle.
Length: 12 mShirina:
6
mShirinaHull weight:
950 kgSharp
course/full course: 2.1/1.6 mSail area:
mainsail/stacker/spinnaker 60/23.5/90 m2Crew:
5 personsString
and year of creation: UAE, 2014
In this article we told about the most popular models of dinghies and catamarans. In the next part we will talk about keel yachts.