Project 710 represents a new era in yachting, seamlessly blending advanced technology, environmental consciousness, and unparalleled luxury. Feadship's commitment to minimising its ecological footprint while delivering uncompromising quality is commendable.
Feadship, renowned for its exceptional craftsmanship and innovation in yacht building, has revealed its latest masterpiece, Project 710. This 84-meter superyacht showcases cutting-edge technology and a dynamic design that challenges conventional norms in the industry. As the vessel emerged from the construction hall in Aalsmeer, she entered the final outfitting before embarking on sea trials.
Project 710 inside and outside
According to the design team, Project 710 pushes the boundaries of yacht architecture and engineering, embodying the next generation of yachting excellence. The sleek, low-profile design and clean, horizontal lines visually elongate the yacht, while a sturdy bow exudes strength and seaworthiness.
One notable feature of Project 710 is its single-level engine room, a departure from traditional yacht layouts. This innovative design choice allows for enhanced flexibility and creativity in accommodation. The exterior design and interior architecture are the fruit of a collaboration between British firm RWD and MONK design. This results in a bold and modern aesthetic that perfectly complements the yacht's profile.

The interior of the Project 710
Delving deeper into the yacht's interior, one discovers surprising and captivating spaces. An asymmetrical atrium staircase leads to a lower deck dining saloon. Here, an entire wall opens, revealing a terrace hovering just above sea level. Towards the stern, an aqua lounge with large windows below the waterline offers an unforgettable underwater view. In a departure from the norm, the forward section replaces a typical mooring deck with a bow observation lounge featuring double-curved glass floor-to-ceiling windows. The aft decks, free from obstructive pillars, provide unobstructed views through glass balustrades, forging a seamless connection to the natural environment.
The fuel Project 710 uses these days
Project 710 embodies Feadship's commitment to innovation and superior engineering. It represents a significant step towards the company's goal of constructing zero-emission super yachts by 2030. Thus the yacht incorporates various eco-friendly features, such as hull optimization for cruising speed rather than top speed, weight control measures, advancements in electric propulsion, and the ability to run generators on HVO, a second-generation biodiesel, which qualifies as a net zero CO2 fuel. By utilising HVO during sea trials and delivery, Project 710 should reduce total CO2 emissions by approximately 90%.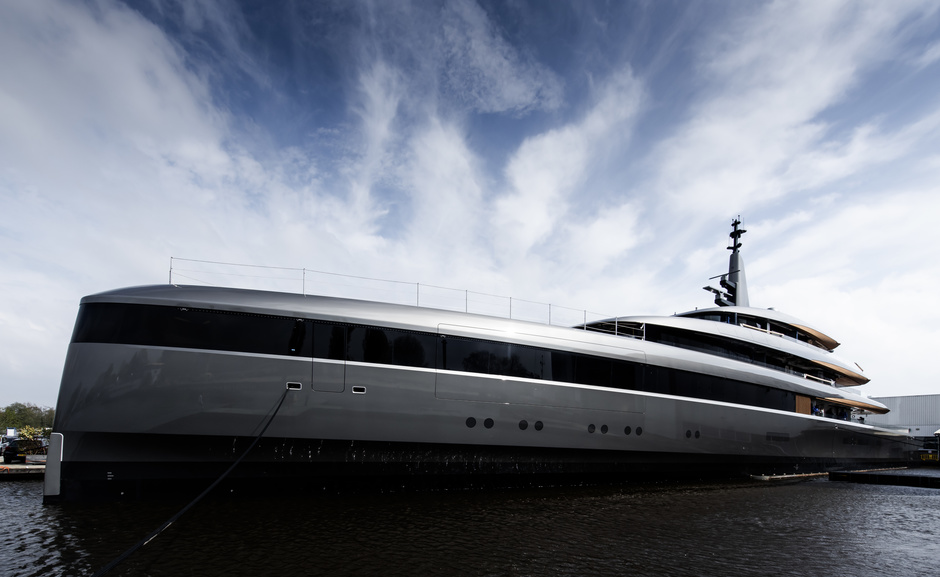 4,5 times more powerful than Savannah
A notable departure from conventional yacht propulsion systems, Project 710 employs Feadship's Advanced Electrical Drive (FAED) program for diesel-electric hybrid power. With 4.5 times the electrical storage capacity of Feadship's first hybrid yacht, Savannah, this vessel features no drive shafts or rudders. Instead, two electric Veth contra-rotating thrusters facilitate electric drive and steering. Feadship and Veth collaborated extensively on computational fluid dynamics analysis to optimise the efficiency of the drive legs and propellers while minimising vibration.
Addressing the significant energy requirements of a luxury yacht, Project 710's engineering team developed innovative solutions to lower fuel consumption. Thanks to harnessing waste heat from custom variable speed generators and air conditioner chillers, Feadship 710 can supply heat to the AC system, pool water, domestic water, engine preheating, and more. Additionally, an ingenious heat pump system enables the vessel to extract heat from seawater, enhancing energy efficiency.