In-build Lurssen superyacht Ace 21 has been spotted on transport for the first time after leaving the construction shed on the 1st of April. The 78-metre project, which is yet to have its design team revealed, is being transported to Lurssen's construction site in Lemwerder where it will be outfitted ahead of its official launch.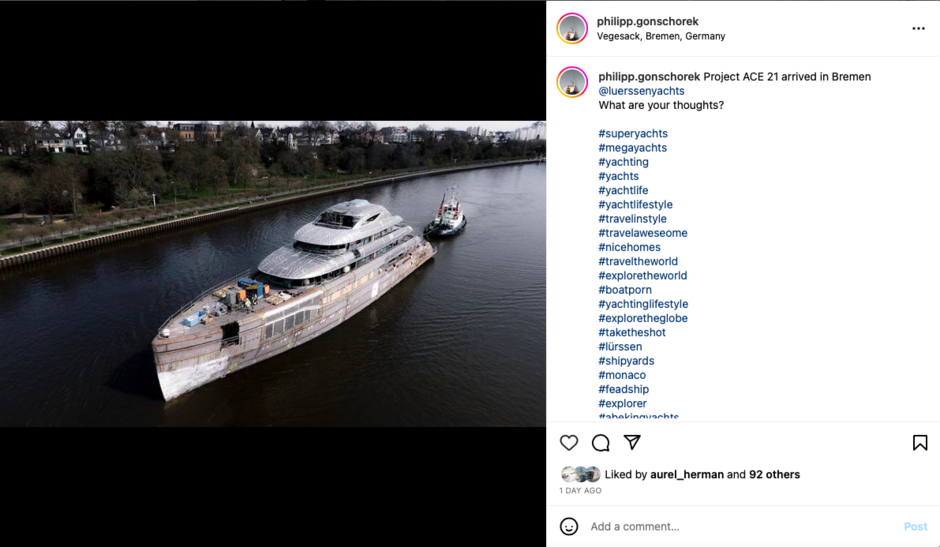 The steel and aluminium superyacht was sighted for the first time last week after being rolled out of the shed in Bremerhaven, Germany. The first images show a five-deck vessel with a plumb bow and sleek lines.
About the yacht
Ace 21's hull and superstructure were constructed and joined at Stahlbau Nord's Lunehalle I in Bremerhaven. She was then rolled out onto the 95-metre pontoon by Bhv Innovation ahead of transportation to Lurssen's facility in Lemwerder. The superyacht is expected to have an interior volume of 2500 GT and be delivered next year.

According to SYT iQ, Lurssen has several other superyachts scheduled for delivery in 2023. These include the 122-metre Jag, 107-metre Icecap, 90-metre 1601, 82-metre Cali, and 62-metre Cap d'Ail. Ace 21 is one of 13 projects currently under construction at Lurssen, with the 145-metre Luminance being the largest.
Project Ace 21 is not the only Lurssen yacht named Ace. In 2012 the German shipyard launched an 85-metre private vessel with an outstanding design by Andrew Winch. She has unique lines on the superstructure and revolutionary stairways at the stern.
78 metres is not the most common Lurssen yacht size. Only one 78-metre yacht Rocinante (ex.TV, ex. Madsummer) is in the current fleet. Designed by Espen Oeino, she has a 2334 GT volume.
In the yachting community
Despite the lack of information about the design team and specifics about the yacht's features, the glimpses of Ace 21 have generated excitement among the yachting community. All eyes were on the photos made by German-based yacht photographer Philipp Gonschorek and the videos of the blogger DrDuu, who filmed the vessel during transportation.
The project is expected to have state-of-the-art technology, luxurious amenities, and a high-end finish. Ace 21 is sure to generate buzz within the industry, as Lurssen's reputation for building world-class superyachts precedes it. Thus the vessel's official launch is eagerly awaited.