Italian yard Perini Navihas unveiledthe Falcon Rig Galleryrange of sailboats at the Monaco Yacht Show. The design of these boats has been inspired by the iconic clipper which Perini Navi launched in 2006 - the famous 88 metre Maltese Falcon. Five models in lengths of 56, 64,72, 80 and 92 metres will be included in the range as of today.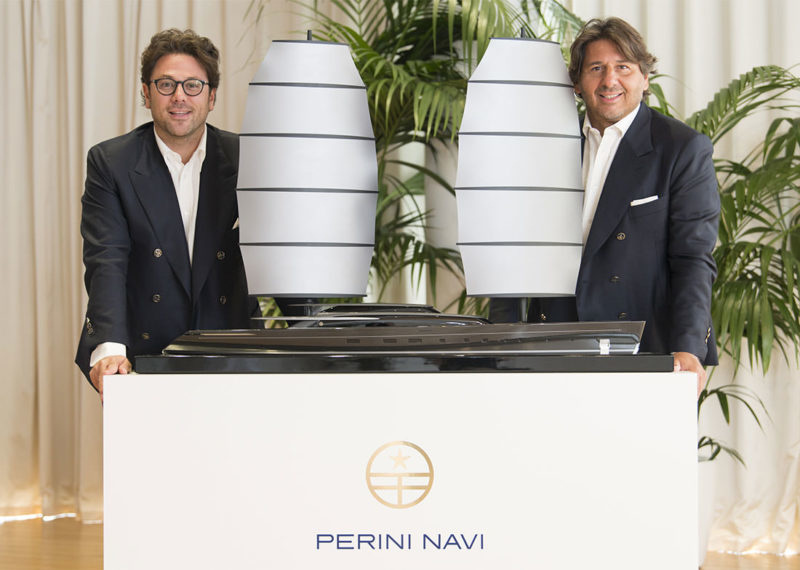 What will differentiate the Falcon from the Maltese Falcon is the enhanced aerodynamic performance of the sails and the new generation of winch to make handling easier.
All sizes of boat will be provided with a large comfortable area at the stern which will evolve into a large beach club. The cockpit and saloon will be on one level. The interior and exterior spaces of the boat will flow smoothly one into the other almost merging.
It is already publicly known that this 92-meter flagship will feature a full-beam master suite on the upper deck.
There will be a lot of glass partitions on board this boat. This includes the main staircase which connects all four decks. It looks like it will be particularly striking in the bright interiors of Falcon Rig.
To allow the Falcon Rig to be larger and more powerful the yard is planning to team up with Dutch studio Dykstra Naval Architects and composite specialistsMagma Structures. The Falcon Rig project will involve the design, construction and delivery of a new generation of Maltese Falcon kites for yachtsmen all over the world.
According to figures announced by Perini Navi in Monaco the total value of the yard's three latest contracts, work on which has not yet begun, is estimated at €160 million.
These contracts concern the creation of a 92-metre Falcon Rig, a 47-metre E-volution sailboat and a 74-metre Vanguard motor yacht designed by Argentinean designer and naval architect Horacio Bozzo.
Seven more yachts are already under construction: two motor yachts 53 and 56 meters and five sailing yachts 42 to 60 meters.
The yard's production volumes in monetary terms have increased from €35 million in 2017 to €66 million in 2018. At the end of 2019, the company already expects €80 million.
In addition to consolidating and strengthening the existing Viareggio - La Spezia - Turkey axis, where Perini Navi's production facilities are located, the shipyard plans to open operational bases in Hong Kong and Monte Carlo in the coming months.