We have to admit that one of the richest people in Russia, perhaps without knowing it himself, has done a lot to promote yachting in the country. The words "Roman Abramovich" and "yacht" are almost inseparable in the minds of modern Russians. The whole country watches with interest on the pages of the tabloids as another Abramovich's yacht goes down, arrives at the largest ports, receives on board of "Chelsea" as a full crew or finally breaks another record of length, speed or price. The words "Peloorus" and "Eclipse" are familiar to every reader of the newspaper "Tvoi Deje" and the whole country knows and is quietly proud that "ours" is the largest private yacht in the world.
Photos of Roman Arkadievich's yachts fill the pages of newspapers with enviable regularity, but on most of them floating palaces are shown only outside - privacy of the oligarch is jealously guarded. The interiors of the Pelorus and Sussurro yachts have been previously published, but only in specialized specialized publications. Happy (and rich) will be the photographer who will be able to take a picture of the newest Abramovich yacht inside, but so far nobody has managed to outsmart the most powerful security service.
And it still began in 1999 with the purchase of two small yachts from Boris Berezovsky - Stream and Sophie's Choice. At the beginning of the future "great armada", these two boats (each worth only about a million dollars) disappeared into the limbo - nothing more was heard about them.
In 2002, Abramovich broke into the "big league" on the move, having bought a megayacht from the Saudi Sheikh. Le Grand Bleu - A huge (113 meters) expeditionary boat from the German shipyard Bremer Vulkan, adapted to sail in harsh latitudes and equipped with everything you might need for a long journey, including two helipads. A small detail gives an idea of the scale of what is happening - as one of the tenders, the Le Grand Bleu carries a 21-meter Sunseeker Predator 68. Also on board is always waiting for its own small sailing boat.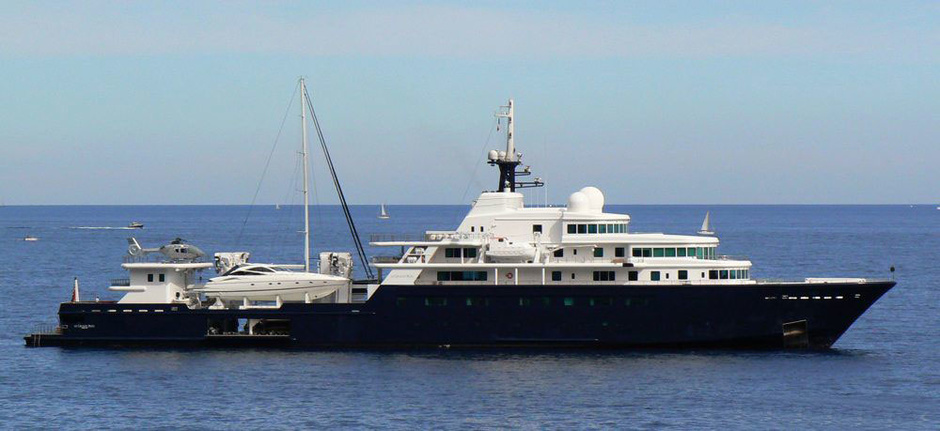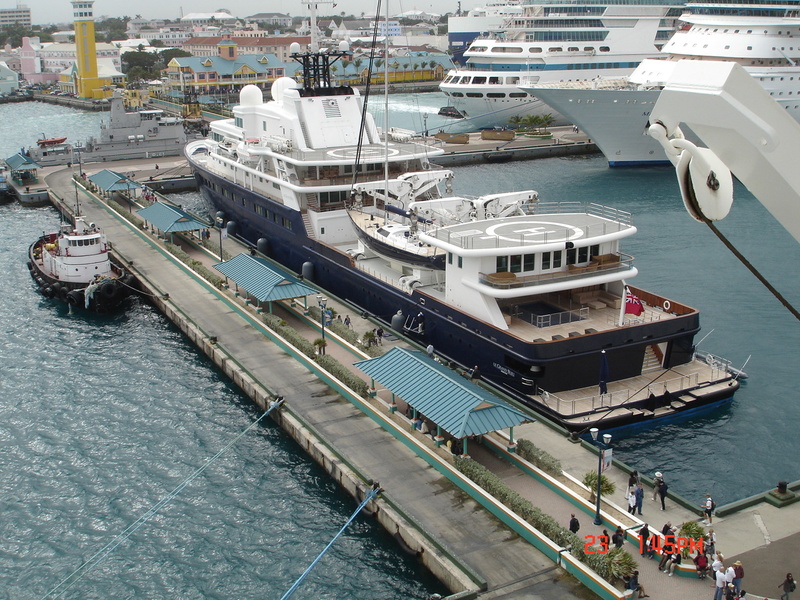 In 2006, Le Grand Bleu was given as a gift to an old friend and business partner of Abramovich Yevgeny Shvidler, who enjoys using it to this day.
The donor himself has not missed a powerful expedition yacht for long. In 2010, Lloyd Werft gave Abramovich a megayacht... Luna - the largest private expeditionary class ship in the world. The yacht is equipped with every conceivable toy, is powered by the latest diesel electric system and has gigantic autonomy and power reserve. Using automotive analogies, the Luna is a Range Rover in Abramovich's garage, allowing her to climb to the most remote corners of the world.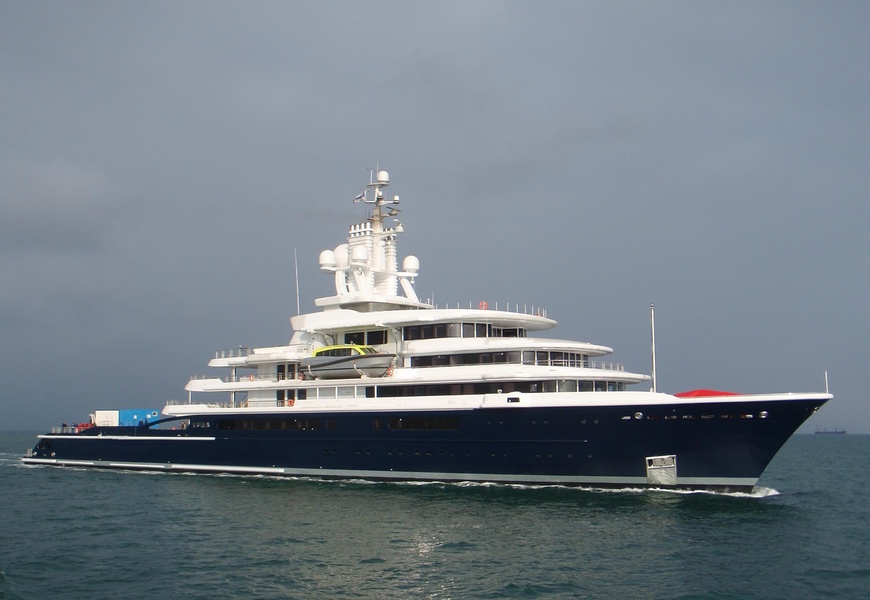 As for «sports» cars in the same garage, there are plenty of them too. In 2002, a tasteful yachtsman bought a motor yacht... Sussurro from Feadship. With a length of 50 meters, the yacht has a top speed of 46 knots (!) and a cruising speed of 20 knots. Two HP Paxman diesels and, most importantly, two Textron Lycoming gas turbines with 4,000 hp each give her a jump like this. Despite her age - the yacht was built in 1998 - Sussurro is still the fastest Feadship ever. In Abramovich's flotilla she has served the longest, often appearing alongside monsters like the Pelorus and Eclipse as an accessory boat. Now Sussurro is sold and no longer belongs to the glorious "Romanesque flotilla".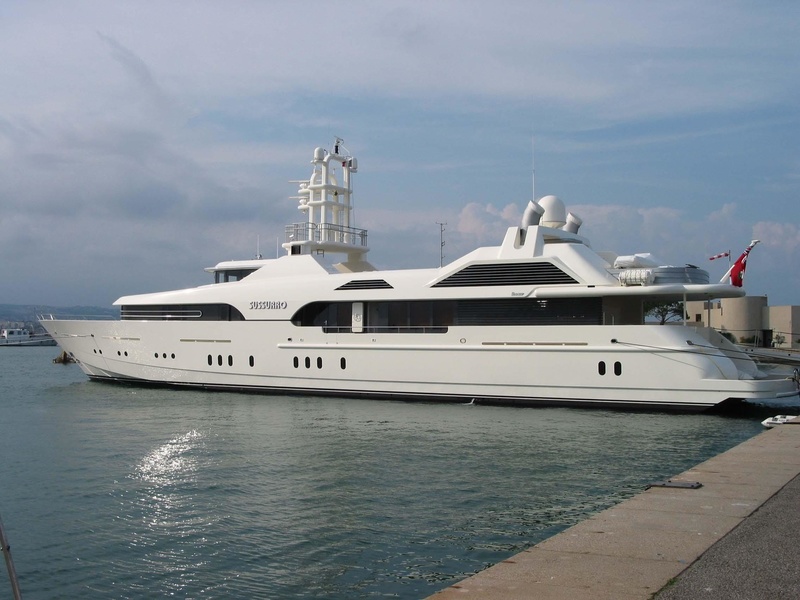 Another fast boat is an 86-meter boat. Ecstasea - is probably the first yacht not bought by Abramovich, which is called a hands-on boat, but built by Feadship especially for him. Here the client's fantasy is played out - in addition to the unusual name (said to be invented by the owner personally), the yacht has a very exotic propulsion system. In addition to the four (!) mighty MTU diesel engines spinning two propellers, the yacht is equipped with a giant gas turbine unit from General Electric, which drives a huge central water cannon, whose nozzle is clearly visible in many pictures. All this construction allows the yacht to be carried at up to 36 knots and a cruising speed of 25 knots, even higher than the much more compact Sussurro.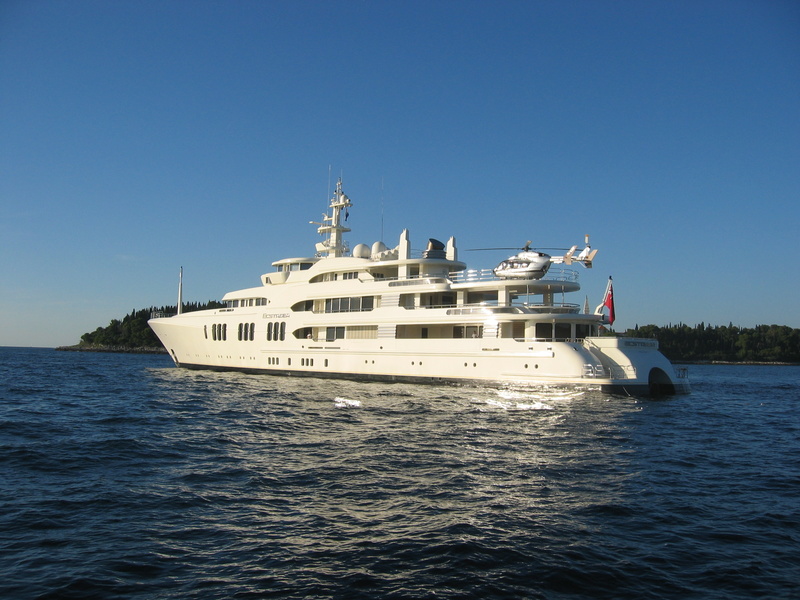 In 2009 Abramovich sold Ecstasea, apparently «making room» for his greatest acquisition in all senses - the 162-meter monster Eclipse, which has not been written about recently except children's coloring books. We have also written about it and will return to it a little later, but in the meantime we should mention "Eclipse" - one of the most beautiful megayachts of its time.
PelorusThe 115-metre steel yacht, with an aluminium superstructure, was originally built at the Lurssen shipyard for an Arab client, but was purchased by a Russian oligarch before construction was completed. The cost of the yacht for Abramovich was $129 million. At this price he was able to outbid five others who wanted to take possession of the Pelorus. He had a lot to compete for: a yacht finished with palace luxury. There are about 20 cabins, a cinema, a Jacuzzi, a sauna and several swimming pools on board. In addition to the standard set of entertainment boats, there is a small submarine on board which can be used both for exploring exotic depths and for stealthy departures from the yacht. There is also a missile attack warning system on board.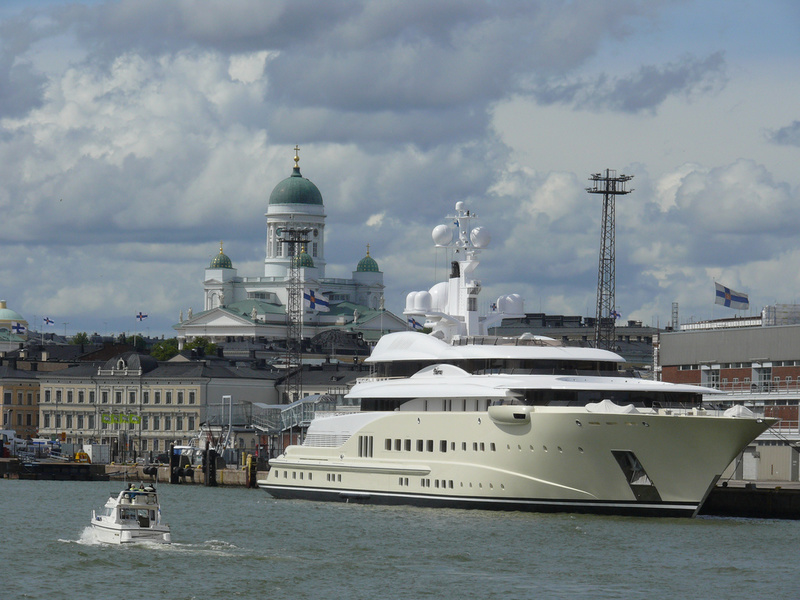 According to the available unofficial information, in 2010 Abramovich sold Pelorus, leaving in his fleet only the "Moon" and his latest (but, I think, not the last) purchase - a yacht. Eclipse.
Launched in 2010 at Blohm+Voss Shipyard, the 162m is now officially the largest private yacht in the world. As we have already written here, the new «Queen of the Seas» has 24 luxurious cabins, a 16-metre swimming pool capable of transforming into a dance floor, and two helipads. The hangars of the vessel accommodate three (!) helicopters and a small pleasure submarine.