In a recent report, the China Cruise and Yacht Industry Association (CCYIA) predicts that the number of yachts in China will increase from last year's 3,000 to 100,000 by 2020. By then, the local yachting business will have reached 50 billion yuan ($8.18 billion). The government's support for marine tourism will play a role, says Zheng Weihang, general secretary of the association. In February this year, the State Council strongly recommended that the tourism and leisure industry improve the infrastructure for yachts.
In addition, China's fast-growing economy is giving people the opportunity to buy pleasure boats, justifying the surge in interest in yachting and buying yachts in recent years. Manufacturers are also not wasting time looking for ways to make yachts manageable and thus interesting for more customers.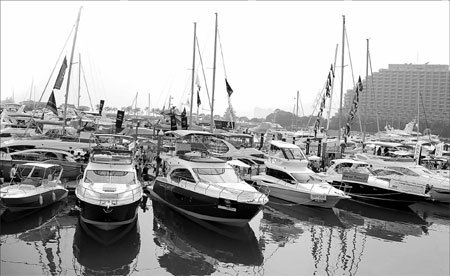 «I think that yachting will soon become a new hobby for people in mainland China who prefer to drive on their own, as it happened in Hong»Kong," said Lars Petersen, top manager of Jebsen Marine, dealer of Italian yachting brand Riva and British Fairline.
The

yachting industry

in China is taking its first steps, but a new stage in the relationship between the Chinese and yachts is not far off.
This new phase implies that customers will use boats not only for representative purposes but also for entertainment, which in turn will increase demand for smaller yachts, explains Peterson.
His view is the same as that of the yachting association. «The number of rich people is increasing, consumer preferences are changing and demand for small and medium sized yachts will rise»," the same report says. - The «capacity of the private yacht market will approach 35 billion yuan ($5.7 billion) by 2020».
Fortune Character Institute (a consulting company specializing in luxury segment research) estimated that the total revenue of the country's yacht market reached 1.75 billion yuan ($285 million) in 2012, of which the luxury boats segment is 780 million yuan ($128 million). The average annual growth rate of the yacht market was 732% from 2006 to 2011. Other luxury goods cannot boast such stable figures.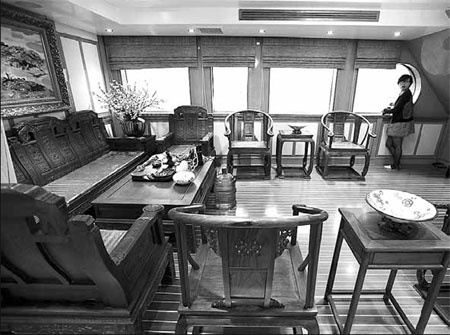 Chinese multimillionaires spend on average 1.56 million yuan ($ 254 thousand) per year. However, they do not know anything about yachts, says Zhou Ting, director of Fortune Character. But luxury boats will be an important part of their lifestyle, 51% of whom have already announced their intention to buy a yacht.
However, the yachting market itself believes that their main customer will be the middle class.
The association agrees: luxury boats will set the pace at the beginning, but small and medium size boats will take a large share.
Judging by the experience of the international market, small fishing boats and sailing boats in the range from 300,000 to 800,000 yuans ($50 to $130,000) will be the most popular. These two types of yachts will be in the top, Zheng says. Middle-income families will support their growth in the market. Those who cannot afford such a purchase will be able to take advantage of yacht rentals, he concluded.
Foreign players
Over the next 2-3 years, Hong Kong's Jebsen Marine plans to open 8 offices in Beijing and other coastal cities to be among the first to meet the demand for luxury boats. In their quest to win the Chinese market, they are not alone. The largest marine engine manufacturer Volvo Penta places China at the top of its global strategy to compensate for European losses at the expense of developing countries. Bjorn Ingemanson, president of Volvo Penta, the largest manufacturer of marine engines, says the same thing. Over the past three years, the company has invested 500 million yuan ($81.5 million) in the local market with the expectation that China will be their main growth driver in the coming years.
According to Ingemanson, China is like a teenager in the yachting industry. But it is learning hard and growing fast.
In 2012, Volvo Penta sold about 5,000 marine engines here, showing an annual growth of 15-20%. It aims for 15% annual growth in the coming years, although Ingemanson admits that China is still far from western markets. But he also predicts a fast boom. His predictions are based not only on the local market situation, but also because more and more European boats are being brought here. The figures of the China Cruise and Yacht Industry Association confirm this completely: annual growth of imported boats in 2012 increased by 63.27%. According to market sources, the two main exporters are Great Britain and Italy.
More and more European companies are planning to build factories in China. At the same time, local players are buying Europeans. In 2012, equipment manufacturer Weichai Holding Group Co Ltd (subsidiary of the industrial giant Shandong Heavy Industry Group) bought a 75% stake in the muddy Italian Ferretti Group for €178 million ($229.53 million).
Yacht brands such as Azimut Yachts, Princess and Sessa Marine have expressed interest in establishing their own production facilities here.
This is a warm spot for the European yachting industry, which has been reduced by 50% compared to 2008.
For local companies, such a raid by foreign competitors will help raise quality standards and make technology more competitive, Ingemanson said.
Meanwhile, local companies have faced two opposite business situations. The majority of shipbuilders focused on export, while the rest switched to the domestic market and took some share in it.
For example, the total revenue of China's main yacht builder, Zhuhai Sunbird Yacht Manufacturing Co., rose 46.9% to 582 million yuan ($94.85 million) in 2012. It has a 47.5% market share in the custom yacht building market and they predict that they will handle orders for 500 million yuan ($81.5 million) in 2013.
But other Chinese producers were affected by the global economic situation. In Dalian (Liaoning Province), «the yachting» city with about 15 yacht producers with a total annual production of 250 million yuans ($40 million), the pleasure boat industry sank by 50% in 2012, according to CCYIA.
Apart from the crisis, the lack of infrastructure is not the best impact on sales. As of April 2013, Mainland China had 46 yacht clubs with 6,404 anchorages, but still lacks them. Another prospect for Chinese investors. Fortune Character Institute analysts agree that the most interesting direction in the yachting sector will be the construction of marinas.