The Russian»«Yachtsman Prize is special. The All-Russian Sailing Federation has been a co-founder of the «Yachtsman of the Year Award for many years» together with Yacht Russia magazine. But only from this year the All-Russian Sailing Federation began to celebrate with the award the outstanding athletes under its own brand. In addition to its own name, the new award distinguishes it from the traditional Yachtsman «of the Year and the» mechanism for selecting the winners. The jury is no longer 5 or 10 people, but all members of the federation at the same time.
The names of the first laureates of the Russian» «Yachtsman Prize will be announced on the evening of December 2nd. In the meantime, we suggest to get acquainted with the shortlisted nominees a bit closer. We asked them to tell us what they consider to be their greatest achievement of the past season and their entire career, to remember their most memorable race, and also to ask if yachtsmen believe in luck and if they have talismans. We'll be the first to give the ladies the floor.
Anna Basalkina.
He is the coach of the team of the Academy of Sailing of the Yacht Club of St. Petersburg at the regattas of the National Sailing League.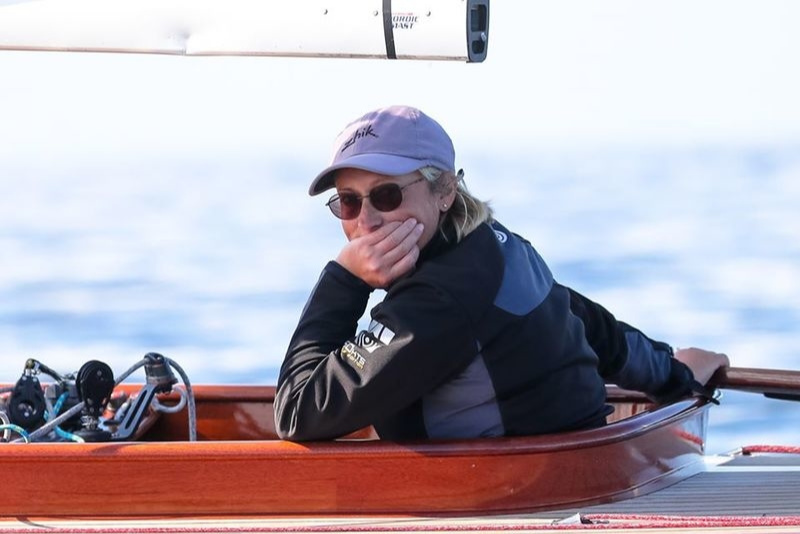 The main sporting achievement this year, probably, is participation in Rolex Middle Sea Race. Because everything else was more or less clear to me, somewhere even predictable: we start, race, finish and go ashore. And here, the offshore is my first, and also the two of us. The minimum goal was to go the distance and finish. The fact that we got the prizes was, of course, a complete surprise.
Somewhere halfway downwind, the boats started to go one after another. Character and strength of will came to the fore.
In any sport associated with the elements, the main thing is character.
The sea and the wind test a man, make him overcome himself. Not always in some race or regatta can win the strongest at the moment. Conditions may be so that sometimes you need more restraint physical or emotional, faith in yourself, in the crew - these are the moments. That's why for a yachtsman the training of willpower, spirit, reliable shoulder of a partner is very important.
It's clear that you can't do without technique and tactics, too. This is present in any sport. But it is in our kind must have character. There's no other way.
So on the Middle Sea Race someone's match began to fail, someone got tired and started to go. So in the second half of the course there was already a struggle of characters.
I believe in luck to a certain extent. But from experience, I'm lucky to have someone who's somehow prepared. Although there were all sorts of moments when some crew, on which no one bet, suddenly won. But that's more of an exception. If you believe all the time in luck... You can hardly win all the regattas with such faith.
I am more of a practical person.
As for the mascot... I have some personal moments, I adjust myself to the race in a certain way. But without a physical mascot.
It's hard to single out anything specific that was the most unusual for me during the Middle Sea Race because I was generally unfamiliar with being so much at sea. My usual races are daytime short series and evening rest. But I wouldn't say it was uncomfortable at all.
The race was like this: four days of calm - and it's not easy when the heat is so quiet spots - and almost two days of strong fresh wind 30 knots. By the time it blew out, we were of course already tired, exhausted.
Sleeping on a boat is incomplete, a test for the body. But as it turns out, the athlete's body can include hidden reserves.
The second, third, fifth breath opens. That's probably what happened, because in the whole regatta we had two nights without sleep.
It was hard to make ourselves eat when the wind was strong. To eat and drink. It was impossible to make some full-fledged food or at least something close to the food. Not to mention tea or coffee.
We forced ourselves to eat something so the body would have some strength.
It was hard, but there are also good memories. They're dolphins floating around. Beautiful views of the coast. The coast lights, which were very inspiring after a long transition in the dark. The bird that's been on the boat with us for, like, two hours, although it could have flown somewhere. She did not fly from place to place, but walked, jumped over the gear and was not afraid of anyone at all.
In general, I was almost sure that at the finish line I would say: never again. But it never happened.
And here, of course, I must pay tribute to Igor Rytov. Because he tried to take all hardships as much as possible at any time of day and in any weather. If it were any other person, probably, I wouldn't stand it. Thanks to him, I was able to get through it.
Now I don't rule out that I could still be in offshore racing. That's for sure. If you've managed to do it together, it'll be easier for the crew.
But the Olympic programme is a very different story (the 2024 Olympic programme included the keel «two mix offshore,»itBoat). Offshore, yes, doublehanded, but the Olympic campaign itself involves a slightly different job, a different investment of itself. There's a need to seriously rethink your way of life. It's not a one-two decision. We haven't talked about it yet, because it needs to be seriously considered.
Participation in the Olympic Games of 2000 can certainly be called the main achievement of my career. Any Olympian goes to it. Even to be selected for the Olympics is a great job. Not all countries can get to the Olympics, but even after getting a license in international wrestling, you still have to pass the domestic selection, which is also very difficult. And first of all, psychologically difficult.
Besides, the victory in the Princess Sofia Trophy regatta in the Olympic year is very memorable. It is held annually in Palma de Mallorca. Present prizes king and queen.
In general, it is always memorable racing in difficult conditions. They leave a certain imprint and give a lot of experience - both positive and negative.
Next season we also have the National Sailing League in the Academy. That's the main one. I have another project here in Peter, which I will develop in parallel. And I guess I'm already slowly looking at coaching.
Maria Kislukhina
Russian national team laser radial class leader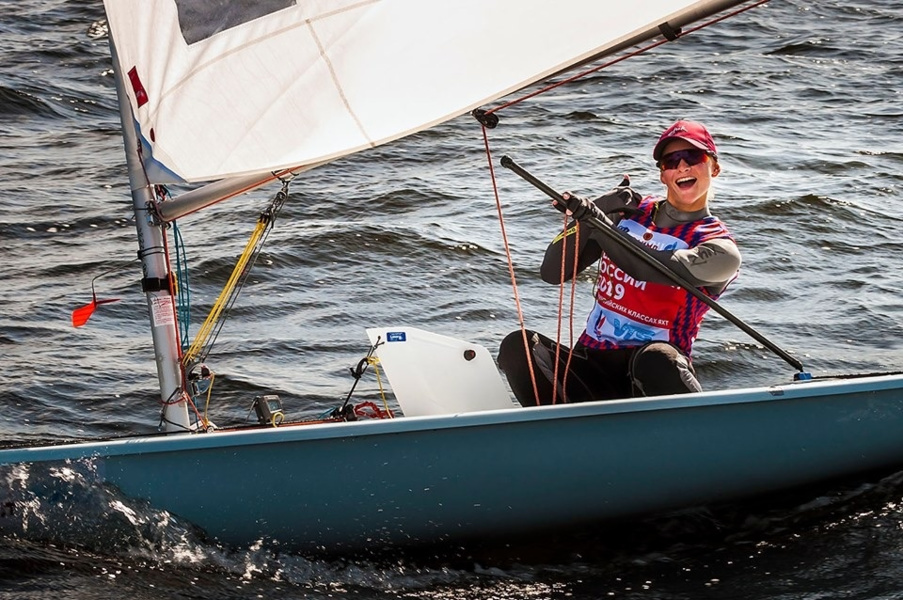 This year there were two main regattas: the European U21 Championship (fifth place, itBoat) and the World Championship (bronze medal, itBoat). They were the main ones, because this is my last year as a junior and I had to show the highest possible result.

This year was the best season of my entire career in the laser radial class.
Bronze at the Under-21 World Championship is my highest award so far. But, when I was racing a 4.7 Laser, in my extreme year in this class, I won no less significant second place at the World Championship.
A truly unforgettable race this year at the European Under-21 Championship in Poland. It was the last race of the regatta. The fact is that if I had come well in it, as originally and rounded, third, then I could have taken the final third place in these competitions.
But there was a very unpleasant situation: the wind slipped rapidly and the last blow came from the sea. This led to the boats that were ahead of them stopping and the boats that were behind them rolling. Bottom line: on the first third of the first Fordewind all the boats, all 70 of us, lined up in one huge perfectly straight horizontal line. That's the line we reached the gate. Naturally, when we rounded the gate, it was chaos.
I came out of this, to put it mildly, difficult situation not perfect, not the third. I know perfectly well that I made a mistake, where I made it and I know which one. And most importantly, I know perfectly well what I should have done otherwise. My decision in that difficult situation threw me 20-25 positions. But in the second half of the race I moved forward and eventually finished 16. This arrival did not let me climb up to 3rd place in the final report, but did not throw me back.
At one point, I had some very obsessive thoughts like: «My stupidest mistake was fatal, I could have done otherwise...» But I was able to quickly cope with it, because any such regatta lasts 6 days, 12 races and is won by far more than one fordewind. Fifth place is exactly what I was able to get together at that regatta, and I am glad to see him. Well, as for the last race, it was actually the most memorable race of the past season, because I remember it in the smallest details.
There was absolutely nothing special in the preparations for this year's world and European championship. It went its own way.
The only nuance that played an important role, I think, was that at the adult European Championships I was badly chased away. It was a certain turning point when I had to decide how to race further: what to do, what to strive for.
After this unsuccessful (failed, I would even say) European Championship, my results started to climb up. At the junior level, but still.
As for the main quality for a successful yachtsman, I can only make my own assumptions.
Successful people become absolutely different people with absolutely different qualities. But as a sportsman in their heart they are united by purposefulness, boldness, perseverance, diligence and the ability to find motivation to achieve a goal even when it seems that it does not and cannot be.
I believe in luck, but as such I have no talismans. But I always refer to a phrase proven by experience: «Luck is the strongest». The only thing I believe is that I'm in a good mood and therefore lucky is the little knickknacks, things that my favourite niece gave me from the bottom of my heart.
Plans for the Olympic year are global.
And which ones we all know very well. We have a license, and we have to make it mine.
And it takes a lot of work to get it done.
Yana Reznikova.
Winner of the world championship in RS:X class in St. Petersburg, member of the main Russian national team.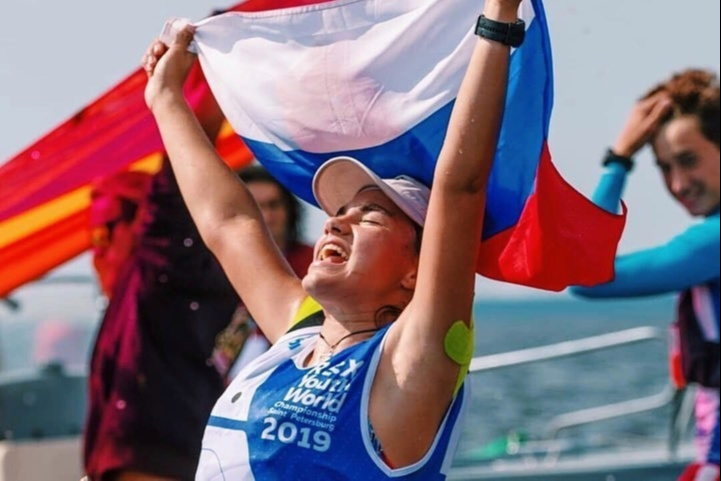 The main thing for me this year was the world championship, which took place in St. Petersburg. This is the most important competition for me. All the preparation was directed at them. Well, the result corresponded to the preparation.
I think I'm getting better results every year. Of course, last year there were Junior Olympic Games, where there was also a good result. But still I feel that I am growing, so this year is the best one in terms of results.
In preparing for the world championship, perhaps all that was special was that I was preparing in a new class for myself. I had six months for that, even less. And so... D.E.P. Training, plus water training. Everything as usual.
It was the first time I had such a strong mantra at the competitions themselves. I wasn't even expecting it.
I was expected to have a good result, and I'm not used to setting a goal for myself, because expectations will not come to terms with reality, it will only push and will be much worse. So I had to deal with this excitement before the competition.
During the race, thank God it passed. And maybe the last day was exciting too, because everything was decided as usual on the last day.
I don't have any specific ways to deal with excitement. I communicate with my coaches, who support me. They've helped me calm down.
I don't believe in luck. Although, how do I see it?
If luck is some kind of weather or, I don't know, something else, then maybe I'm partly lucky that the weather was really what I needed. But at the same time, I worked it off. So I think it's my credit, not some luck or luck.
As for the qualities that are especially important for yachtsmen, I think, first of all, in any sport it is a purposefulness. And I think any yachtsman needs to be stressful, not squeamish, because there are weather conditions that make competition like a race to survive.
You have to be ready for anything.
Next season I will continue to train and race at RS:X. Due to the change of Olympic class, this may be the last full year with regattas at RS:X. Junior World and European Championships are planned, plus selection for the World Sailing Championship. And just a tight preparation for these competitions. Plus try your hand at the foyer.