В The growing family of boats Damen Yacht Support another another addition to the growing family of boats - 55,5 m yacht Damen B3 in steel and aluminium. At all stages of project realization Burgess New Construction was responsible for all phases of the project, from construction to delivery. Burgess New Construction.

Damen B3 from the YS 5009 series is characterized by the fact that both exterior and interior design were developed by the yard's in-house design team in cooperation with Burgess New Construction. The exterior and interior have been developed by the yard's in-house design team in collaboration with the owner the owner and his representatives.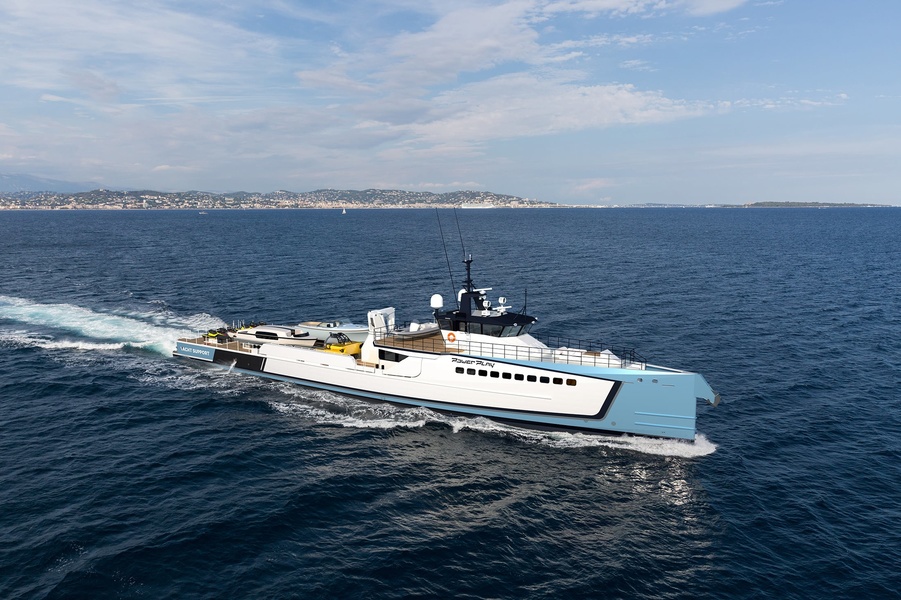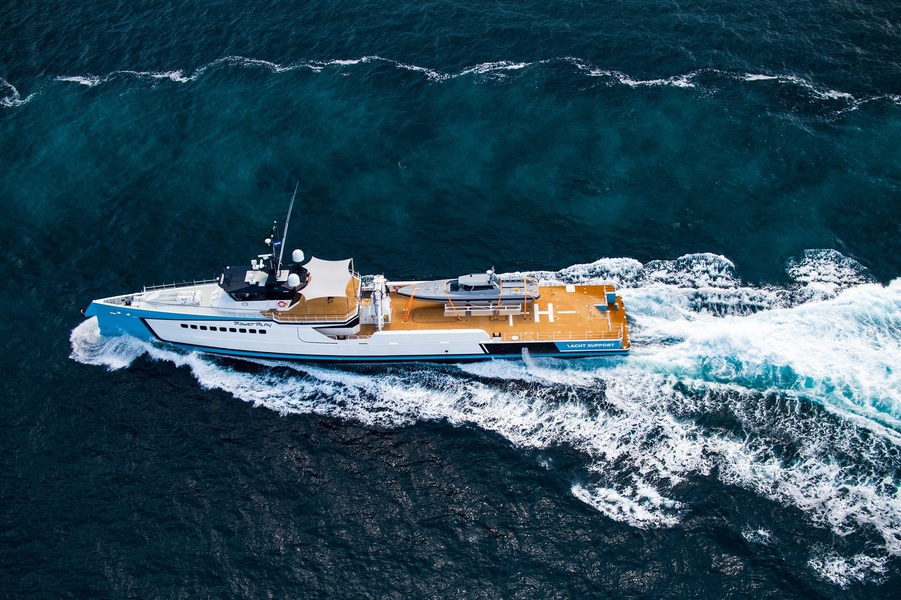 The result of the yard's work is a boat that combines the result of the yard's work - a boat that combines both luxury, «the first yacht of the new generation, the embodiment of an innovative approach».

Once you get on board on board the Damen B3, there's no hurry back to the «mother» superyacht, as the«honorary escort vessel» is not only comfortable but also roomy. comfortable, but also roomy (489 gross tonnes), and can spend the night in one of her three cabins, accommodating up to for up to six guests. Crew quarters can accommodate a total of seven guests, not including the four pilots, security guards and tour guides.
The sun deck behind the wheelhouse totals a solid 50 square metres, while the panoramic main deck lounge measures 30 square metres.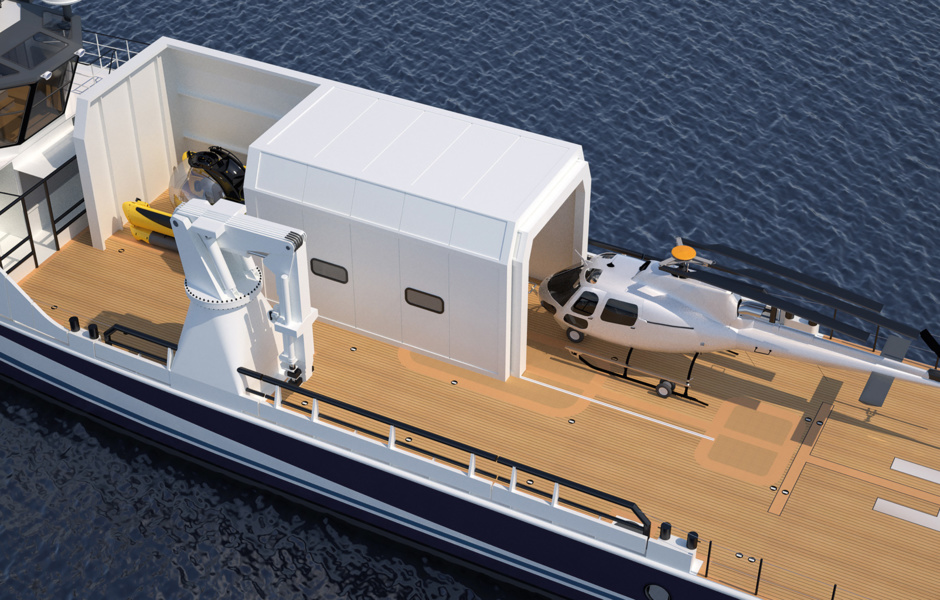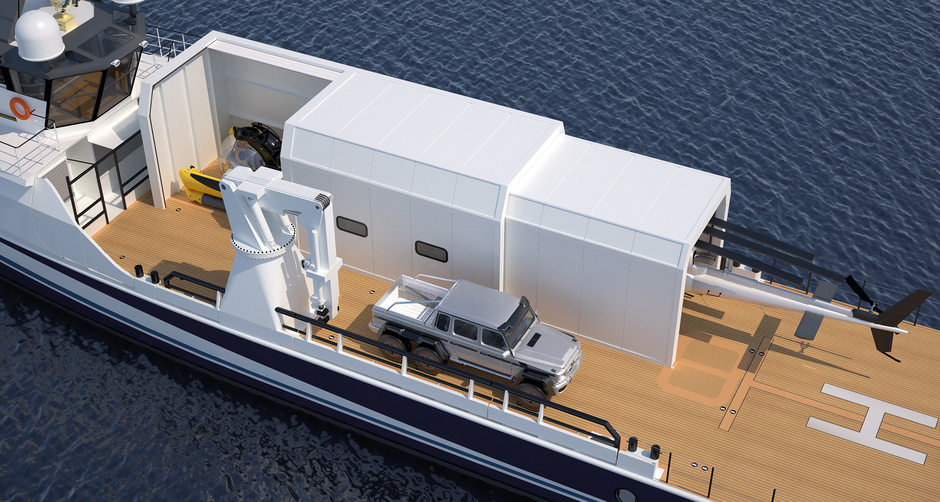 An important advantage of Damen's new support vessel is its ability to carry an array of tenders and water toys.
The renders of the YS 5009 series clearly show a helicopter hangar with telescopic sliding doors, one section of which can serve as a garage for a submarine or an off-road vehicle. The real pictures of the B3 show that there is no such thing. However, for boats of this series it is an optional extra and can be easily erected by the owner. The same applies to the helicopter pad on stilts.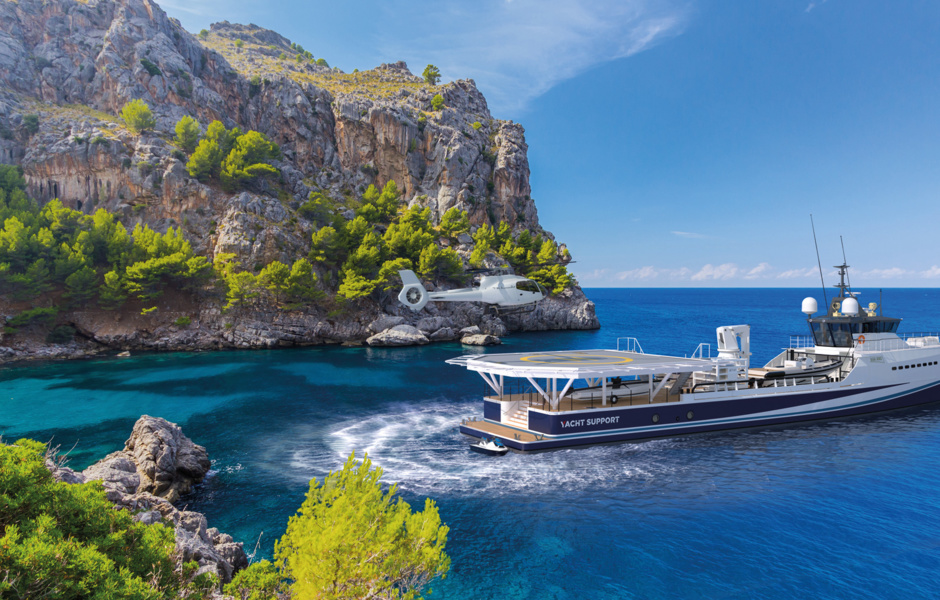 The maximum speed is over 20 knots, and the range reaches 5,000 nautical miles at a cruising speed of 16 knots. There are four Caterpillar 3512C diesel engines in the engine compartment.