The German shipyard Lürssen built Octopus for Paul Allen back in 2003, and only after so many years has it finally been possible to see it from the inside. This opportunity is due to the fact that the ship wasput up for sale by the heirs of the co-founder of Microsoft.
A specially released video to attract potential buyers shows the most interesting of what and how it is arranged on board.

Any vessel belonging to the class of explorers, in case of emergency, is ready for serious tests of the elements and other challenges. In this regard, Octopus is ready to give a head start to many, if not all. This is why the three-minute video focuses on the megayacht's equipment with tenders, helicopters and other equipment.
Not only is the boat equipped with two helipads, it also has a hangar that accommodates a couple of helicopters.
Aft is a huge floodable garage. This holds a Remotely Operated Vehicle Operator (ROV) ready to dive to 3,000m depth, and a 13m Hinckley Talaria tender with the formidable name of Man of War II (a common name for a large warship in the British Navy from the 16th to 19th century, transformed into «Manovar» in Russian).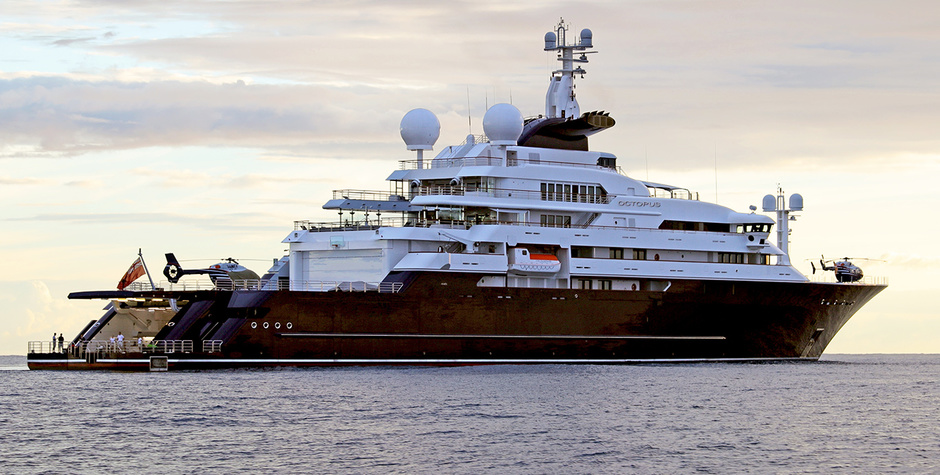 Less time is devoted in the video to the interiors by Jonathan Quinn Barnett which allows the reader's imagination to run wild. Exactly what is known about the spa, library, bar, cinema, gym, several lounges, observation and basketball courts and the room for observing underwater life.
While the REV is being completed, the 126-meter, eight-deck Octopus with a gross tonnage of 9,932 BRT continues to hold the distinction of being the absolute record-setter among survey ships in terms of length.
The megayacht has just come off the slipway. Her excellent condition is due to a full scheduled maintenance every five years, with the last refit only completed this year.