British shipyard Sunseeker has announced that will produce a limited edition of the new 11.85-metre Hawk 38 dayboats as a a tribute to the late Robert Braithwaite (Robert Braithwaite) who passed away in March Robert Braithwaite , a man who died in March of this year. Braithwaite, the man behind the at the origins of Hawk 38.

The first ten cases of the new model will receive a special stainless steel nameplate stainless steel nameplate on the instrument panel, numbered from zero to ten (RB001-RB010).
This will make each model is truly unique. However, according to Sunseeker, neither of the two Hawk 38 will never, in principle, be However, according to Sunseeker, no two Hawk 38s will ever be exactly alike.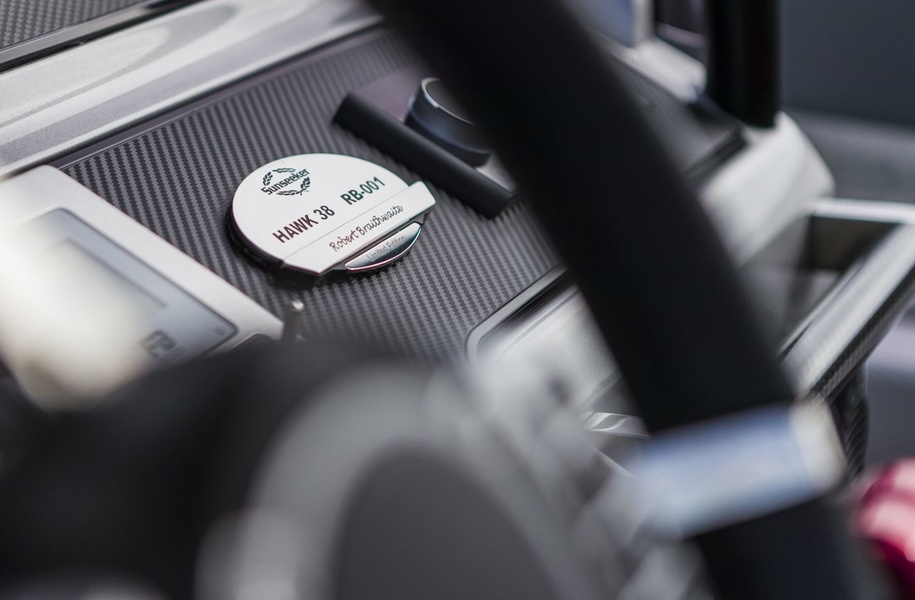 « Hawk» was Braithwaite's last project Braithwaite, so it's all very symbolic. Plus, he loved fast boats, and the Hawk 38 was one of those.
Recent tests in the waters of Lake Como have shown that the pre-production model is capable to reach a top speed of 68.7 knots. Officially declared «ceiling» is lower - 62 knots.

The boat is designed in collaboration with FB Design, and it was her boss, FabioBuzzi Fabio Buzzi was at the wheel when he managed to reach a record 68.7 knots.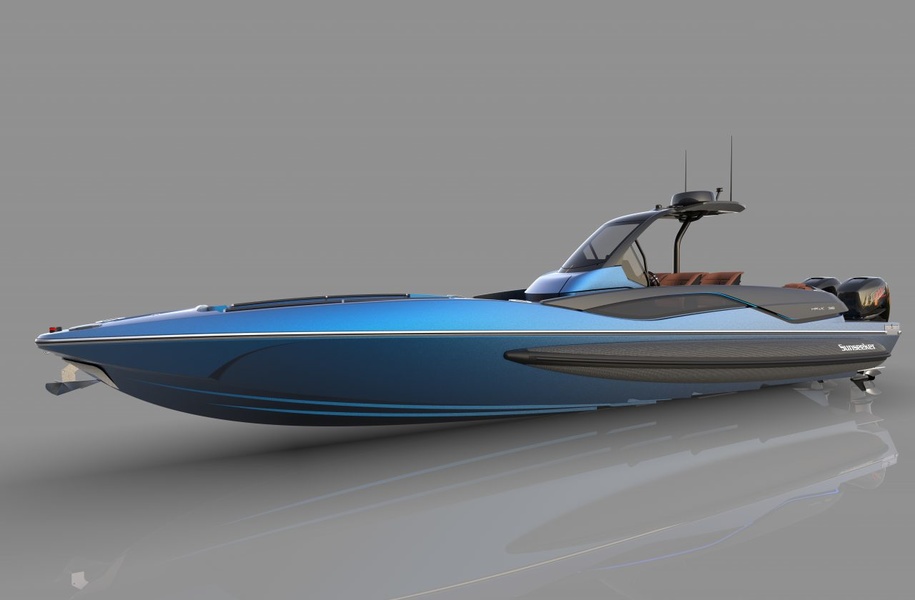 It's no wonder she's so fast. The Hawk 38 is powered by two Mercury outboard engines powerful Mercury outboard engines R400 outboard engines and is lightweight thanks to its extensive use carbon fiber.

«Robert's passion for speed and power is embedded in every Sunseeker ever built. It's also embodied in this model»," according to the company's press release.
Other key features we've written about before are the completely new hull with «non-submersible» bow part, made of foam unique technology and the Hypalon 866 STAB® cylinders. They serve to stabilize the boat at high speed and reduce pitching when boarding and anchoring.