The star of world yacht design is almost unknown to the Russian customer. It's a good time to get acquainted with her - she makes boats that one cannot help but notice.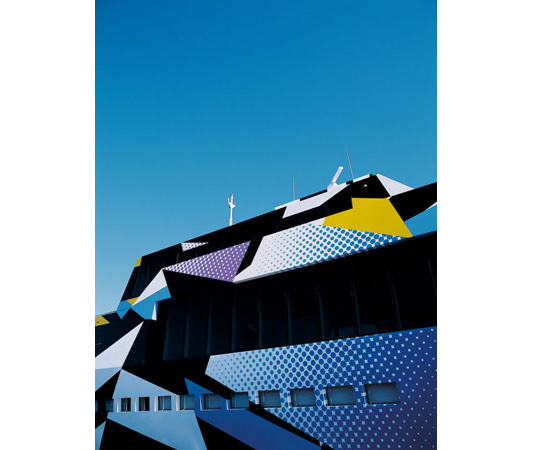 - There are many different works in your portfolio, from building interiors to objects and accessories. Tell me how you came to the design of yachts.
- I studied at the Institute of Art Industry in Florence (ISIA Firenze). After that I deliberately moved to Milan, the Italian design capital, and worked in the architectural firm Gregotti Associati Intl. We did a variety of projects, and one day a customer asked us to design two cruise ships. It was a non-standard order for the firm, and I volunteered to do it as a beginner. These two ships were followed by a couple of others, and then the owner ordered us to build his personal Blue Velvet, a 31m Codecasa of 1994. This is how it started.
- Looking at your work, it's worth noting that you feel the space of the boat very well. Is it the result of a persistent comprehension of theory with practice or a natural instinct?
- When I work on interiors, I'm primarily repelled by feelings. For me, tactile sensations, touch, smell, warmth and live texture of materials are more important than the visual component. For example, the bathroom and sink in the Nina J master suite are made of a rare quinoku tree that emits a subtle scent when in contact with warm water. It is the most expensive wood in the world and is supplied by only two small Japanese companies. It's very heavy and dense. I had to torture it very hard, but every time I go to the bathroom, the owner gets an aromatherapy session, so the result was worth it. In terms of space, I have a simple rule - I never take on a job unless I have the ability to influence the layout of the boat. I just don't do the decorating work. A boat is a complex environment with many constraints, everything is interconnected, so you can't make a good interior if you don't have the opportunity to start with the basics.
- You have managed to create many unusual boats - Blowzy, Akhir, Nina J, Guilty. Is there a favorite among them?
- All these works are related to certain stages in my life. Each project is an experiment, a new stage in the study of the design possibilities of an object or environment. I choose orders in such a way that I can try something new, go into uncharted territory. When I start making a project, I immerse myself in it completely. So, you can say that there is no one favourite job - because they are all favourites.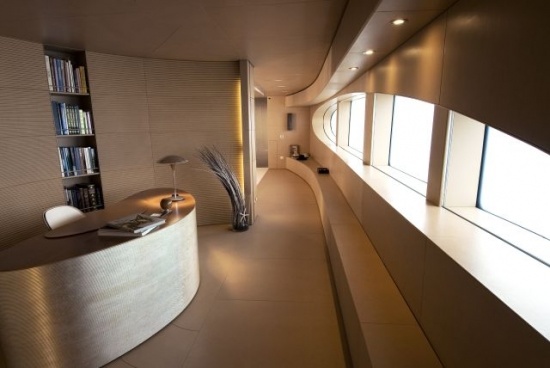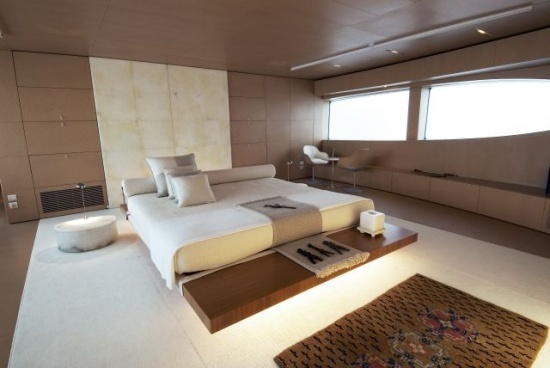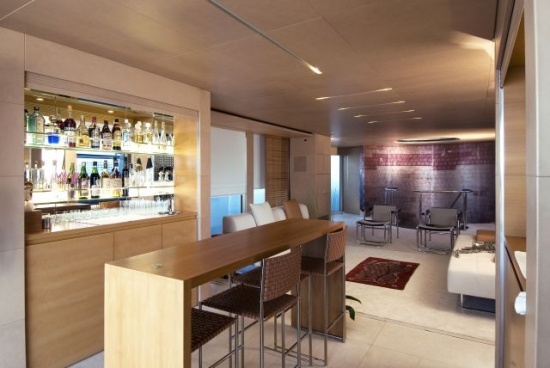 - Then remember which project was the most difficult for you.
- Undoubtedly, this is the yacht Guilty, on which I worked for 3 years. I have made it from start to finish: from the concept and layout of the boat to construction supervision and project management. Like the owner of a yacht, I have a strong passion for contemporary art - that's where I get my inspiration for all my work. Guilty was the first boat in which art is not just a means of decorating the interior, but the foundation upon which everything else is built. All the works that are on board are made especially for this boat. Even the hull painting based on World War I ship camouflage was done by Jeff Koons, one of the most famous artists of our time. The result is a real floating art object.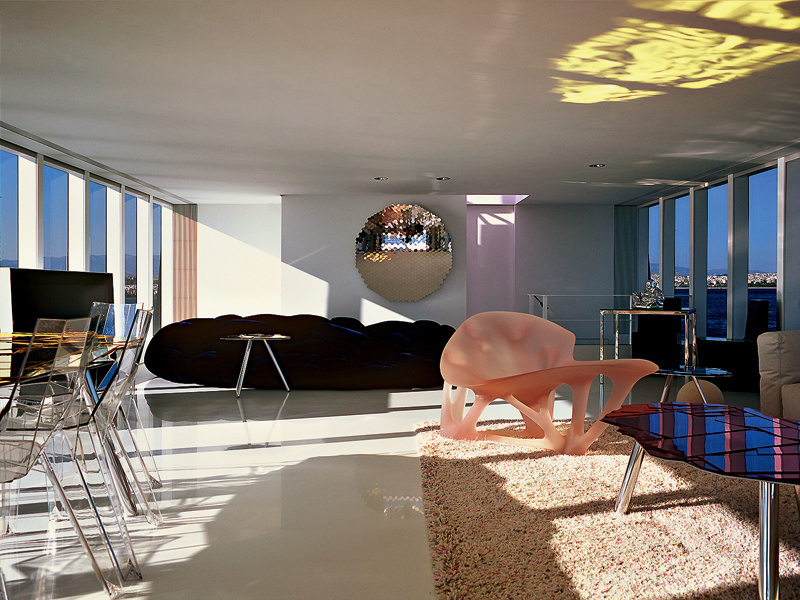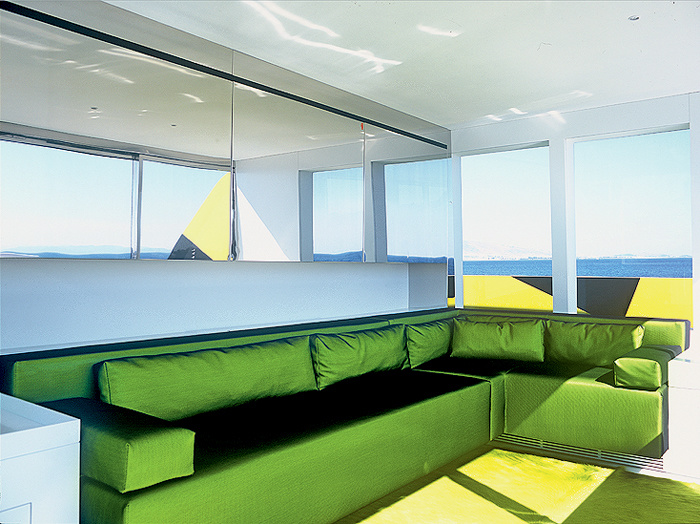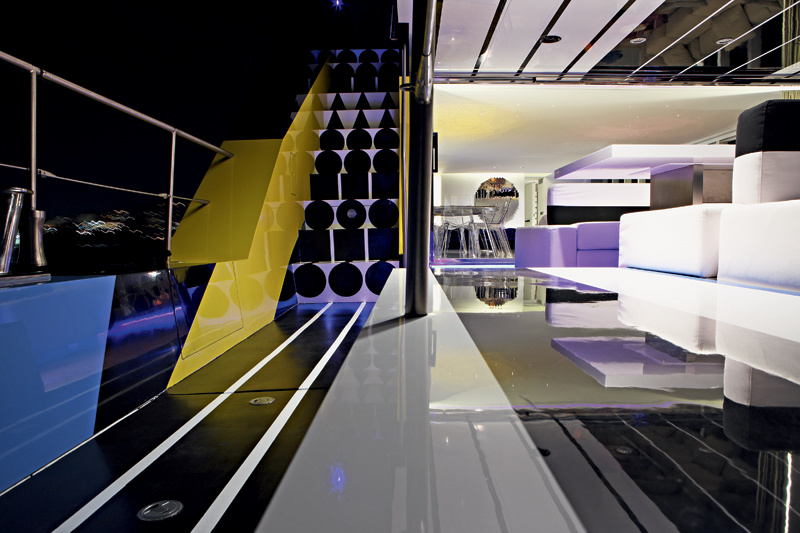 - As a man who has worked in a shipyard for several years, I can imagine how difficult it is to build boats with such a bold design. Do you have any secrets of your own here?
- Yes, indeed, it is very, very difficult to turn avant-garde concepts into reality. There are no magic recipes here, you just have to work with people who understand you and personally control the construction process from start to finish. If that takes days and nights at the shipyard - well, I'm ready for that. I have worked with many shipbuilders, such as Baglietto, Cantieri di Pisa or Cantieri Navali Rizzardi in Italy, Heesen in the Netherlands, and I have always achieved the right result. The only thing I regret is that I have not yet had the chance to do any project with Wally. I personally have a lot of respect for this brand, its spirit and values are really close to me.
- Do you have a boat of your own?
- Yes, I have a classic 1963 Riva "Super Florida", my age. It was given to me, and it's one of my favourite things.
- Probably, for radical projects like yours, special customers are required. Where do they come from?
- Of course, I get people who are already trained and know my style well. I don't have to convince anyone of anything, clients rely on my taste and trust me. It's true that there are requests to do something similar to one of my previous works, «but not as avant-garde». In that case, I politely say it's better to ask someone else to do it.
- It is believed that boats with a bold design like yours are harder to resell to a new owner or charter. What do you say to that?
- I have a project in my portfolio, a Dionea motor yacht refit. If you look at her interior, you will see that she is brave enough and unconventional, although inspired by the classic Dolce Vita film by Federico Fellini. This boat is 100% commercial and very popular in the charter market. In general, the market really prefers something more conservative. However, the number of avant-garde projects is constantly growing, if previously it was one yacht out of a hundred, now the ratio is closer to 20/80.
- So, there will be more yachts like this in the future?
- There is no doubt about it. To my students I say: do not be afraid to experiment. Every year there are many new technologies that change the idea of comfort and life on board. New materials and production methods are constantly appearing. So the golden age of yacht design has not yet arrived.
Published in the journal YACHTS #32