If the organizers of the Moscow Boat Show managed to hack a couple of pop stars like in London, or to get a first-person» visit «like in Dubai, things might have been different. «Petrel», Azimut, West Nautical and Premium Yachts would have competed with each other in the size and beauty of their stands, and leading shipyards would have been happy to take their flagships to Moscow.
But the Moscow Boat Show did not feature Timati, who last year rested on Abramovich Eclipse, or Xyusha Sobchak, who was photographed on a charter yacht in the star position.
Russia's largest yachting exhibition was stung to two Crocus Expo pavilions back in 2015. This year, it seems, one would suffice. The list of exhibitors was reduced from 167 to 125 positions, and the largest boat of the exhibition was a fiberglass sports cruiser 41 Evolution 12.5 meters long from the Kazan shipyard Velvette Marine: an updated version of the boat, produced since 2006 by the domestic Faserind Boats, which Velvette Marine bought in 2011.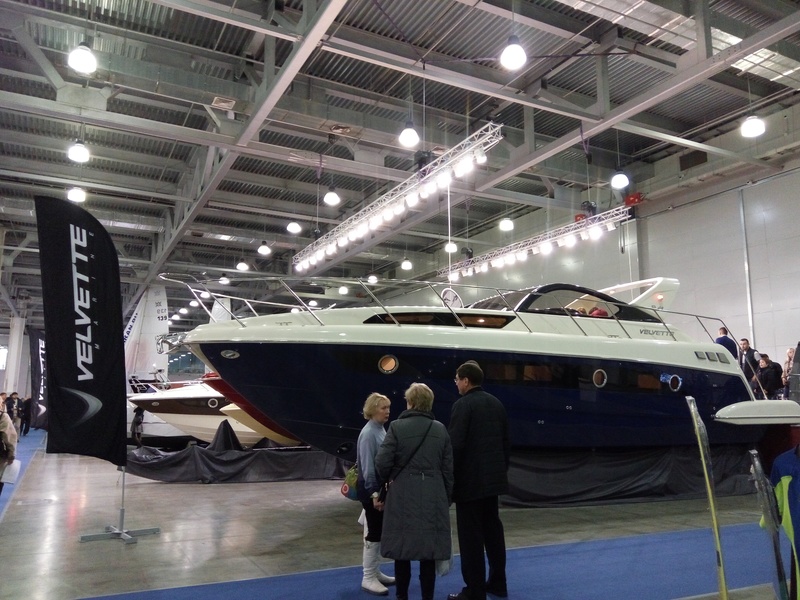 Despite the age, the boat is still popular: for 10 million in the base you get a well-equipped galley, two cabins with double beds and latrines with toilet and shower, in general, everything to arrange a full family cruise on the Volga or another Russian river.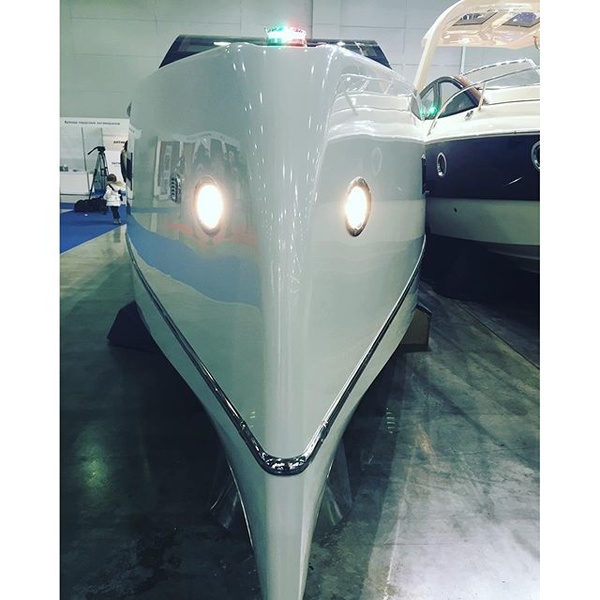 For those who love innovation, there is another boat at the extensive Velvette Marine booth: the Cruiser Velvette 33 Intelligent with its futuristic design and the Volvo Penta joystick for easy mooring.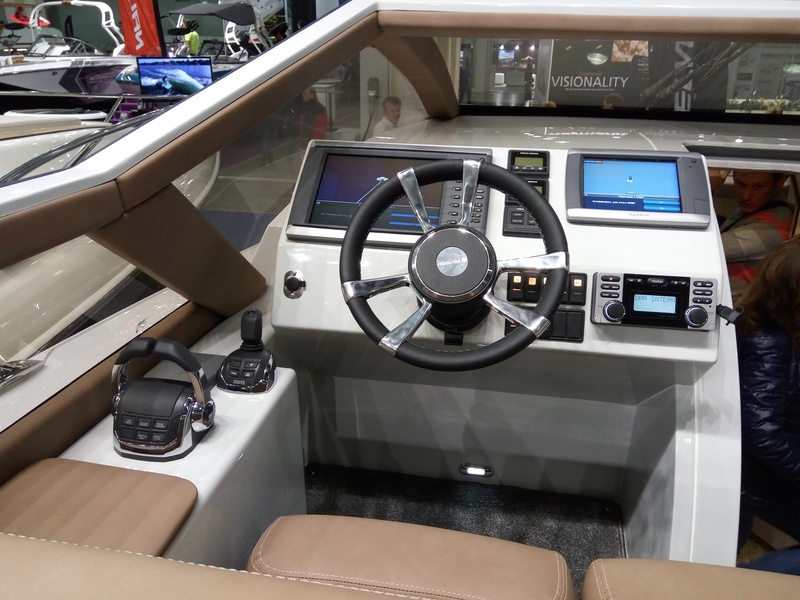 In general, the Velvette stand left a feeling of the most visited at the exhibition: located exactly in the middle of the 15th hall of the «Crocus Expo», it was constantly crowded with people, and managers endlessly guided tours for potential customers. This feeling was probably due to the company's very loyal attitude towards visitors: everyone was allowed in, everywhere and at any time.
Children jumped on Velvette Marine yachts like grasshoppers.
No signage, like on Bayliner boats: «view the yacht only in the presence of a manager». No enclosed areas like the Smart Yachts booth, where on Saturday afternoon the three boats on display were fenced with red ribbons and the managers would only let those wishing to view them in queue and only after filling out a questionnaire.
Which of the more professional approaches is a questionable one, but Velvette Marine seems to be able to afford less democracy.
«Eight»out of ten boats presented have been sold, - answers Dmitry Argakov, director of Velvette Marine trading house, to my question about how sales are going at the exhibition.
As part of the Moscow Boat Show, the Kazan shipyard met with 20 dealers from 16 Russian cities, who will sell 100% of its products in the new reporting year. Vevette Marine intends not only to build a dealer network in the country, but also to enter the international market: at the Boat Show the company met with potential dealers from Italy, Germany and Canada. The current dollar rate obviously played into Kazan's hands only.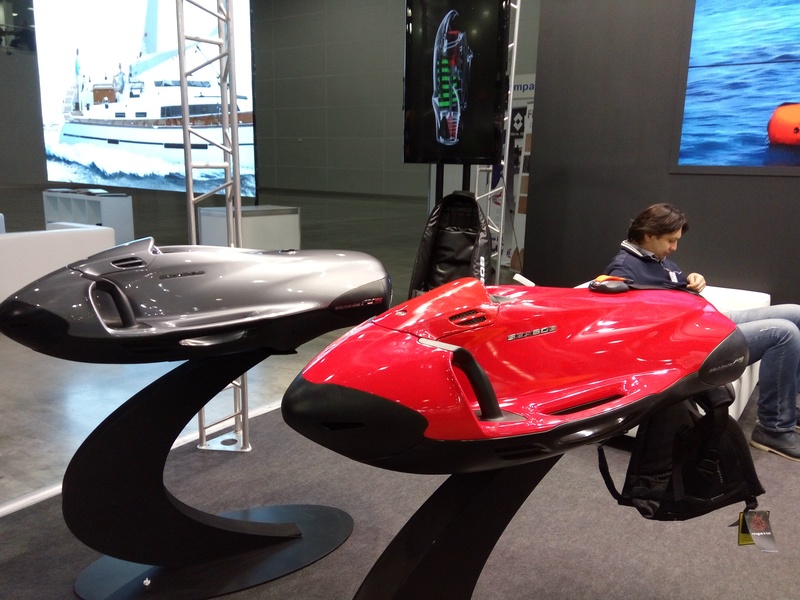 «People don't want to spend any extra money. If someone was ready to buy a boat for 2 million and it became worth 4.5 million, they will watch other boats in this price category. And there we are," says Dmitry Argakov. - We have raised prices by five percent due to the fact that we have components from Europe. The cost of engines, for example, took off by 60%».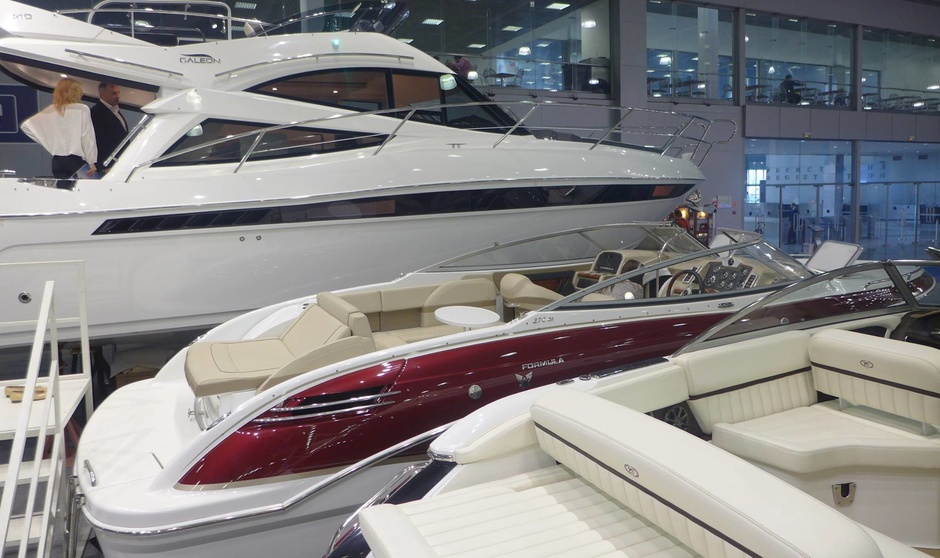 Nevertheless, a number of large distributors did not ignore the exhibition grounds of Crocus Expo. Here is the stand of Smart Yachts, a dealer of Polish Galeon and American Formula and Cutwater. It is the second largest boat of the Moscow Boat Show, Galeon 340 Fly. A good, solid and inexpensive yacht in her segment, complete with everything you need. The designers have managed to squeeze three (!) cabins, a latrine and a separate shower into the 10-meter hull. In the base of Galeon 340 Fly stands as Velvette 41 Evolution in «full stuffing».
«We had a sale on the first day, and now we are negotiating several contracts. The secondary market is very active, negotiations on new boats are also under way, there is interest, - says Julia Skoptsova, Smart Yachts Sales Director. - The structure of demand has shifted towards used and deferred demand. A client comes and says I want a boat in 2017, let's start building it in advance, let's prescribe a payment scheme in advance and so on».
In the absence of big boats and players, the most unusual exhibit of the exhibition looked more profitable: a replica of a Soviet boat of the Leningrad shipyard built in 1963, made by hand from valuable species of wood - Canadian maple, oak, mahogany, teak.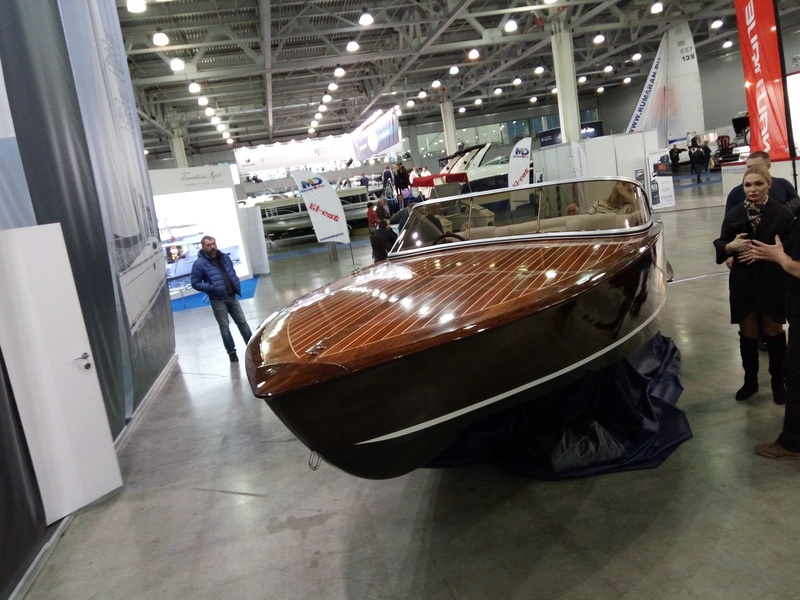 On creation of the unique boat reminding classical runabouts Chris Craft and Riva, at Magnitogorsk craftsmen from AMC Design it has taken a year. Under a hood at a boat - gasoline Mercury inboard 135 h.p. thanks to which this boat of a river class can accelerate to 40 knots. AMC Design director Dmitry Derevyanenko says that a more powerful 5-liter engine can be delivered at the customer's request.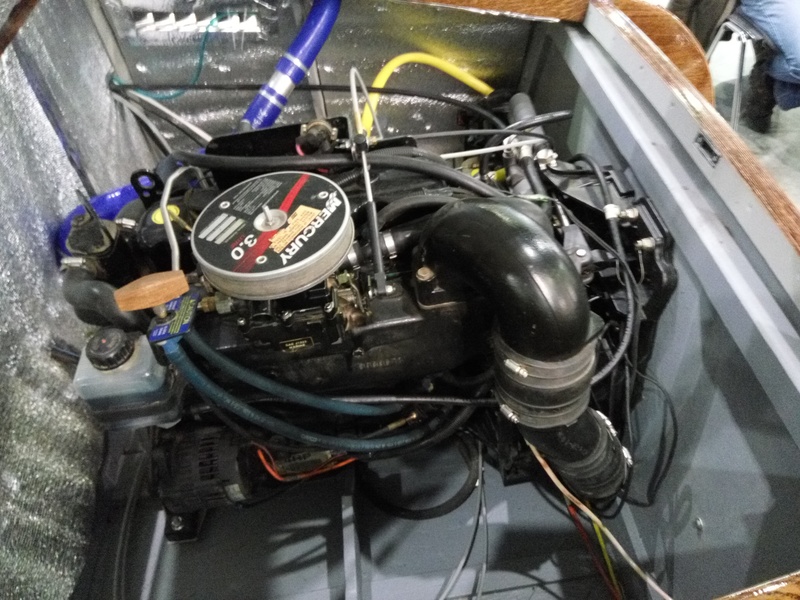 «One can even write the name in gold»," he says. Moreover, the name of the model - Prestige - requires it, as well as the serial number of the hull - the first. Yes, yes, Magnitogorsk shipbuilders intend to produce a vintage runabout in a series! And after all at a boat and without additional contributions a considerable cost: 108,7 thousand euros. «Very expensive materials, - explains Derevyanko, - actually, we take money for one work».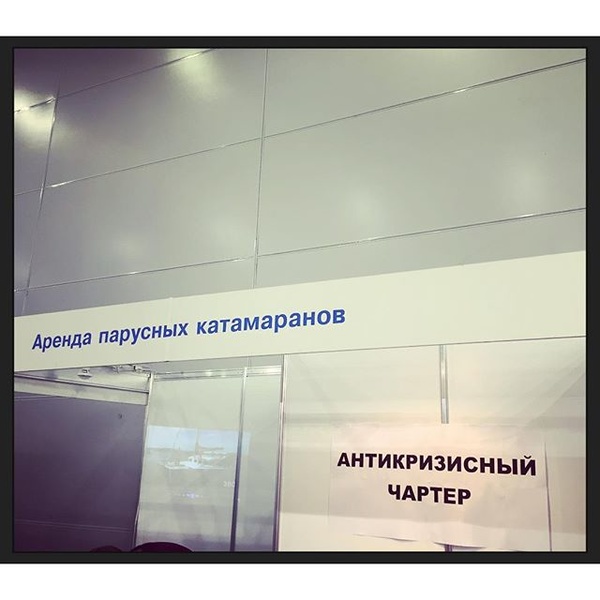 What will be the next, jubilee Moscow Boat Show? If the trend continues, the title of the largest yacht show will be taken over by the Volga Boat Show or the Sochi Boat Show. Moreover, these exhibitions are held not in pavilions, but on water, where yachts can not only be seen, but also tested.
«I was hoping for less "fishing near Moscow" and more "Miami"», - commented one of the visitors of the Moscow Boat Show under the name @stasartamonov. So did I.