The largest yachting exhibition in Europe, the Cannes Yachting Festival, will still take place in 2020, despite all the organisational difficulties associated with the COVID-19 coronavirus prevention requirements. Traditionally, the event will be held in early autumn, from 8 to 13 September.
352 companies, including 98 yards producing motor yachts, are planning to participate in the exhibition. In total about 340 models of motor yachts and RIB will be available at the Old Port. For 61 of them the Cannes Yachting Festival will be the first official public appearance. We have collected some of the most interesting ones for you.
The Axopar 22 is an entry-level trailer boat.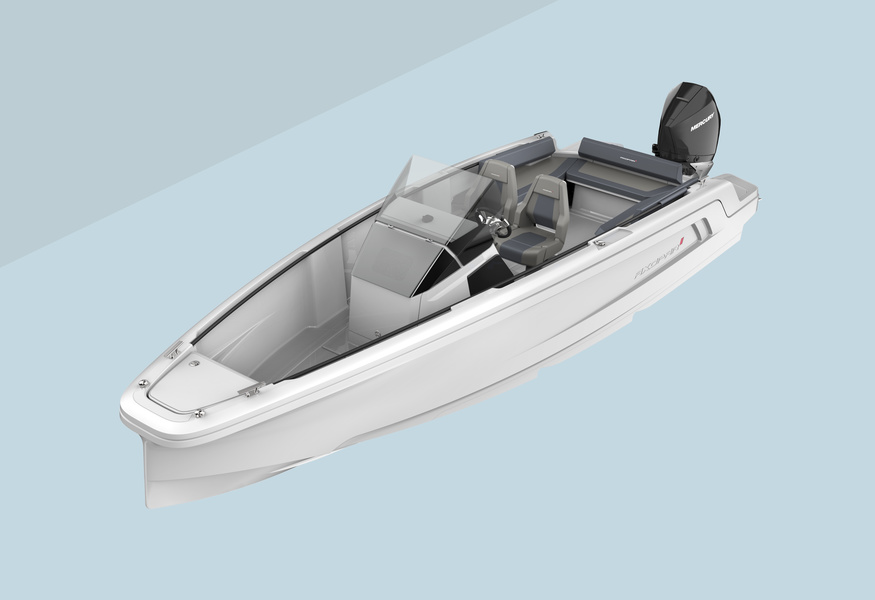 The competitive price for a good Finnish brand is the main thing to say about the new Axopar 22. It is an open boat for short day trips with a sailing hull and excellent handling, which will allow an inexperienced driver to feel relatively calm, even when the wind catches up with the wave. With seven passengers on board, the sailing category for this yacht is C, coastal waters.
Three different deck configurations suggest that the Axopar can be used as «a passenger boat in the Arctic, a boat for sightseeing diving tours in the Mediterranean or as a boat for fishing in British Columbia». So, at least, the manufacturer states in his booklet.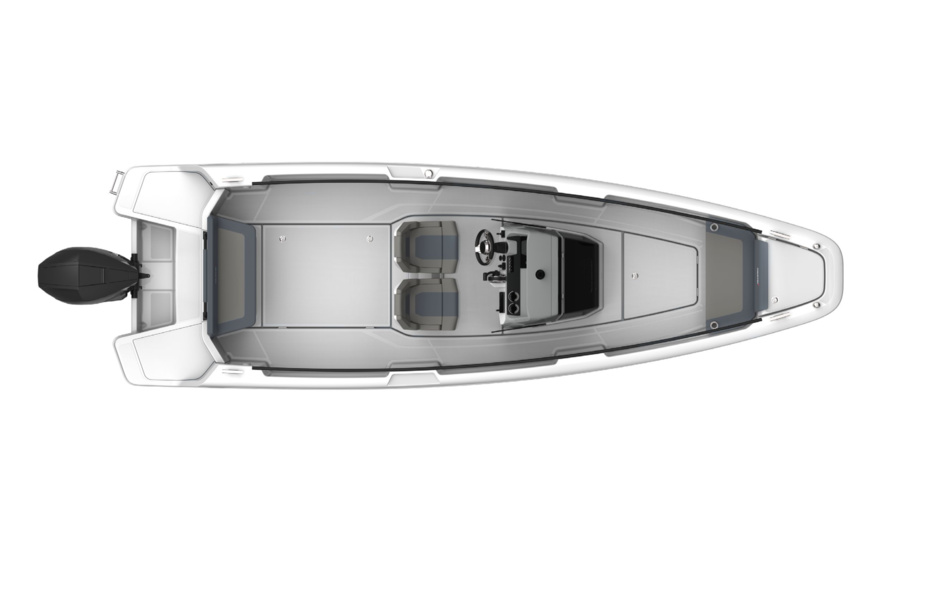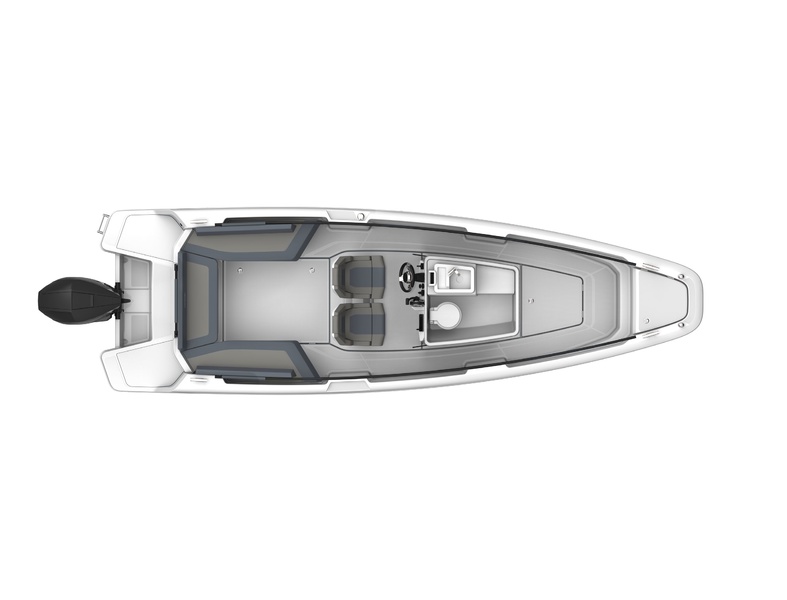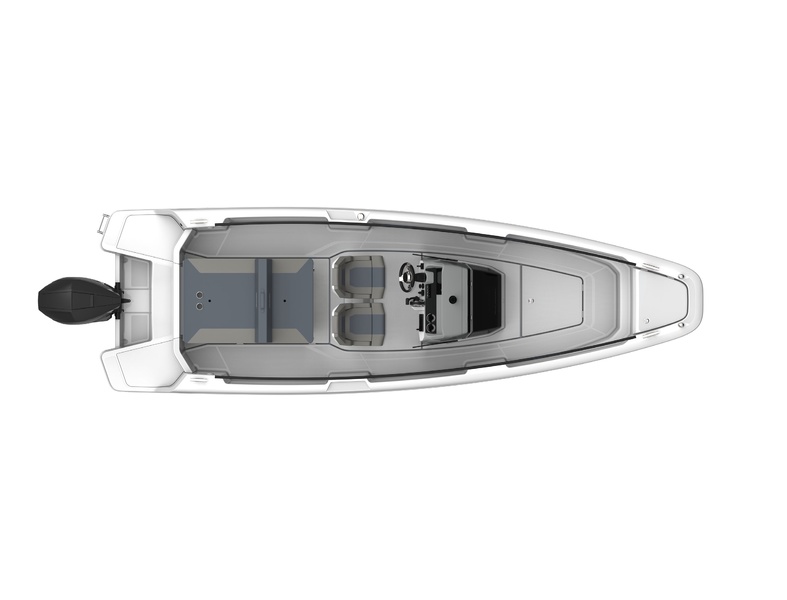 At cost: promise from €49000 from the factory «on a turnkey basis -» with VAT paid and a 115 hp Mercury engine. But you can put something more help (up to 175 hp) and drive at 40 knots.
Cabin cruise boats with outboard engines - Flyer 9 SUNdeck и Sundancer 320 OB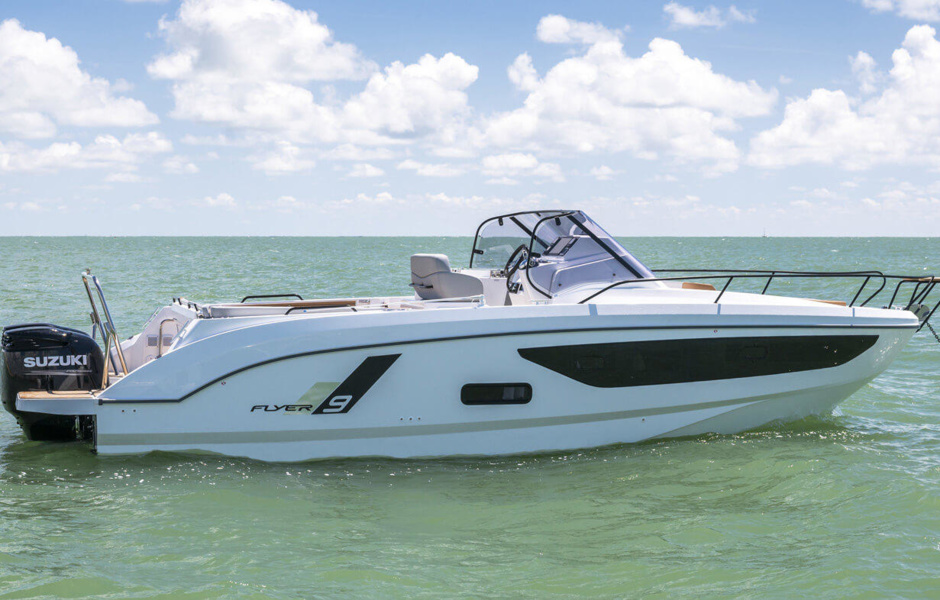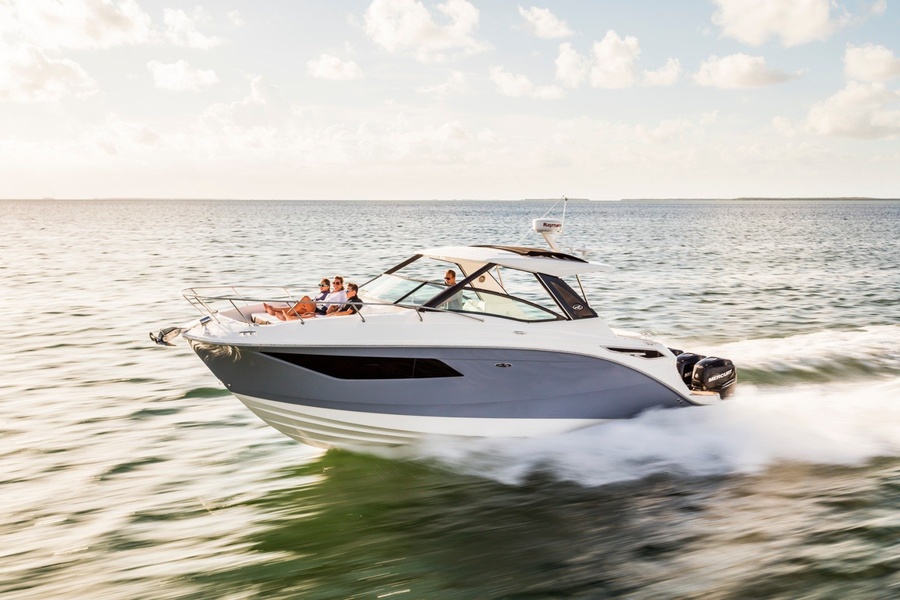 Motorboat segment is popular now. Outboard engines are less draft and easier maintenance. At the festival in Cannes we offer to look at two novelties - Beneteau Flyer 9 SUNdeck and Sea Ray Sundancer 320 OB.
Both models below deck have berths for four and separate bathrooms with showers. The Sundancer seems more spacious (it's also a meter longer than the Flyer 9). In particular, in the midships» cabin«(in quotes, because there are no partitions under deck), it has a full double bed which extends to form two single beds.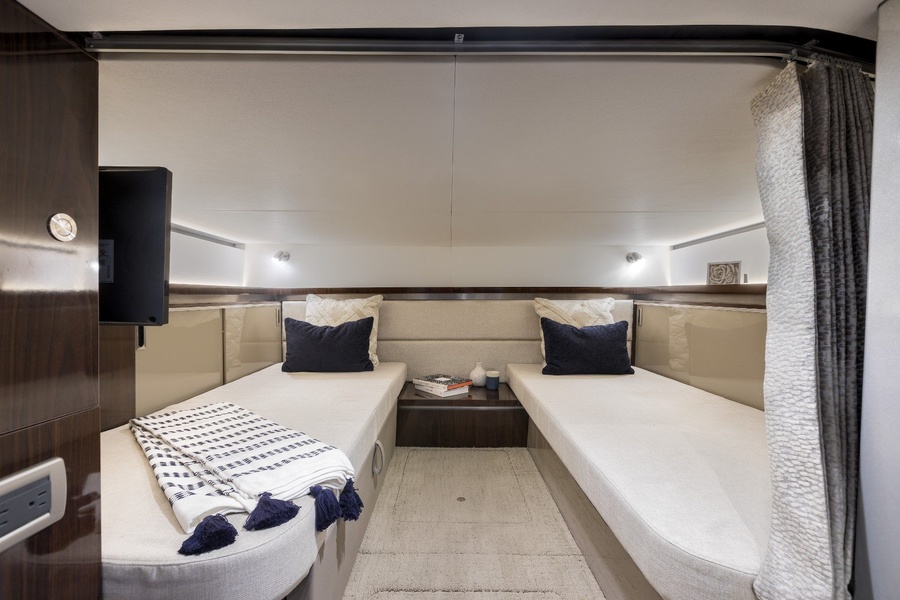 The Flyer 9 also has a midshield bed that is large enough, but no longer sliding and the ceilings are traditionally very low (the pencil case).
Functionally, however, the Flyer 9 beats the American a little bit. For example, the Flyer 9 below deck has a full kitchen corner, while the Sundancer 320 only has a windburst. Flyer also has a windburst, but its size is more modest than that of the Sundancer.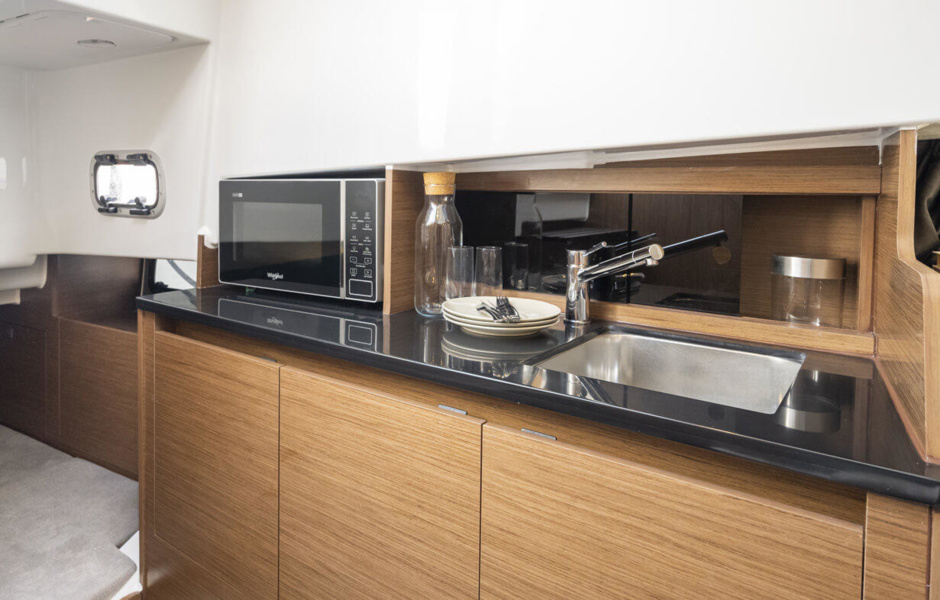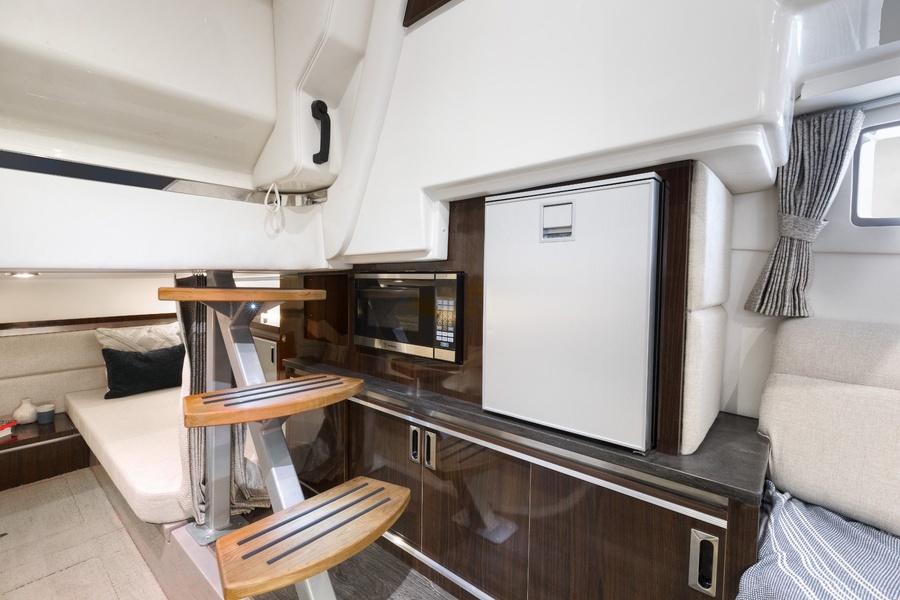 But Sea Ray goes with hardtop, but Beneteau boat is fully open. The Flyer 9 Sundeck, however, has its own superfiche: a folding platform on the port side.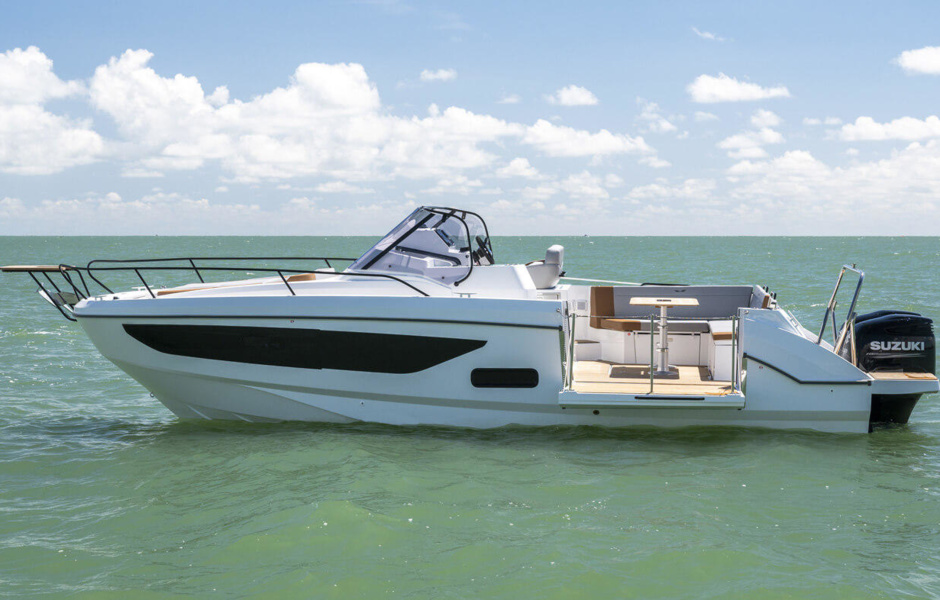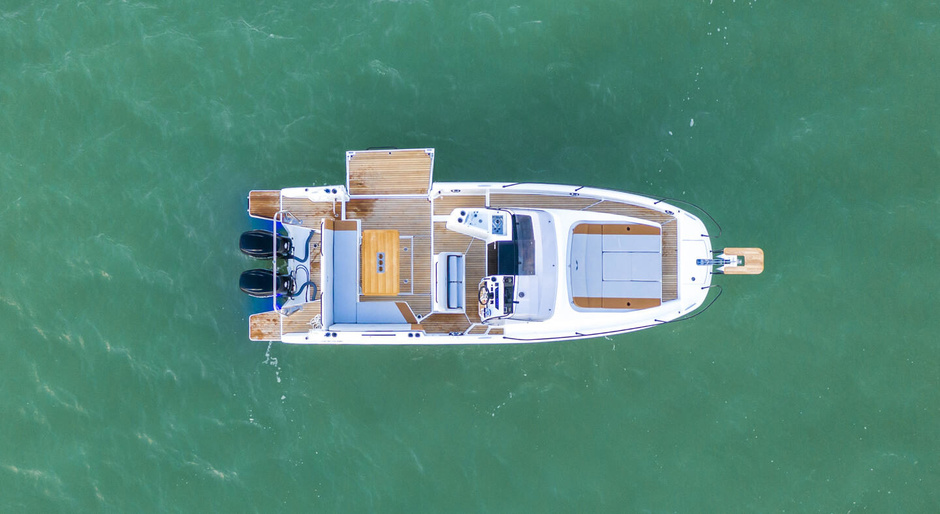 What about the engines? The Sundancer 320 OB is more suitable for speed lovers: optionally it can be equipped with three Mercury Verado motors, while the Flyer 9 is equipped with a pair of less sporty Suzuki.
And for the price? It is not known yet: the prices are not officially announced. A Sundancer 320 with a stationary engine in Russia is asked from €247000 . The older brother of the Flyer 9 - model Flyer 10 - costs about €200000 in Russia with standard outboard engine set and customs clearance. We can conclude that the prices for comparable models will be comparable, but Sea Ray is likely to be a little more expensive.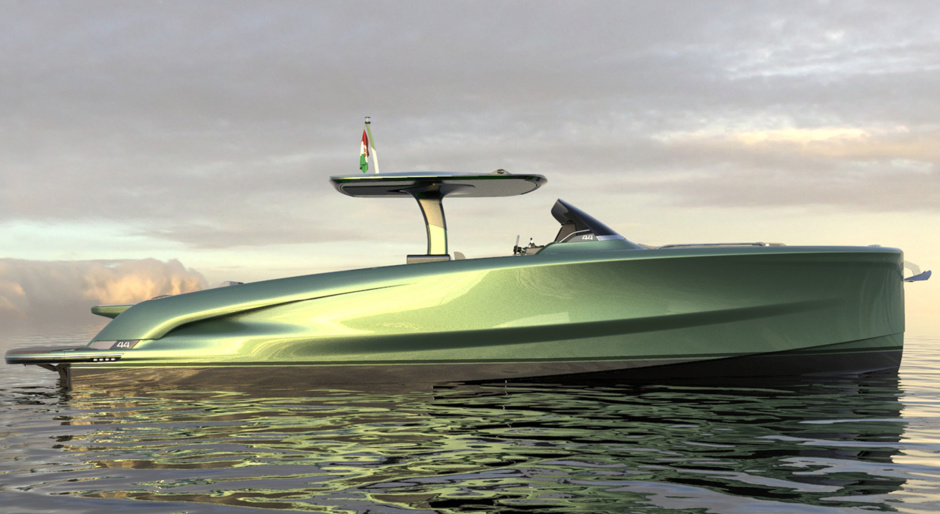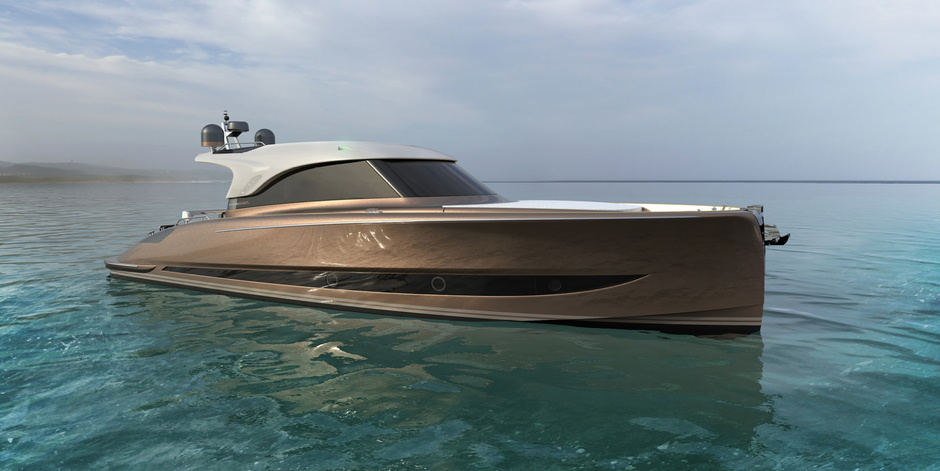 In Cannes, the «European power boat of the year 2020 Solaris» Power 48 Open and its new hardtop version, the 48 Lobster, were to stand side by side. Technical parameters of the boats are almost the same: hull length - 14.86 meters, width - 4.87 meters, 435 or 480 hp engines. The closed version is 750 kg heavier than its big sister and, due to this, a little slower. It is able to accelerate only up to 32 knots, while the maximum Open is 35.

Due to the appearance of a closed superstructure, the Lobster has a smaller cockpit compared to the open version. You can't find a fancy sunbed at the stern. Instead, the sun lounger is placed on a small flabridge.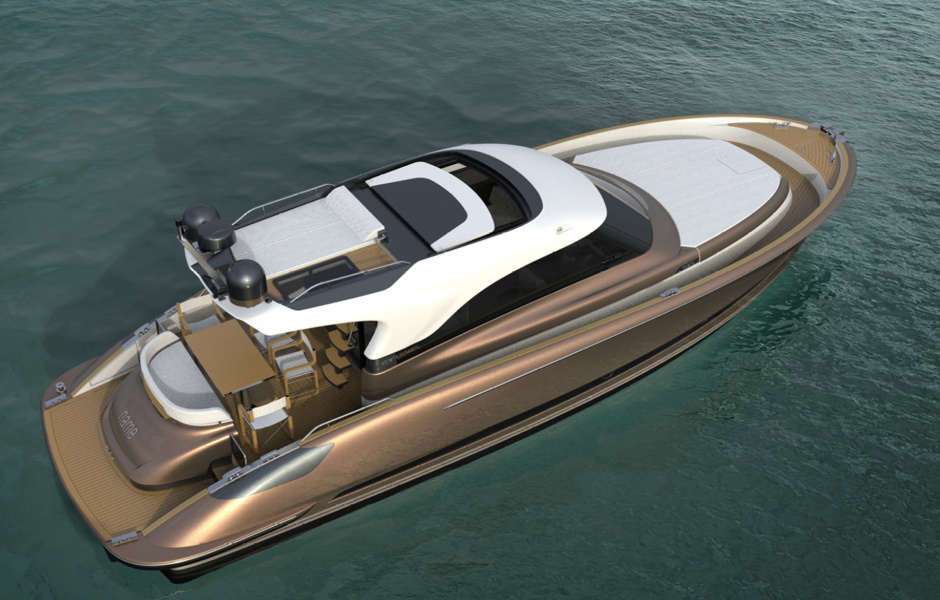 But the boat has become more habitable. Lobster's galley is larger and the layout of the lower deck makes it mandatory to have a double guest cabin. The open-air version has a master stateroom and a lounge area with sofa in place of the guest cabin, but this layout is not necessary on Lobster as there will be a soft corner in the main deck saloon.

The first hull of the Solaris 44 Open will be launched in November. It will be a 13.47-meter open boat with a T-top visor above the control post. Due to its shorter length and width (4.35 meters) with the same 435 hp engines, the boat will be 6.5 knots faster than the 48 Open (i.e. the maximum will be 36.5 knots).

But there's a price to pay for speed. Although both models will be able to accommodate up to 12 people on board, the 44 Open's Lower Deck can accommodate guests. The boat cannot have a third single cabin and additional bathroom. A double master stateroom provides a room where guests can go directly down from the deck, while on the 48 Open it is always separated by a door. The 44 Open is much more comfortable, with a single double cabin on the midships and a forward cabin with a corner sofa and a table.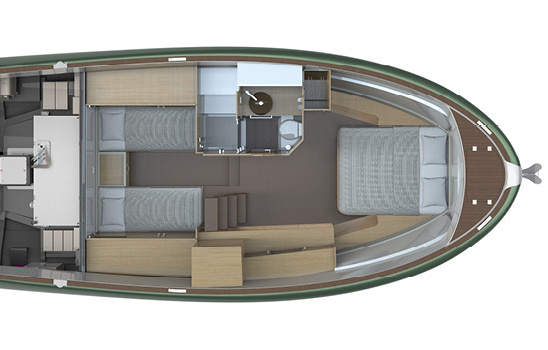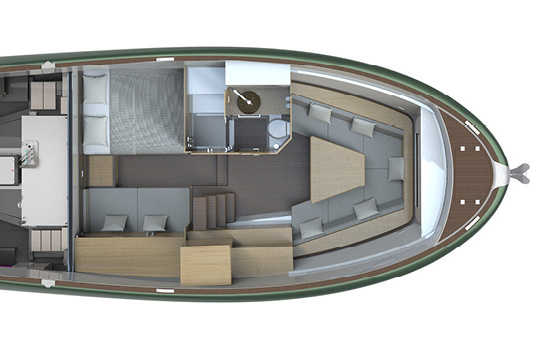 Almost a motor yacht - Antares 11 Fly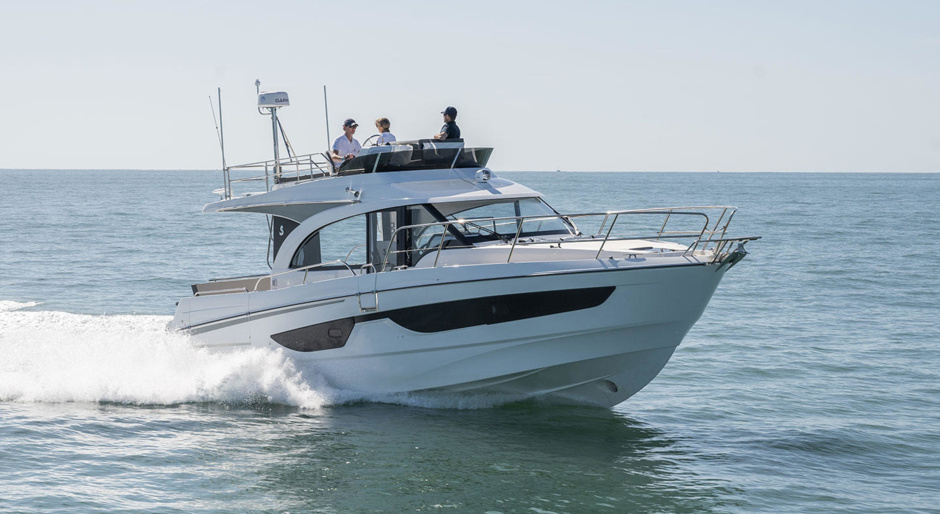 A motor boat with a flybridge is a great compromise solution for those who are thinking about moving to a full-fledged yacht but are not yet morally and financially ready. The base price for a tax and engine free yard on the 11m Antares 11 Fly is €136700. Taking into account customs clearance, VAT and the cost of engines, the cost of a boat in Russia could be from €250,000 to €136,700.
For this money you get a mini yacht ideal for family trips in good weather. Under deck she has two generous cabins (for 11 meters): a master at the bow and a guest cabin for three berths.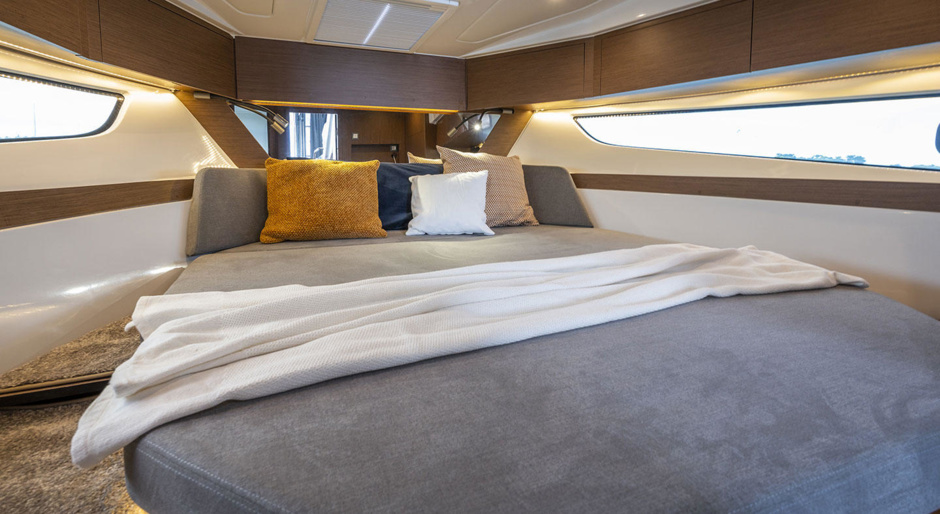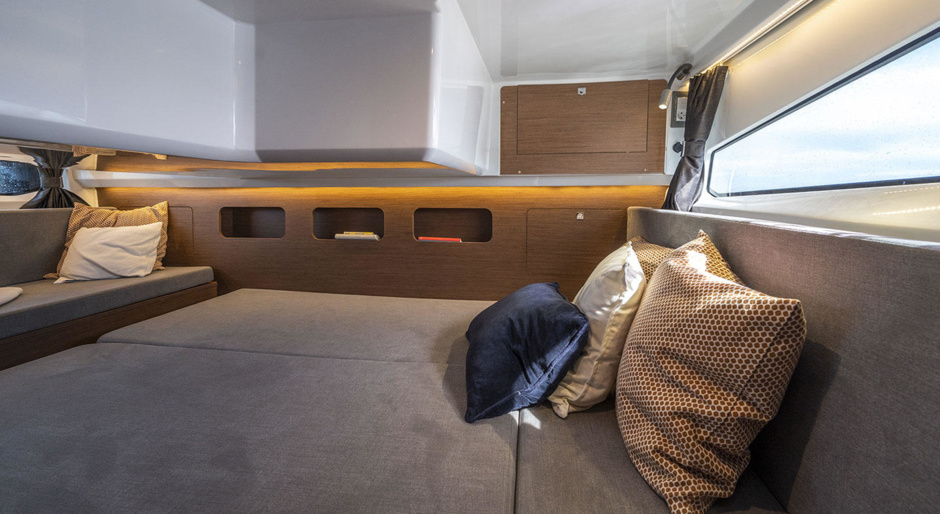 Like all of Beneteau's newest outboard models, the Antares 11 Fly has a platform on the port side. This is done for comfort and safety in bathing. Plus this boat has a flybridge. It takes a little sweat to get there (uncomfortable ladders - payment for the boat's compact size).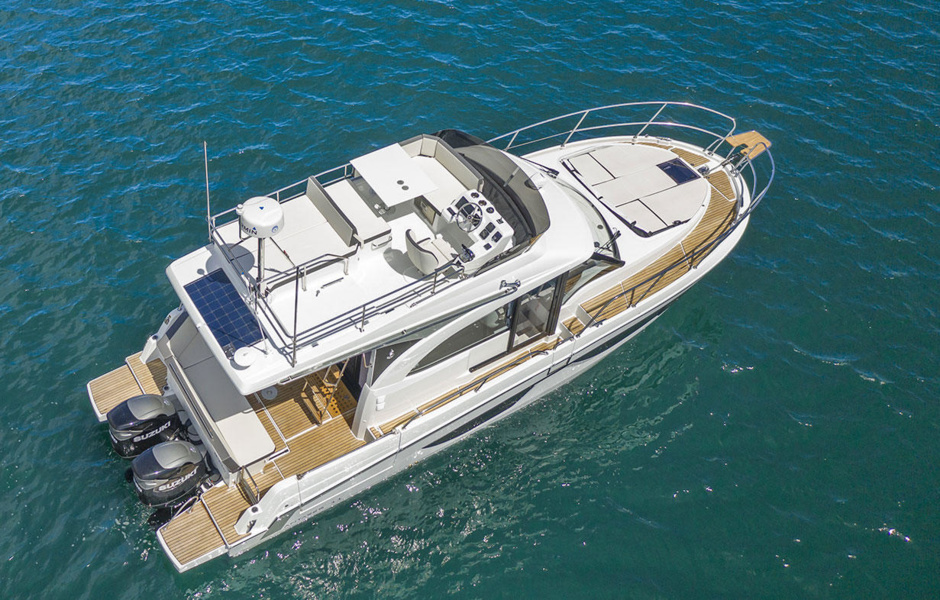 But you get a small dinette with a good view and an extra sunbed for two.

All-weather SUV - Axopar 37 Xc Cross Cabin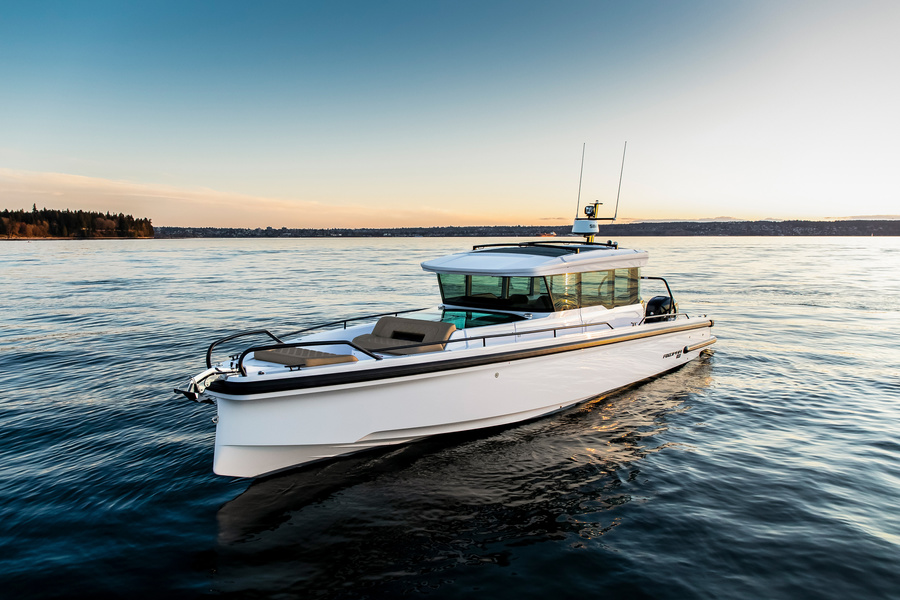 The Axopar 37 Xc Cross Cabin is the solution for those looking for a boat for outdoor activities on the water and the coast. The crossover model combines the best qualities of open bowriders and indoor boats.
Category B certification gives carte blanche to the Xc Cross Cabin's outdoor outputs. Unless you have to limit the number of passengers to 10, instead of 12 in the coastal zone. A pair of outboard engines (from 225 to 350 hp) will allow you to ride with the wind, speeding up to 38-48 knots. Compared with the previous generation of the Axopar 37, the new version has 30% better fuel efficiency (cruising range increased by 75 nautical miles).
The closed cabin of this 11.5 metre SUV will protect passengers and the helmsman from the weather and allow the boat to be used in all conditions. In a wind and a rain all company can settle down comfortably behind a control post on an L-shaped sofa and to have a dinner.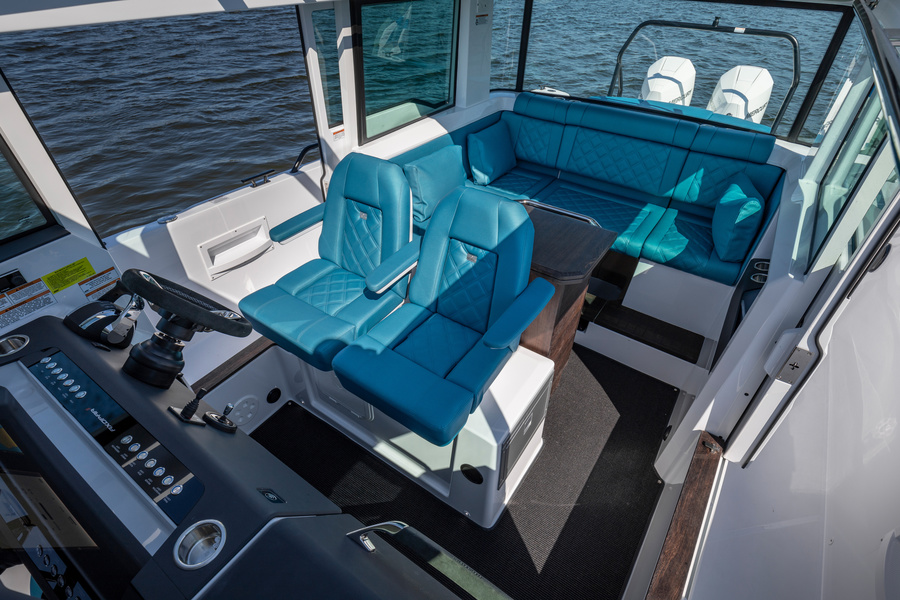 For overnight stay on board there is a spacious two-seater forward cabin, combined with a kind of cabin company with two sofas.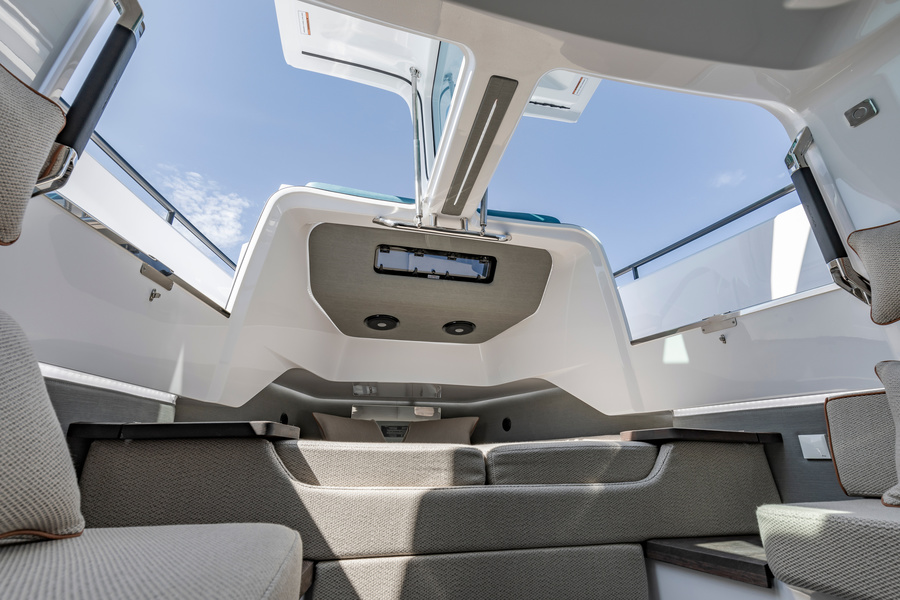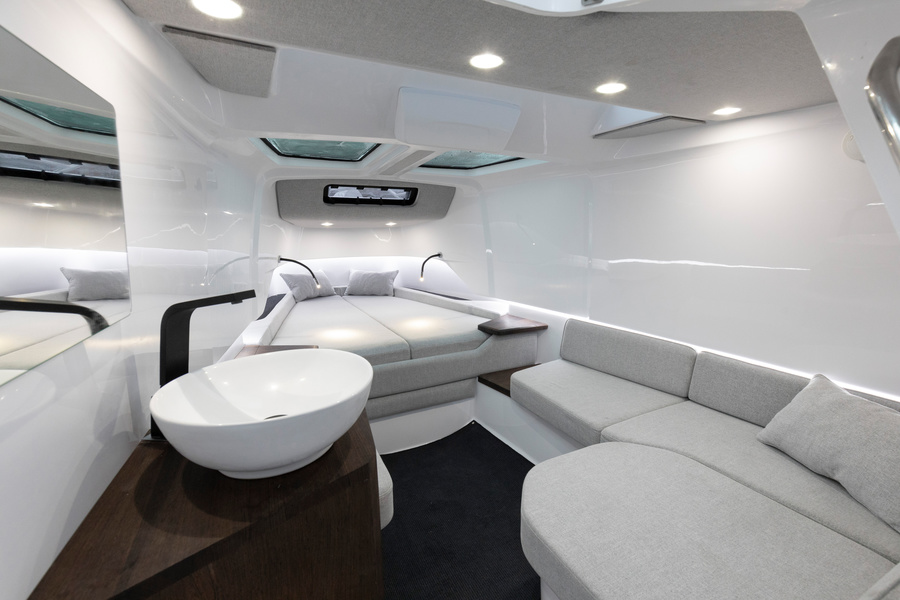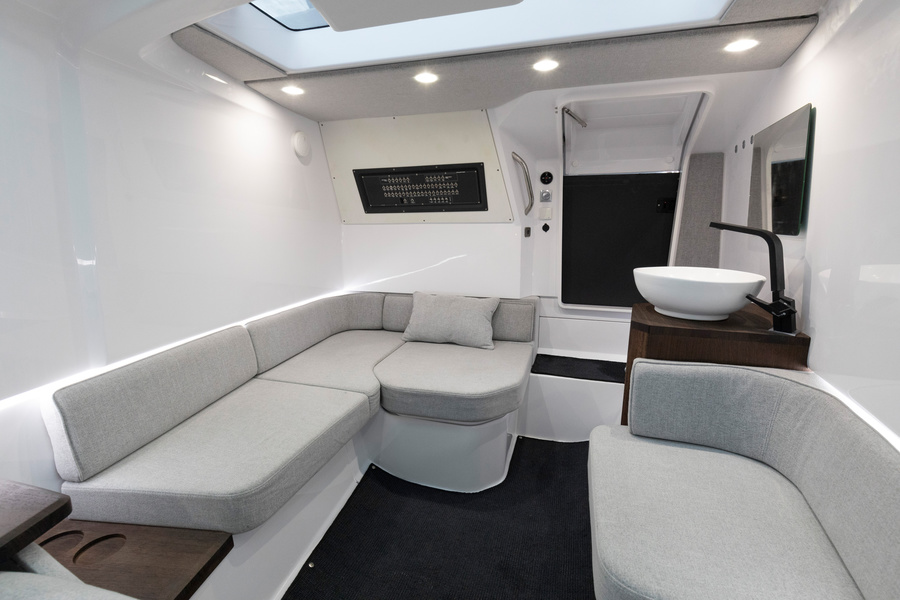 An additional double cabin can be optionally arranged aft. This will cost €4000. If not needed, Axopar has 4 other layouts for this space, one of which is the bar on board.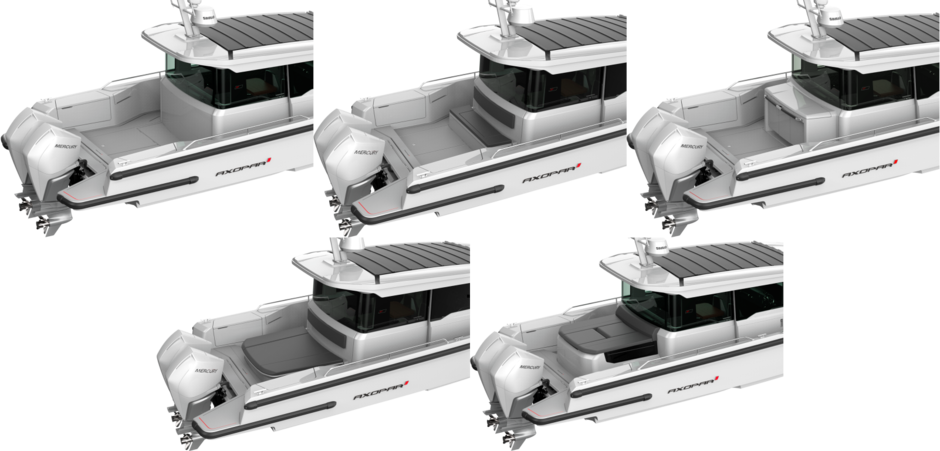 The cost of the basic model at the shipyard will be €94500. If you want to bring it to Russia this amount should be increased by approximately €33500.
Speedboat - Brabus Shadow 900 Xc.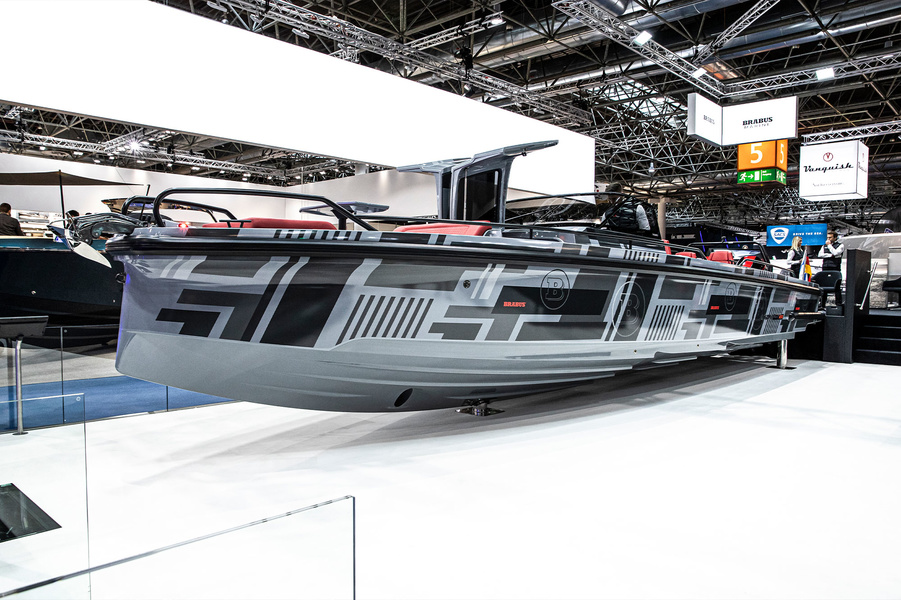 A pair of 450hp outboard engines allow this 11.73-meter model to reach speeds in excess of 60 knots. Up to 10 people can take a boat ride in the open sea. In the coastal area you can take two more people on board.
The trip does not have to be a one-day trip. One double cabin can be found on the boat even in the standard version. If desired, one more cabin can be placed at the stern, and then the number of berths will increase to 4.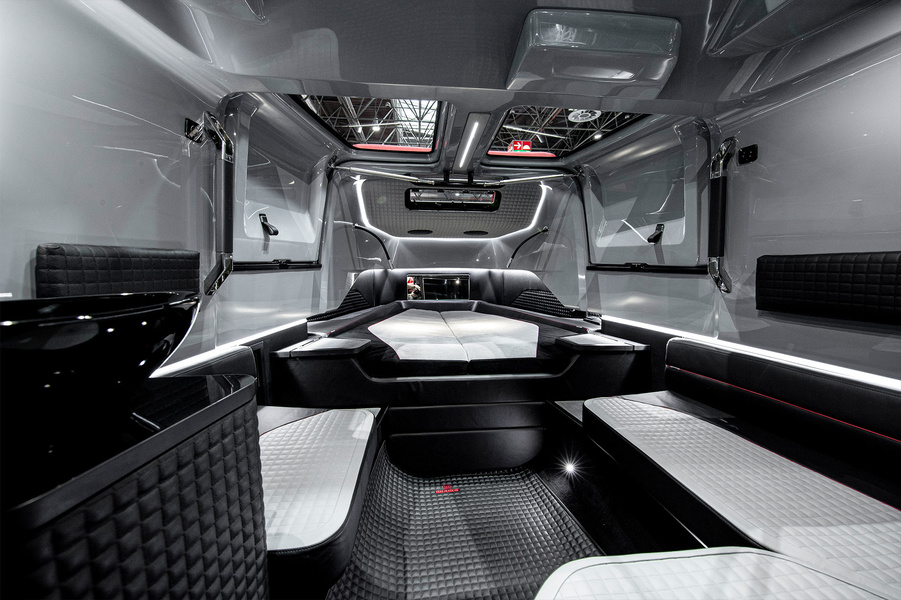 Owners will have to pay dearly for their desire to ride on a stylish boat. Even at a basic shipyard, the cost of the boat will start at € 400,000. This is more than 4 times the price of the Axopar 37 Xc Cross Cabin, while the size of the boats and the comfort on board are comparable.
The trendy megatender is the Fiart 43 Seawalker and 48 Wally Tender X.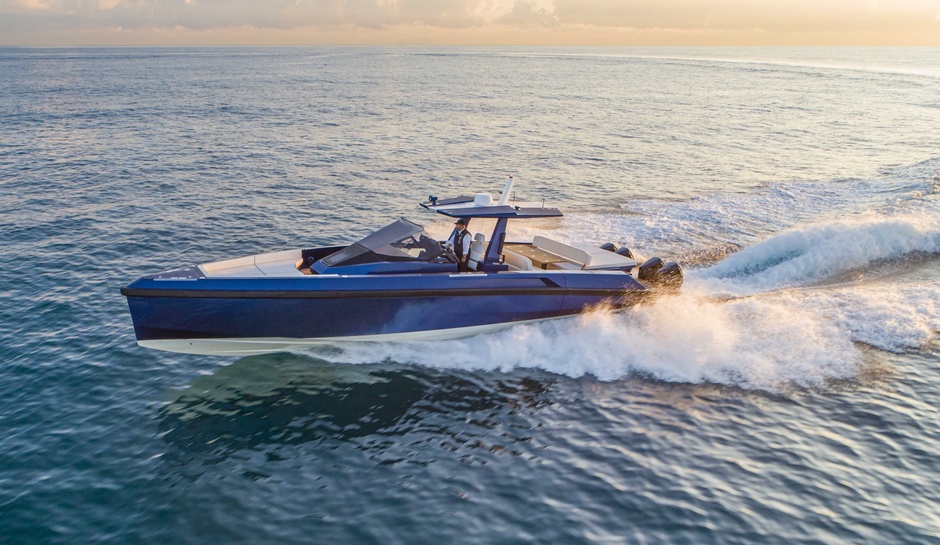 The new 14.9m version of the 48 Wally Tender, which will be available in Cannes, is equipped with outboard motors rather than stationary ones, and the main trump card of this open day cruiser is certainly speed. The speedometer can reach the 55 knots mark. At the quieter 36 knots, the 48 Wallytender X can travel up to 350 nautical miles without refueling - a respectable distance.
But that's where the advantages of this Wally model over Fiart come to an end. Yes, it is one meter longer, half a meter wider and almost twice as powerful as its competitor. However, the Fiart is more spacious (up to 14 people on board in the open sea compared to 12) and offers 6 versions of both outboard and stationary engines, as well as below deck at the Fiart.it hides two double cabins instead of one (and also with ceilings of 1.8 meters, while most similar models have a maximum of 1.5 meters). The forward cabin can be turned into a cabin with a table and a corner sofa.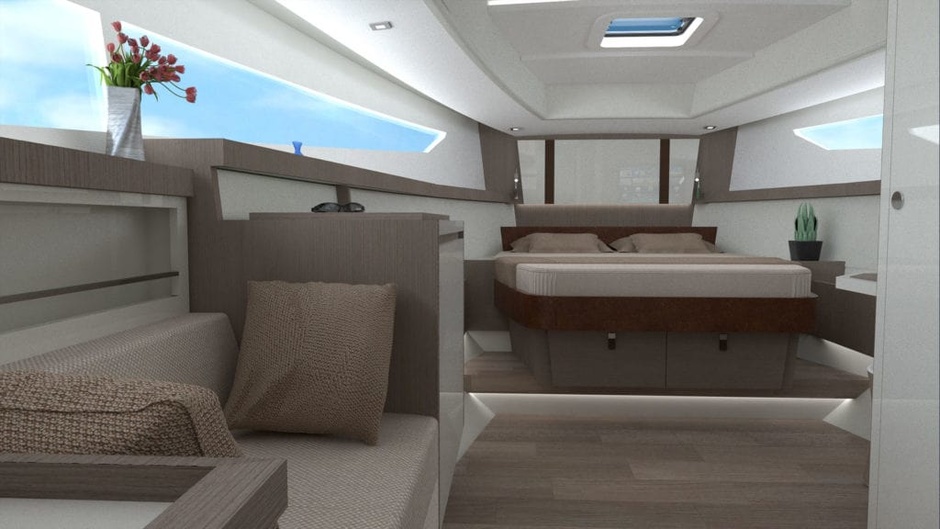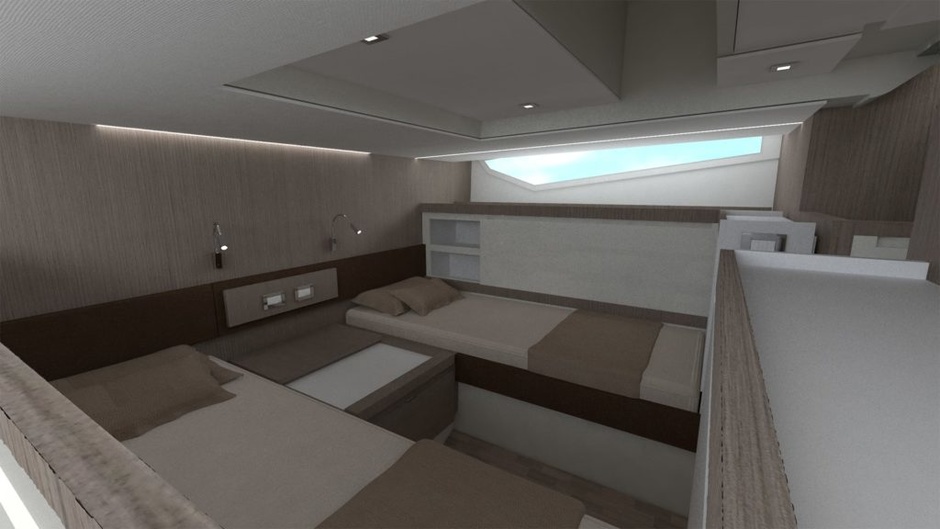 You can argue about what is more convenient: bathing platform 60 cm long (optional - 120 cm) or hinged boards. It's a matter of taste. However, here too, Fiart has an ace up its sleeve: 5 cockpit versions at once. Three of them emphasize the large aft sunbed, which is also Wally, and two others - a large U-shaped sofa with a dining table.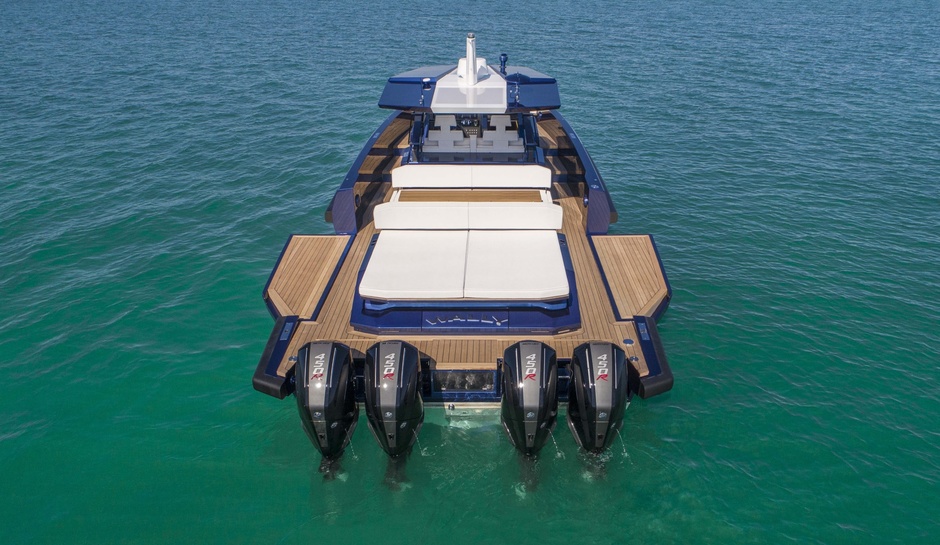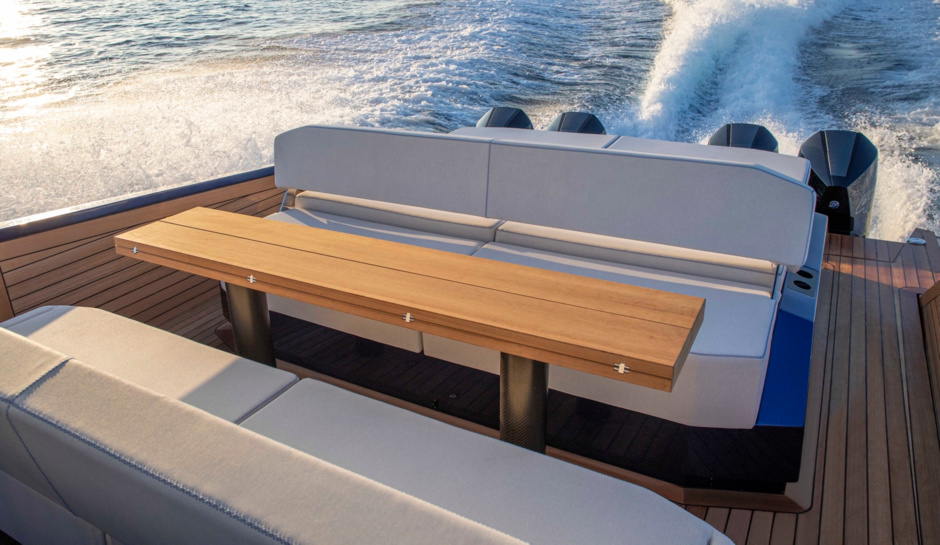 Finally, in addition to the rigid T-Top visor (like Wally) on Fiart, you can also cover the deck from the sun with a Bimini roof-tent.