Echo Yachts shipyard finally handed over the world's largest trimaran to her owner on October 31. The 84-metre White Rabbit will sail to Singapore next week. This is reported by Boat International.
The multihull was first un veiled at a special event held by the Australian shipyard in August. The presentation took place within the walls of the Echo Yachts production facility in Henderson. The inaugural event included VIP speeches, construction footage and a sound and light show.
Guests were even given the opportunity to climb aboard «the White Rabbit». The owner and his family also attended the event.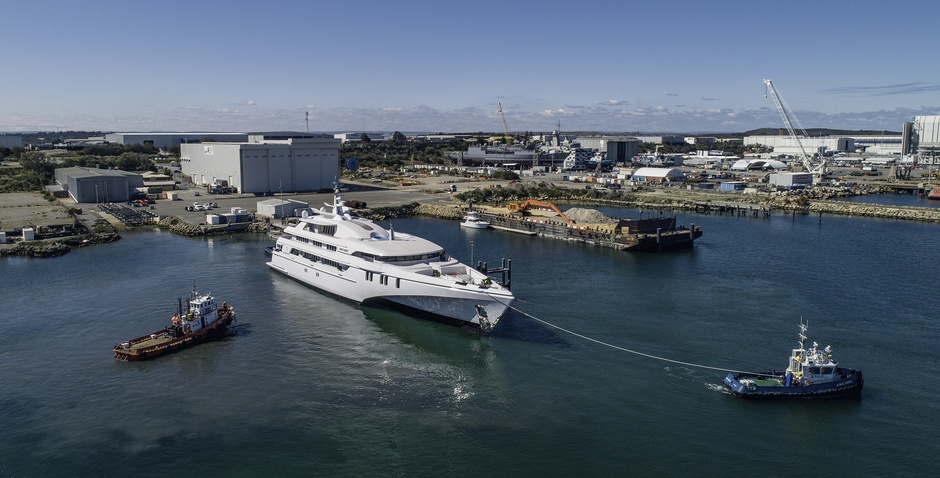 The deadline for handing over the trimaran to the buyer turned out to be pushed back by a year. It was finally ready on September 1, 2018.
It was then awaiting sea trials off the coast of Western Australia.
White Rabbit was designed by SamSorgiovanni and One2Three was responsible for the naval architecture.

«There is an enormous sense of pride watching the launch of White Rabbit. Not so much because of the time it took to create the boat, but because of the history and the fact that my career started here with so many people involved in this project»," says Sam Sorgiovanni.
The boat offers huge interior spaces with the ability to accommodate 24 guests.
White Rabbit is the largest superyacht ever built in Australia.
Echo Yachts CEO Mark Stothard «Mark Stothard commented that he is «very proud» of «White Rabbit», describing the yacht as a project that many other boat builders would be afraid to take on».
«We are very grateful to our client for encouraging and supporting us to go in that direction. The end result is a truly world-class boat, a credit to everyone involved in the project»," Stothard added.

By the way, the owner is a big fan of trimarans. He has already purchased a 51-meter multihull from Henderson that will now be used as a support vessel for the 84-meter White Rabbit. «The White Rabbit's smaller sibling», named Charley, is built in fiberglass and using state-of-the-art vacuum infusion technology. The White Rabbit was designed by the LOMOcean designers in New Zealand.
The 84m White Rabbit itself is a larger version of the 61m White Rabbit Echo born in 2005.