The first hull of the Mangusta Oceano 42 series has been launched at Overmarine's new production facility in Pisa. The ceremony took place on June 4th in the presence of the owner and the Mayor of Pisa.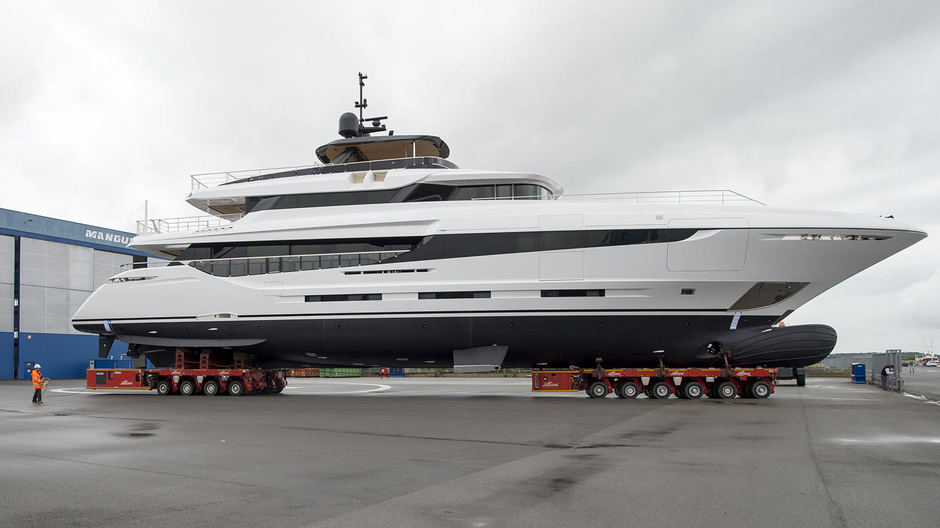 The Mangusta Oceano 42 displacement yacht concept was first unveiled to the public at the 2013 Monaco Yacht Show as a new direction for the brand, which has traditionally been renowned as a manufacturer of open-air sports yachts.
«We realised that although Mangusta are ideal boats for the Mediterranean, the Bahamas or Florida, where being able to travel quickly to the final destination is important, in some other regions of the world speed alone is not enough: the final destination can be very far, so there the range is more important», says Francesco Frediani, Commercial Manager of Overmarine.
Mangusta Oceano 42 has a steel hull and a superstructure made of lighter aluminium. Alberto Mancini is responsible for her interior and exterior. Mangusta Oceano 42 can accommodate 12 passengers and 7 crew.
One of the attractive features of the yacht is the sunbathing area with an infinity edge pool and waterfall, located in the bow of the boat and providing a beautiful panoramic view of the ocean.
A window is made in the floor of the pool overlooking the owner's bathroom below.
With a top speed of 15 knots, at a cruising speed of 11 knots, this ocean explorer can travel up to 4000 miles without refueling.
A second Mangusta Oceano 42 hull has also already found a buyer. It will be delivered in 2017. In addition to the 42-metre model, the 46-metre and 55-metre versions are under construction at Overmarine's docks in Viareggio.